Listowel Bank of Ireland Enterprise Event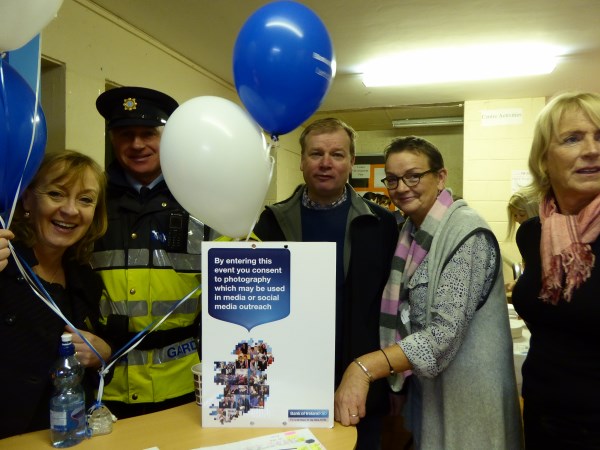 Some of the Bank of Ireland staff with a Garda at the community centre on Saturday November 26 2016
<<<<<<<
Planting the 1916 Commemorative Garden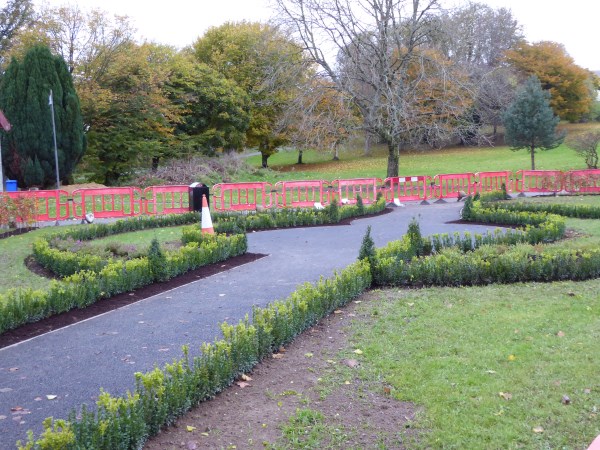 <<<<<<<
Refurbishment Work Underway here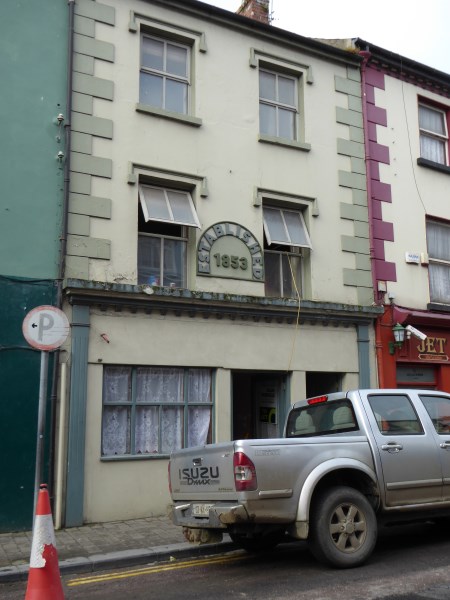 <<<<<<<


A Priest and Soldier in WW11


Kerry Reporter Saturday, June 20, 1931;


OBITUARY Death and Funeral of Rev. Francis Breen, B.D., C.C., Killorglin.


Clergy and laity throughout the Diocese of Kerry, and, in particular,
the people of Killarney, his native town, have learned with very deep
regret of the death of the Rev. Fr. Francis Breen, B.D., C.C.,
Killorglin, following so closely on the death of his lamented brother,
Father Jos Breen, C.C., Kenmare.


Enjoying rugged health from his boyhood, Father Frank Breen excelled
in every form of Gaelic sport. But handball and Gaelic football were
the games he loved best, his prowess in each earning him the respect
of doughty rivals among his Maynooth contemporaries. Even malaria of
the malign type, contracted during his service as Army Chaplain in
Mesopotamia, and beaten off almost miraculously by the prompt action
of an Irish army doctor, seemed to have made little impression on a
wonderfully healthy constitution. Yet it may well be that this fell
disease left some weakness which made him, in spite of his
characteristic grit and determination, an easy prey to the sharp
attack of pneumonia which look him off.


he was born in 1884 at 15, High Street (now O Rahilly Street),
Killarney. Passing through the Presentation Convent and Presentation
Monastery Schools, he entered St. Brendan's Seminary, Killarney, where
he achieved distinction in the Intermediate examinations.


He entered Maynooth College in 1901. for the Diocese of Kerry, and in
1907 was ordained priest in that famous College, at the same time
securing the degree of Bachelor of Divinity. He passed into the
Dunboyne establishment of the College, where, with some other
distinguished Kerry priests, he took part in the fight for "essential
Irish ' in the University. Having finished his Maynooth course, he
offered his services temporarily to Cardinal Bourne. Archbishop of
Westminster, and soon after the Great War began, he was requested to
act as chaplain to a vessel which was engaged to carry five hundred
wounded Australian officers through waters infested with mines and
submarines back to their native, land. This was in 1916 and about the
time he reached Australia, the rebellion of Easter Week had taken
place, and he found himself regarded as an oracle by the Irish in
Australia, who were eager to learn the history and the explanation of
the rising. He was received with special warmth by Archbishop Mannix
of Melbourne, his old President in Maynooth College, and later was
invited to accept a Mission under the Southern Cross. But his recent
experience with the wounded soldiers made him long to serve the Irish
Catholic soldiers in the Great War, and he decided to return and
volunteer for duty as Army Chaplain. His experiences as chaplain
served merely to make him a more rabid Irishman and Catholic. He was
sent Mesopotamia, making the acquaintance of Basra, Bagdad, and the
one time Garden of Eden, now a desert and a swamp. He reached the very
farthest limits of the army's advance, at Samara and Tekrit enduring
many hardships the dreadful temperature being chief and most
intolerable—having many interesting adventures, and not a few
hair-breadth escapes. From Mesopotamia, he passed to the Holy Land,
Syria and Egypt.


When the Armistice came, he gladly returned to Kerry, and gladly
resumed the ecclesiastical garb, laying aside the khaki at the
earliest opportunity. Under Bishops O'Sullivan and O'Brien he served
as Curate in Prior. Beaufort, Glenflesk, Glenbeigh. and Killorglin.
Before going to Westminster he had had a short experience ofmissionary life in Glengarriff and Lixnaw. In 1920, under the British
regime, he took a very active part in setting up the Sinn Fein Courts,
and so as far as in him lay in those troubled times, he helped to put
an end to the use of the revolver for settling private disputes. He
was appointed one of the local magistrates in Beaufort,


( This eminent man seems to have lead a very interesting and well travelled life. In case you missed it I highlighted the reference to Lixnaw as a missionary parish.)
<<<<<<


Memories, Memories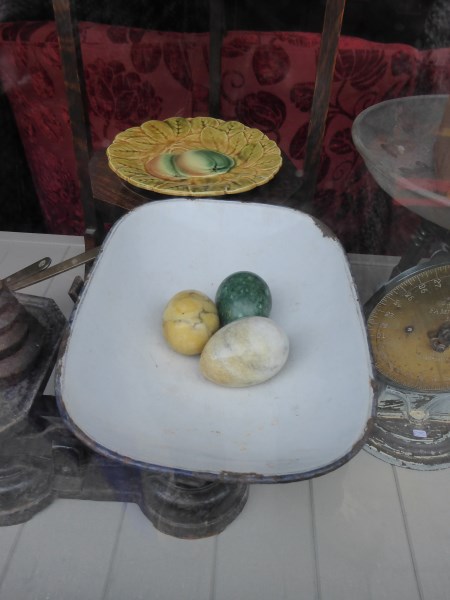 These marble eggs resting on an old weighing scales in the window of an antique shop in Church Street reminded me of my mother's nest eggs. These were cheap china egg shaped things that my mother used to put in the nest boxes of the hens to show them where to lay. It was always a great nuisance if hens were 'laying out" in a hedge or a ditch. Hens are a bit thick and they sometimes did not realise that they were in much more danger from the fox or the weasel in the great outdoors than indoors in the hen house. So, to coax them inside these old dirty nest eggs were put in the box. I recently heard of someone using golf balls for this purpose. As I say, hens are a bit thick.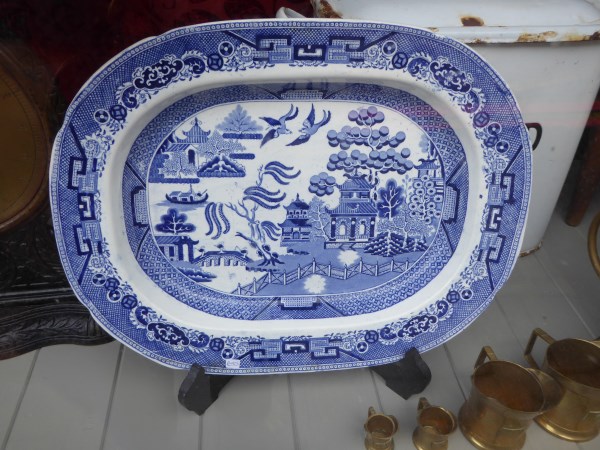 When I was young, every house had this ware. I think we had a willow patterned meat plate just like this one.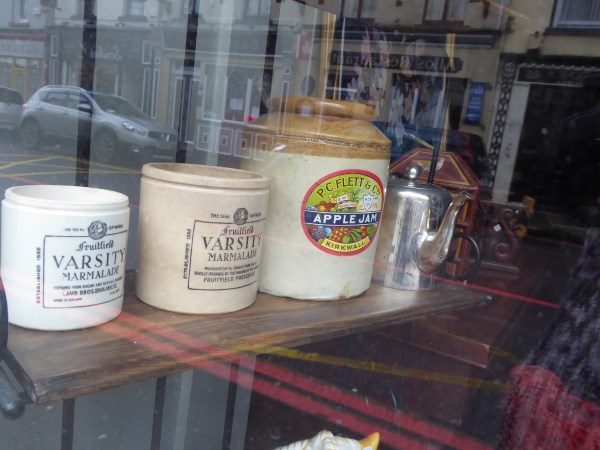 We had these too but I dont remember jam coming in them. They had been kept and reused from former times.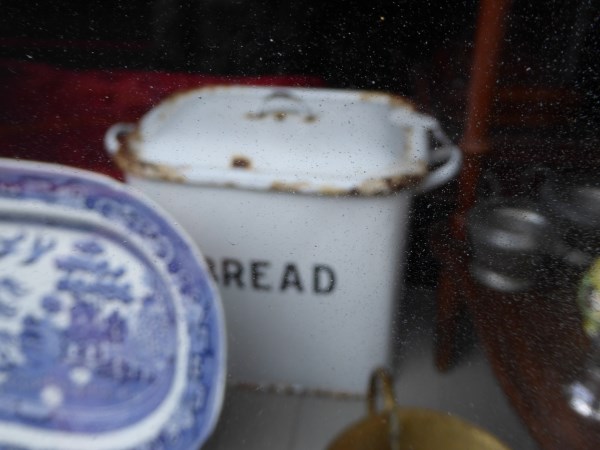 We had one of these in green. These enamel bread bins are making a bit of a comeback lately, even though they are not really very practical. No one has that much bread in stock in these days of smaller families.
<<<<<<


Humans of Listowel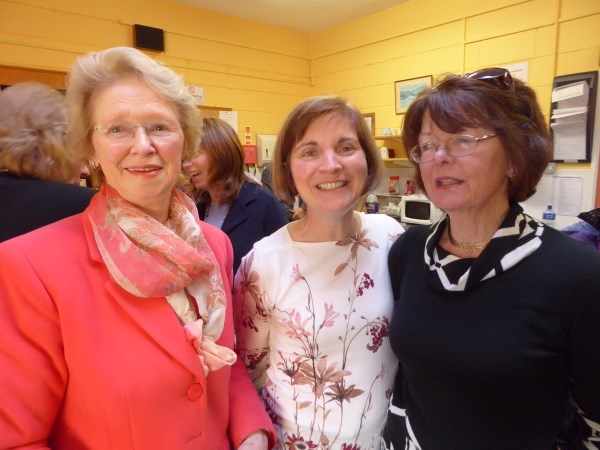 Anne Dillon, Mary O'Connor and Bridget Maguire at the recent reunion of retired teachers at Presentation Secondary School. Listowel
<<<<<<<<


R.I.P. Sr. Mary Perpetua Hickey


To paraphrase Wordsworth
She lived unknown and few could know
When Kathy ceased to be.
Kathy was Sr. Mary Perpetua for all of her adult life. She passed away on Saturday morning November 26 2016, aged 97 and with her went the last link with the adults in my childhood. She is the last of the old stock, a link to a different era.
She grew up, one of twelve children of a very devout hard working family in Millstreet, Co Cork. She entered the Mercy order in the days when a vocation was an honour to receive. She was blindly obedient to the vows she took at her profession and never questioned the wisdom of cruel rules that kept her apart from her family for years, missing the funerals of both her parents.
Thank God she lived through Vatican 2 and a relaxation of the tough regime. She loved music and dancing and one of the biggest nights of her life was when my brother and his family took her to a Daniel O'Donnell concert in Millstreet. She couldn't steel herself to approach the stage to meet him at the end as she was afraid that she would faint from the excitement. On her Golden Jubilee her friends in the convent organised for Daniel to send her a card. Daniel went one better. He sent the card and he rang her at the convent. She was dumbfounded…literally. She couldn't utter a word.
Kathy Hickey, Sr. Perpetua, was a charismatic character, a humble, innocent soul. She never uttered a bad word about anyone and no-one had a bad word to say about her.
She was my "Aunty Nun". I'm honoured to have known her.