War Games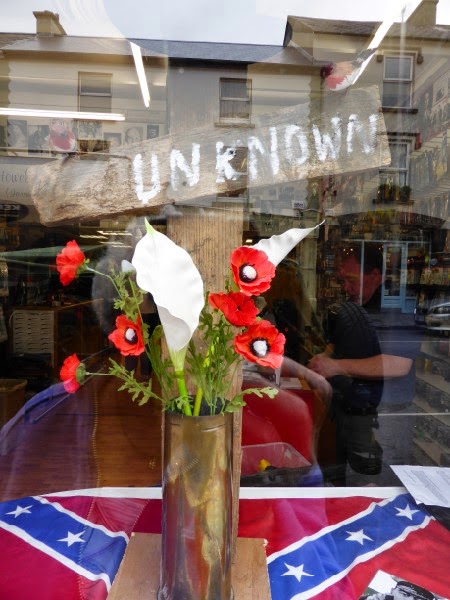 We have had a weekend of remembering and reenacting. I'll post my photos from Listowel Military Tattoo 2014 in the coming days.
<<<<<<
1959 Donkey Derby
John B. Keane described Listowel as a town "where it is easier to write than not to write". As well as the famous writers who have supped at the Writers' Well, Listowel has produced many writers whose lights have been hidden for a long time.
One such writer is the late Jet Stack of Greenville. Jet was better known as a dancer and accordion player but he also dabbled in poetry and prose. One of his relatives has contacted me and shared with us a poem Jet wrote about one man's experience of the 1959 Donkey Derby. Apparently when it came to the big day, this very well prepared donkey was well in the lead coming down Church Street, when he suddenly veered off course and cut into Colbert Street, leaving his jockey, trainer and many supporters disappointed. The donkey in question was Scartlea Night and was ridden by Sean Hartnett of Cahirdown.
Listowel Donkey Derby 1959 by Jet Stack
The weather was fine, being fifty
nine and the races drawing nigh
To win the donkey derby sure our
hopes were very high.
So we called on all the donkeys that
might win cup or bowl
And we started preparations for the
derby in Listowel.
The donkeys came in dozens, some were
fast and some were slow,
But sure that's the way you'll find
them no matter where you go
But we put them through their paces
and we raced them past the pole
And twas all in preparation for the
derby in Listowel
We had Nixes grey and Driscoll's bay,
she showed a little blemish
John Joe brought our camera in case
of a photo finish
When Lady Barney won the second race,
Dan Riordan scratched his pole
And 'twas all in preparation for the
derby in Listowel
Nedeen Buckley came with Sad Dust and
Nellies Morning Dew
This was a kind of challenge race and 'twas left between the two
Then Margaret came on Forge Road Lad,
He's the sire of a foal
And 'twas all in preparation for the
derby in Listowel
When Shanahan's Stamps came winning home,
the crowd they gave a roar
They heard it back in Coolagown and
down through Ennismore
Bob Stack got so excited, he ran up
the winning pole
And 'twas all in preparation for the
derby in Listowel
Scartlea's Hope when going well, won
many a thrilling race
He ran his best to half a length and
that was no disgrace
But when Casey down from Dromerin, said he couldn't run with goats
Sure his feeding was substandard, it
was small Kilarda oats.
When Phil arrived on Gurtinard Lad, Sean's donkey gave a wink
He started like a bullet and gave him
no time to think
Our jockeys rode like professionals
both fearless and bold
And there's one thing I can vouch for;
a race was never sold
The crowd grew larger every night,
they came from far and near
Elsie, Kit and Minnie came the
winners home to cheer
We had Bertha, Paul and Bridie, sure
they played their usual role
And 'twas all in preparation for the
derby in listowel
Eileen came with Kathleen and Bridge
came running fast
Sure Mary nearly broke her neck in
case she might be last
Ginette was there from London oh my
heart she nearly stole
And 'twas all in preparation for the
Derby in Listowel.
So then when the fun was over and we
picked our chosen few
We raced them down Church Street
where we met our Waterloo
But such is life, there is always
strife in trying to reach your goal
Still our hopes are high for another
try at the derby in Listowel.
<<<<<<<
Healy/Healey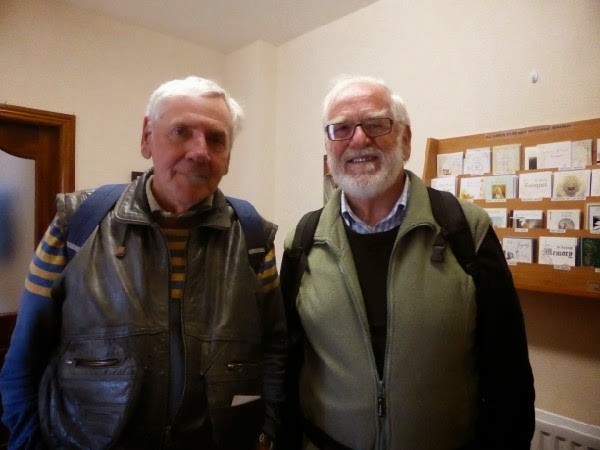 These are the Healey brothers whom I met last week as they retraced the footsteps of their great grandparents.
John Healy was born in Listowel on June 17 1830 to Timothy and Margaret Healy (Nee Linnane). John emigrated to London after the Famine. His marriage cert. says that his occupation was a furrier or farrier. He subsequently joined the London Metropolitan Police.
The Police Recruiting Act of 1853 in New South Wales allowed for police to be recruited from Great Britain. Free passage was offered in exchange for 3 years service.
John Healy arrived with 97 other policemen and their families on board The Exodus (how apt that name is?) on July 26 1855. John's record shows that he was appointed to the NSW police on the day of his arrival. These new policemen were known as The Immigrant Police.
John Healey was involved in the rescue of the sole surviver of the sinking of The Dunbar in 1857.
The population of NSW was growing very rapidly with the prospect of gold and penal deportation. Immigration meant that the large population was very culturally diverse and riots were frequent. The police were kept busy.
John Healey was a capable and good policeman and he rose through the ranks as his postings led him from place to place in NSW.
In 1873 Senior Sergeant Healey was appointed "Inspector of Nuisances in the municipality of Penrith".
His final posting was to Kiama where he was involved in a serious road accident.
Sub Inspector John Healey retired from The NSW Police in 1887 aged 57 years and with a police record of 32 years service.
John died in 1899 leaving a widow and 10 children.
When I last spoke to Terrence and Graham they were making progress in their search for local Healy/ Healey relatives. Over the years all contact with their Irish relatives has been lost but these two men are determined to reconnect to their great grandfather's homeland.
<<<<<
Random Fact


Only 12 white alligators left in the whole world (photo: So bad, so good)
<<<<<<<