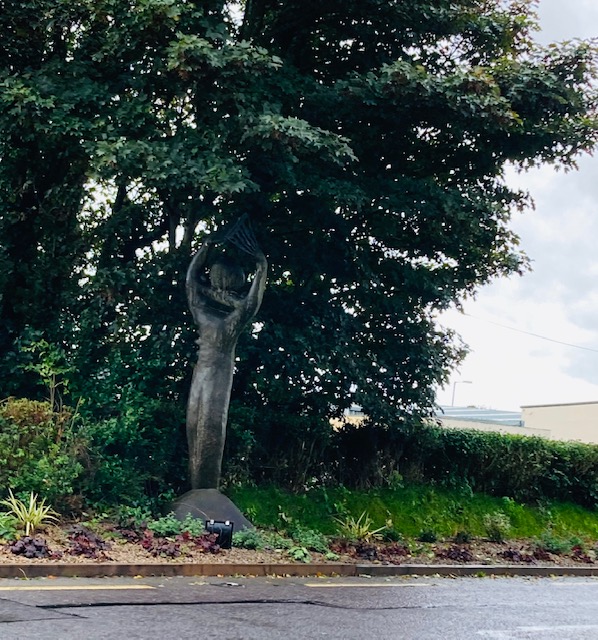 <<<<<<<<<<<<<
Colorado, Rocky Mountain High
This story connects Moyvane, Co. Kerry, Allihies, Co. Cork and Denver, Colorado USA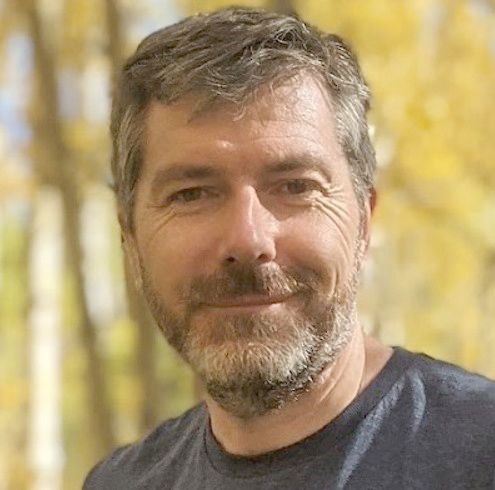 This is Alan Groarke, formerly of Moyvane and now of Colorado. Alan is president of The Irish Network of Colorado. The Network connects Irish people and people of Irish descent in Colorado.
On October 2nd. 2022, Alan and many more gathered at the Evergreen cemetery to celebrate the completion of stage one of a project that connects, Colorado with Allihies in Co. Cork.
In the late 1800s many Irish men and their families came to Leadville from their homes in Ireland. The came mostly from the Beara Peninsula mining community in Allihies Co. Cork, but also from counties Mayo, Donegal, Waterford, Cavan, Galway, and Tipperary.
They fled Ireland in the wake of An Gorta Mór which devastated this picturesque area. That scourge was followed by a dramatic plunge in the price of copper, the main mineral asset of the area. Mining was the main employment for men of the region.
Many of these destitute emigrants made their way to Colorado where a gold and silver rush had opened up opportunities for men skilled in mining.
But the land of opportunity did not prove the happy hunting ground they had hoped for. They found themselves victims of cruel exploitation. They worked for very poor wages. They went on strike twice. They lived in substandard housing in hard core poverty.
When the rich prospectors moved on, these poor people were left behind. Surface mining was exhausted and now all that was left was the excruciating hardship of underground mining with all its attendant health hazards. Temperatures above ground for part of the year are as low as -20.
Over 1000 Irish miners died, average age 23, many only children.
They received paupers' burials and there they lay in unmarked graves until a historian called Jim Walsh made these people his area of study.
……………………………..
"Census records show that there were about 3,000 Irish-born people in Leadville in 1880, likely making the Colorado town, according to Walsh, the largest Irish community in the western United States outside of California. Almost a fifth of the town had some kind of Irish heritage. Of Leadville's Irish-born, two in every five came from Allihies in west Cork, a village that exported considerably more than the famous copper that came from its mines. The names of Harrington, Sullivan and McCarthy were as common in Leadville as they were in their native Cork."
Simon Carswell in an Irish Times article in 2016
……………………………
Long story short; In recent years the local Irish community in Colorado and the Irish government set to work to commemorate these much wronged diaspora.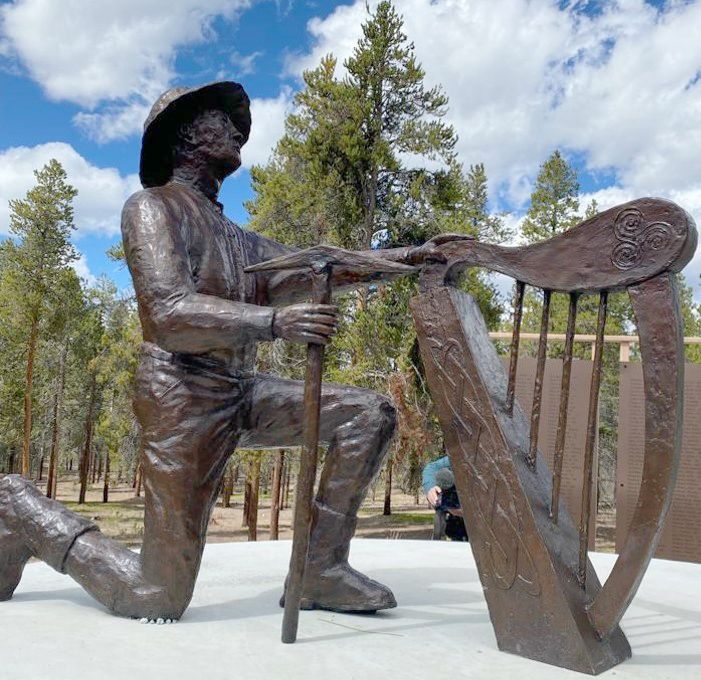 On October 2 2022 a crowd gathered in Leadville to celebrate the completion of stage 1 of the commemoration project. The above sculpture by Terry Brennan was unveiled in the commemorative garden.
Stage 2 of "Naming the Unnamed" is now underway. The plan is to erect glass panels with all the names of the miners.
St. Patrick's Day is a big day in Denver. The hope is that one of the highlights in 2023 will be the celebration of the completion of this worthwhile project.
<<<<<<<<<<<<<
Galvin's Flats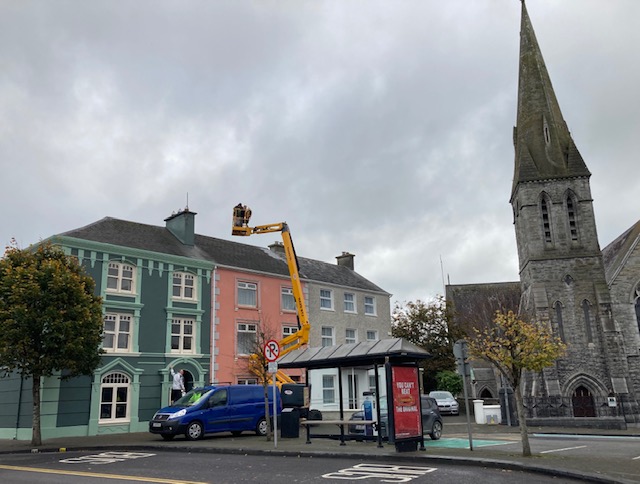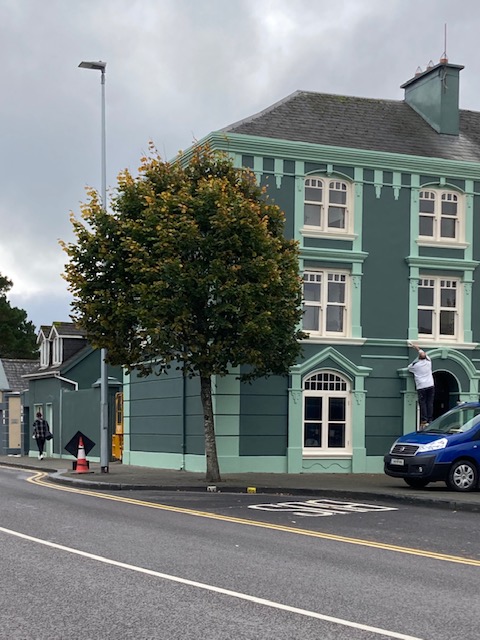 When a corner of town has looked the same for years, I sometimes think it will go on looking like that forever. Not so this corner of Listowel Town Square.
I think you will agree this recent paint job at this corner of town is absolutely beautiful.
<<<<<<<<<<
Listowel's Jerry Ryan Remembered
For all sad words of tongue and pen
The saddest are, It might have been
I was reminded of these lines yesterday when I met Marie Gorman on her way home from Jerry Ryan's anniversary mass. She showed me this photo.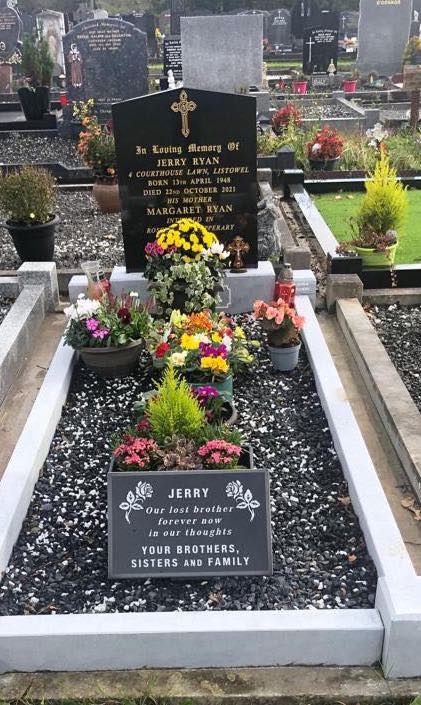 This is Jerry Ryan's grave in John Paul cemetery. Yesterday it got a new memorial stone which reads, "Jerry, our lost brother, forever now in our thoughts, Your brothers, sisters and family.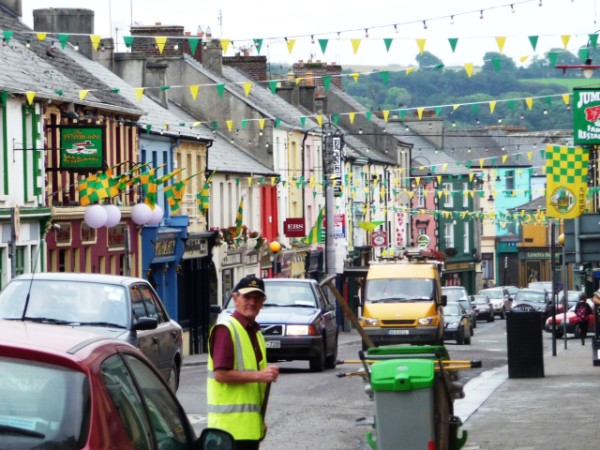 This is Jerry at work in 2014. He was a beloved presence on our streets and he always had a greeting and a cheery word. He took pride in his work and was well looked after by his work colleagues in Listowel UDC.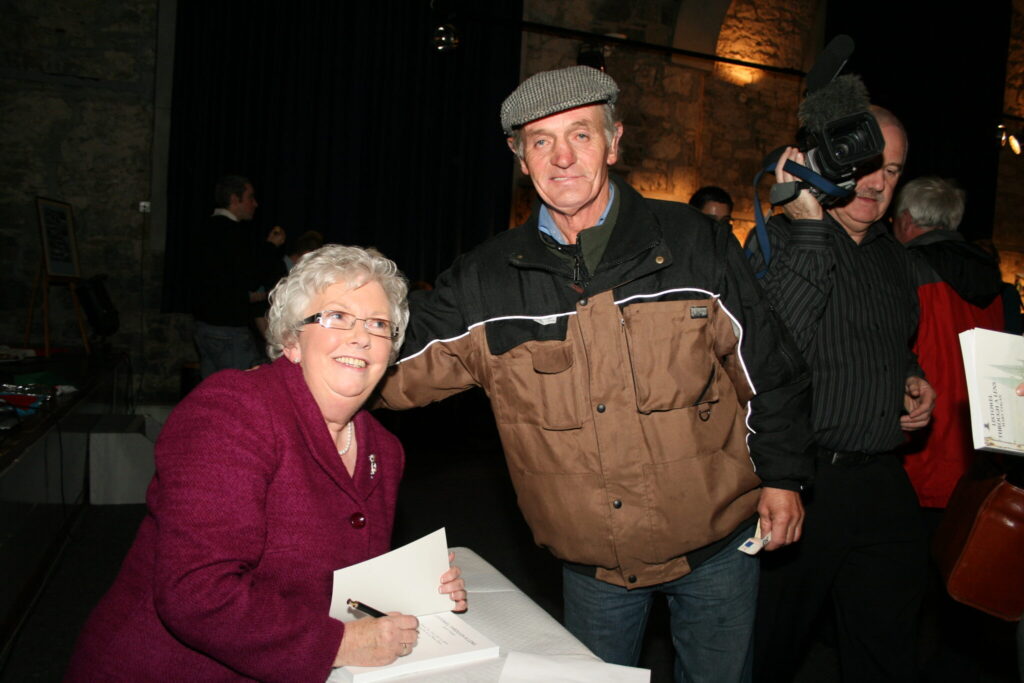 I was honoured to have Jerry come to the launch of my book, Listowel Through a Lens, in 2009.
It was well known that Jerry was a an orphan who had come to Tralee from an orphanage in Dublin and from there was "boarded out" with farmers near Listowel before coming to town and settling into his job with the council. Little was known of his family for indeed Jerry knew little of his family.
It was only after his death that it was discovered that Jerry had 9 half siblings who never knew of his existence. They came to Listowel yesterday for his anniversary mass and they brought this lovely stone for his grave.
"For all sad words of tongue and pen,
The saddest are "It might have been."
<<<<<<<<<<
A Lesson in English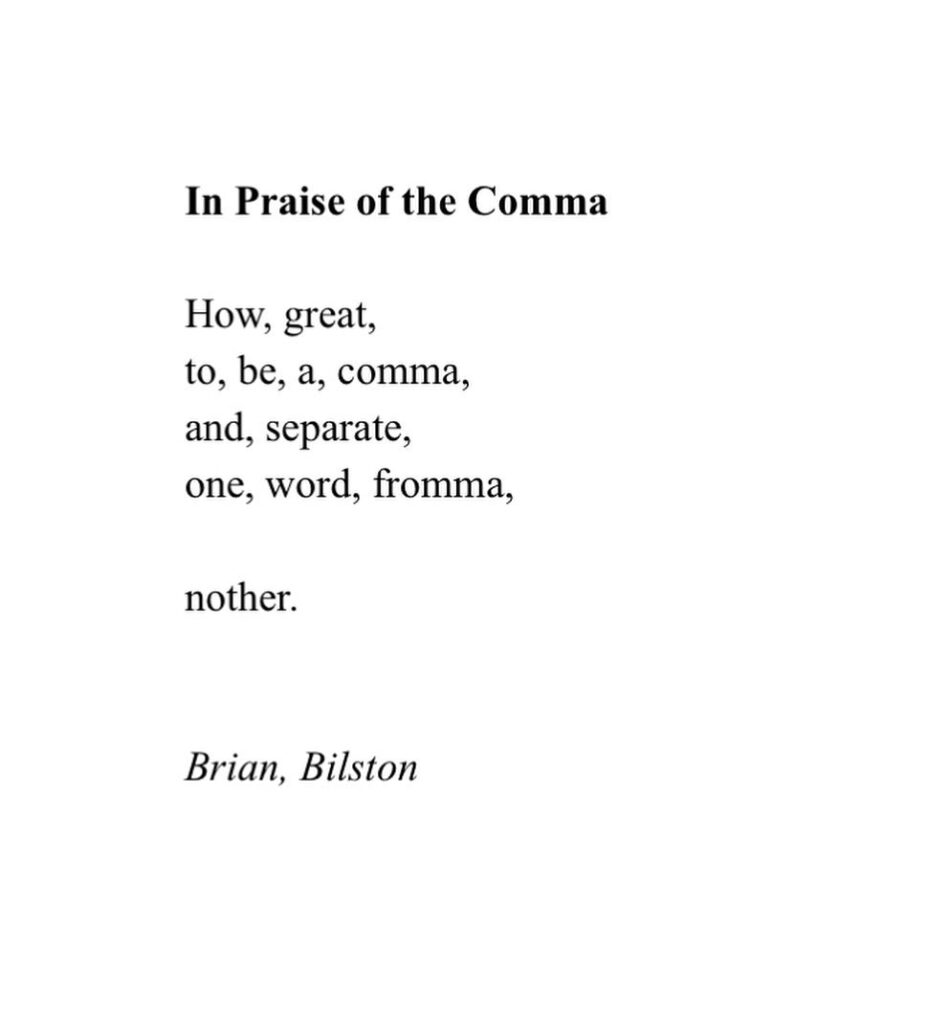 <<<<<<<<<<<<<