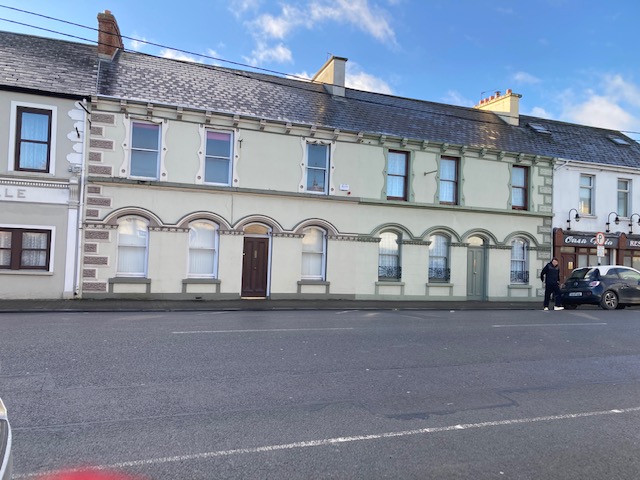 <<<<<<<<<<<
It Started with a Poem
Richard Moriarty of San Diego is a blog follower. His friend, Judy Alexander sometimes helps him by typing the occasional poem to send to us here.
She sent me this last week
On the occasion of her 100th birthday, Friday, January 23, 2023, dedicated to Eileen Moriarty,
born in Ballydonogue and living now in Dublin
( The birthday was on Friday Jan 20th. but a typo in the first email led me astray and then it took a bit longer for the ladies to get the tributes together and for Dave O'Sullivan to help me convert the pdf image they sent to one I could use here. Apologies Eileen, birthday girl, and all her family for missing the big day)
MY MOTHER
WHILE WE'RE TOLD IN SONG AND STORY
OF PEOPLE OF RENOUN
BE THEY WRITERS POETS OR CONGRESSMEN
OR KINGS WHO WEAR A CROWN
IT'S INSCRIBED THERE IN THE PAGES
THEIR NAMES AND WHERE THEY'RE FROM
BUT I BELIEVE THE UNSUNG HERO
IS THE PERSON KNOWN AS MOM
SHE'S THE ONE WE ALWAYS TURNED TO
WHENEVER THINGS WENT WRONG
THE GENTLE HAND THAT DRIED OUR TEARS
WHILE SHE HUMMED SOME SILLY SONG
SHE WAS ALWAYS THERE TO GREET US
AND HELP US ON OUR WAY
WITH THAT SPECIAL TOUCH
THAT MEANT SO MUCH
AND A GENTLE WORD TO SAY
AND THERE WERE TIMES WHEN
WE CAUSED YOU PAIN
AND TREATED YOU UNKIND
BUT ALL THE WHILE YOU'D SOFTLY SMILE
OH, HOW COULD WE BE SO BLIND
BUT YOU ARE THE ONE WE DO ADORE
AND LOVE LIKE WE COULD NO OTHER
WE THANK YOU FOR GIVING US
SUCH A SPECIAL CARING MOTHER
By Richard G. Moriarty of
Ballydonohue Listowell
and San Diego California
<<<<<<<<<<<,
I wrote back to ask if Richard had a photo or a story or something to give us a better picture of his mother. It is not everyday someone reaches this big milestone birthday.
Richard hasn't mastered technology at all and Judy and his wife, Molly, are not too adept at it either but they put a lot of effort into sending us the following.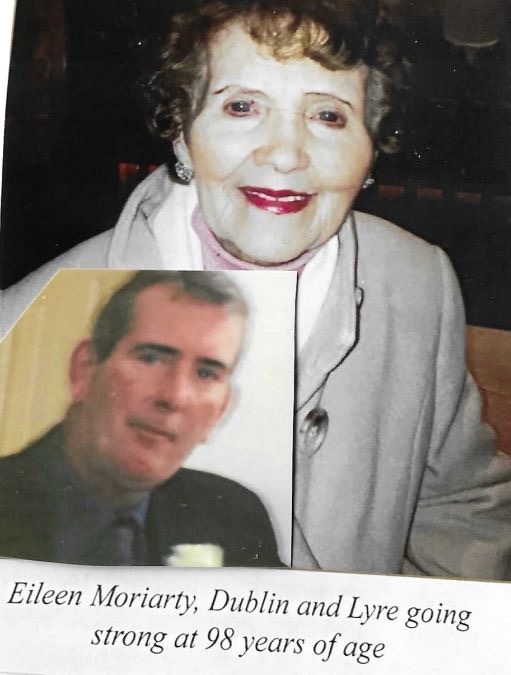 ,,,,,,,,,,,,
I am Molly Moriarty, married to Richard, son of Eileen Moriarty. I am very glad to be able to wish my mother-in-law a happy 100th year birthday. I met Richard and Eileen in 1980 when visiting Ireland and having just met Richard was invited to their home for a Sunday dinner. I was immediately welcomed and the dinner was delicious. After all these years I have realized how important family is to Eileen. She is very interested in all things around her and always seems to know all the news. I soon learned that if I wanted to know what was going on, just have a seat, and soon I would be better informed than watching the news. She always looked far younger than she really is and is a beautiful lady. Her faith has always buoyed her up as she has had more than her share of troubles. I feel I could not say the same, and I truly respect her courage and strength and think of her as a role model. There is so much in 100 years of telling that only a book could do her justice. With that in mind, I feel proud to know her and, again, wish her a happy 100th birthday.
Lovingly, Molly
……
DR. KILDARE WOULDN'T GET A LOOK-IN
One of my treasured memories of my Mom I guess would be when I was about seven years of age growing up in LISSELTON. A good- natured local man entrusted me with a fullsize RALEIGH BICYCLE! Him, not knowing I wasn't qualified to operate such an advanced piece of equipment and I wasn't going to make him any the wiser. I was doing great on the straightway but when I came to Lyre Cross the stopping power just wasn't there. With Johnny Cash it was the mud the blood and the beer, but with me it was the mud the blood the gravel and the Furze bushes. Now what to do? My wails became more pronounced with each trickle of blood oozing from the scalp and even more so at the sight of the two gravel embedded kneecaps. But that wasn't the worst of it, oh no, not even the road rash to the KEESTER. The worst would be the Mom. As I laid there in that stream that autumn evening, I could hear her, "Why are you doing this to me, who do you think you are, haven't I enough to contend with besides you coming in here with this?" But, not "Oh my God what happened to you (son)?" Between sobs and sniffles hiccups and heaves, "Mom, I was helpin' Mrs. Foley fill her water barrels over at the river, and I fell off the donkey cart onto the BIG stones (YERRI)!" "Sure. You're always tryin' to help people." Growing up in rural Ireland in the '60's, where each household had eight or nine children, you had to think fast, REAL fast. For the next two weeks the Mom was my primary doctor, night nurse, neurologist, and just like all moms, whatever roles needed to be filled. The upshot of it all I made a LHOUBAWN of the ROTHAR but for two whole weeks I got loads of TLC and lots of TCP. Thank heaven for moms.
JANUARY 20, 2023
HAPPY 100th BIRTHDAY
MOM
Richard G. Moriarty
…………
As a friend of the family, I've heard many fond reminisces about Eileen Moriarty, although I never met
her. She is a true woman of her times, a farmer's wife and mother of eight children. She could (and did)
awaken in the middle of the night to help birth a calf, and still manage to put a hot breakfast on the
table for her husband and children, pack their lunches, and see them off to the fields and school before
she headed out to do laundry, tend her veggie patch and all the other chores women of her time did
that made them super heroes to their families. Then it was back to the kitchen to prepare another
home-cooked meal. I'm sure her prayer was to manage a full night's sleep without being called out to
help another farm animal.
Eileen is a woman of faith which, along with her stoic nature, has seen her through the tragedies that
are a part of living. She has always been a beautiful woman, taking pride in her appearance and her
representation of her family. There must be a portrait in the attic, growing old instead of her. This week
she received congratulations from President Higgins for reaching one hundred years of age. Well
deserved congratulations! Eileen lives at home now in Dublin with her daughter Margaret. God bless
them both, and happy birthday to Eileen!
Greetings from Judy Alexander of San
Diego, CA USA
<<<<<<<<<<<<<<<<<
The Real Child of Prague Statue
Kathleen Griffin sent these to us.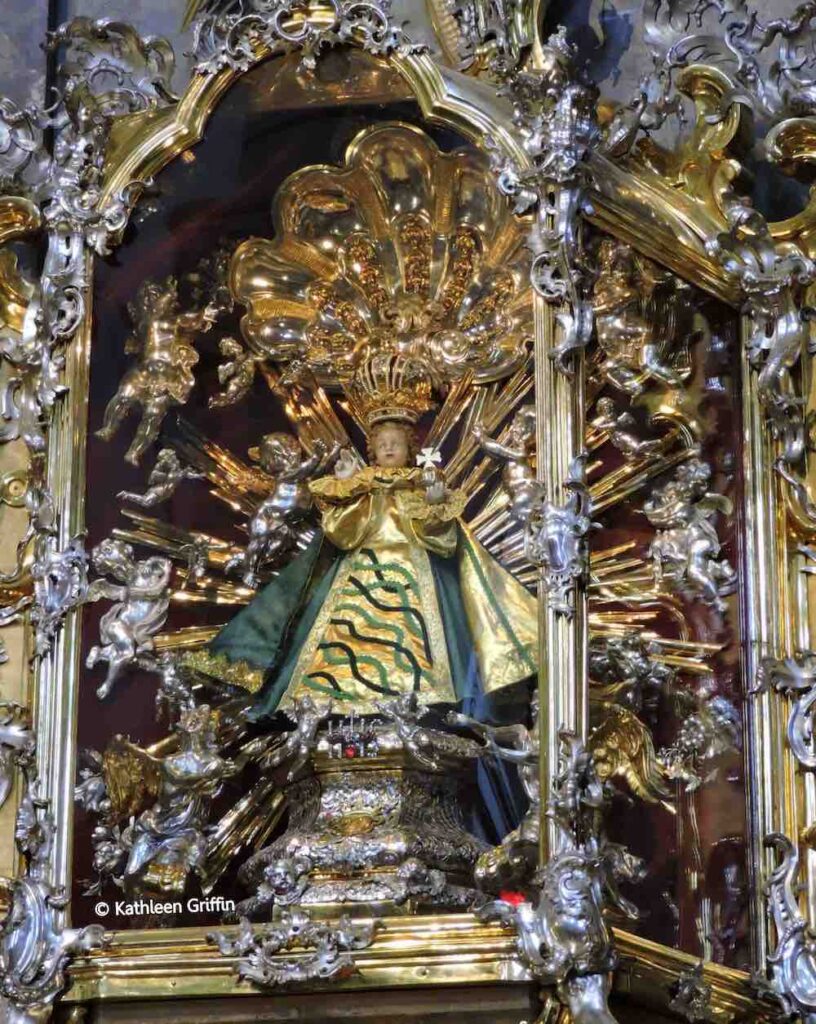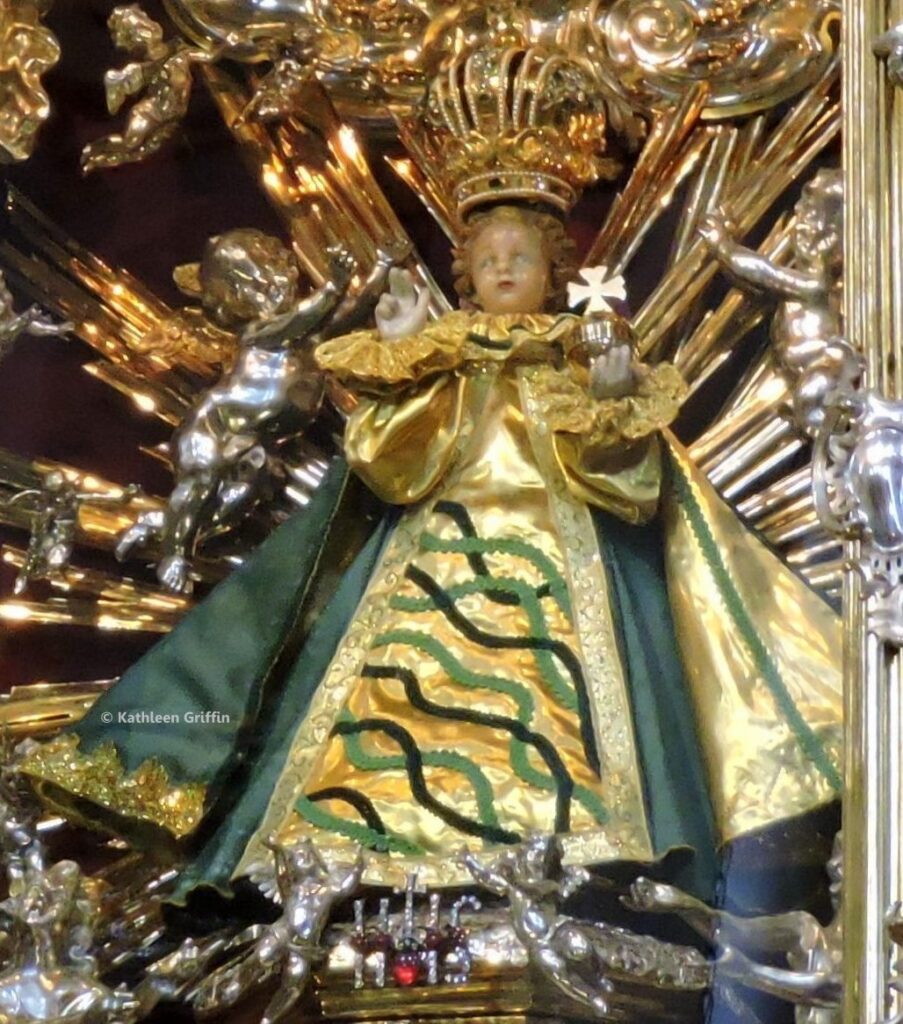 The Infant of Prague statue is located in the Church of Our Lady of Victories of the Discalced Carmelites, in Malá Strana, Prague, Czech Republic (Czechia). The statue is only about 19" tall and has an extensive wardrobe of garments! Photographed by Kathleen Griffin on 10th Sept., 2019.
The icon we are familiar with here bears very little resemblance to the real thing. It is a tradition in some countries to dress statues in actual clothes. This seems to be what happens here.
Thank you, Kathleen, for those images of The Infant of Prague in Prague. The little statue surely is magnificent.
<<<<<<<<<<<<<<
Listowel, The Celtic Art Capital of Ireland
We pride ourselves here on being the literary first town in Ireland. The more I look into Celtic Art in town the more I am convinced that Listowel is at the forefront of this art form as well.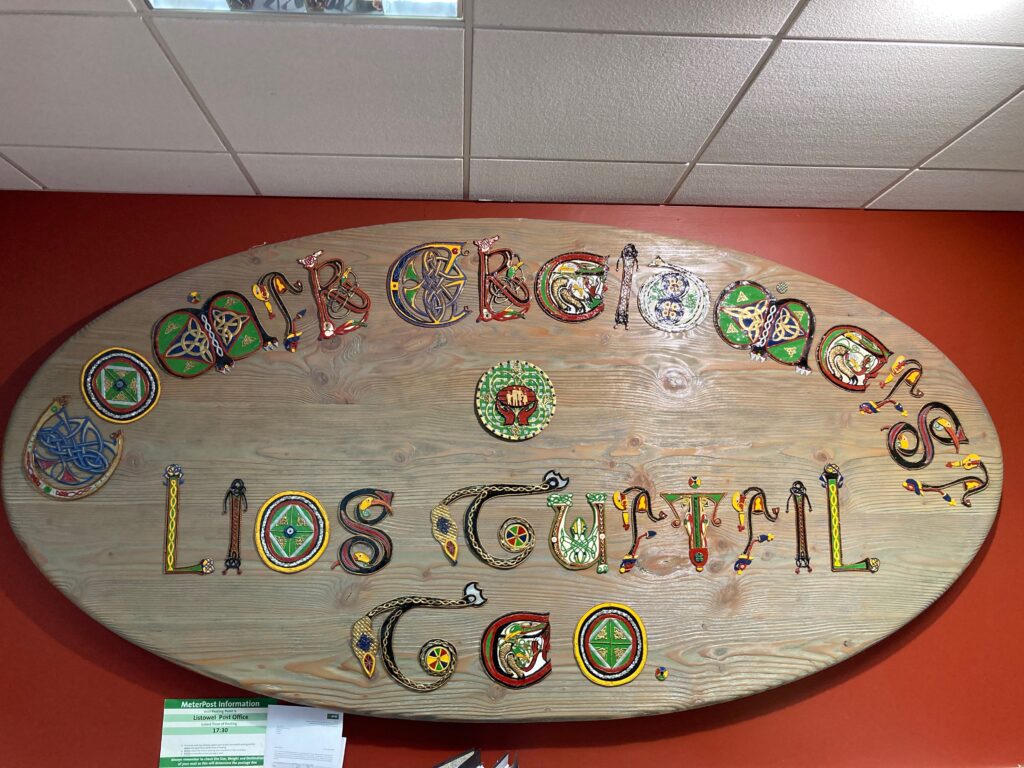 This magnificent piece is in Listowel Credit Union office . It is the work of the late Paddy Fitzgibbon.
Dave O'Sullivan found the relevant article in The Kerryman of May 28 2008.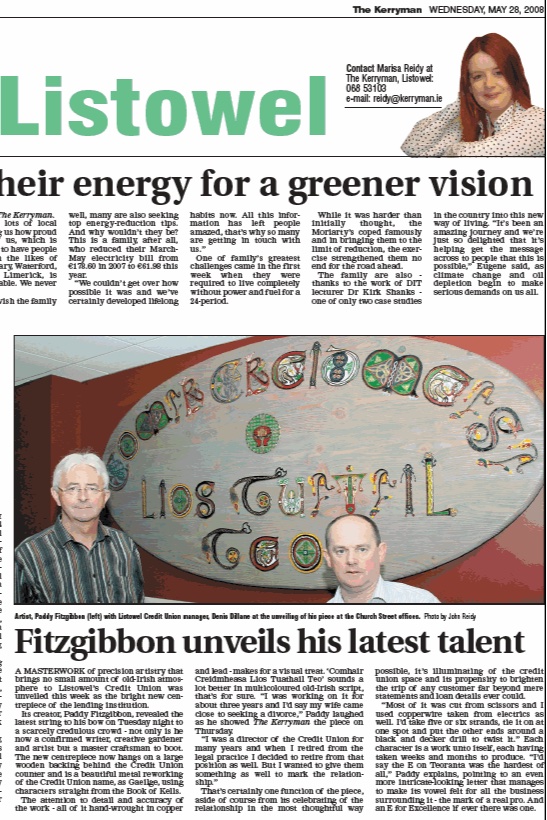 I've enlarged the text a bit. I hope you can read it. There is nothing that I know of anywhere in the world to match this for artistry. The influence of the Book of Kells is obvious.
There is another Fitzgibbon piece in Scoil Realta na Maidine. I'll bring you that tomorrow.
<<<<<<<<<<
Jimmy Hickey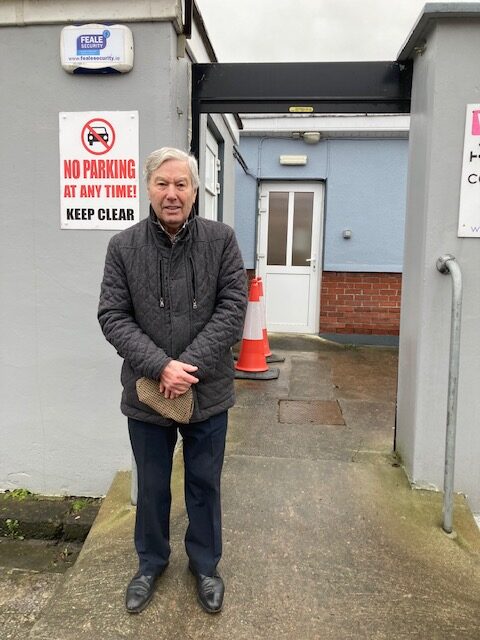 I love to run into my friend, Jimmy Hickey, when I am in town. I met him last week at the St. Vincent de Paul Day Centre where he was collecting meals to deliver to people in North Kerry. Jimmy told me that people get a delicious meal from this Meals on Wheels service and he is only too happy to help with the delivery.
Jimmy told me that he had lost a friend over the Christmas holidays.
Poet, Anne Hartigan and Jimmy have been good friends since they first met at Listowel Writers' Week in 1996.
Jimmy gave a talk on the history of Irish dancing. He had some of his dancers on hand to demonstrate the steps. Jimmy invited the audience to dance with the local dancers. Jimmy was dancing with the poet, Anne Drysdale, who enjoyed herself so much she wrote a poem about it. Another poet present was Anne Hartigan. She admired Jimmy's dancing and proposed that he compose a dance to which she would write a poem.
The dance and the poem were duly composed and Jimmy and Anne practiced their performance in Ballygrennan, with Anne reciting and Jimmy dancing on an old half door.
"My feet were the music to her poetry."
Later that year the Kerryman's Association in Dublin were organizing a big £100 a ticket fundraiser. They asked Jimmy and Anne to perform their unique dance to poetry.
There were 1,000 people in attendance and Dan Collins was the M.C.
The audience were spellbound by the rhythmic taps of the dancer to the cadence of Anne Hartigan's poems, What Way the Wind Blows which Jimmy choreographed in jig time and Little Lord of Death which he danced in reel time.
Jimmy wrote out the steps in the old Gaelic notation with seimhiús and síne fadas. 
This unique performance was greatly appreciated by the audience.
As far as Jimmy knows this has never been done before or since.
Jimmy and Anne remained friends. When she passed away on December 29 2022, her family informed Jimmy and he flew to Dublin for her funeral.
Thus closed an extraordinary chapter in Jimmy's very colourful life.
May Anne le Marquand Hartigan rest in peace.
<<<<<<<<<<