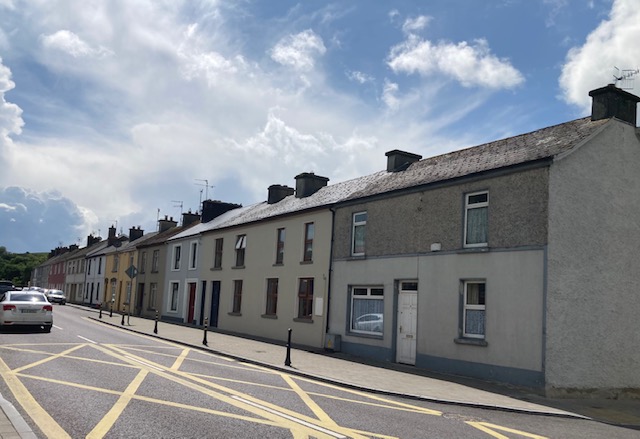 Bridge Road in June 2023
<<<<<<<<<<
History in Kiskeam
Opposite the school in Kiskeam they have a little history park with its own stone circle.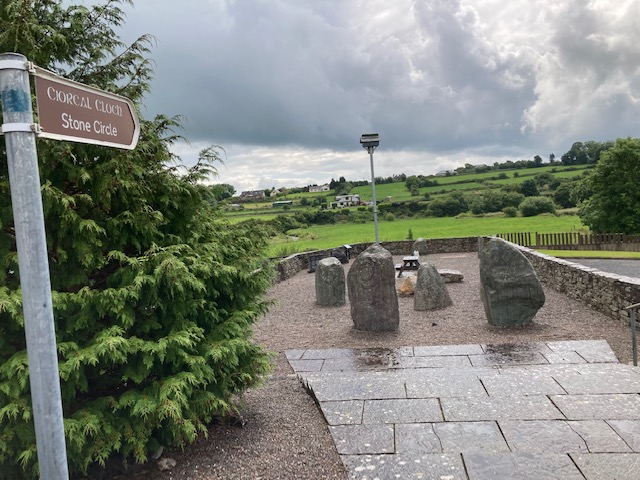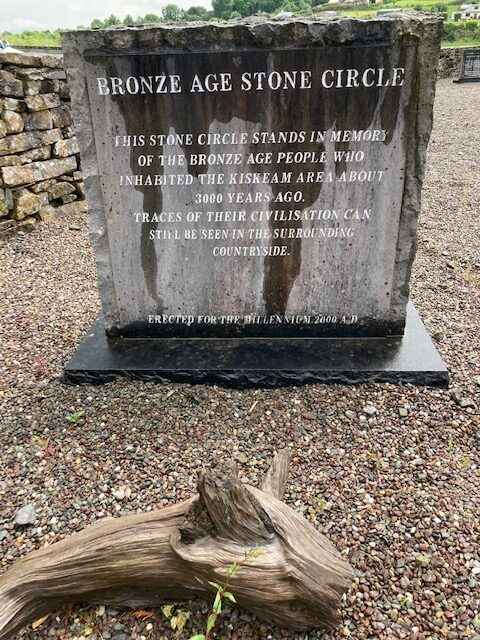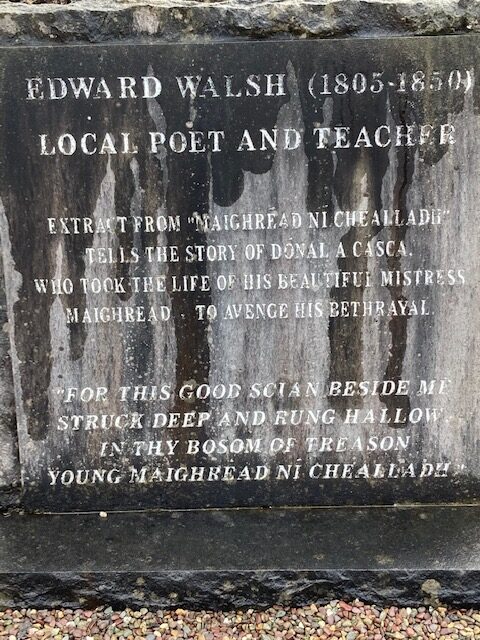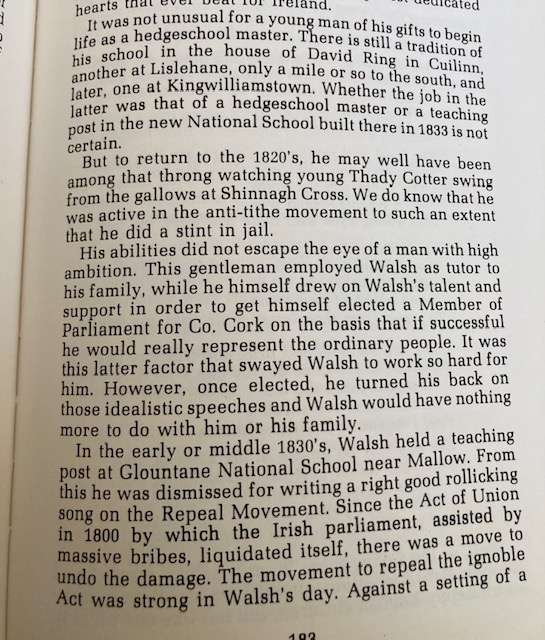 Fr. John J ÓRiordáin on Walsh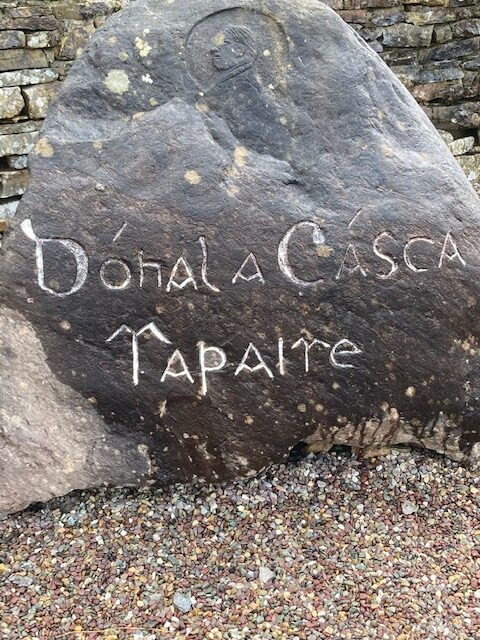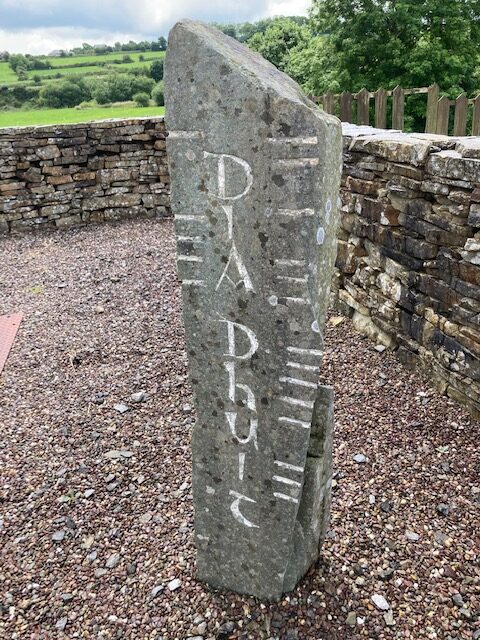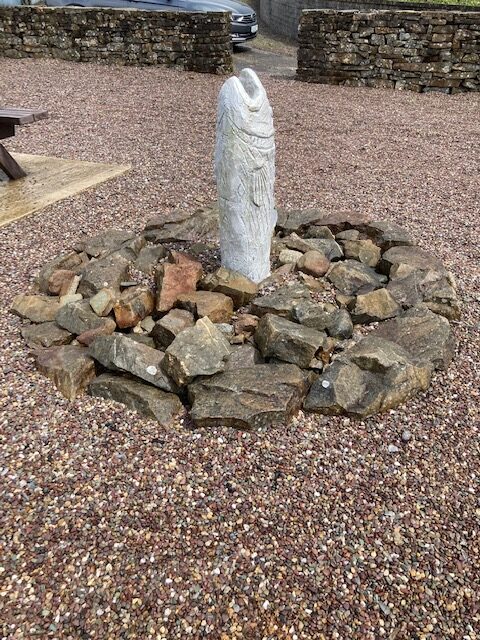 Ogham stones, the salmon of knowledge, history and myth remembered.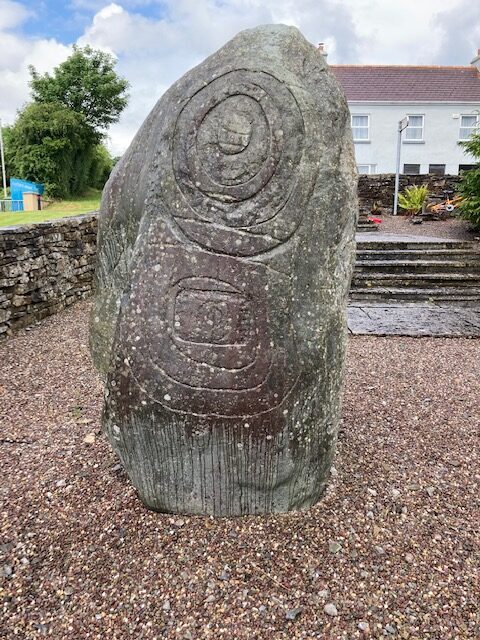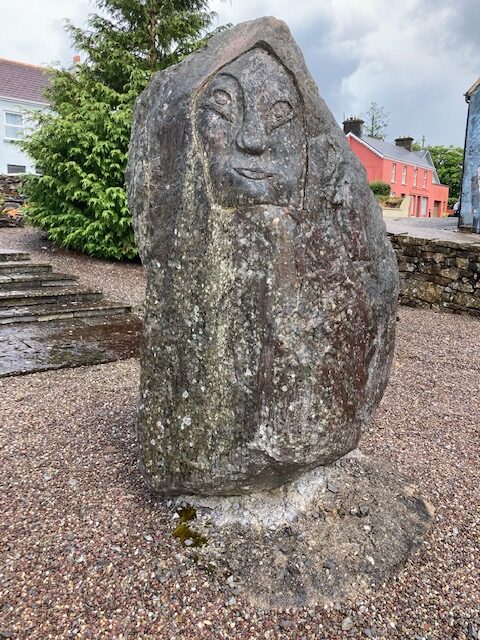 <<<<<<<<<<
Now that the Dust has Settled
Here is a piece that Stephen Connolly wrote for The Irish Times before Writers' Week 2023.
It was still daylight on January 4th when I left Dublin on my way to Listowel, but dark by the time the budget flight arrived into Farranfore. Until I got the job as the first ever festival curator at Listowel Writers' Week, I didn't know that there was a flight from Dublin to Kerry. It was the first of many things I was going to learn.
It's a bizarre thing to have a new job announced in the national press, more so if it comes with a tag to say that your appointment "follows controversy": a controversy I knew nothing about when I sent in my application. It's even more bizarre to then walk into a town where you know nobody at all, but for whatever reason I wasn't nervous. My love for Listowel was immediate and the first thing I noticed was the intricate plasterwork on the lintels above the windows of the buildings around the town with the names of business owners past and present: O'Connor, Molyneaux, Carroll, Keane.
I was living a few miles out of town on a road where a bus runs twice a day: if you got the second bus into town you would have already missed the last one back out again, so I was making the most of my time in Listowel itself getting to know as many people and places as I could. Mike the Pies, the amazing pub and even better music venue, was recommended to me by my friend Paul Connolly from The Wood Burning Savages and it was one of my first stops.
What really caught my eye, though, was a framed old poster with 'IMPORTANT AUCTION of a modern two storied LICENSED HOUSE' in beautiful, eccentric wood type: the kind of thing that wouldn't have looked out of place in Paula Scher's work for New York's Public Theatre. It was marked with "Cuthbertson, Machine Printer, Listowel" at the top and the word Listowel itself appeared at least five times on the single poster. There was something about the various weights for the letterforms in the old wood type and the idiosyncratic syntax of it all that sparked something in me, and I knew immediately that it would influence the festival's artwork.
I got talking about it to the owner, Aiden O'Connor, and before too long he told me about his uncle Michael O'Connor, a previous landlord and son of the eponymous Mike the Pies, who "collected posters, and made posters himself". He told me that Michael had donated "quite a lot of them to a gallery in Limerick". When I had a look online, I found that there was an archive of almost 3,000 posters from various cultural institutions across Europe spanning several decades that formed a permanent collection in the Limerick City Gallery of Art. "There's more of them," Aiden said. "Give me a minute and I'll show you."
I couldn't believe what was hidden away above the pub, but it's going to form an exhibition during Writers' Week called The Uncollected Posters of Michael O'Connor. The singer-songwriter Jack O'Rourke had been amazed by Michael O'Connor's story, too, and wrote Opera on the Top Floor about him: Jack will be playing at the opening night of Writers' Week, when the winners of the Kerry Group Irish Novel of the Year Award and the Pigott Poetry Prize will be announced and the John B Keane Lifetime Achievement will be presented to Stephen Rea.
Mike the Pies was the first of many incredible discoveries during the first few weeks in the Kingdom and it was easy to see why this heritage town has been a cultural centre for decades. I'd read as much as I could about the history of Writers' Week, particularly the ethos on which it was founded, and it resonated with what I've been trying to do since I was a teenager. I knew that if I was programming acclaimed best-sellers like Liz Nugent and Louise Kennedy, I'd have to be thoughtful in my approach to debut writers (there will be events with Michael Magee, Nithy Kasa and Fergus Cronin, to name a few). When I was inviting Paul Muldoon to read poems and have a conversation with Paul Brady, I knew that inviting emerging talents like William Keohane and Jess McKinney would be as important to the continuation of what the festival is all about.
In Kevin's bar on William Street there's another Cuthbertson poster, this one from 1937, advertising "the first all-night DANCE": the dance was organised by local undertakers and the room used to store coffins became a cloakroom for the night (through to dawn, presumably). This kind of thing wasn't a one-off, and I felt like it gave me a certain permission to make use of some slightly less-conventional spaces. Among the prestigious names in fiction and poetry, we'll be putting on an event with the authors of Bad Bridget: Crime, Mayhem and the Lives of Irish Emigrant Women (a best-seller in the non-fiction charts) in the historic but working courthouse in the town; we're putting on an event in Kevin's bar where anyone called Kevin can turn up and do a turn (Kevins in Kevin's: an Omnium Gatherum of Kevins); we're putting on a performance of Minimal Human Contact, the play in Irish by Kneecap's Naoise Ó Cairealláin, in Mike the Pies. I can't wait to see all of this unfold in Listowel.
Stephen Connolly is Festival Curator of Listowel Writers' Week, which runs from May 31st to June 4th
<<<<<<<<<<
Walkies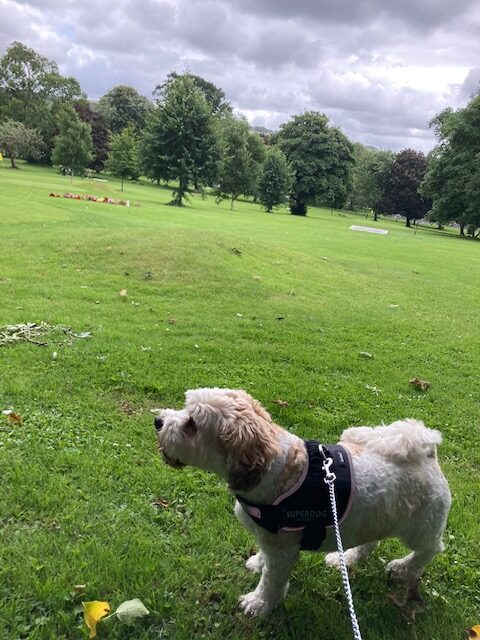 Molly and I visited the beautiful Pitch and Putt course.
<<<<<<<<<<