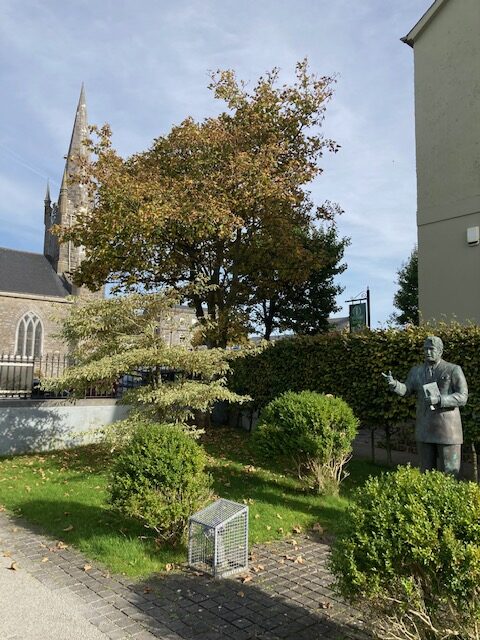 Bryan MacMahon statue in the grounds of Kerry Writers' Museum
<<<<<<<<<
Ballylongford Thanksgiving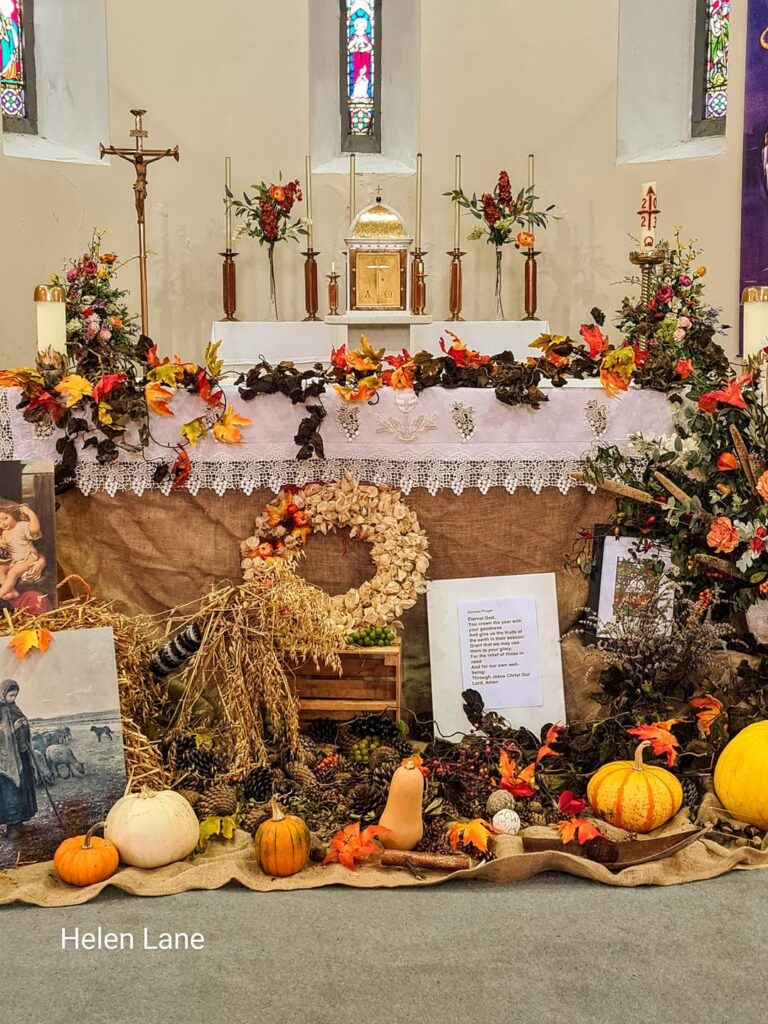 Photo; Helen Lane
Beautiful harvest thanksgiving altar in St. Michael's.
<<<<<<<<
Dog walking….Advice from your pouch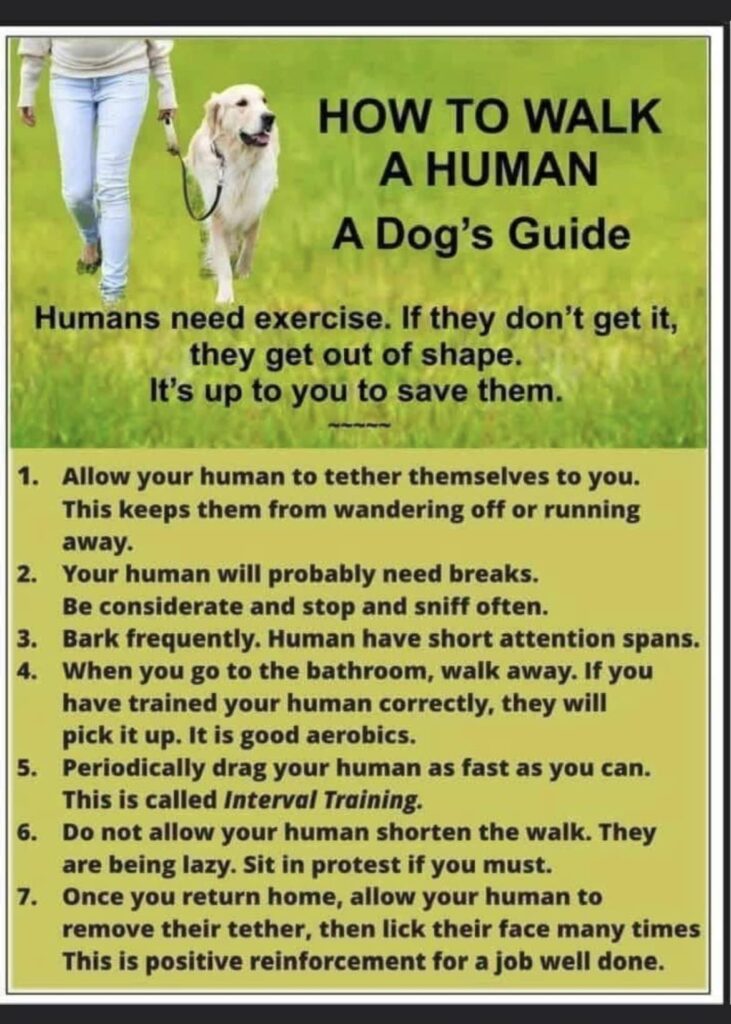 <<<<<<<<<
More Titbits about Irish Nurses in Britain
Nursing in Ireland was held in higher regard as a career than it was in Britain. Places in nurse training were harder to get and usually there was a fee to be paid.
English trained nurses were accepted into Irish hospitals and worked side by side with Irish trained staff.
An Irish trainee nurse in an English hospital was very often expected to work on a ward on her first day in the hospital. It was very much a learning by doing type of training. It wasn't until the 1960s that auxiliary nurses and nurses aides were employed. Before that nurses did all the washing and cleaning as well as nursing duties.
Prospects of rising to the rank of Matron in an Irish hospital were slim. Top jobs were always reserved for nuns. In Britain too, matrons were usually unmarried. the long unsociable hours and hard work were thought unsuitable for a married woman.
<<<<<<<<<
A Treasure from a Charity Shop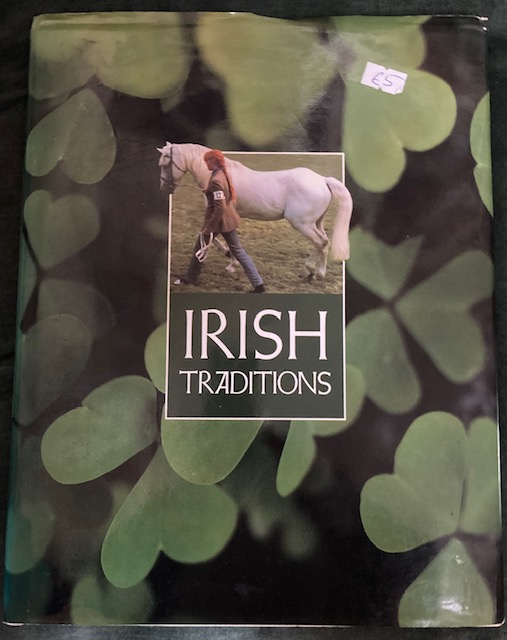 I paid €5 for this in the Listowel Irish Wheelchair shop.
The book has stunning photographs by a lady called Kathleen Jo Ryan. She also co edited the book. It was published in the US in 1985.
There are essays by John B. Keane and Bryan MacMahon, Caoimhín ODannachair and others. I will give you a flavour of these soon.
Look at these lovely Listowel photos…copyright Kathleen Jo Ryan. These are photos of photos in a book but you can appreciate that the images are brilliant;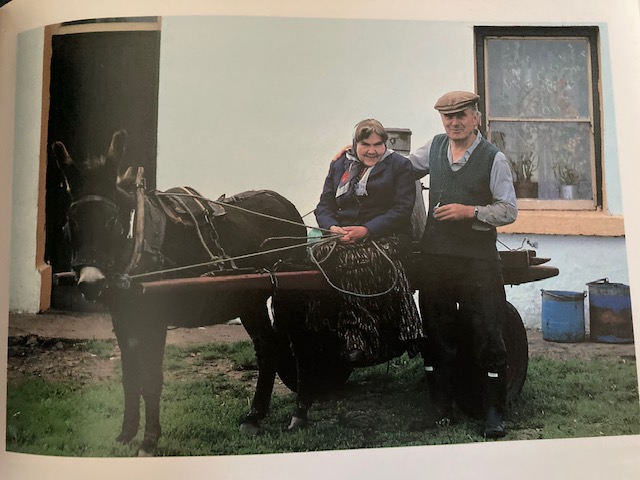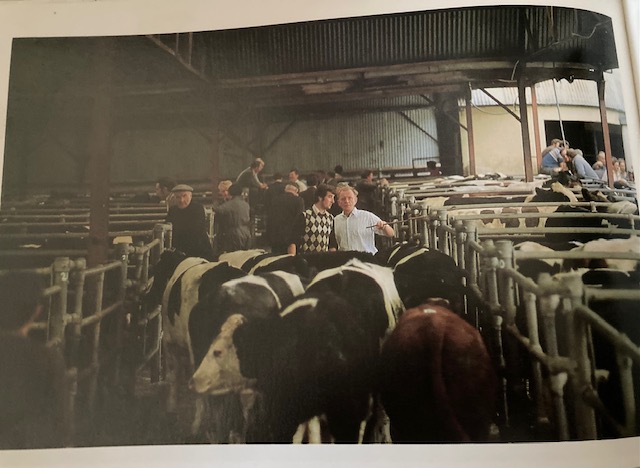 Listowel Mart
<<<<<<<<
A Fact
The phrase "raining cats and dogs" originated in 17th century England. During heavy downpours many unfortunate cats and dogs drowned and were washed down the flooded streets giving the impression that it had literally rained cats and dogs.
Correction;
I gave you false information last week. Loreto Weir informs us that sharks can get cancer.
<<<<<<<<