Ballybunion Cliff Walk in Winter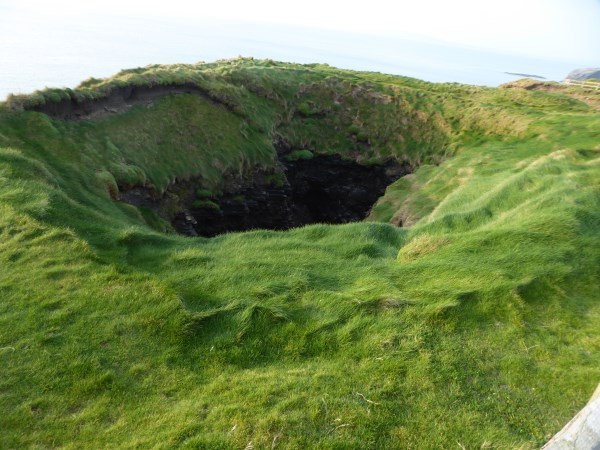 It is a great pleasure to walk along the cliff edge by the wild Atlantic in winter. Above is the Nine Daughters Hole.
It was around the year 800 AD when a fleet of invading Viking Long-ships sailed along the coast of North Kerry and disembarked at Inis Labrinde, at the mouth of the Cashen river, beside Ballybunion. According to local legend a raiding party reached the old jail of Doon called Pookeenee Castle, where they came upon the nine daughters of the local Chieftain O' Connor.


There are two versions to the next part of the story; the first is that these daughters fell in love with the Viking warriors, and planned to elope with them and marry them. The second version sounds more plausible, and that is that the Vikings plotted to kidnap the daughters as their brides.


Whatever version is to be believed, the outcome was the same. O 'Connor found out about these plans, and one by one he lured each of his nine daughters to the chasm. Once there, he told them that a valuable torc (old celtic neck-band, usually made of precious metal) of his had fallen in, and wished them to retrieve it. As they went searching for this missing torc, O' Connor had them tossed into the chasm. O' Connor then beheaded all nine Viking warriors and had their remains thrown in with his daughters. The rest of this evil deed is history. To this day, this deep chasm is known as the Nine Daughters' Hole. (Source; Ballybunion.ie)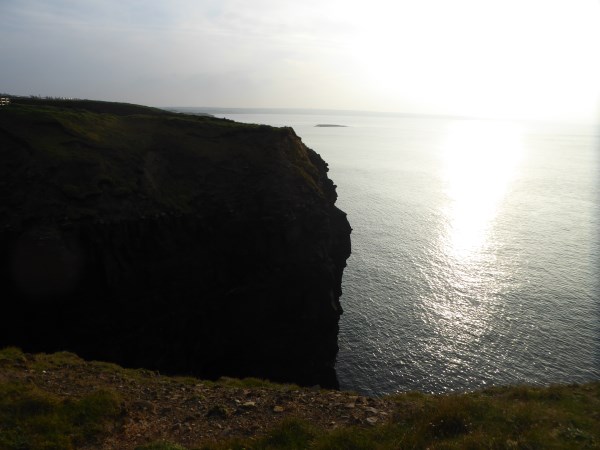 In the distance is the former Convent of Mercy, now a retirement complex.
The Nuns' Beach is an inaccessible strand just below the old convent.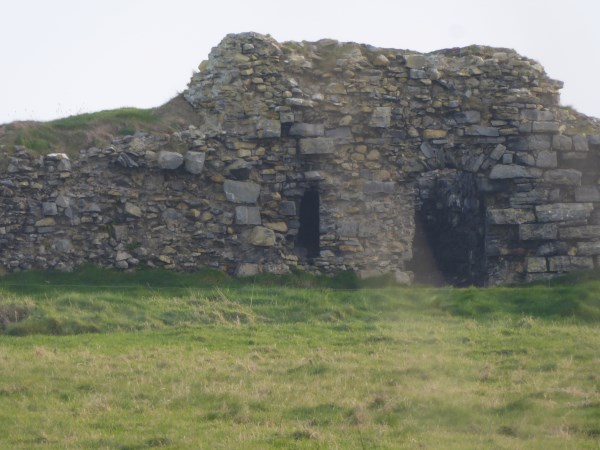 I used to think that this was some kind of shepherds' shelter. Not so. It was a kind of battery or arsenal.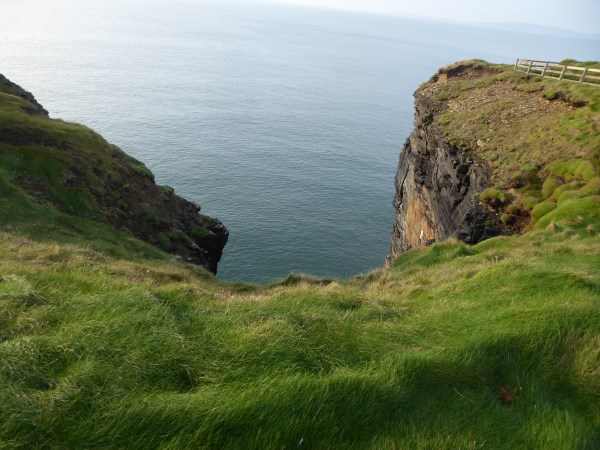 Druid's Lair is located on the Cliff Path Walk north of the town, overlooking a sheer drop to the rocks below. This area is steeped in folklore and legend, with magnificent views of the Wild Atlantic Way in the distance. Deep in the pages of Ballybunion's history is a story of Druid worship, when this turbulent epoch saw human sacrifices made to the Celtic god Mananann.


It is said that centuries ago, on May mornings as the dawn broke, sacrificial offerings were made to honour the Celtic god. This involved placing a victim at the abyss near the Scolt facing the Shannon Estuary. Specially-chosen executioners commenced the gruesome ceremony by striking blows to the victim's head; a garrote was then used to complete the sacrifice, and the body was cast over the cliffs into the raging tide below.


Today the area is quiet and peaceful, allowing visitors to enjoy the walk along the cliffs, blissfully unaware of the blood-thirsty history behind the name Scoilt Na Dhrida!
( Ballybunion.ie)
<<<<<<<<<
A Poem from San Diego
Firstly I'm going to tell you a bit about the poet, Richard Moriarty. This biography was supplied by his wife.
RICHARD MORIARTY was born in Lisselton, Listowel, County Kerry, Ireland, where much of his family still resides. He emigrated in the early '80's to San Diego, California, USA.
Richard has a rich tapestry of memories of his childhood growing up In Kerry, although he has put in a lot of distance since those days. The bonds are still strong: The constant TUG to come HOME, if only in verse.
Richard has travelled extensively throughout the USA and Mexico, holding various jobs, including construction worker and truck driver, but his favorite gig was as a horse carriage driver, where he regaled tourists and residents alike with his stories as they viewed the sights in San Diego. This has left him with many experiences and people to write about.
Richard has written several poems and short stories, much of which has been published. Most notable is a Letter of Recognition and Appreciation from President George Bush.
I KNOW SANTA'S ON HIS WAY
Grandpaw, will you tell me the story, of how Christmas came to be
About the baby Jesus, the presents, and the tree
Why the stars all seem to sparkle, up yonder in the sky
And why there's so much laughter, amongst every girl and boy
Can you tell me why the candles, seem to have a beacon light
Will it be like this forever, or is this a special night
Come to me my little sweetheart, and climb up on my knee
And I'll tell you the story, just the way 'twas told to me
It started back many years ago, in a land far, far away
In a little town called Bethlehem, or so the people say
By a manger in a stable, so cold and all forlorn
There on the hay, that December day, Jesus Christ was born
You ask me of the presents, and what meaning they behold
I guess it's called affection, should the truth be ever told
They're little gifts that are bestowed, and we all understand
On that special day we just want to say, God bless the giving hand
Now, I know what you are thinking, by the way you look at me
You want to hear the story, about the Christmas tree
Well, every day in his own way, God sends us from above
Some hurt, some joy, some strength and pain, but he does it all with love
He gave us gifts, like mountains, the deserts, and the sea
And mankind enhanced this beauty in the form of a tree
My little girl, with golden curl about the candle glow
Should we get lost, by day or night, as on through life we go
When we're in doubt, as we sometimes are, as on and on we roam
It's the twinkling stars and candlelight that will lead us safely home
Well, now I believe I've come to the end and I have no more to say
So go to sleep, my sweetheart
I KNOW SANTA'S ON HIS WAY
Richard G. Moriarty
<<<<<<<<
Welcome Visitors
The two ladies pictured with me recently in The Listowel Arms are great friends of Listowel and love to holiday here. In the centre is Harriet Owen whose Owen, McCarthy, Berry and Goodman Gentleman relatives all hail from around here. She was in town to liaise with local historians and to learn more about her Kerry family.
On the left is Ann Murtagh from Kilkenny. Ann came to Listowel Writers' Week to do a writing workshop. She was already in the process of writing her first book of children's historical fiction. When we met she had just received the great news that O'Brien Press have accepted her book for publication.
As any of you who has any knowledge of children's fiction will know, it is a very crowded market, full of " big" names, i.e. people who are famous for something else entirely and are now turning their hand to writing for children, people like David Walliams, Ryan Tubridy and Kathleen Watkins. I was thrilled to hear of an unknown author whose book will have to stand on its own merits being taken on by the giant of Irish publishing, O'Brien Press. I can't wait to read the book. Watch this space!
<<<<<<<
Our Very Own Giant Killers' Story
The papers are full this week of stories from little Mullinalachta's St. Columba's who beat the mighty Kilmacud Crokes to win their county's first ever Leinster title.
North Kerry Football had a triumph of the underdog story of its own as St. Senan's beat Ballydonoghue in the North Kerry final.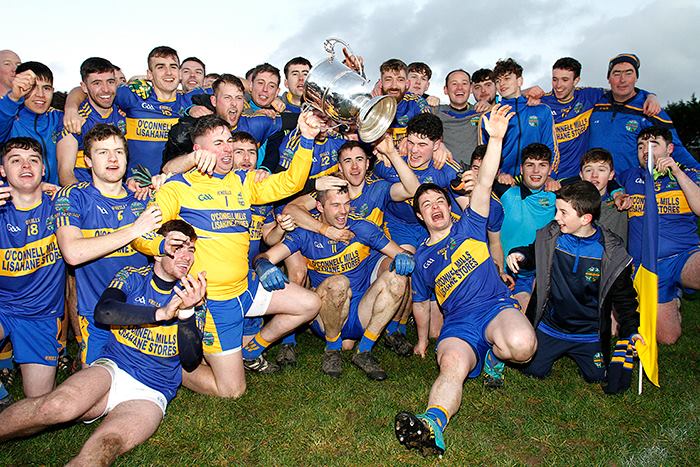 Photo: North Kerry Football on Facebook