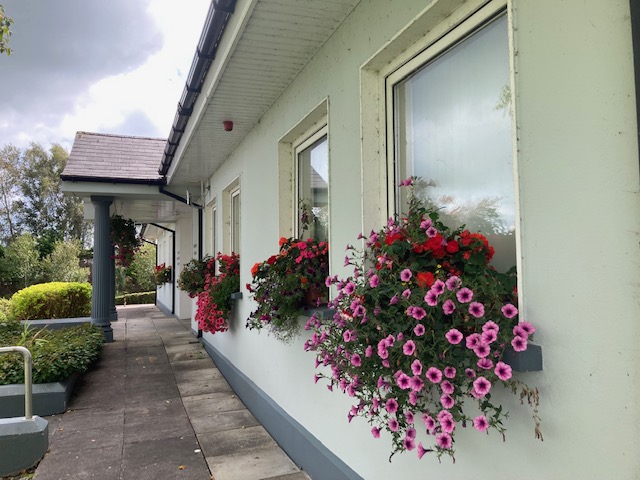 Áras an Phiarsaigh
<<<<<<<<
Dublin Kerry Honours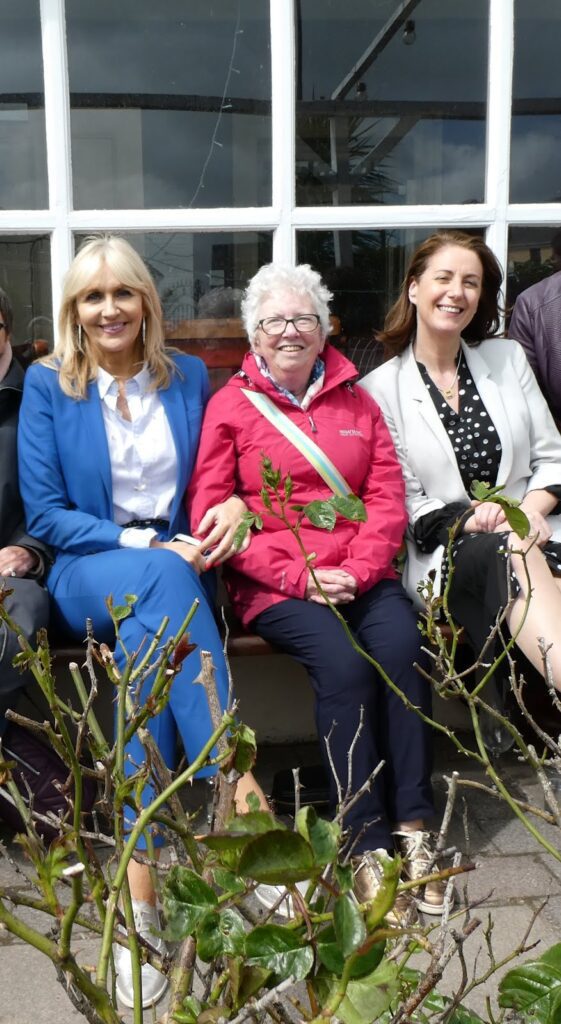 There I am at Women in Media in Ballybunion in 2019. On my right is Duagh native, Katie Hannon who is now being honoured by the Kerry association in Dublin. She is to be their Kerry Person on the Year 2023.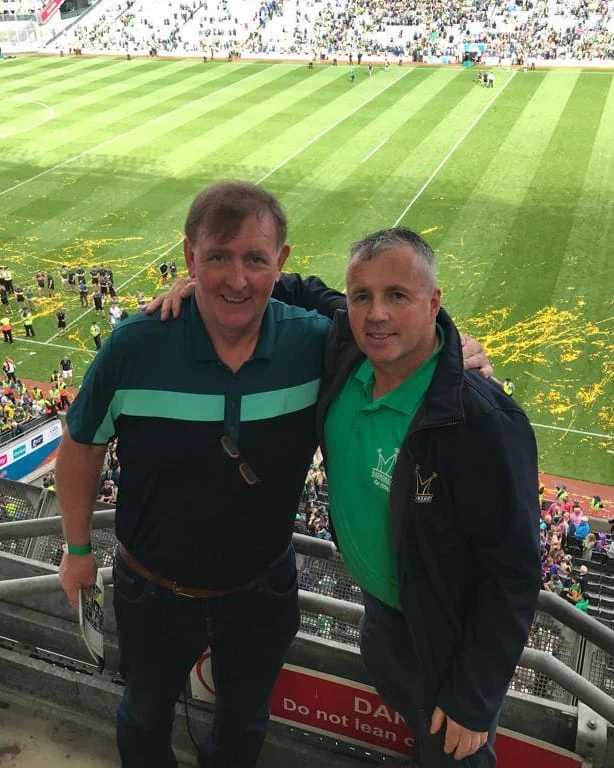 Photo: Radio Kerry
These two national treasures, Ambrose O'Donovan and Tim Moynihan, the voices that bring GAA matches to Kerry people all over the world, are also to be honoured. Their match day commentaries are the stuff of legend. They are to be dubbed Laochra Chiarraí (Kerry Heroes).
<<<<<<<<
A Local Spat
in the letters page in 1901
THE LISTOWEL CONCERT—MR JOHN J FOLEY'S LAMENT.
Listowel, 27th March 1901.
Dear Sir,
In your last issue Mr John J Foley takes exception to the remarks made in my notice of the concert recently held in Listowel, in so far as his "comic" recitation "Thady Kelly's Hen," was concerned. It is only natural that Mr Foley should endeavour to prove that the item, so far from being objectionable, was entitled to the honour of a National anthem. If I were in his position it is more than probable I would also try to justify myself in the eyes of the public. Placed as I am, I am sure Mr Foley will have no objection to my defending my criticism, particularly as it was written in a spirit which commends itself to himself. Whether he does or not, I intend doing so, and if he regards my remarks in this and in future letters unpleasant he has no one to blame but himself.
I at once join issue! with Mr Foley on the question as to whether "Thady Kelly's Hen" is an Irish poem of true racy humour, without any savour of the stage-Irishman or of the English music hall," or a miserable, drivelling , idiotic caricature of the National character. It is a matter of indifference to me whether he rendered the item in Tralee or Timbuctoo without evoking hostile criticism. I am aware that there are some sterling Irishmen in Tralee, but at the same time I am not ignorant of the fact that it contains its due proportion of shoneens. The question at issue is not whether "Thady Kelly's Hen' was hall-marked in Tralee or elsewhere, but whether it should or should not be recited before a self-respecting Irish audience.
Now, let us see what the recitation was about. Thady Kelly, as impersonated by Mr Foley, was a besotted ignoramus who never drank porther until he was dhry." " While giving the recitation Mr Foley was continually scratching his head in the most silly fashion, under the delusion evidently that he was doing something particularly clever. This is the manner in which the Irishman is usually caricatured. He is represented as a drunken, improvident, "omadhaun,' who is tolerated on account of the "bulls" he perpetrates. Mr Foley cut the most ridiculous figure he could assume as he murdered the English language in a style never heard in this country. I have no objection to the wholesale massacre of the English, language, but I have a decided objection to have my countrymen held up to ridicule. A sillier, more disgusting and humiliating performance, I never witnessed, than this so-called comic recitation, and Mr. Foley would be well advised if he never again attempted to perpetrate an atrocity which cannot fail to detract from his reputation.
Mr Foley tries to make a point out of my statement, that the people who applauded his recitation did not appear to grasp its insulting significance. I reiterate that statement, and the best proof that they did not grasp it is furnished by the fact that he was not hissed off the stage.
Mr Foley also makes some mild insinuation about "fanatics." I do not think it is necessary to waste time dealing with the observation, particularly when I take into account the fact that Mr. Foley was not in the most amiable mood when his letter was being written, and that, under the circumstances an ebullition of feeling was only to be expected. Besides as a journalist, I am not over thin skinned, and I do not certainly expect Mr Foley to be over fastidious in his choice of epithets. I have some other observations to make, but will reserve them for my next letter. In the meantime let me express the hope that when Mr Foley comes to Listowel again, he will not be accompanied by "Thady Kelly's Hen."
I am, faithfully, YOUR CORRESPONDENT .
( I looked online but couldn't find the "poem" anywhere)
<<<<<<<<
When you Meet Someone Deep in Grief
"Slip off your shoes
and set them by the door
Enter barefoot,
this darkened chapel
hollowed by loss,
hallowed by sorrow.
its grey stone walls
and floor
You, congregation
of one
Are here to listen,
not to sing.
Kneel in the back pew,
make no sound
Let the candles
speak."
By Patricia Mckernon Runkle
<<<<<<<<<
Home is Where the Horses are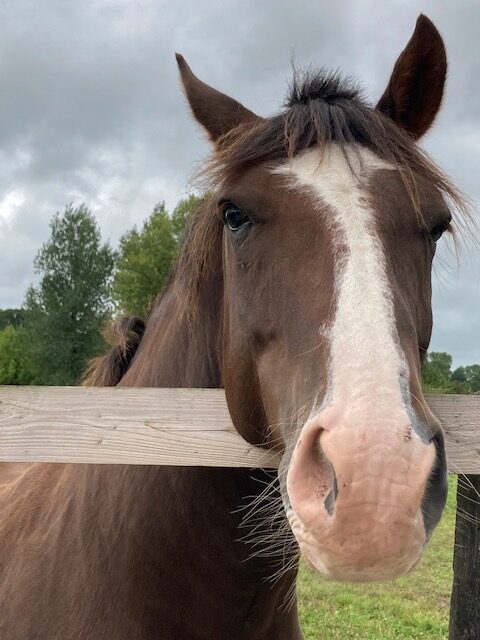 This fellow, affectionately known as Johnny, loves to come to the fence for a nuzzle.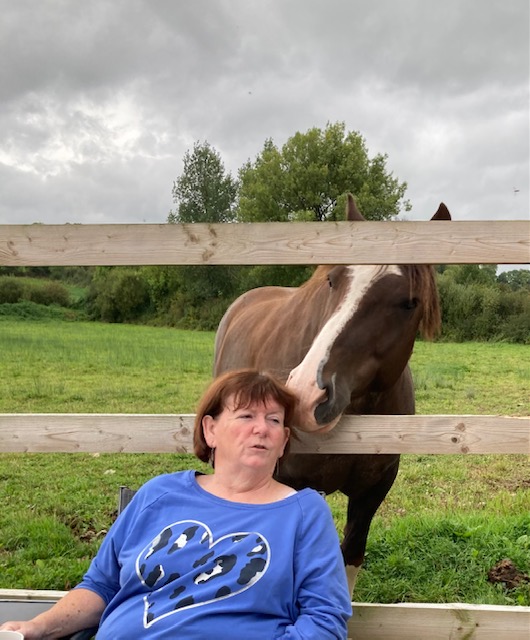 <<<<<<<<
Fact
Here is the answer to the horse related question you didn't ask.
Why is a horse's height measured in hands?
The term "hand" is traditionally used to measure the height of horses because it was originally the standard unit of measurement during the Middle Ages. One "hand" is equal to 4 inches, which is the approximate span between a human's thumb and outstretched fingers.
<<<<<<<