<<<<<<<<<<
From the Pres. Scrapbook
Winner of An Post writing competition
<<<<<<<<<
Colourful Listowel
Some Listowel traders have chosen really strong bright colours for their recently painted shopfronts.
This is Betty McGrath's Listowel Florist on Courthouse Road
Lizzy's Little Kitchen on Church Street
Sheahan's Grocery on Upper William Street
Daisy Boo Barista on Church Street
<<<<<<<<<<<
One Hundred Years Ago
As it appears from Duagh School in the schools folklore collection:
The following is a version of a song composed by Timothy Mc Govern in the year 1922, lamenting our betrayal by Mulcahy, Griffith and Collins and also the murder of Jerry Leary and Johnny Linnane by the Black – and – Tans.
The Banks of the Feale
I.
Through the green hills of Kerry my ballads are ringing,
Sinn Féin is my motto and my land "Gránuaile"
The lads and fair lassies my songs will be singing
When I'm laid down to rest on the banks of the Feale.
II.
When I think of the tyrants
the landlords and grabbers
My heart it feels cold and my courage runs down.
Kerry stood first in the red gap of danger
While Murphy encamped on the banks of the Laune.
III
When Mulcahy and Griffith and Collins betrayed us
And battered the four courts be
sure 'twas no fun.
The sassenachs helped them with no one to aid us.
While sharp rang the crack of an Englishman's gun.
IV
Brave Jerry Leary and Linnane
from North Kerry
And Buckley, that hero of fame and renown,
With bombs and grenades they were killed in a hurry
While Murphy encamped on the banks of the Laune.
V
Sad was my heart at the death of brave Rory
And Buckley and Traynor and Foley likewise
With bombs and grenades we invaded their stronghold,
Our boys were victorious in country and town.
VI
Though we laid down our arms we did not surrender
We're ready to die for old Ireland again
The gallant Republic has men to defend it
Regardless of prison torture and pain.
VII
Here's to the man who stood first in the ambush
God bless those brave men whom
the traitors shot down
My curse to the traitors who fought for the strangers
While Murphy encamped on the banks of the Laune.
COLLECTOR
INFORMANT
Relation
parent
<<<<<<<<<<<
Ploughing the Cows Lawn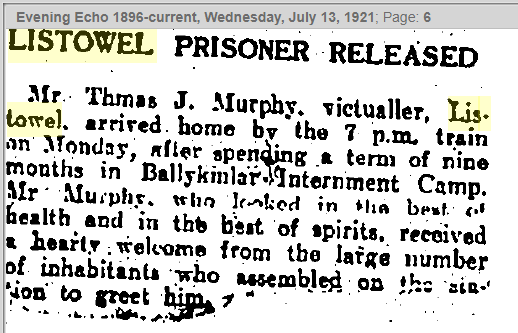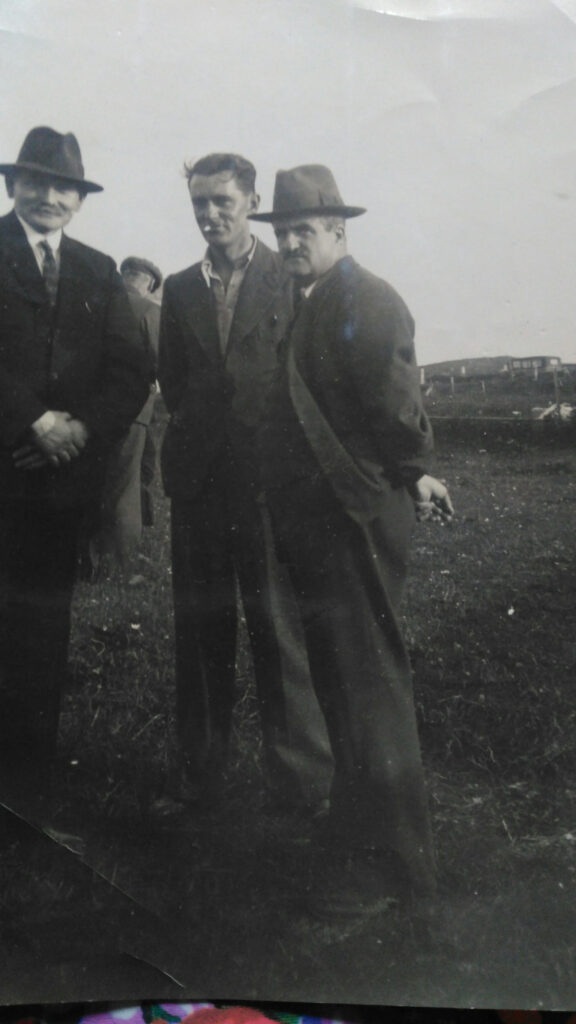 The man on the right of this picture is the Thomas J. Murphy, victualler who arrived home to Listowel 100 years ago, having spent none months in Ballykinlar Internment Camp. Thomas was known locally as The Colonel.
The picture was sent to us by Tomas' grandson, Paul Murphy. Paul would love to know who the other men are or what was the occasion of the photograph. Can you help him?
<<<<<<<<<<<<<<<<<<<<