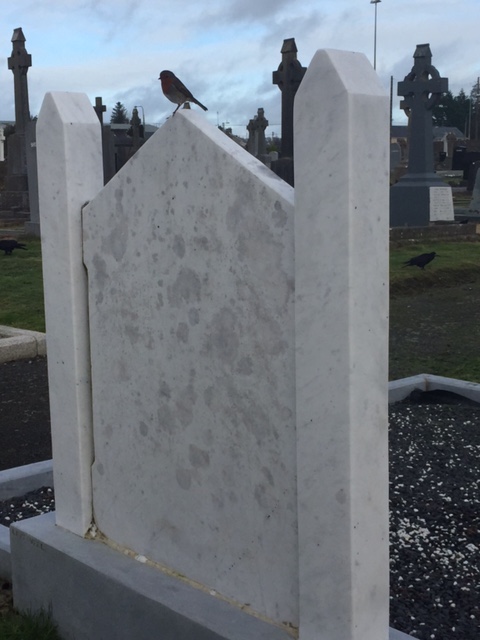 Today's November photo shows a little robin perched on a statue in St. Michael's Graveyard, Listowel. Many people believe that a robin in a churchyard is the spirit of the dead loved one coming back to tell us that all is well.
Below are two verses from Seán ÓRiordáin's poignant poem, Adhlacadh Mo Mháthair (My mother's burial) the translation I found on the internet by Valentín Ironmonger
Bhí m'aigne á sciúirseadh féin ag iarraidh
My mind was screwing itself endeavouring
An t-adhlacadh a bhlaiseadh go hiomlán,
To comprehend the internment to the full.
Nuair a d'eitil tríd an gciúnas bán go míonla
When through the tranquility gently flew
Spideog a bhí gan mhearbhall gan scáth :
A robin, unconfused and unafraid.
Agus d'fhan os cionn na huaighe fé mar go
mb'eol di
It waited over the grave as if it knew
o raibh an toisc a thug í ceilte ar chách
That the reason why it came was unknown to
all
Ach an té a bhí ag feitheamh ins an gcomhrainn,
Save the person who was waiting in the
coffin
Is do rinneas éad fén gcaidreamh neamhghnách.
And I was jealous of the unusual affinity.
<<<<<
Farewell Sive Walk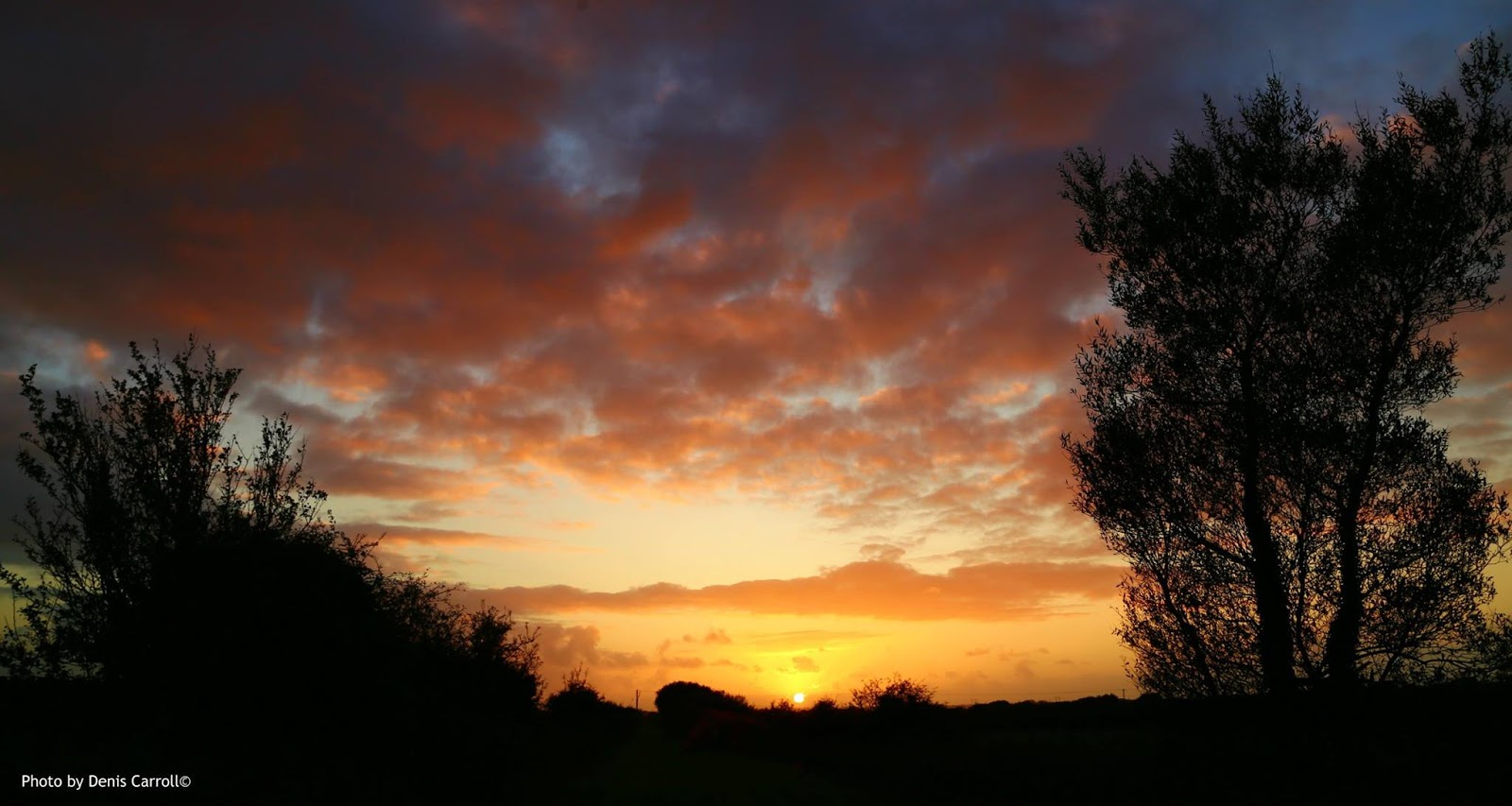 Photo by Denis Carroll
Now that the green light for the new relief road around Listowel has been given, it means that the campaign to save the Five walk has been lost.
This lovely rural walk was called Sive after one of John B.'s most famous heroines. The walk led through a grassy pathway into a bog where John B. loved to take some alone time.
I took a walk there recently and its a lovely peaceful place but very under-utilised. Pity to see it go.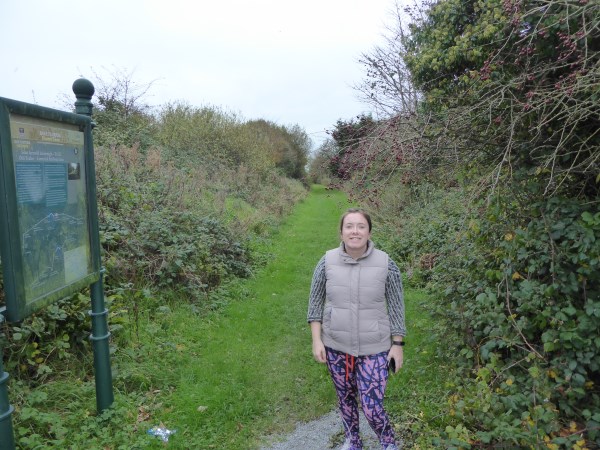 Cliona Cogan on the Sive Walk
<<<<<<<<<


Remembering Paddy Drury, Poet, Patriot, Wit and Seanchaí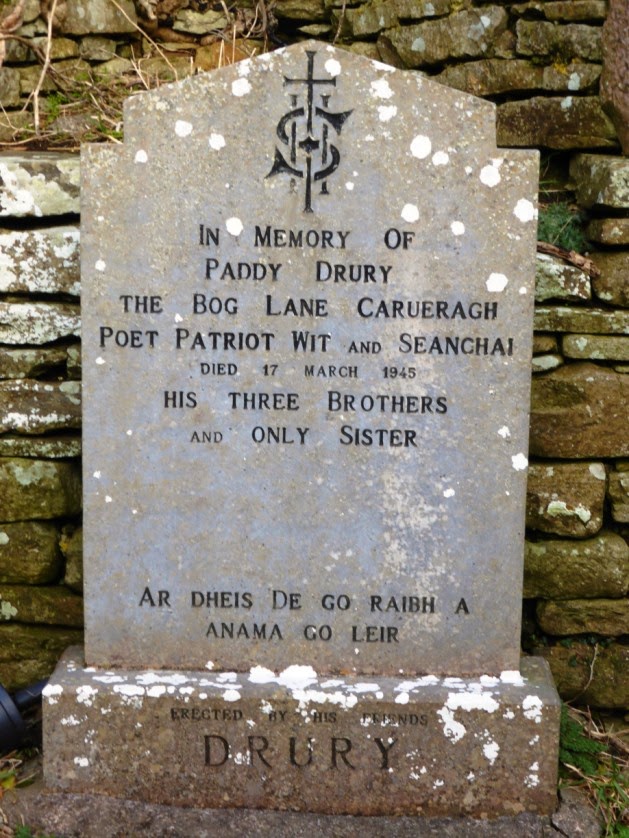 I
remember Paddy Drury (I typed this from a library copy of Shannonside Annual)
By Jeremiah Histon
My name is Paddy Drury,
I come from the Bog Lane,
I work for Morgan Sheehy,
Drawing Porter from the train.
This is Paddy Drury's answer to the Black
and Tans who accosted him in Listowel the end of 1920 to ask who he was. He
escaped with nothing worse than a kick in the behind.
Paddy was a small stocky rubicund little
man, with an old hat clamped on the back of his poll when I knew him. He
was not at all unlike the statue of
Padraig O Conaire now in Galway, but while he had a native wit he did not have
OConaire's aptitude for writing.
Paddy was born about 90 years ago in the
Bog Lane, Knockanure, Co Kerry. I believe that all of the family were rhymers.
He had three brothers, Michael (always referred to by the family as Ruckard), Bill
and Jack (who was lame), they had one sister Mary. When Mary left the district,
Ruckard when asked where she had gone, always answered she went in the police.
Paddy had little if any, schooling. From an early age he worked for farmers
around Listowel, Knockanure and Athea. During the 1914-18 war he went to
Scotland to work in a factory on war work.

The stories told of and by Paddy are legion.
Many of them do not sound so well in cold print, but when told by Paddy in his
own inimitable style, they had a drollery and humour that was infectious. He was also liable at
any time to put his thoughts into rough verse, but unfortunately most of his
verses are gone into the Limbo of forgotten things and a new generation did not know Paddy and care less about him.
One of Paddy's best known effusions is his
diatribe on gaping neighbours in Knockanure, who are looking over at their half-
doors at him one morning as he walked along, sick and sorry after a good night
the night before. Paddy broke out:
Knockanur, both mean and poor,
with its church without a steeple,
With ignorant boors, lookin' over
half-doors
Criticisin'and dacent people!
Again one day when the North Kerry
Volunteers were lined up int The Square Listowel, Paddy noticed the 2 bellmen (or town criers) of Listowel looking at the parade. Paddy was moved to utter:
Brave Irish Irish men you are lined up;
no doubt you are good Fenians;
you commanders too are out in view-
Mick Lane and Harry Sleeman !
<<<<<<<<<
An Invitation


We are all invited by Listowel Tidy Town Committee to the unveiling of a plaque to commemorate all who died in the Listowel Workhouses during The Famine. Some local Famine scholars will give talks and the plaque will be revealed at the hospital chapel. All this on Saturday next November 18 2017 at Listowel Hospital Chapel at 2.30 p.m.