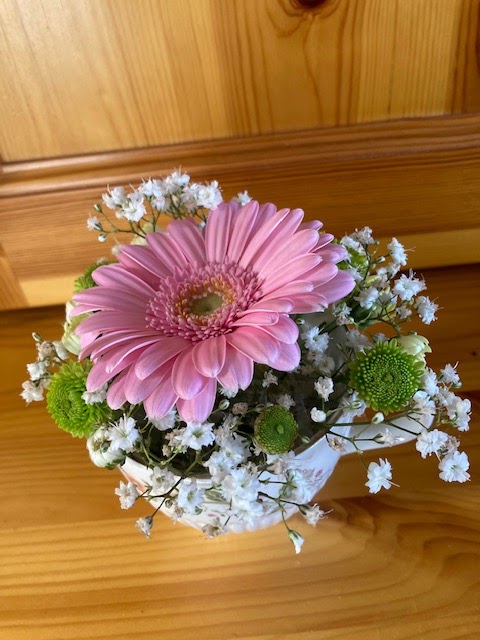 My latest flower arrangement in a teacup from my Zoom class with Kathleen of
<<<<<<<<<
A School Group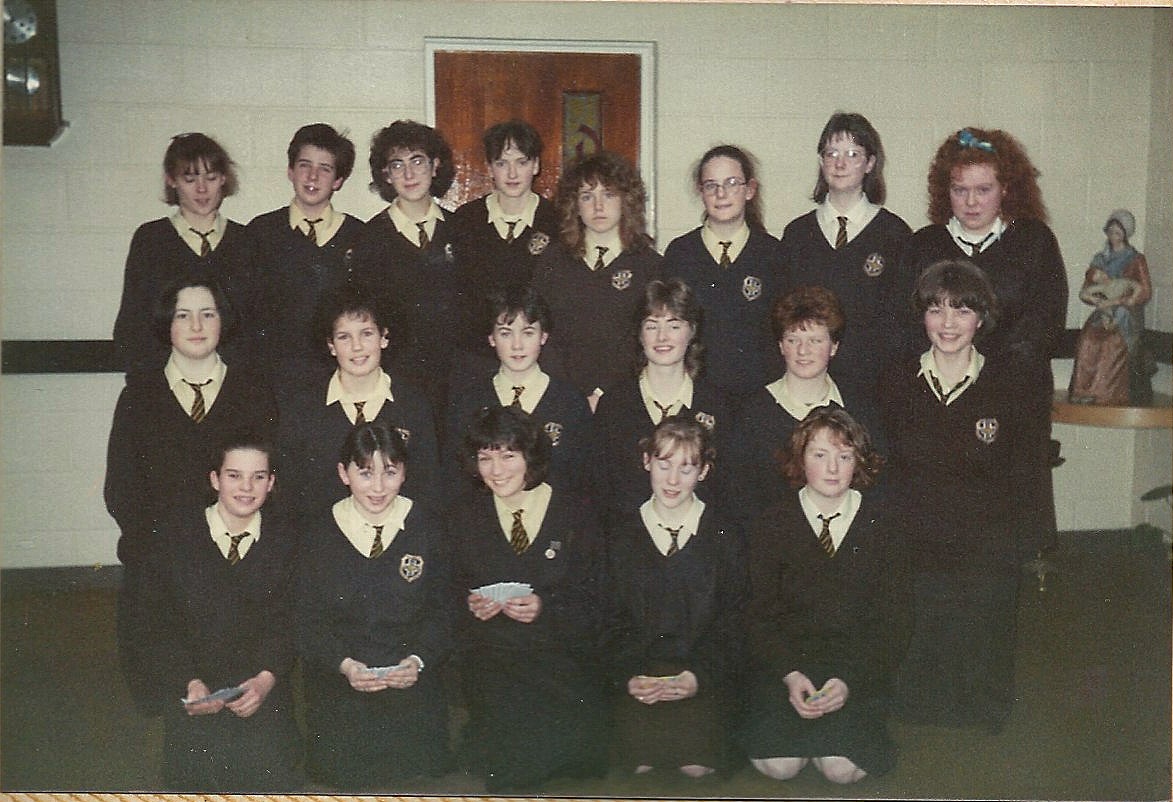 I'll have to leave it to others to supply the names

<<<<<<<<
R.I.P. Cliff Gore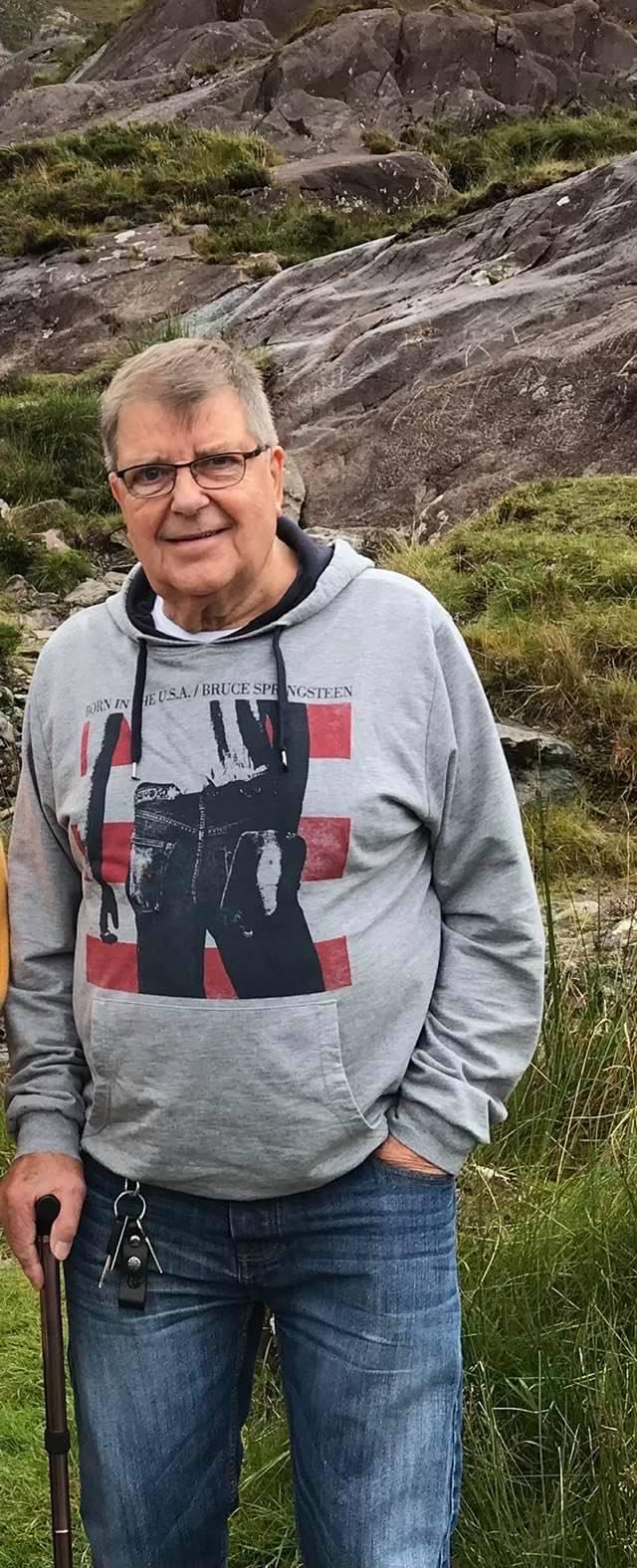 When a loved one passes away at any time it's hard but in this time of Level 5 lockdown it's cruel. Family and friends are denied the consolation and reassurance of having a community around them.
Last week we laid Cliff to rest. Listowel, the town he grew to love, bade farewell to an adopted son. When you marry a local girl, as Cliff did, you risk being forever known as Mary Kelly's husband. Cliff, in his quiet way, forged his own path. He never lost his English identity. He proudly hung a picture of his English hometown over his mantlepiece. He loved his soccer and he was the voice of numerous English characters in Danny Hannon's Lartigue productions.
In retirement he took on a whole new role as the Art teacher in The Family Resource Centre. Every one who attended those classes loved him and found him the most patient and encouraging of teachers.
Cliff was my neighbour, the maker of my wicket gates, my entertainer in so many dramas, my sometime work colleague and my friend.
Because so many people missed his funeral mass I asked Cliff's family to share Aidan's eulogy to his dad with us.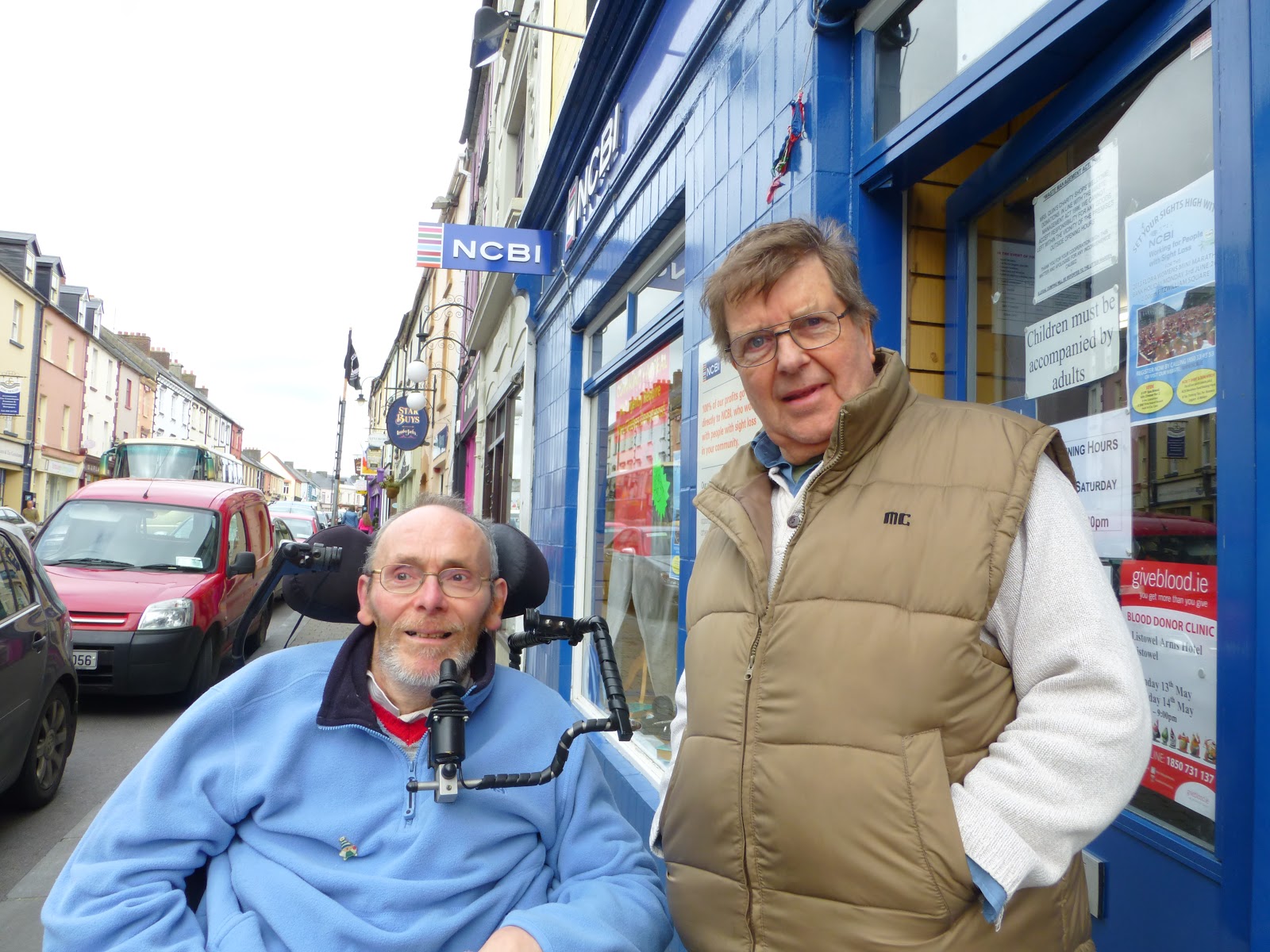 Cliff and the late Jim Cogan always had a natter whenever they met.


On the 23rd of February, Cliff Gore passed away peacefully in his home of nearly 50 years. Born in Enfield in North London, Cliff grew up with his mother, beloved grandparents, aunts, uncles and cousins. He largely preferred to be taking part in Boys Brigade activities to academics at school and yet passionately read and studied many subjects later in life.
He was passionate about some subjects, loved facts and was always looking to find out more about things that piqued his interest. It's a shame he never got to grips with Google search!
Good-natured, but sometimes grumbling, he would often passionately give his opinion about the state of politics or football.
He fell in love with, and married, Patricia and they had a daughter. Sadly, their happiness was short-lived and Patricia died tragically young, leaving Cliff alone with a young daughter. With the help of his and Patricia's family, he cared for his daughter. He later captured the heart of Mary, who was nursing in Enfield at the time. After their marriage, they returned to Ireland with their two children before extending their family to four, combining their Irish and English families in a way in which only they could. Cliff and Mary bought the house next to her parents and lived there from then on. The family home welcomed many visitors from all corners of the globe over the years and many people have fond memories of visits to Charles Street.
Cliff worked at many of the local businesses over the years, as well as being a caretaker at the Presentation Secondary School and the Kerry Youth District Service. He started out working for the Kerry co-op in Listowel and as a welder in Lixnaw. In his spare time he made wrought iron railing and gates for many homes, some of which are probably still around to this day.
He was perhaps better known in town for his passion for art, reading, his faith, American Indian and cowboy culture, country and western music, birds, woodwork, his sense of humour and his beloved Tottenham Hotspur. He had a dedicated group of art students at the Listowel Resource Centre and for many years his Friday mornings there were sacrosanct for as long as his health allowed. Through this he made some very special friends.
After moving to Listowel having been persuaded to try his hand at acting, he joined the Lartigue theatre group and was always on hand to put his acting skills to the test when an Englishman was required.
Dad also loved music and his family were often treated to his Sunday morning call of his deep singing voice belting out country and western songs, that are forever ingrained in our memories.
He was a dedicated carer to Mary during her long illness, never one to take credit for his efforts and devotion. His efforts ensured that Mary spent the majority of her most difficult years at home, thanks to his patience, loyalty and devotion. His loyal, unassuming love for his family and friends was rewarded by the care and love he received at the end of his life from his Listowel family, wider family, friends and health professionals.
One of his greatest joys in life was seeing his children, grandchildren and great grandchildren. Playing with his grandchildren with a sense of childish fun, that he loved as much as them. Christmas was a favourite time with the excitement of seeing the children and grandchildren as long as they understood that Spurs were playing on St Stephen's day. His joy in seeing his family content was evident. Family meant everything to him, his children, grandchildren, and great grandchildren but also his in-laws as seen by relationship with the MacElligot's, Kellys and Quirkes.
Cliff showed appreciation for everything that was done for him which he never felt he deserved. Over the past months Dad never went to sleep before saying how he had enjoyed the day. It was a pleasure to give him gifts, however small, as his enjoyment was always evident.
When able, he had a great time travelling within Ireland, with trips to England and France but coming home was always his favourite part.
An absolute gentleman who would always walk on the outside of the pavement, carry the bag or hold open a door.
Love, loyalty, appreciation and a wonderful sense of humour are how we will remember dad. As he always said "I've nothing to complain about, I've had a great life".
In the words of Delboy Trotter – bonjour