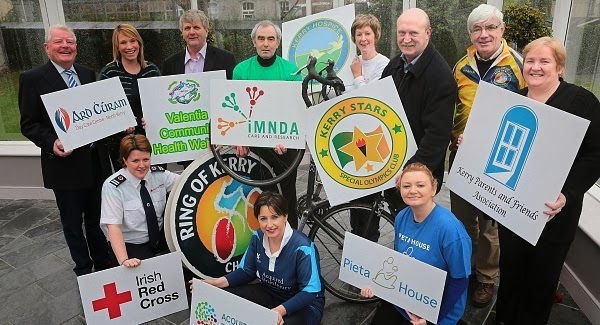 Here is the promotional photo for The Ring of Kerry Cycle. At the back on the left is Finbarr Mawe of this parish. He is there because Ard Cúram is one of the chosen charities for The Cycle this year.
Here is where you come in. The committee is looking for cyclists to do the Ring in aid of the great new Listowel venture.
I asked Mike Moriarty to tell me bait about the service offered by Ard Cúram and here is what he wrote;
Ard Ċúram Day Care Centre – Ring of Kerry Charity Cycle 2014.
"We are delighted to have been selected as one of the nominated charities for the 2014 Ring of Kerry Charity Cycle. We are a registered charity and all our directors and members work in a totally voluntary capacity.
Ard Ċúram Day Care Centre currently runs a two day service for older people in a premises rented from the Respond organisation in Baile Ó Dubhda, Listowel. Older people in the North Kerry area have morning coffee and a three course hot lunch. They have entertainment through music and song. They have recreational activities such as games, art and crafts. Most importantly they have a social network and interaction. Other services are available such as hairdressing and chiropody. They have support from qualified nursing staff. All of this at a very reasonable charge.
Objective; To construct a purpose built Day Care Centre which will offer a five day service on a site, procured through the H.S.E., on the grounds of Listowel Community Hospital for which planning permission has been granted. The major portion of the funding for this project is in place so we need one last push, through the Ring of Kerry Charity Cycle, to get across the line.
So we are looking for people to fundraise and cycle for this worthy project.
For further information please do not hesitate to contact us via via email at
ardcuram@gmail.com or by phone – Finbarr Mawe 087 2316017, Breda Dowling 087 6424888, Mike Moriarty 087 9521324."
We will all be old some day (if God pleases) and then we will be grateful to the hard working people who have worked so hard to make this vital Day Care facility available to Listowel old folk.
Ard Cúram is on Facebook:
https://www.facebook.com/ardcuram?fref=ts
Below is the committee;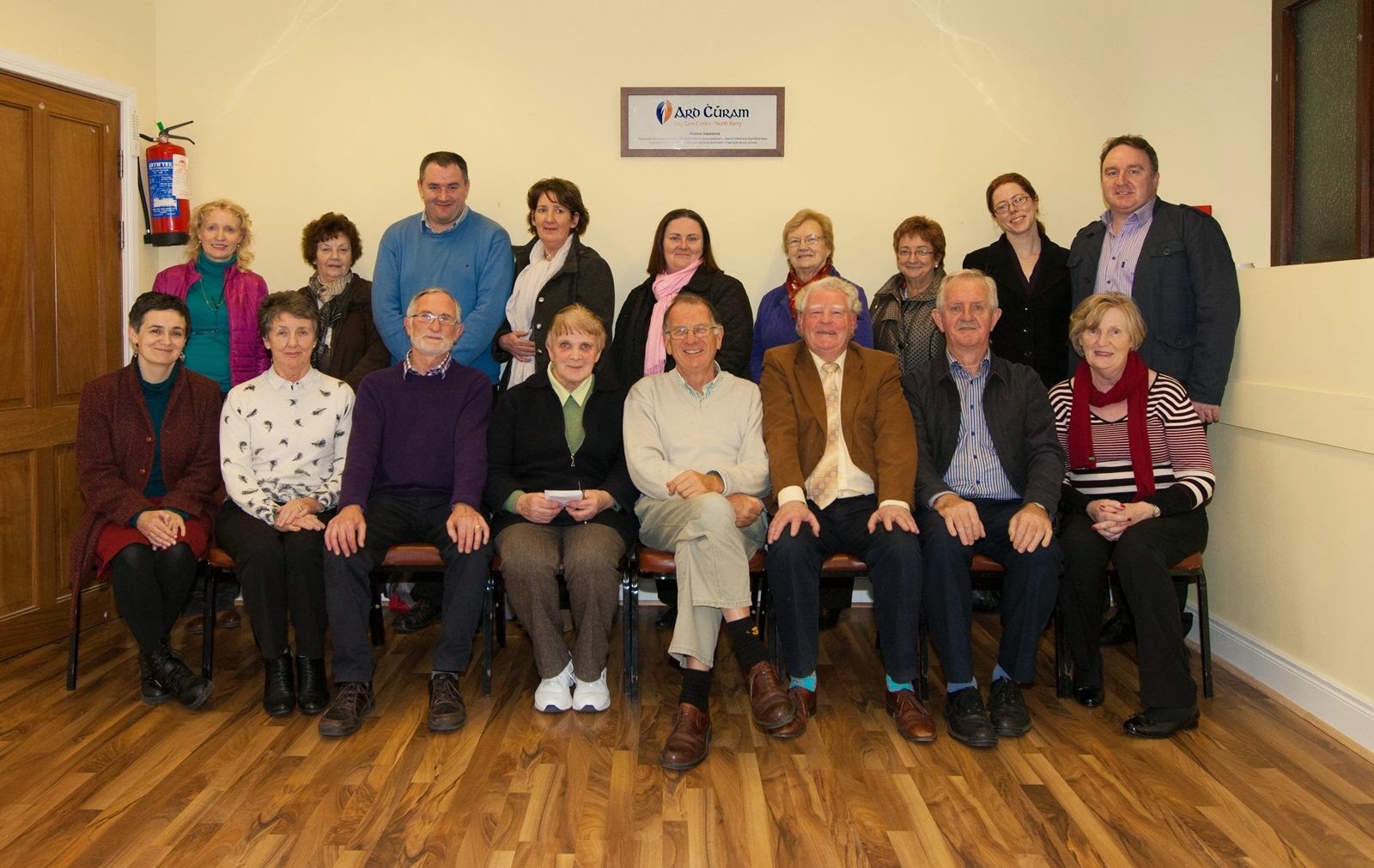 <<<<<<<<<
Tragedy at Listowel Races 1896
Last week I wrote about the first jockey to be killed at Listowel Races. Vincent Carmody told me that there was an account of the incident in John O'Flaherty's history of the Races.
Here is an account of the 1896 tragedy from Listowel Races by John O'Flaherty
First jockey to be killed in Listowel.
The man in question was a 21
year old jockey from Fedamore, named Michael Prendergast who was tragically
killed during the last race on the second day when his mount "Castlequarter",
crashed into a corner post after jumping the last fence.
The accident happened when
Prendergast was trying to drive Castlequater inside the eventual winner,
Tantalus, as they approached the final corner post. As they neared the post,
Castlequarter swerved to the right and would have gone inside the post if Prendergast
had not snatched him up. This momentaery delay cost him his life, for, when he
straightened his horse, he found that the gap had almost been closed by
Tantalus and his rider.
Courageously, Prendergast
tried to squeeze through the tiny space, but, instead, he only succeeded in
driving the horse on to the post with shattering force. He was propelled from
the saddle and struck the ground violently with his head, knocking him
unconscious.
He was removed to Feale View
Hotel, the home of the Hon. Secretary, Michael O'Connor, with blood streaming
from his ears. Despite being attended to by a number of doctors, he died
without regaining consciousness, at 7.00p.m. on Friday August 29. His young
wife, whom he had married only a few months before, was at his bedside.
The terrible accident, which
prematurely ended a very promising career, was all the more pathetic, because,
up to then, Prendergast had been enjoying an outstanding meeting, during which
he had notched up three winners, including the two feature races.
Perhaps the accident might not
have happened at all had the stewards not disqualified the winner of the first
race that day, Antelope, because he had come inside one of the posts. In trying to avoid the same fate, Prendergast
earned the unenviable distinction of being the first jockey to be killed at
Listowel. Incidentally, his mount, Castlequarter broke his neck in a fall at
Croom the following year.
There was another fatality on the racecourse in 1902……more of that tomorrow.
<<<<<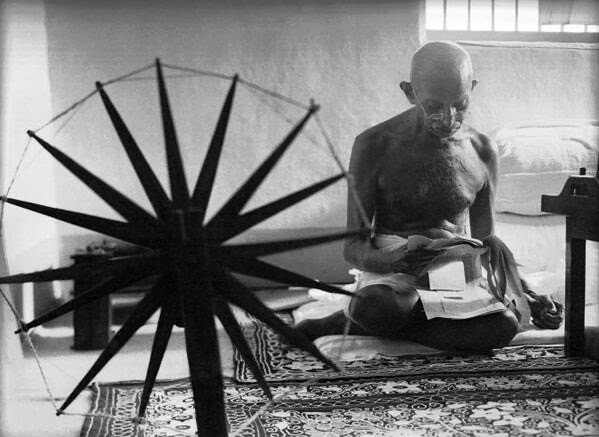 Image from Life magazine of Ghandi and his spinning wheel