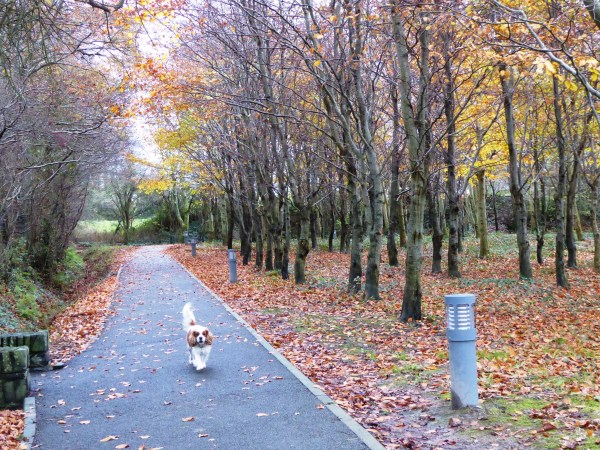 Happy dog following his owner in Listowel Town Park recently
<<<<<<<
Artisan Food at Listowel Food Fair
On the Sunday of Listowel Food Fair there was a great market of artisan food in The Listowel Arms. It was the Sunday of November prayers for our dead in John Paul Cemetery so I was late getting to the fair. It was well worth the visit. Here are some of the goods for sale and to sample. Some people were already sold out by the time I got there.
These chutneys and relishes are by Chicco. They are delicious. I bought some for the Christmas cold meats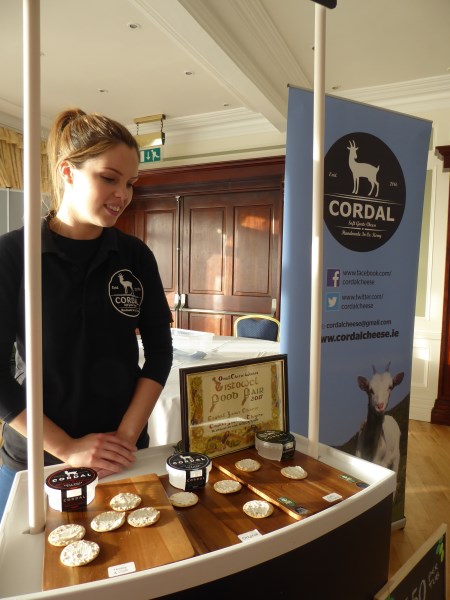 This Kerry cheese is completely organic. I stayed clear of this out of respect for my heart but people who tried it said it super.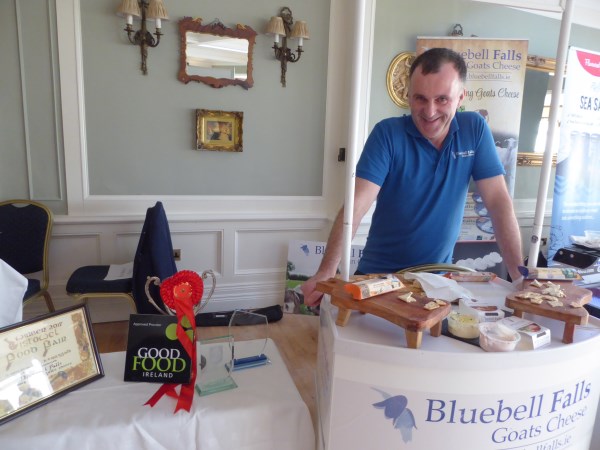 This Charleville man had cheese products as well and was proudly displaying the prize he won at the fair.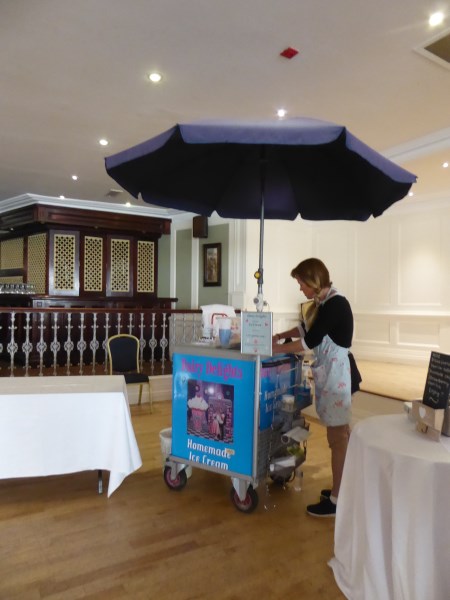 I didn't even go close to this charming lady to photograph her. She makes the most delicious ice cream you will ever taste and its all handmade in Kenmare.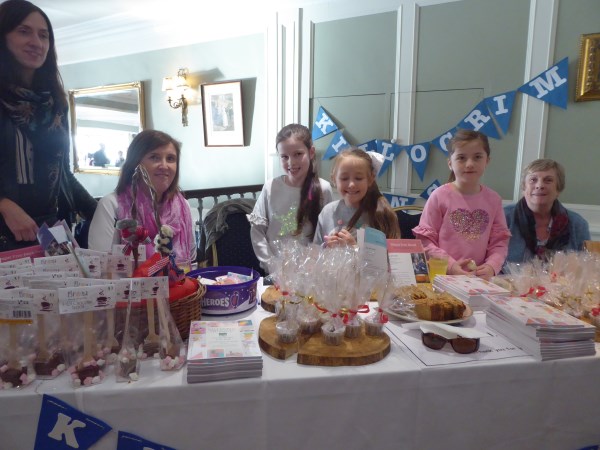 This happy crew from Killocrim school were promoting their unique cookery book. It is a collection of recipes that the children made with their families and the book has lovely photos as well. It will be a treasure for years to come and a cause well worth supporting.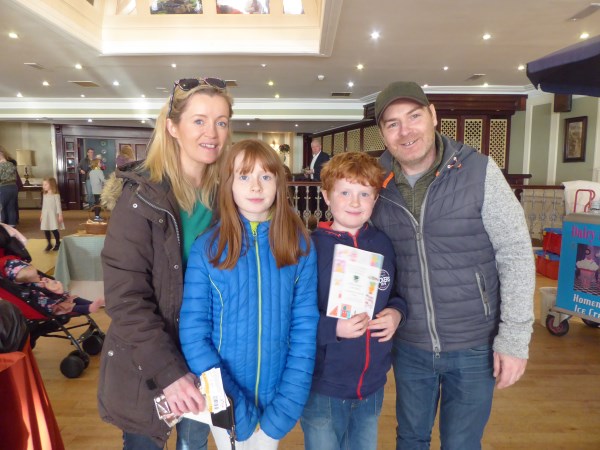 I ran into my friend Billy Keane and his family. They were very proud to have their recipe included in the book.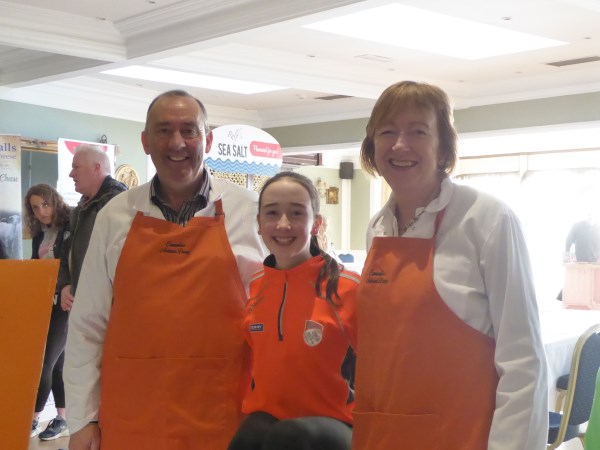 Norma Leahy and her family were there with their Carralea Kefir. This dairy product is really good for your gut health. I'm trying it at the moment.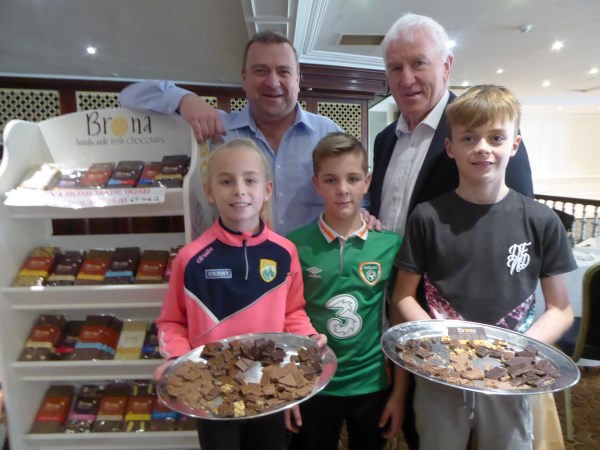 This is the lovely family behind Brona chocolate products. Jimmy is just a friend. He had no part in making the chocolates.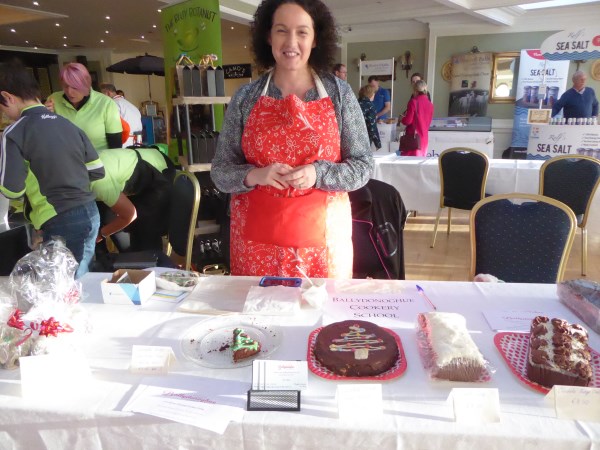 Orla Walshe runs a cookery school at Ballydonoghue. Her chocolate biscuit cake is to die for.
Completely sold out. The picture tells its own story.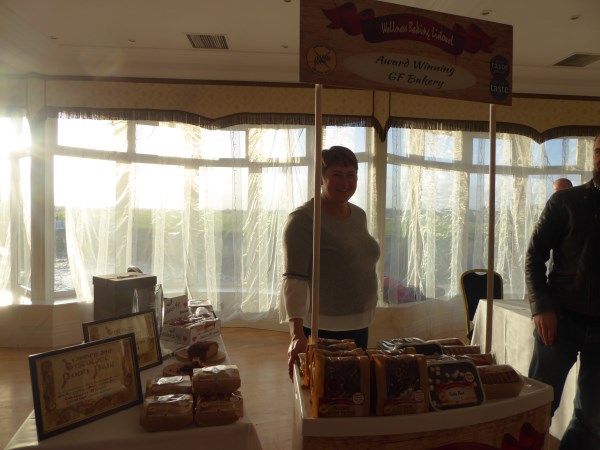 Wellness bread products are a Listowel success story.
<<<<<<<<
This poem is especially for Maria Sham, who loves it.
The Exile's Return
(John Locke, 1847-1889)
T'anam chun Dia! but
there it is –
The dawn on the hills of Ireland,
God's angels lifting the night's black veil
From the fair sweet face of my sireland.
Oh! Ireland isn't it grand you look,
Like a bride in her fresh adorning,
And with all the pent-up love of my heart
I bid you the top of the morning.
This one brief hour
pays lavishly back,
For many a year of mourning,
I'd almost venture another flight,
There is so much joy in returning,
Watching out for the hallowed shore,
All other attraction scorning,
Oh: Ireland don't you hear me shout,
I bid you the top of the morning.
Ho, Ho, upon Glen's
shelving strand,
The surges are wildly beating,
And Kerry is pushing her headlands out,
To give us a kindly greeting,
Now to the shore the sea birds fly,
On pinons that know no drooping,
Now out from the shore with welcome gaze,
A million of eaves come trooping.
Oh! Fairly, generous
Irish land,
So Loyal, so fair, so loving,
No wonder the wandering Celt should think,
And dream of you in his roving,
The Alien shore may have gems and gold,
And sorrow may ne'er have gloomed it.
But the heart will sigh for its native shore,
Where the love-light first illumed it.
And doesn't old Cobh
look charming there,
Watching the wild waves motion,
Resting her back against the hill.
And the tips of her toes to the ocean,
I wonder I don't hear the Shandon bells,
But maybe their chiming is over,
For it's a year since I began,
The life of a western rover.
For thirty years "A
chuisle mo chroi",
Those hills I now feast my eyes on,
Ne'er met my vision save at night,
In memory's dim horizon,
Even so, 'twas grand and fair they seemed,
In the landscape spread before me,
But dreams are dreams, and I would awake
To find American skies still o'er me.
And often in Texan
plain,
When the day and the chase was over,
My heart would fly o'er the weary ways,
And around the coastline hover,
And my prayers would arise that some future date,
All danger, doubting and scorning,
I might help to win for my native land
The light of young liberty's morning.
Now fuller and turner
the coastline shows
Was there ever a scene more splendid!
I feel the breath of the Munster breeze,
Oh! Thank God my exile is ended,
Old scenes, old songs, old friends again
There's the vale, there's the cot I was born in
Oh! Ireland from my heart of hearts
I bid you the "top o' the morning"
<<<<<<<
Slavery and the Hiring Fair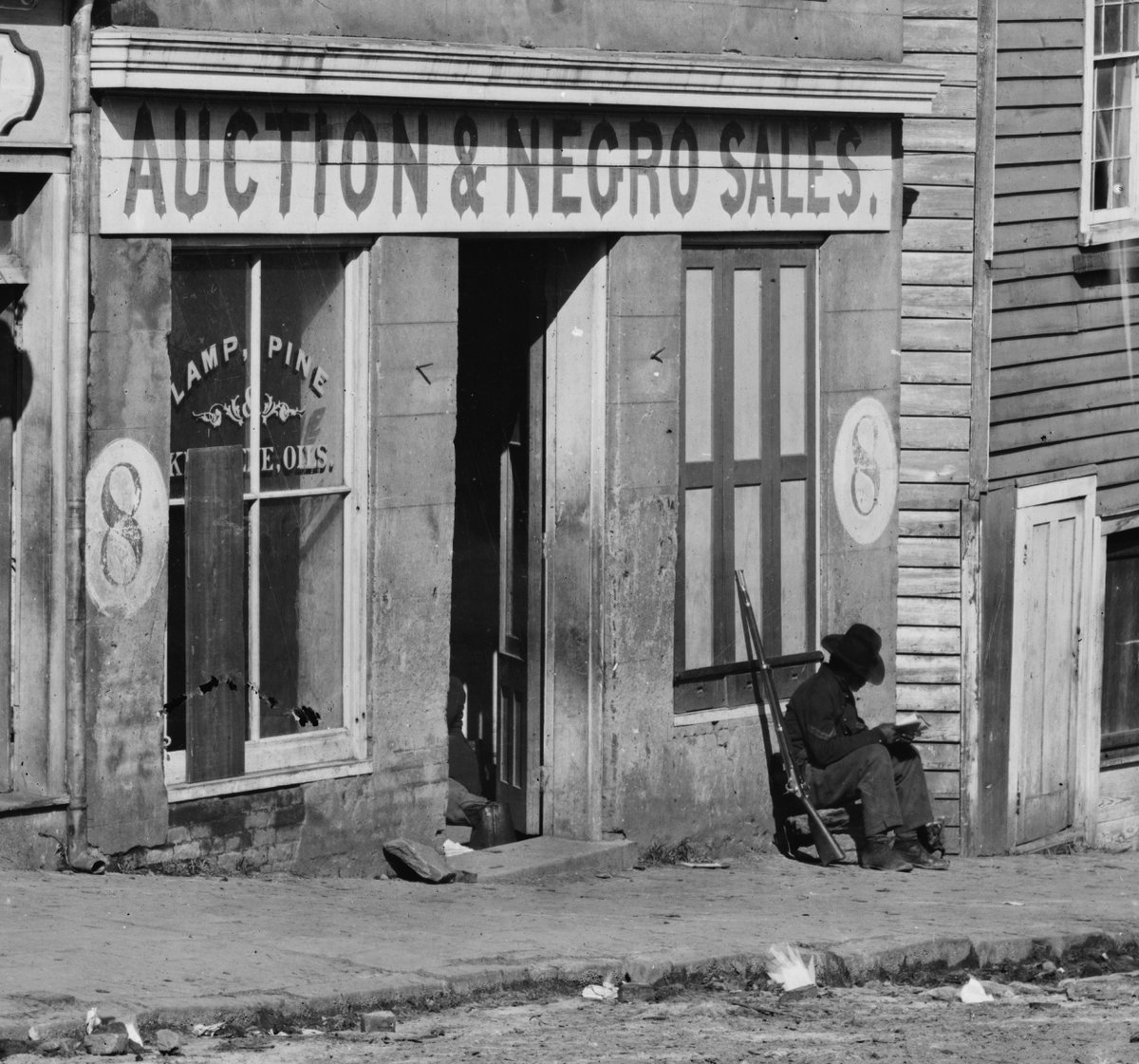 This is a photo from the Library of Congress. It dates from the days of slave auctions in Illinois. I don't think there was ever any official slavery in Ireland. Women who were forced by circumstances to work in the Magdalen Laundries might disagree. There were, however, hiring fairs.
These fairs were often held on the same day as a cattle fair when farmers were in town. Labourers weren't auctioned as slaves were. Labourers agreed to work for a farmer, usually for a year, at an agreed wage. They earned little more than their bed and board. This system was in place in most European countries. In fact hiring out your labour goes back to biblical times.
In between the fairs if a spailpín or casual labourer was unemployed he would often walk from one farm to another in search of a few hours work. Paddy Drury was one of these wandering workmen. Jim Sheahan remembers him coming to their house in Athea. Even if they didn't have work for him, they fed him and he was content to sleep on a chair until he headed off again.
Fear of a lash of his tongue meant that Paddy usually could be sure of a chair to sleep in in most houses he visited.
Paddy was like the bards of old who could rhyme off a blessing or a curse on the spot.
Once when he and the other workers in a house where he was employed were served up bacon so tough that none of them could chew it, he extemporised;
Oh Lord on high
Who rules the sky
Look down upon us four
Please give us mate
That we can ate
And take away the boar.
<<<<<<<


More Christmas widows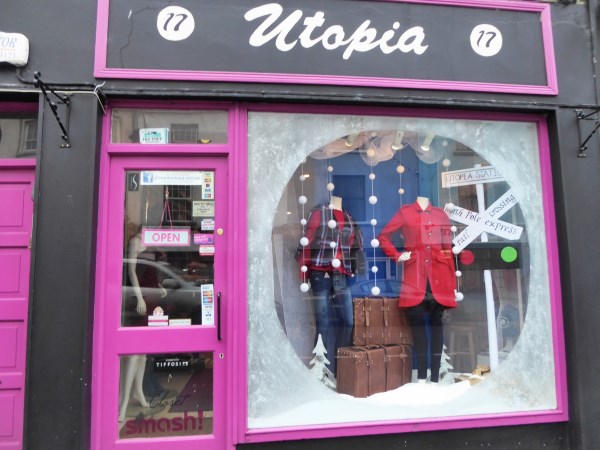 Listowel shop windows this year have a train travel theme. Utopia's window is really stylish and minimalistic.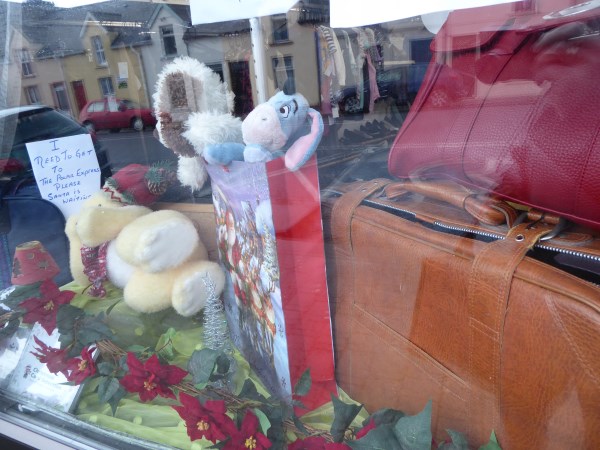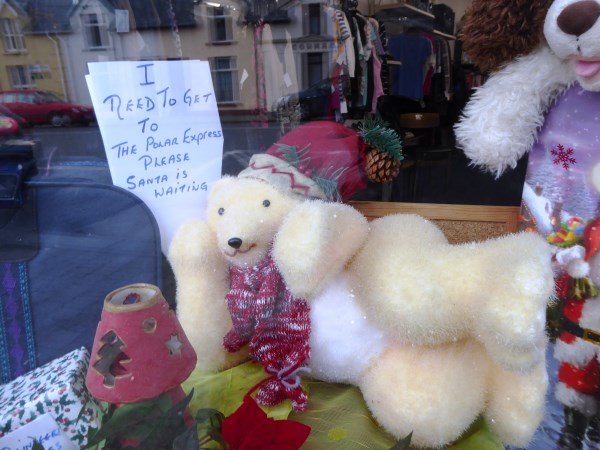 The IWA window is gorgeous.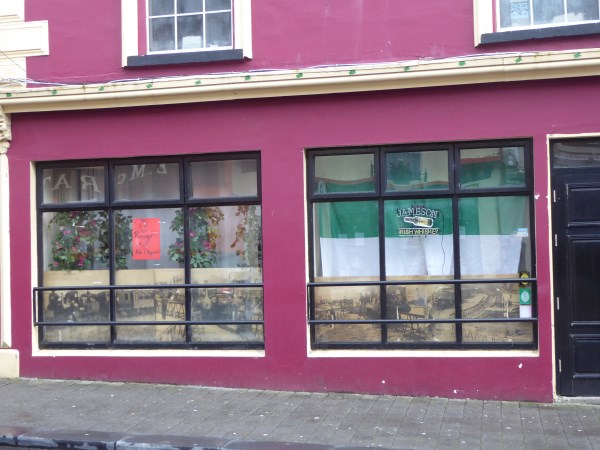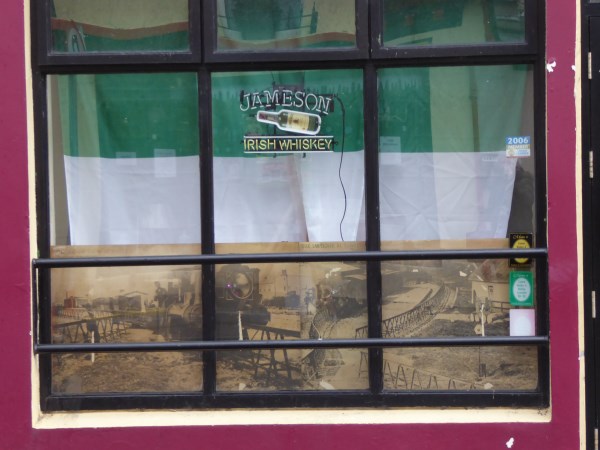 The Mermaids features old photos of the real Lartigue.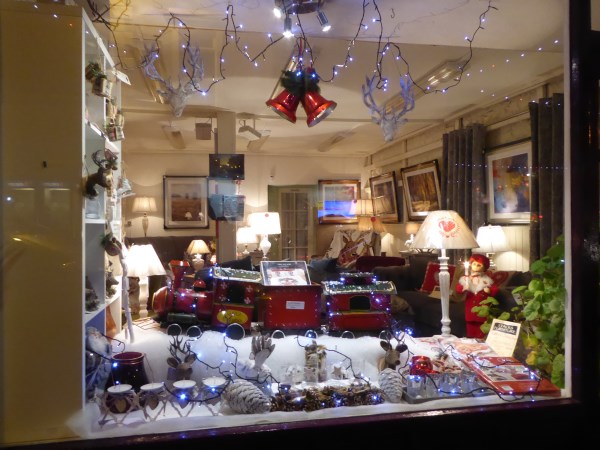 Stack's Arcade is gorgeous.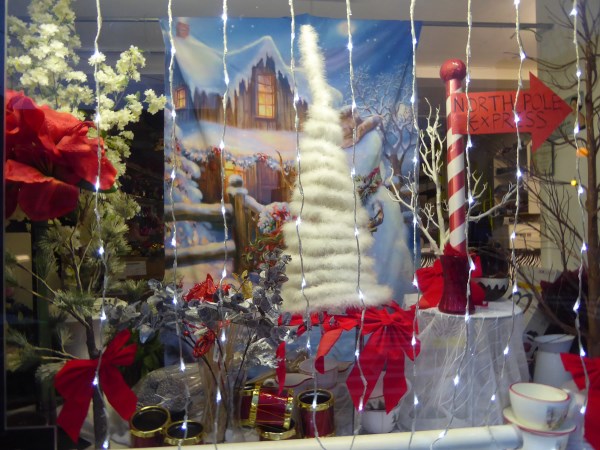 Betty McGrath's Listowel Florist's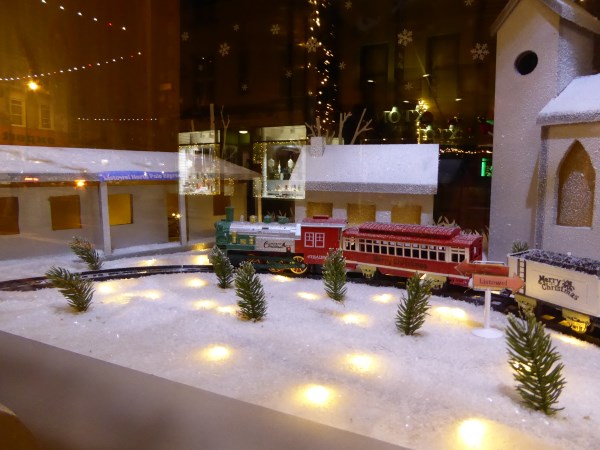 The Gentleman's Barbers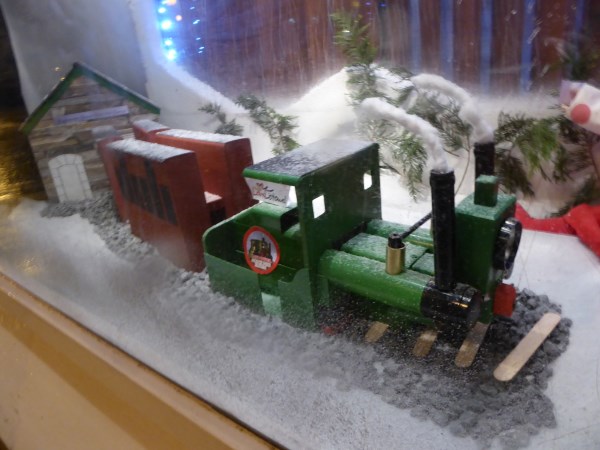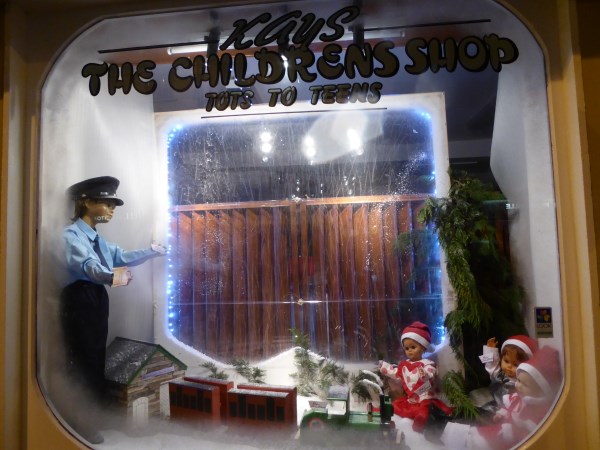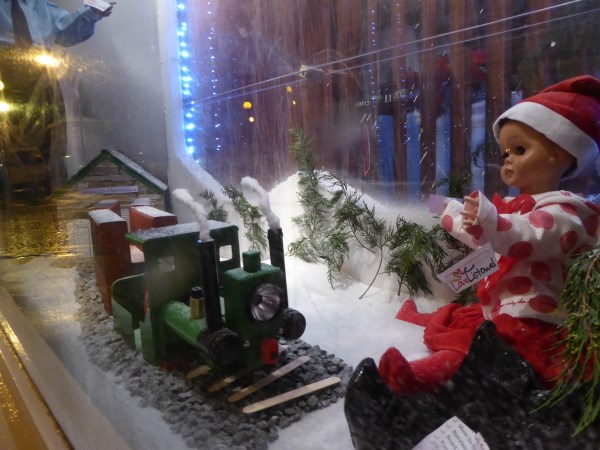 Kay's Children's Shop has an excellent replica of the Lartigue on its snowy scene in the window.