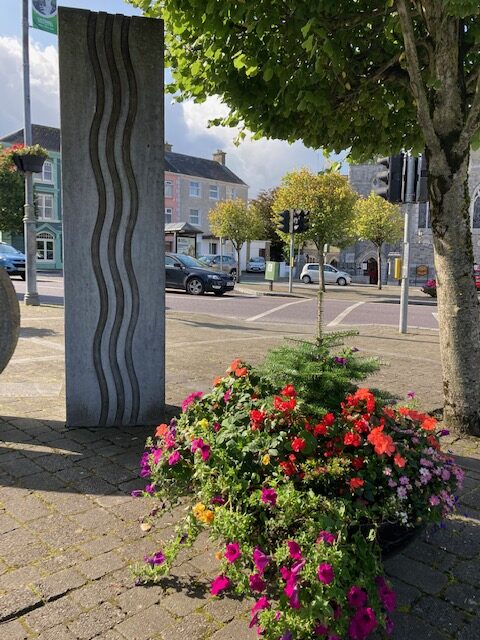 Feale Sculpture in August 2023
<<<<<<<<
Ballybunion Lady Captain's Dinner
I don't play golf. Ballybunion golf clubhouse is not where you would usually find me. I know and love this year's lady captain. Catherine Moylan, whom I regard as one of my family. So I got the golden ticket, an invitation to Catherine Moylan's Lady Captain's celebratory dinner and presentation of prizes on August 26 2023.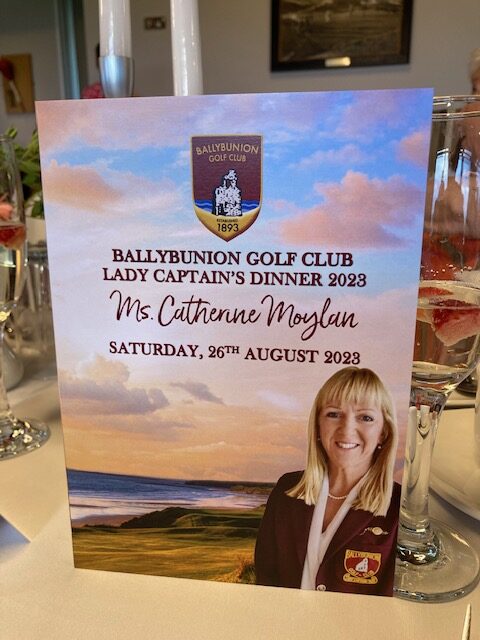 The dinner was a delicious one. I am assured that the golf was super enjoyable as well with a welcome goody bag at the start and refreshing cocktails at the half way point.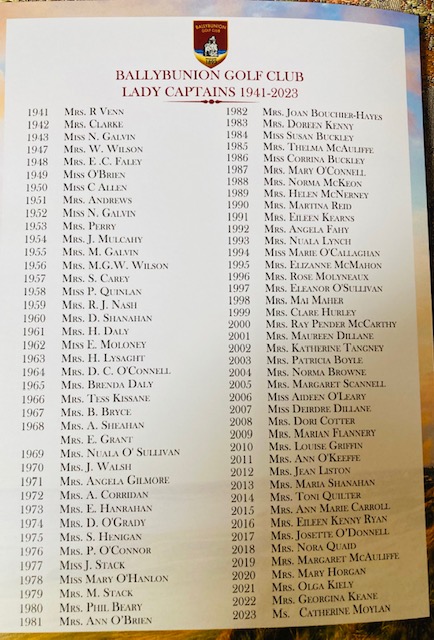 Catherine has joined a prestigious list.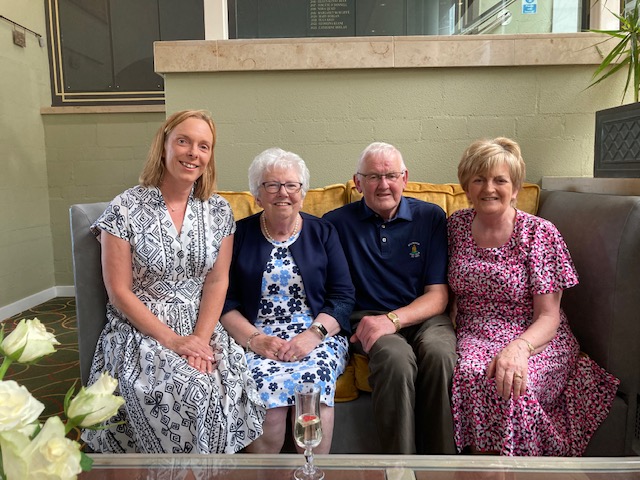 Anne Cogan/ Darby, me and Catherine's proud parents, Eddie and Helen Moylan at the prosecco reception in the clubhouse.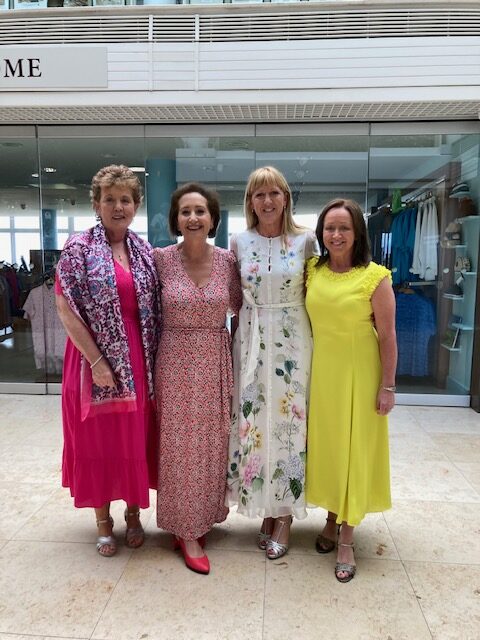 Norma Mullane, Betty Doolan, and Maria Lyons, just a few of Catherine's many friends there to support her on her big night.
Catherine with her book club friends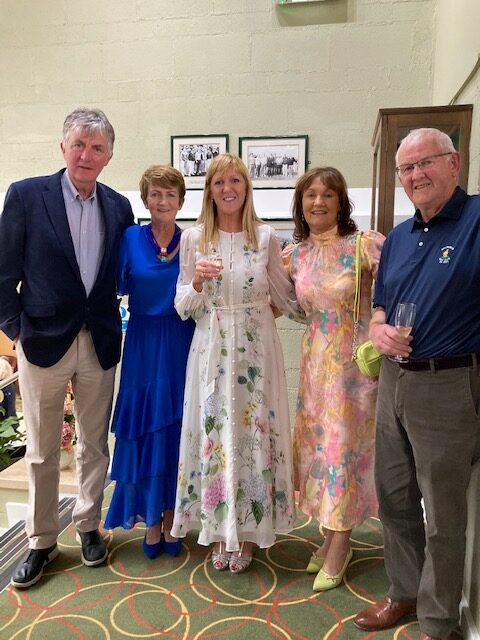 Some golfing family members, uncle Jim Noonan who won the guest prize, aunt Tess Noonan, Mary Noonan and Eddie Moylan. Eddie also played in the golf competition but without success.
Illness including Covid kept a few people away.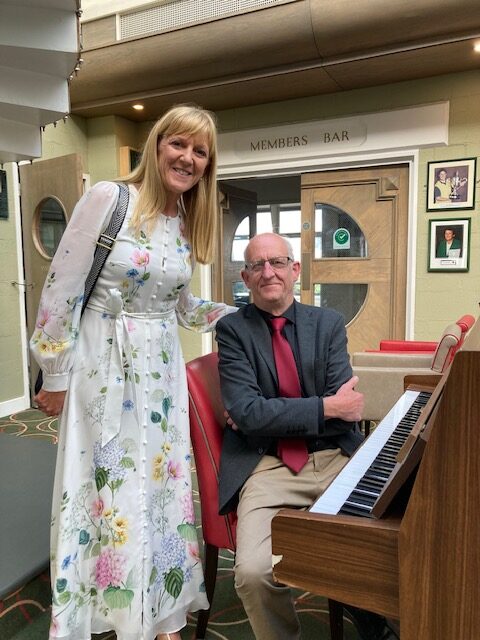 Creating a welcoming ambience as we gathered was John McKenna on the piano, always a treat.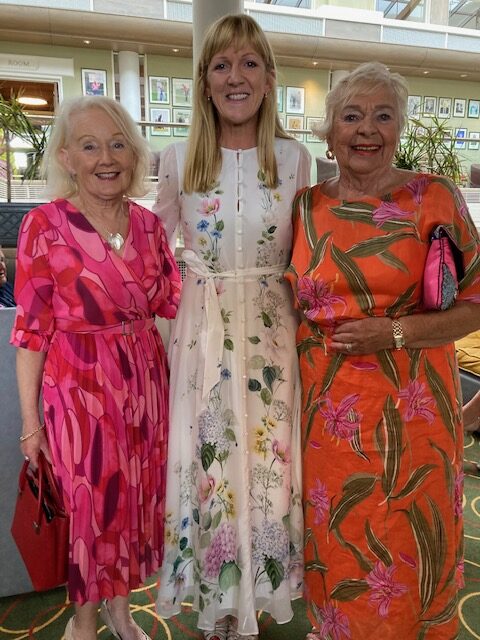 Patricia Boyle and Lady President, Norma Browne, with Catherine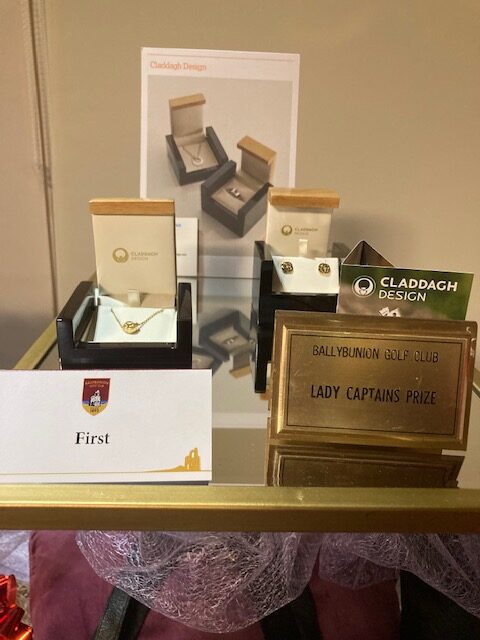 The Lady Captain's prize 2023 was some beautiful jewellery by Claddagh Design. The lucky winner, Josette O'Donnell, was delighted with her prize.
There were lots of prizes, including John Rahm's balls…..golf balls that Catherine had the foresight to ask him to sign when she met him on a visit to Ballybunion this summer.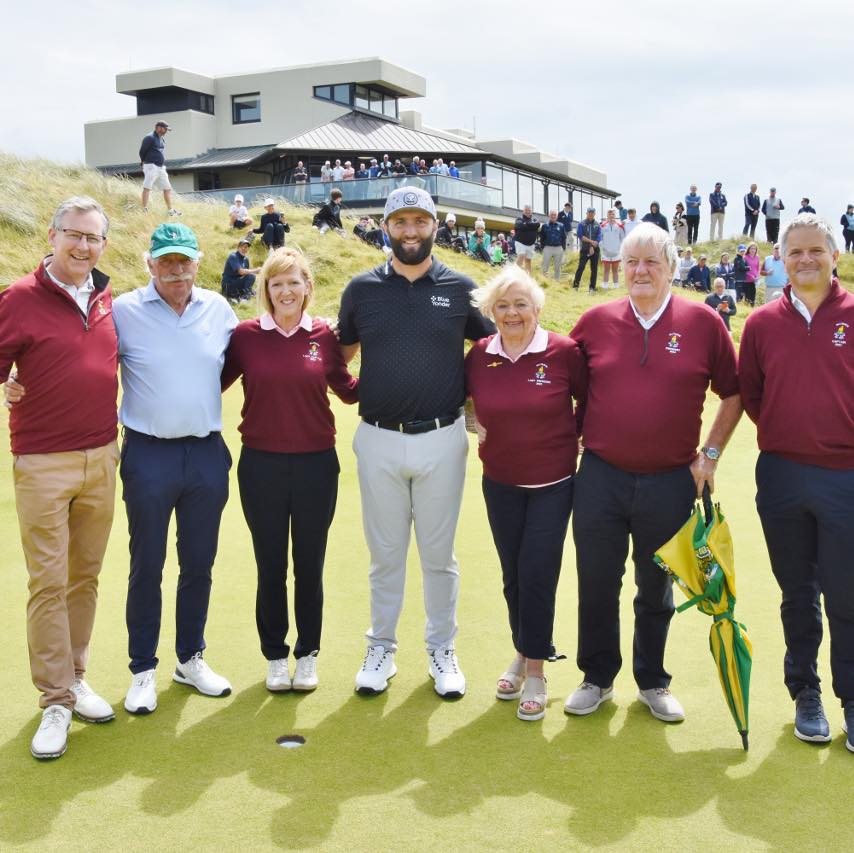 Photo from Ballybunion Golf Club on Facebook
It was a great night for chatting and socialising and catching up. It went on late into the night.
I think I'll forget pickle ball. Golf looks attractive.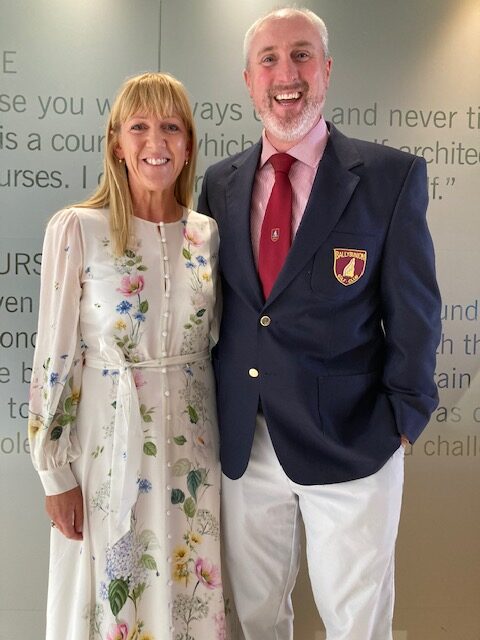 Owen Barrett with Catherine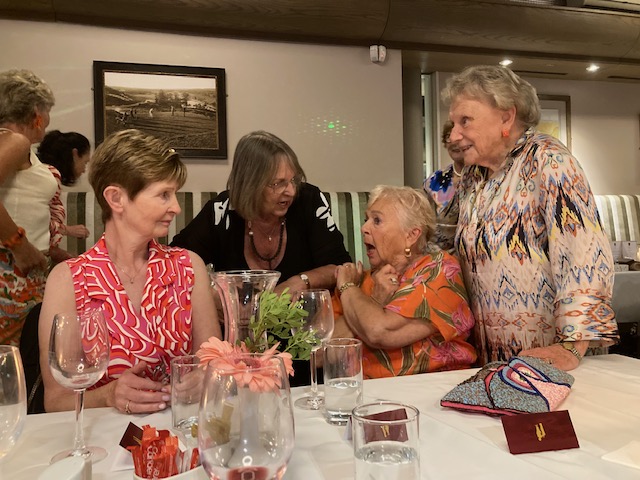 Margaret Scannell and Norma Browne chat with friends after dinner.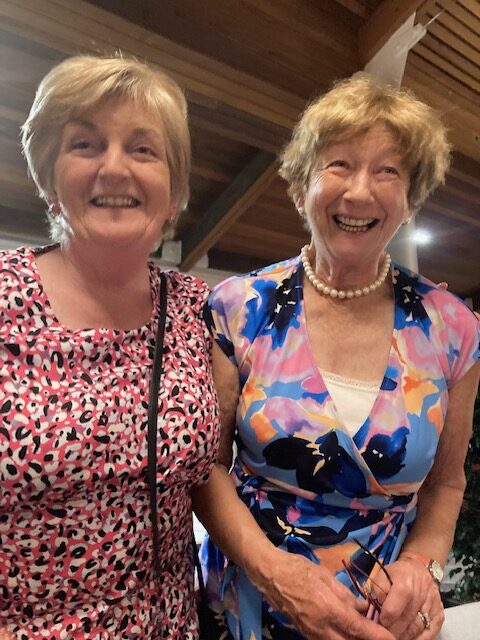 Helen shared a laugh about a funny anecdote from the time these two last met at an opera in Dublin.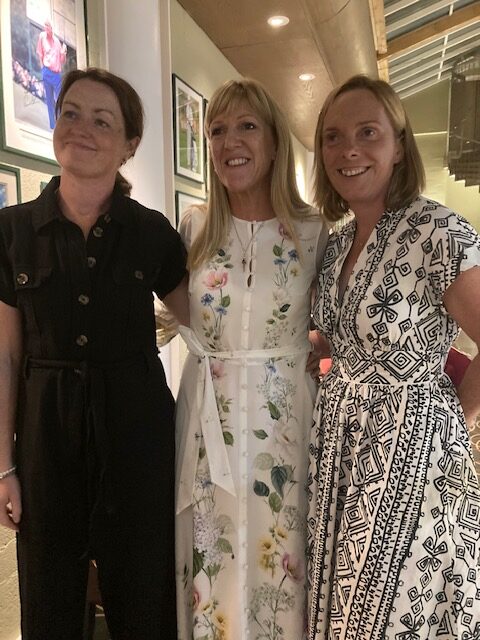 Nóirín Galvin, Catherine and Anne were in school together.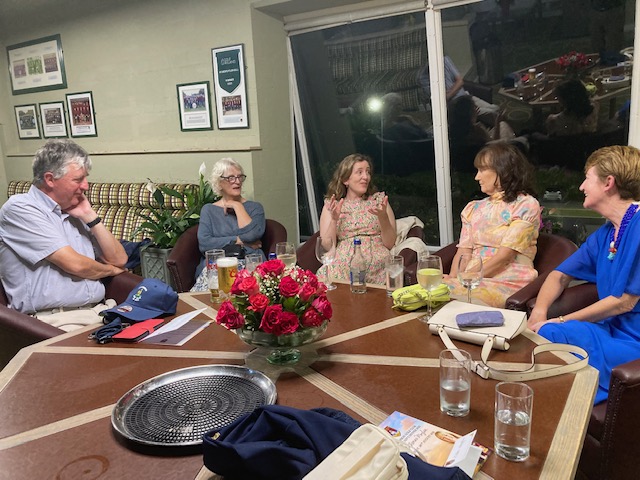 The Cork, Dublin, Listowel and Tipperary cousins were chatting 'til late.
<<<<<<<<
Drama with a Difference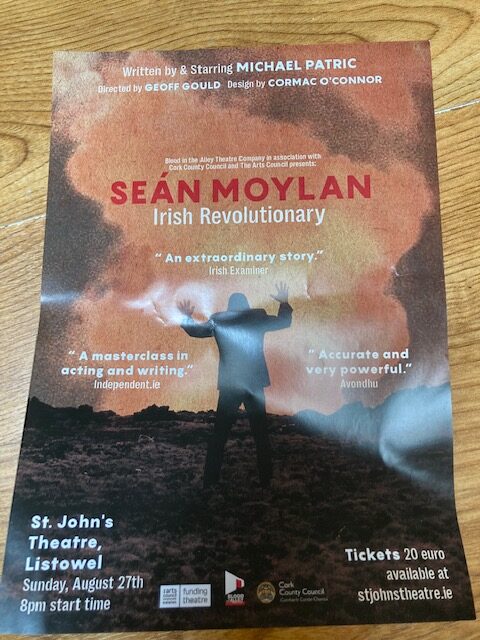 Seán Moylan was a legend in my neck of the woods. Michael Patric has brought him vividly to life in this one man show which I saw in St. John's on Sunday August 27th.
Patric was brilliant in the role of Moylan. He also wrote the script. Growing up I had heard of Clonbanin, Moll's Bridge and other local places where ambushes were set and soldiers were captured. I learned from Patric that it was only their guns and ammunition that the boys were after and usually the soldiers were freed unharmed. The same cannot be said for Republicans captured by the soldiers. It wasn't always the notorious Black and Tans who did the killing. It was as often as not trained and supposedly disciplined soldiers.
The show is a triumph. Even if you are not from North Cork and even if your mother's first cousin is not one of the Men of the South you will enjoy this performance from an actor at the top of his game. If you get a chance to see it, grab that chance. You won't regret it.
<<<<<<<<<<
What a Picture!
Philip O'Carroll has very generously opened his photograph album for us. This precious photo below was taken in 1951, according to Philip the only occasion on which all the O'Carrolls were together.
Philip has named the people in the photo for us.
The year is 1951, the only time that the O'Carroll Clan was ever assembled in one place.So, let me name the family starting from right to left:
Philip (me!) Born 1948
Gerard, who was a prominent and controversial detective
Joseph, who is a priest in Manchester
Michael, retired from the World health Organization, now living in Nicaragua
Gene, deceased
Eleanor, deceased
Dympna, deceased
Liam, deceased
Denny, alive and well at 88
Vincent also alive and well and about to celebrate his 90th
John, who was always known as Bob, deceased
Tom, the eldest, deceased
Mother, Mary Ellen Moloney deceased
Louis, in mother's arms, deceased
Father, James, long deceased
And finally, my grandmother, Kate Moloney
In the background is the family's rick of turf, fuel for the winter.
Philip remembers days spent in the bog.
We had a bank of turf in Coil Bui, a few miles from Cahirdown. At one time or another we all paid our dues cutting the turf. There was a wonderful stillness to the bog, so quiet you could hear people talking hundreds of yards away. The curlew's cry only accentuated the stillness.
The turf was cut by the man on the slean, usually a man of some heft, whose reputation depended on how much turf he could cut in a day. A pike man tossed the heavy bricks to the youngsters who spread it out to dry, footing it and re-footing it into little stacks and then ever bigger stacks until it was time to bring it home. The milk and the porter (in bojonters) was cooled in the bog water until it was time for the tea. The tea tasted of the bog but it was sweet and strong. And the sandwich! I have dined in Michelin star restaurants across the planet but nothing has ever rivalled the taste of the bog sandwich.
When the turf was home and stacked, "There was great comfort in looking at that great mass of turf."
<<<<<<<<
A Fact
The Cairo Opera House was destroyed by fire in 1970. The Cairo fire station was located inside the same building.
<<<<<<<