Road from Athea in Springtime 2021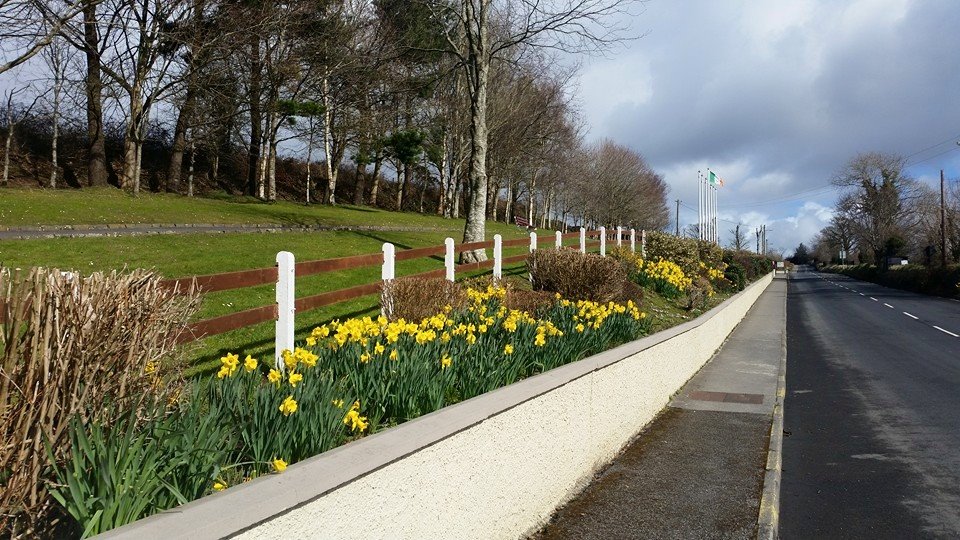 <<<<<<<<<<
A Lovely Corner in Ballybunion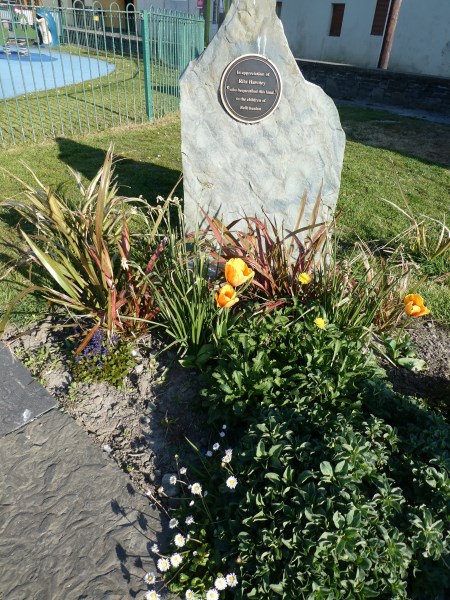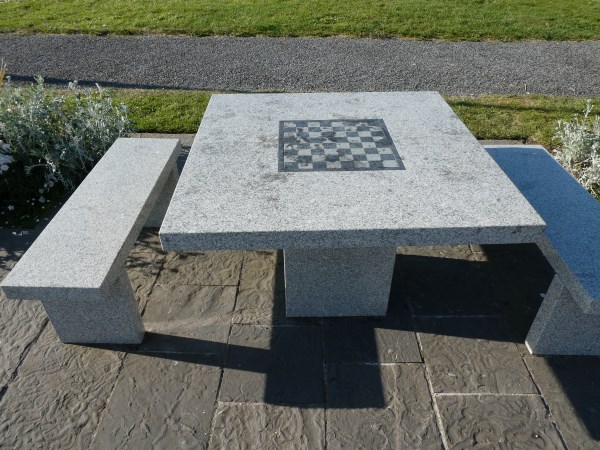 This lovely little spot by the playground is set out with tables and benches complete with chess or draughts grid. It is a godsend in these times of outdoor living.
<<<<<<<<<<
Headstone on my maternal ancestors grave in Knawhill in North Cork.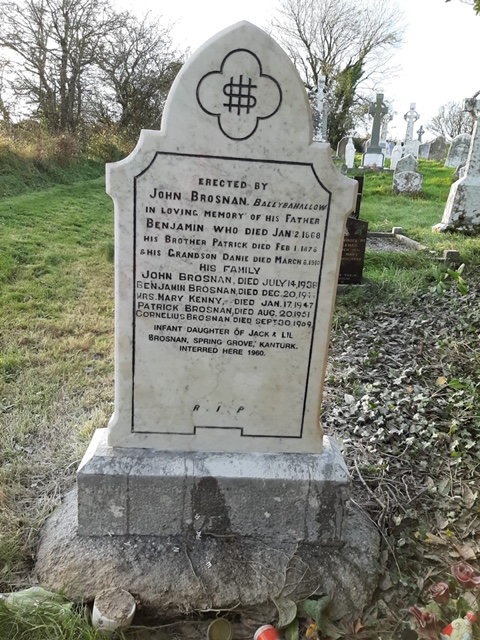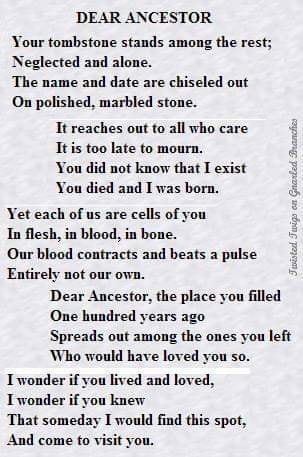 The author of the poem is unknown but it speaks to anyone who dabbles in genealogy
BTW I asked Kay Caball about the symbol over the names on the stone and here is the meaning of it.
The Christogram IHS is a monogram symbolizing Jesus Christ. From Greek it is an abbreviation of the name ΙΗΣΟΥΣ (Jesus). In Eastern Orthodox Church the Christogram is composed with letters X, P, I and X arranged into the cross. They are the first letters of one from two words in Greek language: Christ and Jesus Christ
Kay
<<<<<<<<<
Listowel Writers Week 2019
Back when we could do things in a gang, this crowd of us congregated on the steps of Kerry Literary Museum to show off some award LWW had won. I'll credit Maire Logue with the photo simply because she is not in it and I can't imagine who else would have taken it.
This year's programme is here; https://writersweek.ie/
<<<<<<<<<
The Champion Frog…a sequel
In response to enquiries, here is David Kissane's account of what happened to Mossie Walsh and the famous leaping frog when they got to RTE.
Off went Mossie, wife Nodie, a number of friends and relations, and the champion frog in a biscuit tin with holes and a leaves, to Limerick by cars to catch the train to Dublin. Introduced to Gay Byrne and then lights, camera, action. The frog jumped higher and further than ever and became the first and only frog to jump on the Late Late Show. Fame forever for Guhard Man and Mossie.After that, the frog retired from jumping to a river hole in Guhard and Mossie retired from frog-coaching with a European title in his CV.
<<<<<<<<<<<<<<
North Kerry's Sarah Fitzgerald's New Business Featured in Saturday's Irish Independent
What a surprise to open the newspaper and see an account of a brave new business in these parts.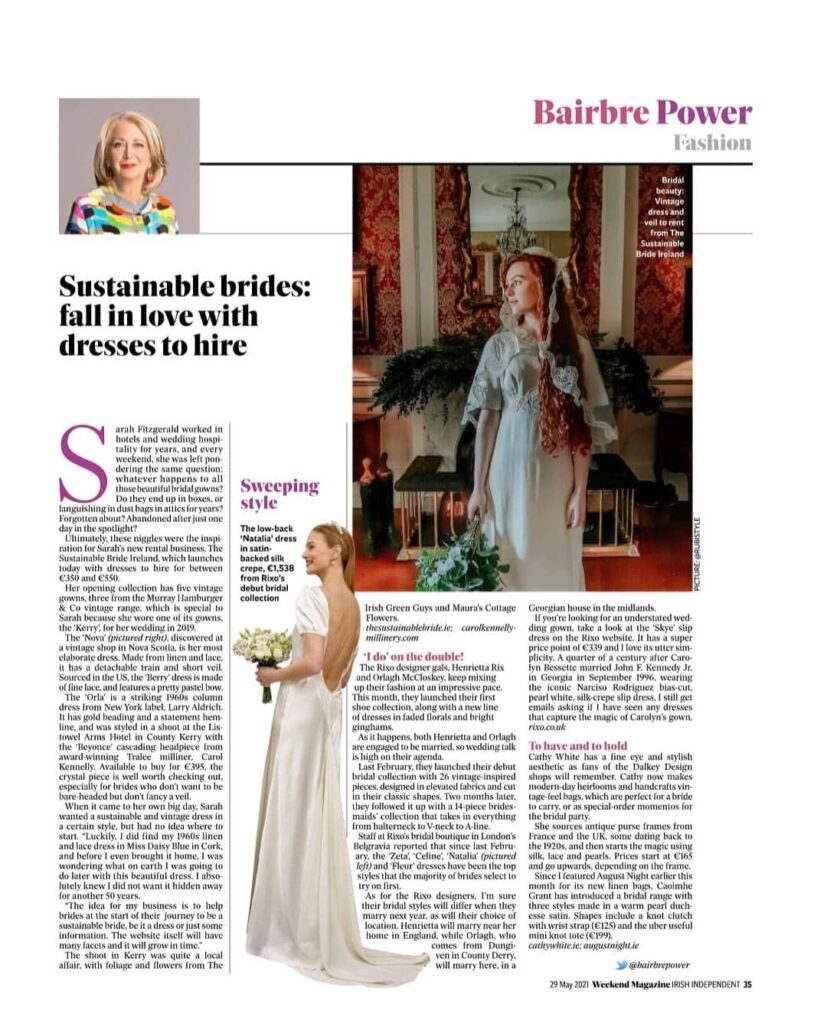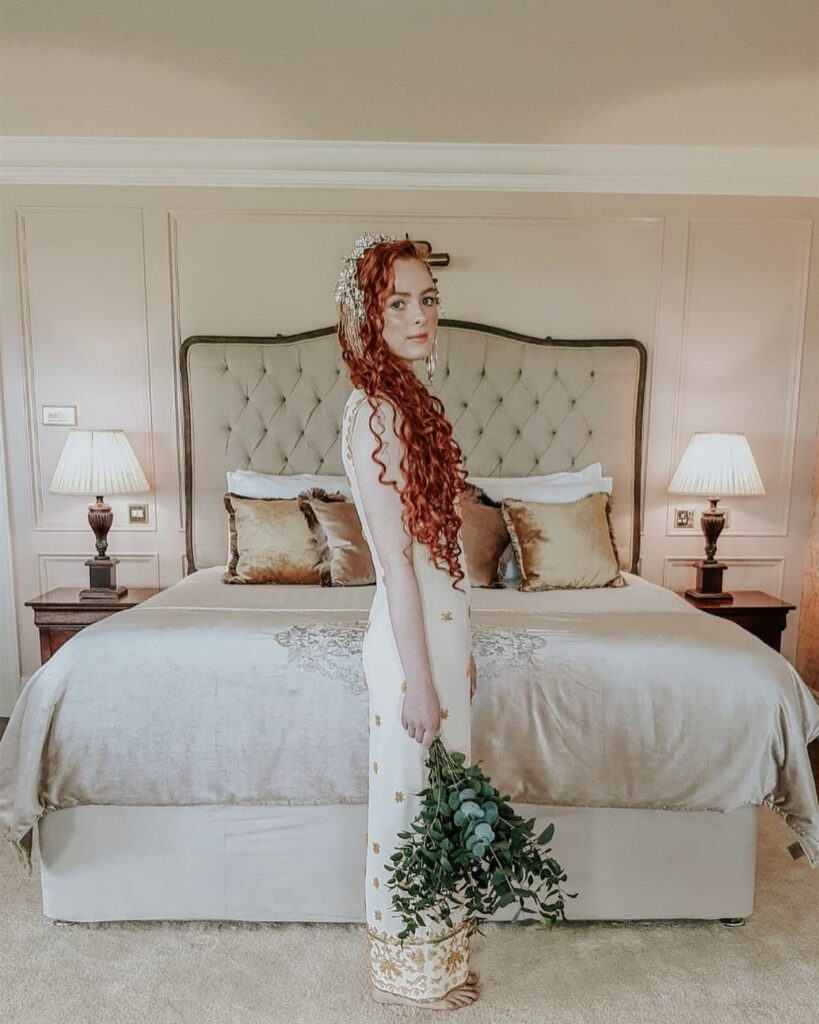 If a preowned vintage dress is your dream wedding attire, be sure to check out Sarah's rent and return option at https://thesustainablebride.ie
<<<<<<<<<<
When I was a Muse
Very briefly on a happy morning last week I felt like a muse.
Cyril Kelly, formerly of this parish, wrote Listowel Connection (me) a little stanza of greeting on my return to blogging.
Waiting
'twas like waiting for swallows and swifts in April,
'twas like waiting for Brent geese in September,
'twas like the fisherman waiting for Mayfly,
'twas like the gardener waiting for the January snowdrop,
'twas like woodlands waiting for the call of the cuckoo in April,
'twas like the children waiting on the conker-plop in September,
natives in distant domiciles waiting on listowelonnection's return.
Cyril
<<<<<<<<<<<<<<<<<<<<<<<<<<<<<<<<<<<<<<<<<<<<<<<<<<<<