Molly's Back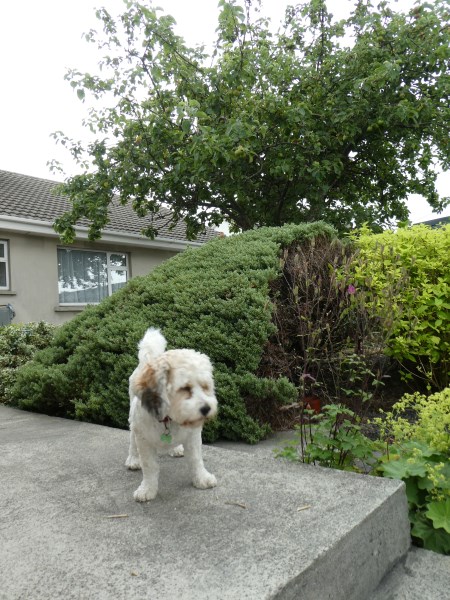 Trouble -the -House is back for her Kerry holidays. You'll spot us out and about these days as I reintroduce her to her second home.
<<<<<<<
Ballybunion is Buzzing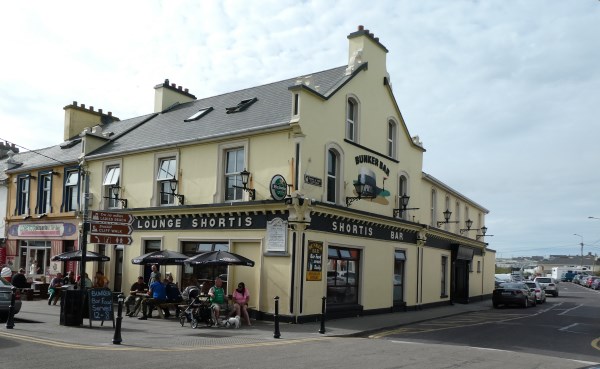 Ballybunion loves a Summer Sunday. The Bunker was full to capacity and overflowing on to the street.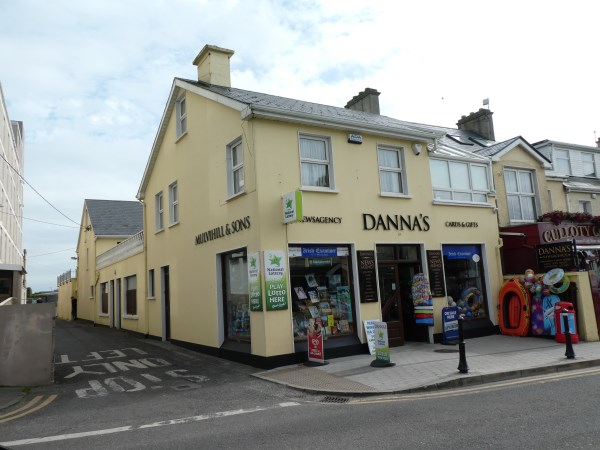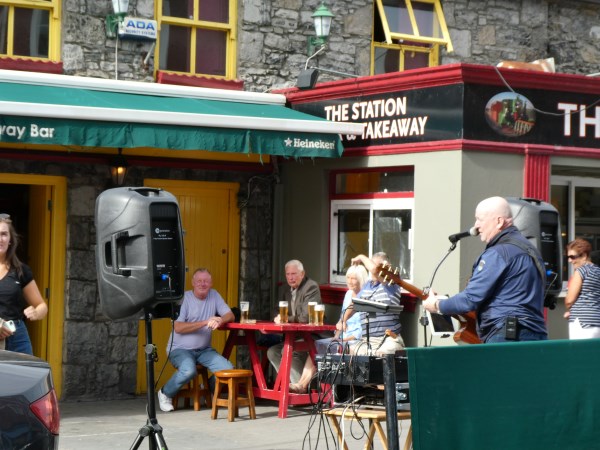 Flash had set up outside the Railway Bar and was entertaining the whole street on Sunday July 7 2019
<<<<<<<<
Food in Olden Times
from the Dúchas Folklore collection
(Read to the end. I think he got the bit about the tea wrong.)
In olden times the chief food of the people was potatoes three times a day and sour skim milk and sometimes porridge made from yellow meal for supper and two meals of potatoes.
Breakfast was usually taken at nine o'clock in the morning so that three hours work was done before breakfast.
At each meal the table was placed in the centre of the floor and all sat down and commenced eating. In later years meals became more plentiful and bread was made from it by mixing with boiling water and afterwards baked in a griddle. The breakfast consisted then of yellow bread and sour skim milk filled out in wooden mugs. In the morning the bread was often heated in front of the fire before being eaten. In those days very little meat was used but salt mackerel for supper but potatoes were not unusual, supper hour being about nine o'clock.
Easter Sunday was a feast and each member of the house was allowed as many eggs as he or she could eat.
Tea was scarcely known until some sixty years ago and was not drank only at Christmas. Then it was made in a parcel and put away until the arrival of Christmas again.
Location: Cappagh, Co. Kerry- Teacher:T.F. Sheehan.
<<<<<<<
Running Repairs in Listowel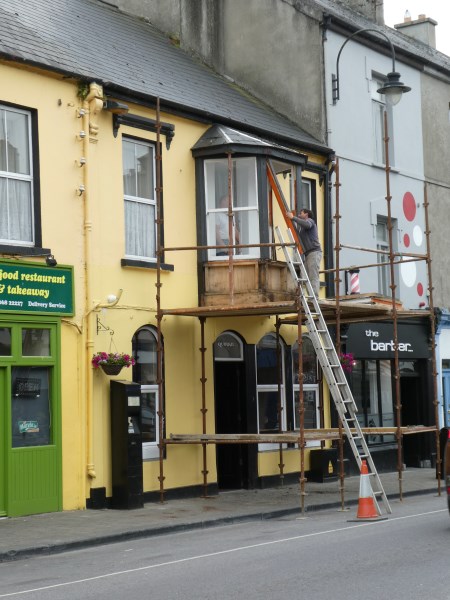 Fitzpatrick's iconic bay window in Church Street is being replaced.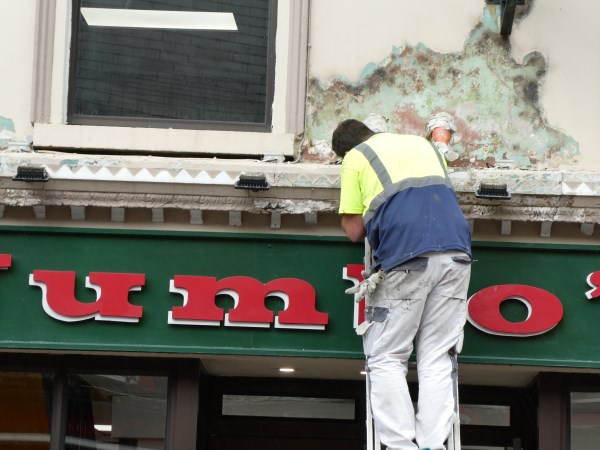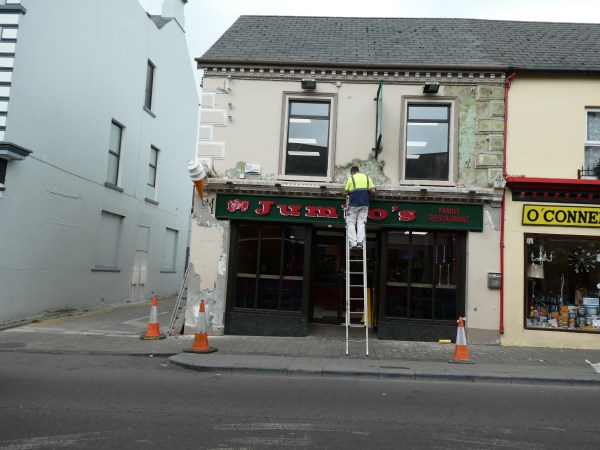 Jumbo's is being repainted
<<<<<<<


A Trip Back in Time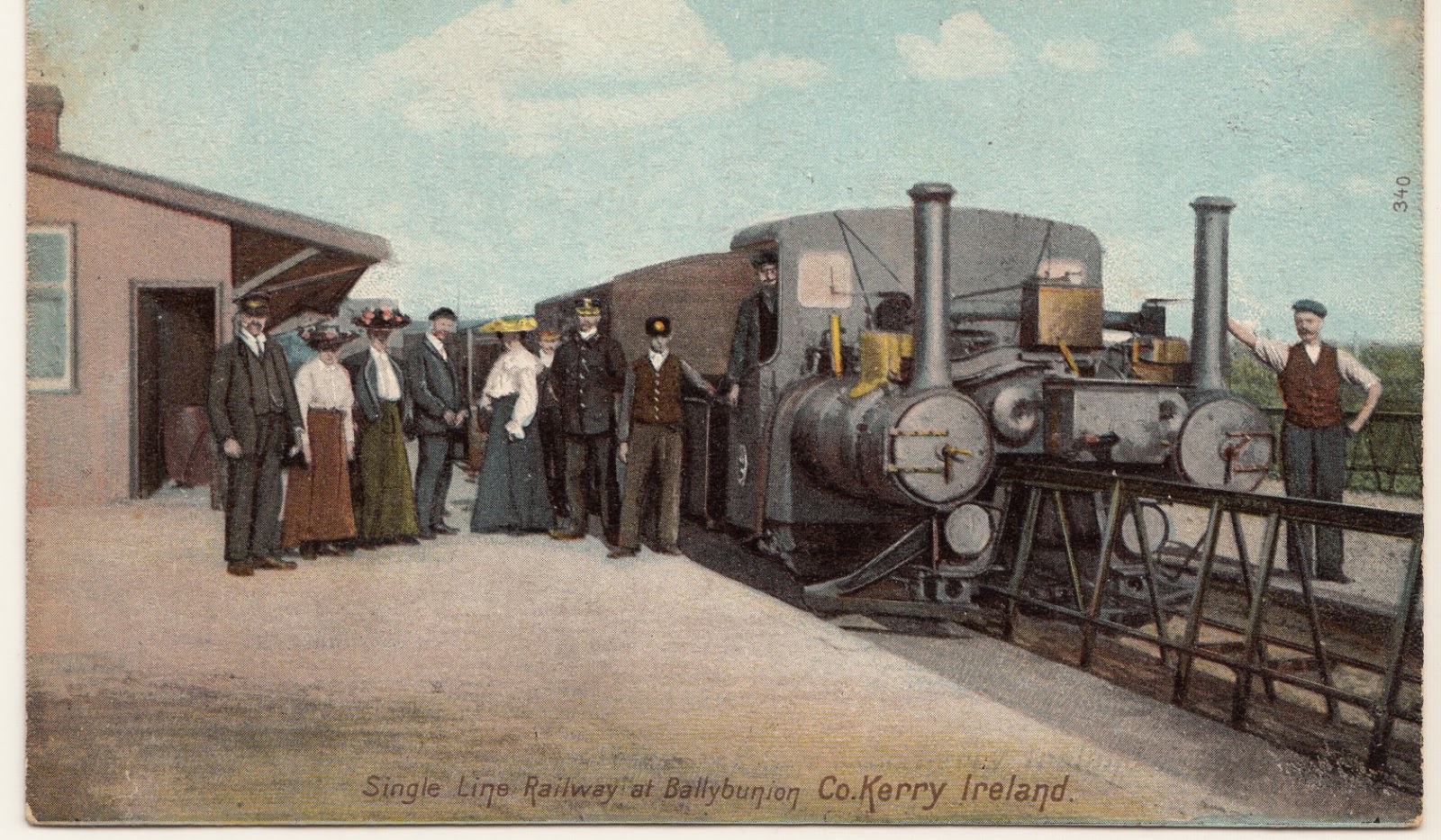 Dont forget to take a trip on the Lartigue in summer 2019. Open every afternoon.
Michael Guerin, Lartigue Driver. Oxana Sean, Seamus Kyritz from Tampa, Florida. Diane and Robert Moloney from Ennismore Listowel Canada. Pat Walsh Lartigue wayman.
These visitors to the Lartigue on Wednesday are descended from families who left Listowel for Canada under the Peter Robinson Resttlement Scheme of the 19th century.
<<<<<<<
Weekly Guided Walks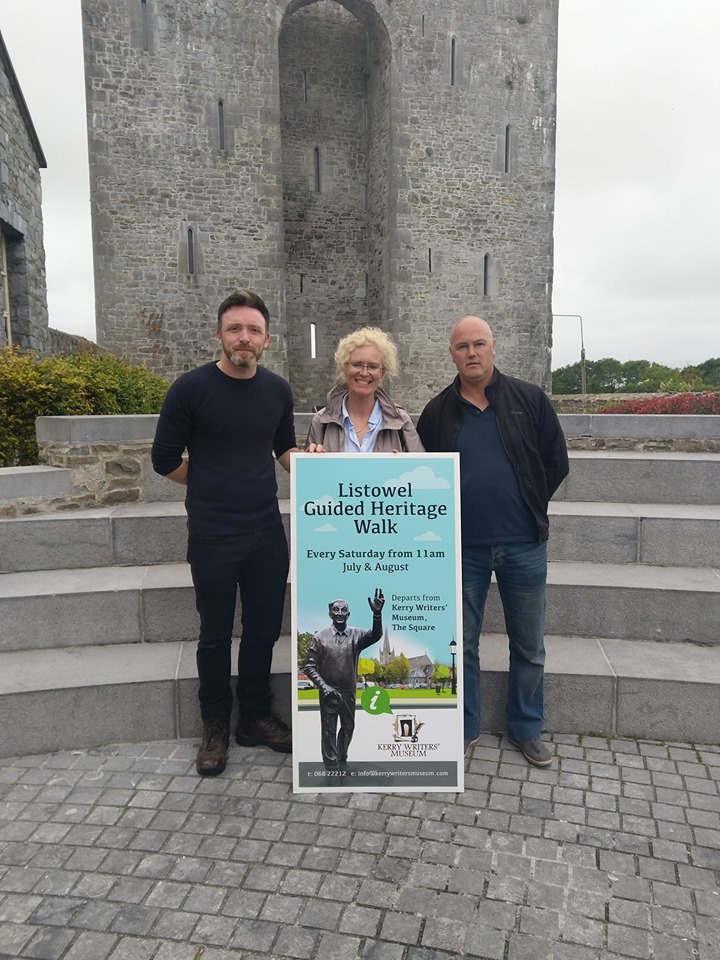 This photo was taken before the start of the first guided walking tour of the town on Saturday last. It is planned that these walks will take place every Saturday until the end of August, starting at 11.00a.m.
The cost is €5 and includes tea or coffee and a scone in The Kerry Writers Museum at the end of the walk.
If you are planning on taking the tour tomorrow, July 13 2019, your volunteer guide will be…………….me.