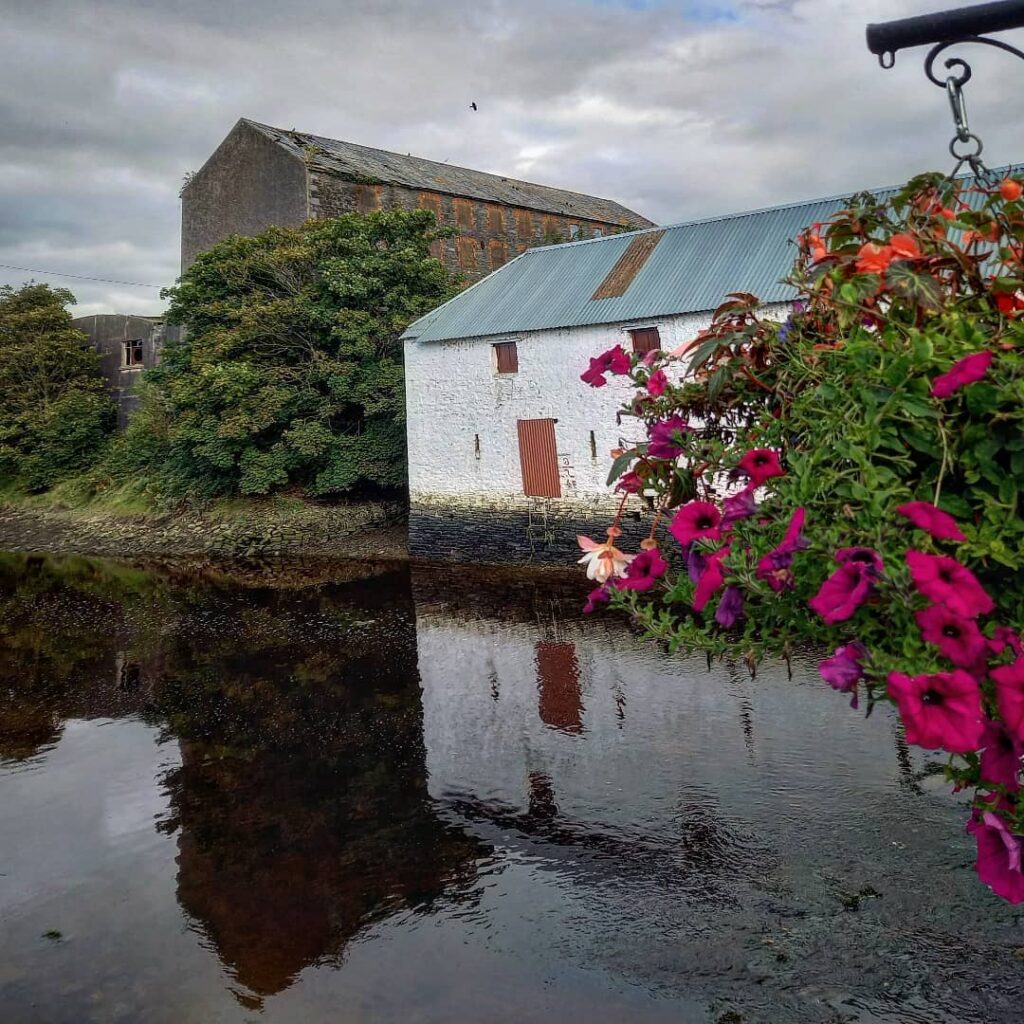 Ballylongford Mill today; Photo by Breda Ferris
<<<<<<<<<<
It's the simple things like sharing a donut….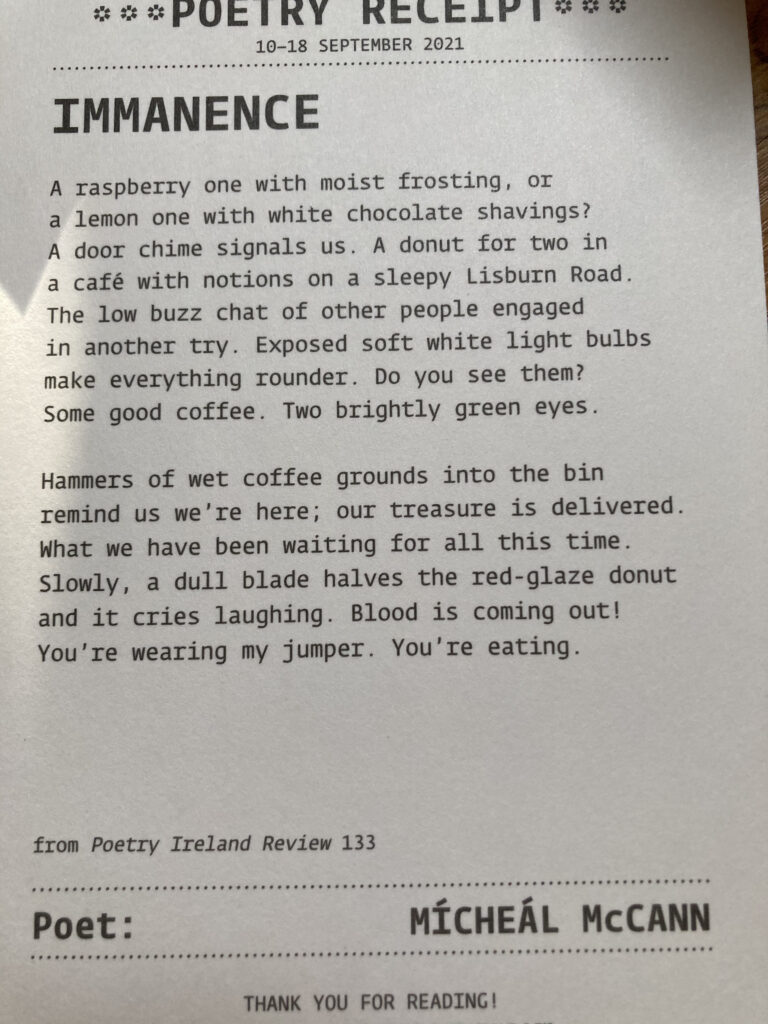 <<<<<<<<<<
A Tribute to a Beloved and Missed Mentor
Elizabeth Carroll (Liz Chute) remembers Bryan MacMahon and his influence. The story is told in Liz's screenshots from her Instagram feed.
The Pendant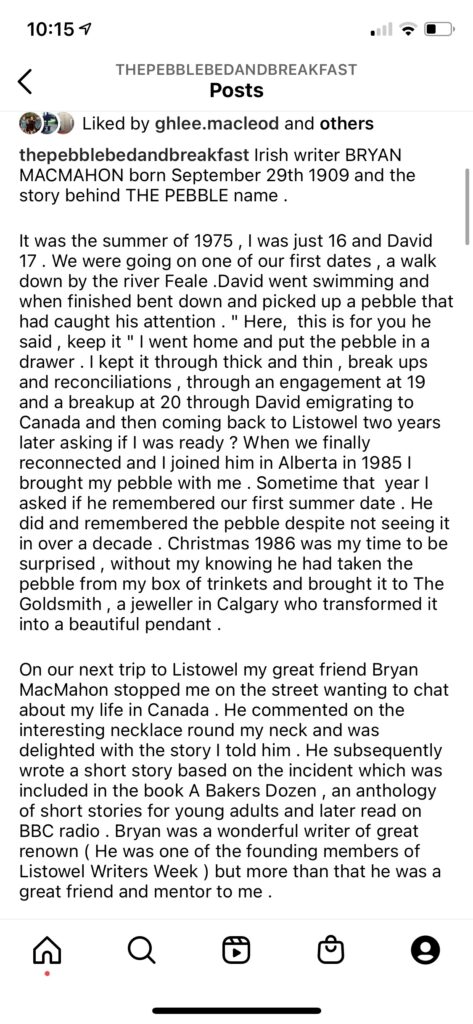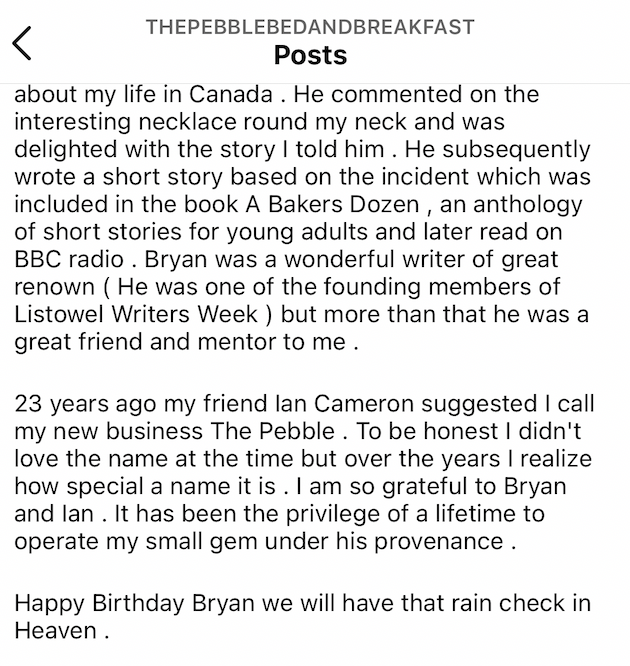 <<<<<<<<<<<<<
That Naas Sculpture
Helen O'Connor and Dave O'Sullivan filled me in on this one.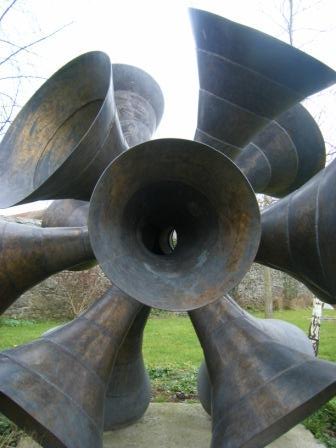 Title: Siren

Artist: By Alex Pentek
Location: Siren is located on the green adjacent to Naas Fire Station on the Newbridge Road.
History of the project:
Over the last number of years, Athy and Naas have both opened purpose built fire stations. A refurbishment of the fire station in Monasterevin has also taken place. As part of the building programme, Kildare County Council engaged three Irish artists to further enhance each building by means of commissioning art works, through the Per Cent for Art Scheme. The Fire Officer, Michael Fitzsimons and County Arts Officer Lucina Russell considered the physical building and their particular location when designing a brief for the commissions.

Artist statement:
The sculpture shows how I think the sound of the fire alarm would look if it were not a sound but an object. As the sound of a fire alarm broadcasts the message that the help of the Naas Fire Service is required, it is not a soothing sound, but a loud and shrill noise that forces anyone who hears it to consider their own personal safety for a moment. As the traditional fire-bell has been replaced with the wailing cry of the air horn, the form of the proposed sculpture comprises of a series of fluted horns, pointing outwards in all directions as if to make sure that everyone gets the message.
About the artist:
Alex Pentek is a graduate of the Crawford College of Art and Design, Cork and currently works from a studio at Monard, Rathpeacon, Co. Cork.
With the style of the work ranging from abstract to figurative, he have worked predominantly on large-scale public art sculpture commissions for outdoor locations using durable materials. Some of this work includes two life-size female figures from cast marble sand in Tralee, Co. Kerry; three giant leaves in cast bronze in Clonakilty, Co. Cork; and four giant seeds from carved oak in Tower, Co. Cork, to name but a few. During this time he has also carried out several smaller scale, private commissions for both indoor and outdoor settings.
While continuously exploring aspects of Nature in a variety of materials ranging from sheet metals, cast bronze, ceramic, carved wood and cement, he also enjoys the challenge of new materials.
<<<<<<<<<<<<<<<