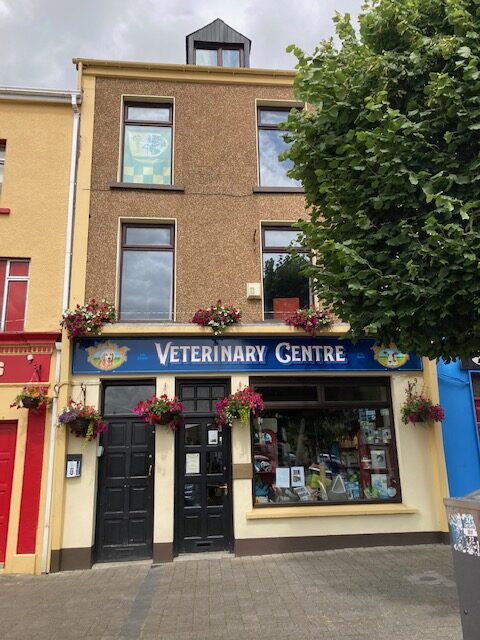 Veterinary Centre, The Square
<<<<<<<<<<<<<
Crann na Scéalta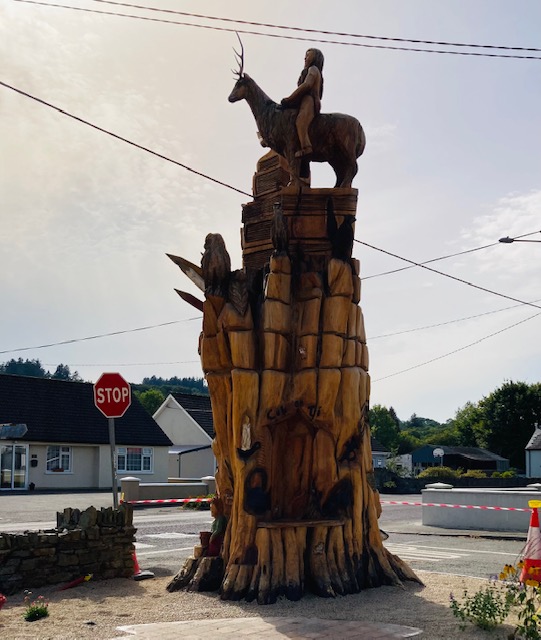 Have you wondered what the story is as you passed this marvellous sculpture on your way through Ballyvourney?
Here, before they bypass it, is the story.
The tree stands in the grounds of Scoil Abán Naofa.It was a tree that had grown so tall that it was beginning to block the light from the school's windows as well as posing a threat to life should it ever fall in a storm.
The tree is a Monterey Cypress and it was planted by a local schoolboy Seán Jerh OCeilleachair over 100 years ago. It seemed a shame to just chop it down so they set up a committee locally to see what they could do to preserve it.
They brought in a tree sculptor.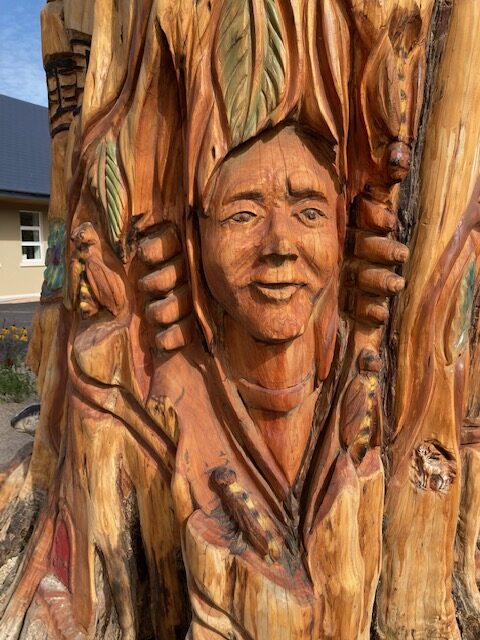 "Sculptor John Hayes has been inspired by the stories that pupils in the school have gathered together and will feature a wide compendium of local heroes and legends in Crann na Scéalta/The Tree of Stories. These include Naomh Gobnait who found the nine white deer she had been shown in a vision in a grove above the village of Baile Mhúirne and, following the message she had been given, founded an abbey there. They also include the story of Nurse Singleton, a legendary figure in the parish from the last century and who is being included, according to Sam Morton of the Tree Committee, as a tribute to local health workers who provided vital care during the Pandemic." (The Corkman)
These and lots more stories and legends are preserved forever in this gloriously original form.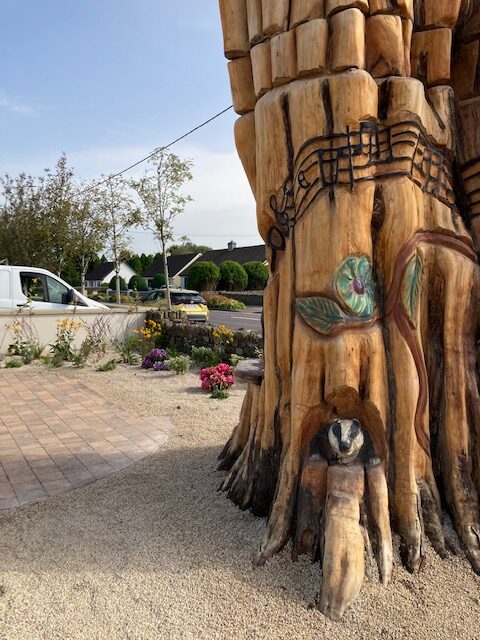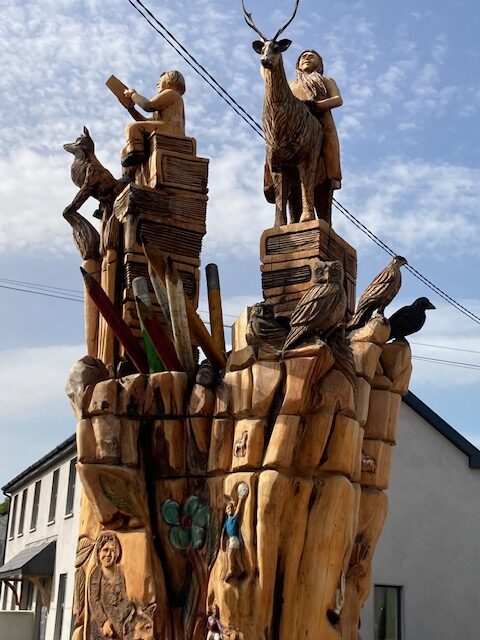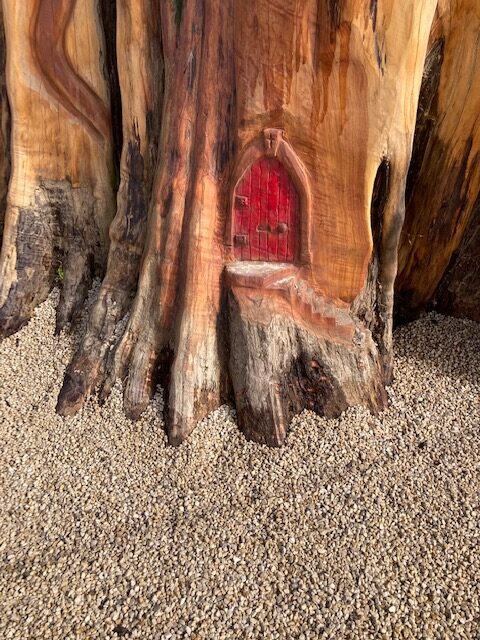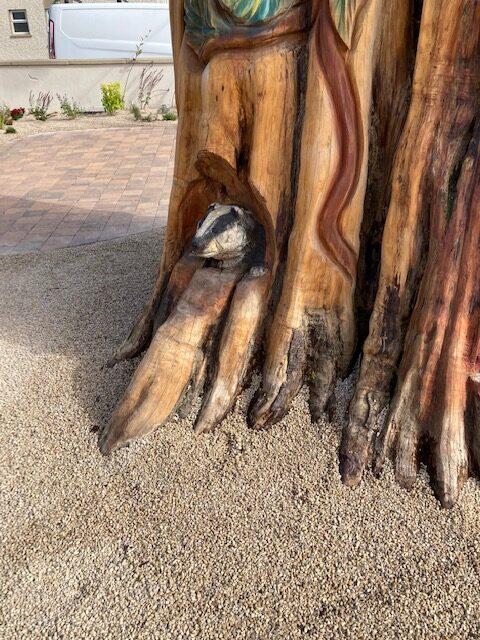 <<<<<<<<<<
Progress on the Martin Chute Mural
September 8 2023 was exceptionally warm and humid. It was evening time when I went to Pat Nolan's gable to check up on progress. I did not expect the artist to be there but Martin was back at his task.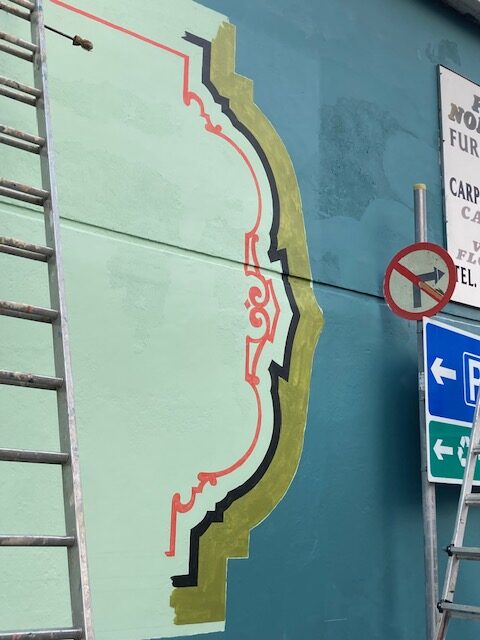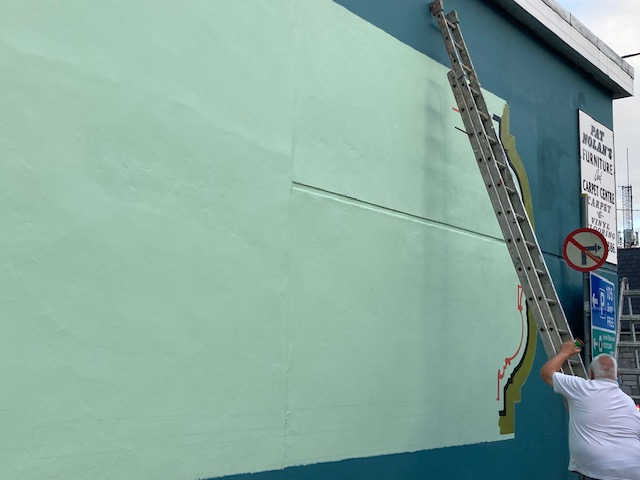 This man is painting this huge work from ladders!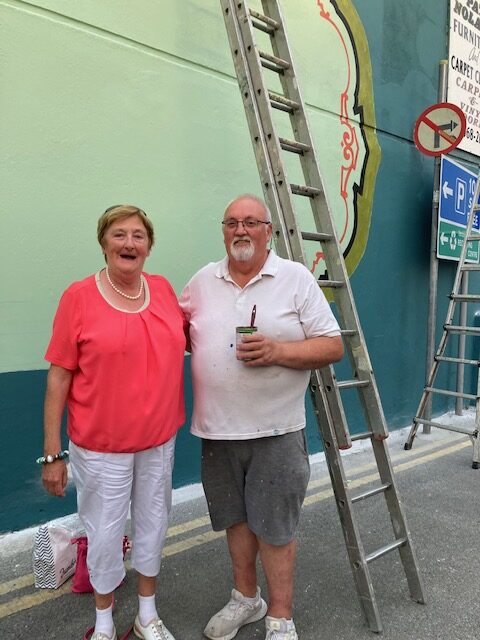 Not content with distracting him myself I invited a passer by, Mary Broderick, to pose with him. Mary loves Martin's work.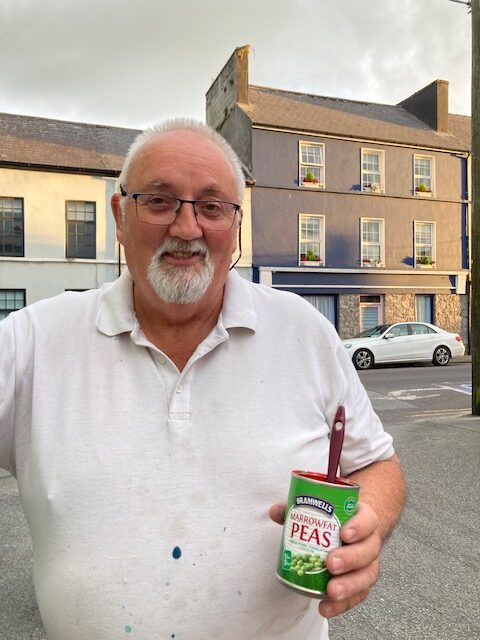 Martin is a master of reusing and recycling. Don't you love his paint pot?
<<<<<<<<<
Guide to Listowel in the 1960's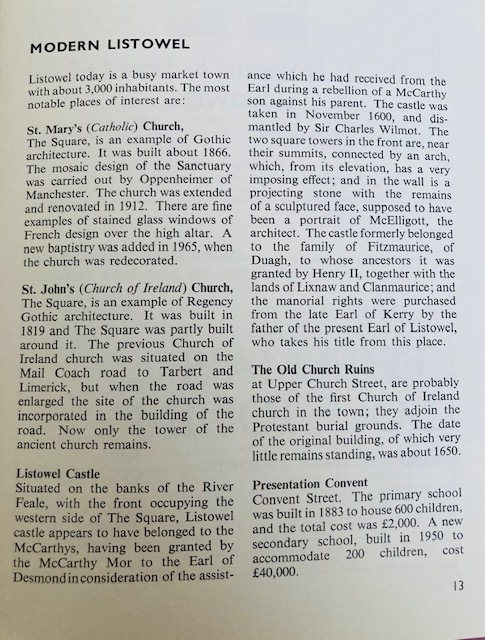 <<<<<<<<<
A Fact
In most American states, a wedding ring cannot be counted as an asset in bankruptcy proceedings. A creditor cannot seize a wedding ring no matter how much the debtor owes.
<<<<<<<<<