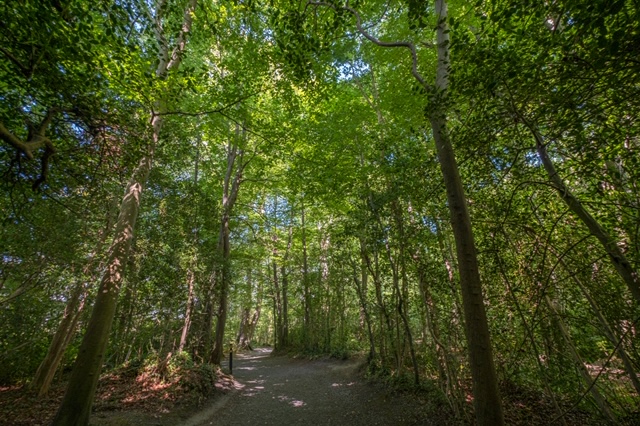 <<<<<<<<<<
Dwyers of New Zealand with a Listowel Connection
Press, 3 May 1946
MR AND MRS J. DWYER Mr and Mrs John Dwyer, 555 Manchester street, will celebrate the sixtieth anniversary of their marriage tomorrow. Mr and Mrs Dwyer are well known in Christchurch, as Well as in many other parts of the Dominion where Mr Dwyer was stationed during his 43 years' service in the Police Force. Mr Dwyer was for nine years Superintendent of Police in the Canterbury district. He retired from the service in 1922, on which occasion he was accorded a public farewell. Mr Dwyer, who was born in Listowel, County Kerry, Ireland, came to New Zealand in 1878 on the sailing ship City of Auckland, which was wrecked, on the Otaki coast. Many and varied are the experiences which Mr Dwyer can recall. For his rescue work during the Cumberland street fire in Dunedin in 1882, he was presented by the City Council with a silver medal for valour. He also holds the Australasian Royal Humane Society's award for bravery, which was presented to him in 1893 for his attempt, in very dangerous circumstances, to rescue a man from drowning in Oamaru harbour.
Mr Dwyer has been associated with many cases which have made police history in New Zealand, and wherever he has been stationed he and Mrs Dwyer have won the respect and affection of those among whom they have lived. Mrs Dwyer, Who was born in Australia, came to New Zealand at the age of seven years. Mr and Mrs Dwyer were married in St. Joseph's Cathedral, Dunedin, by the Rev, Father P. Lynch. They have one son, Mr Philip Dwyer, of Gisborne, and three, surviving daughters, Mesdames N. Lyttelton (Auckland), David Lusk (Fendalton) and F. B. Freed (Wellington). There are three grandchildren.
Jer Kennelly found the story and Martin Moore sent him this reply;
That is my great-granduncle. There are photos of him
around. His son, Thomas died during the Great War. Two
other sons of his died later in 1918 during the Spanish
Flu.
It was the family of a near relative of Lord Kitchener
[either a brother or uncle?] that he rescued from
the Cumberland fire.
<<<<<<
Installment Two of Barbara's Tour Blog
Today Barbara spends time in Kerry with her cousins. She then starts her tour of Ireland with a trip to Galway.
We started our tour at The Riu Plaza-The Gresham Hotel and made our way to Galway. Mind you I had just spent 5 glorious days in Kerry with cousins-Bridget O'Connor and Jerry O'Dwyer driving me to Clare and enjoying a night out at Milltown Malbay for their Irish Music Festival. A fun night was had by all. Thank you, Eithne and Eddie!! I managed to get invited to a wedding too! Thank you, Margaret Ann and Jerry Behan. A blast at the wedding. Congratulations to Blaithin and Neal Mangan.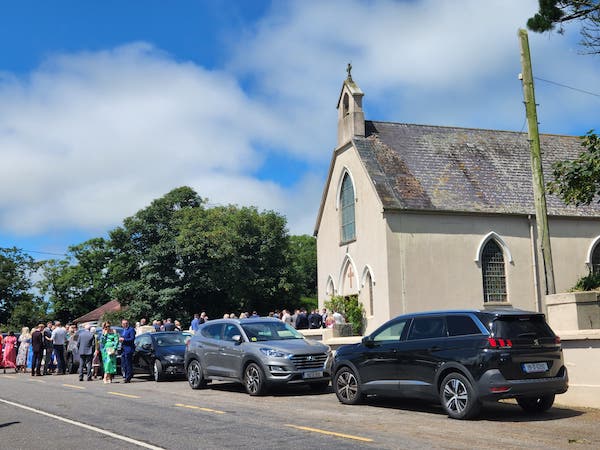 The church was Ballydonaghue. The same church that my father attended so it was extra special for me.
The finale on the 6th day was a visit to Croke Park to watch the Semi-final Gaelic Football game Kerry vs Dublin.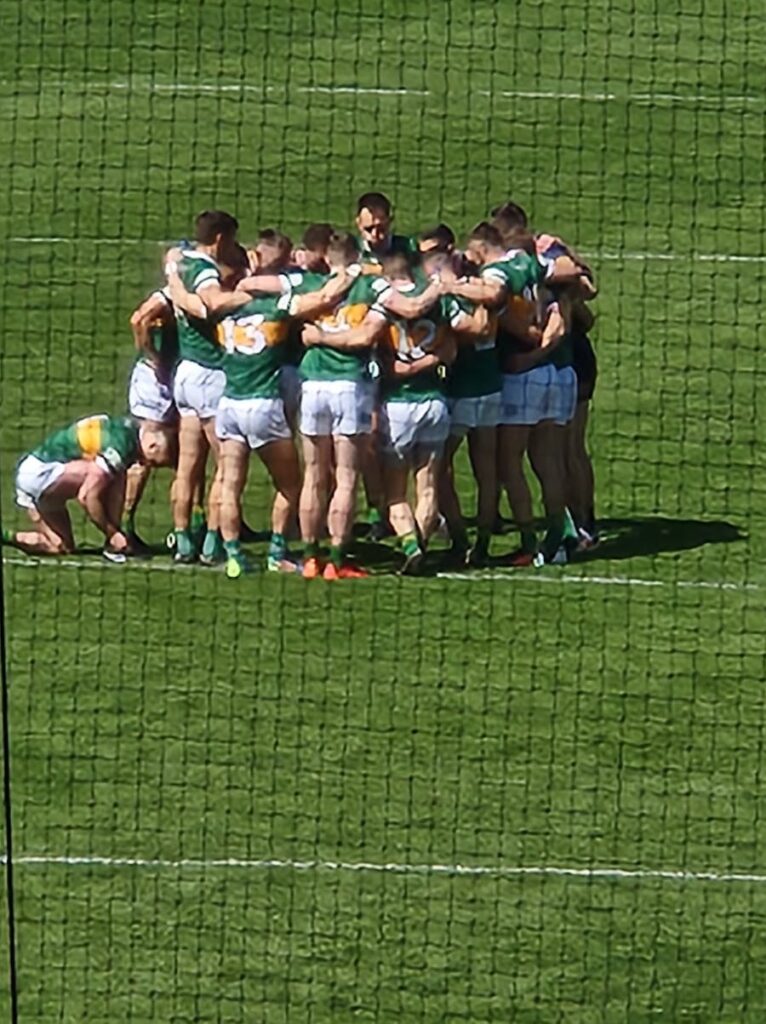 To me, it was like the All-Ireland as they were always the rivalry when my father would cheer for Kerry. Always seemed like it was Kerry vs Dublin!!
I took RyanAir to Dublin that day-a great way to go and a nice young man from Tralee shared a taxi with me and he treated me!! That was a real treat!! The New Yorker in me was quite surprised!!
<<<<<<<<<<
My Kildare Granddaughter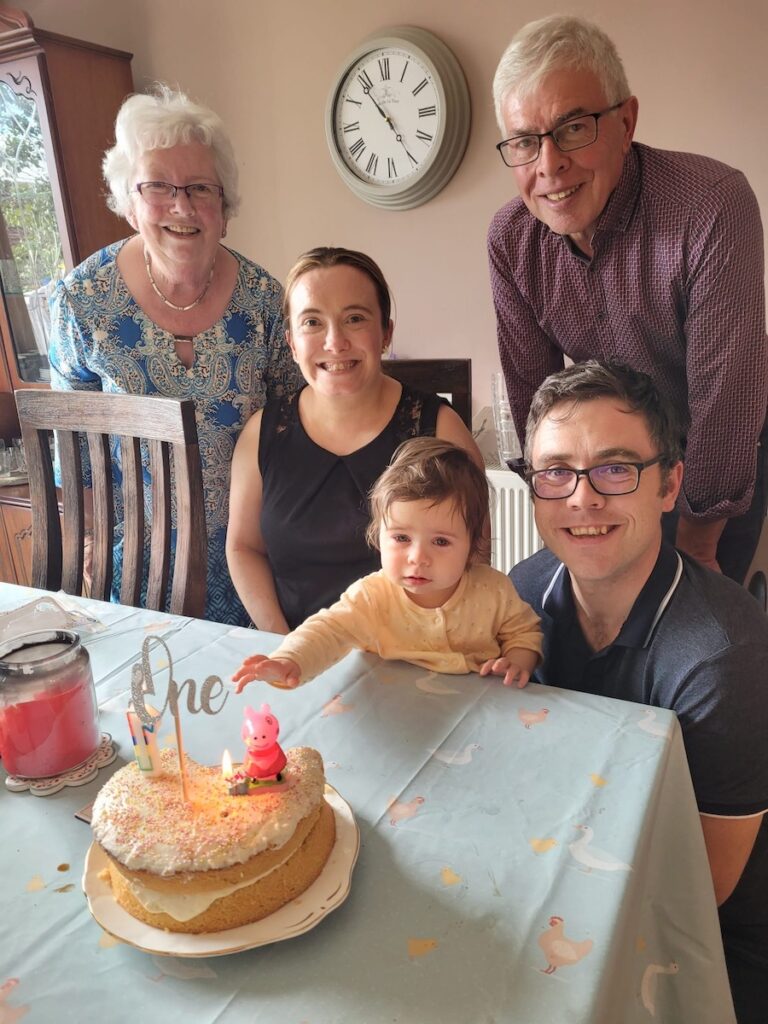 Our little Aoife had a birthday. Her Kildare Granny made her a deliciious birthday cake and took this picture. Aoife is one.
<<<<<<<<<<<
We're Behind You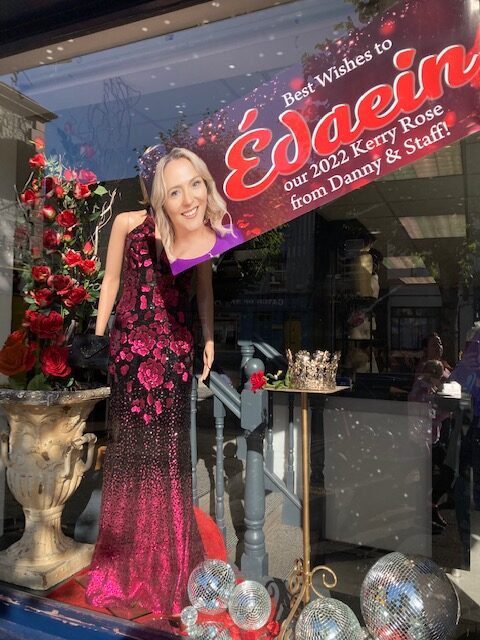 Danny's window speaks for us all.
<<<<<<<<
At a friend's wedding
These are a bevy of Mary's glamorous school friends at her wedding to the love of her life, Dave Murphy, on Saturday last, August 20 2022.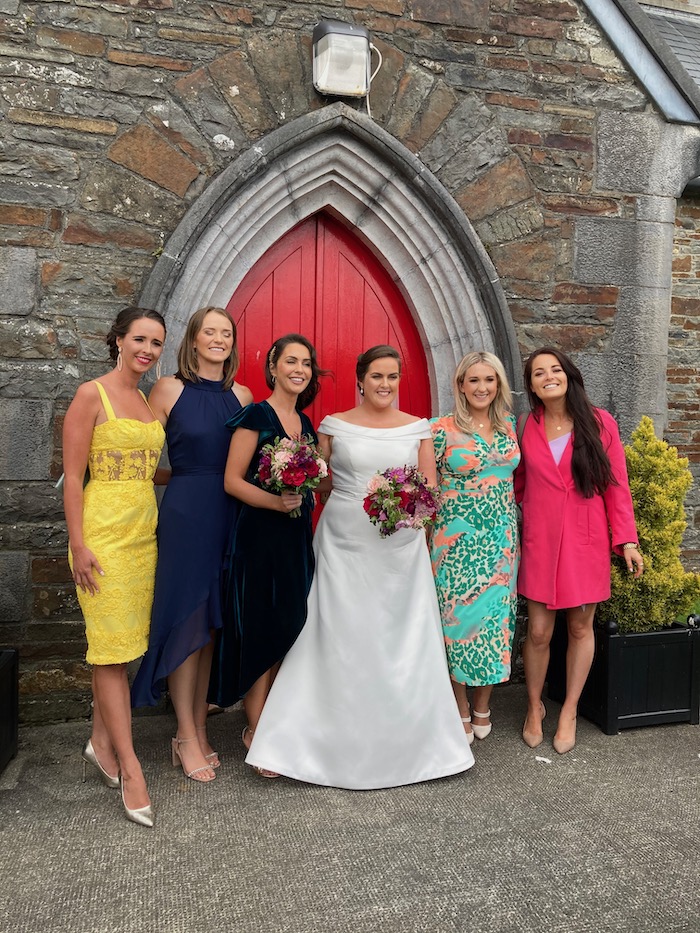 Barbara Mulvihill, Nicola Griffin, Aoife Kelliher, Mary Moylan, Lainey Keane and Maria Dillon
<<<<<<<<<<<<
A Fact
The shortest war on record was fought between Zanzibar and the UK in 1896.
Zanzibar surrendered after 28 minutes.
<<<<<<<<<<<<