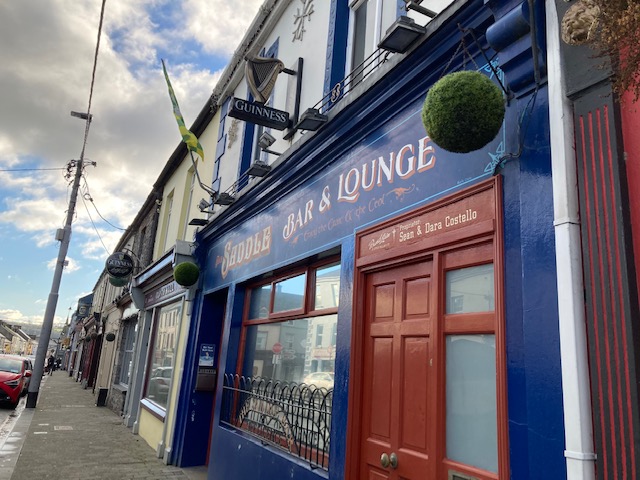 <<<<<<<<<
All Ireland Football Final 1947
The All Ireland Final of 1947 was famously played in The Polo Grounds in New York. Kerry played Cavan and Kerry lost.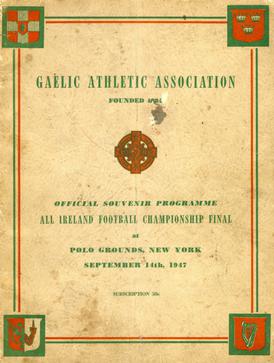 Why am I venturing into a realm I know nothing about?
Kathy Reynolds has been in touch and she sent us this letter from her great uncle who actually attended the match.
" The game was attended by 34,500 including my father's uncle, Mike Fitzmaurice, who had left Moybella South, Lisselton around 1910 for Waterbury, Connecticut. This is his account of the day, written on 6th October 1947 to his brother, Paddy, in Ballybunion."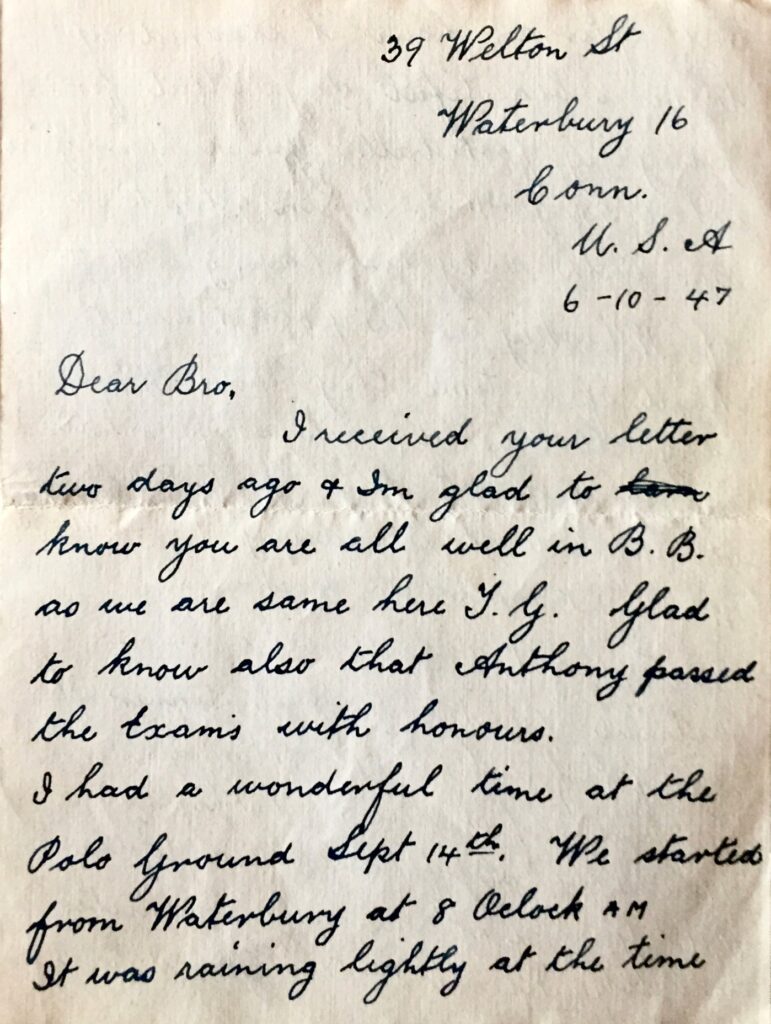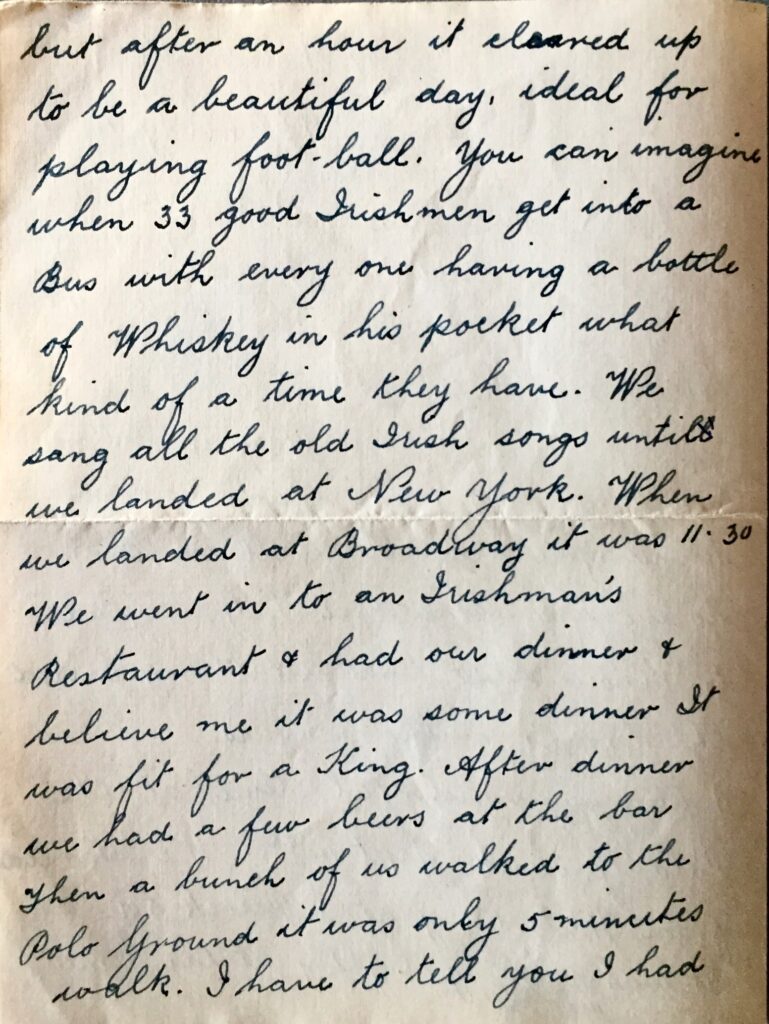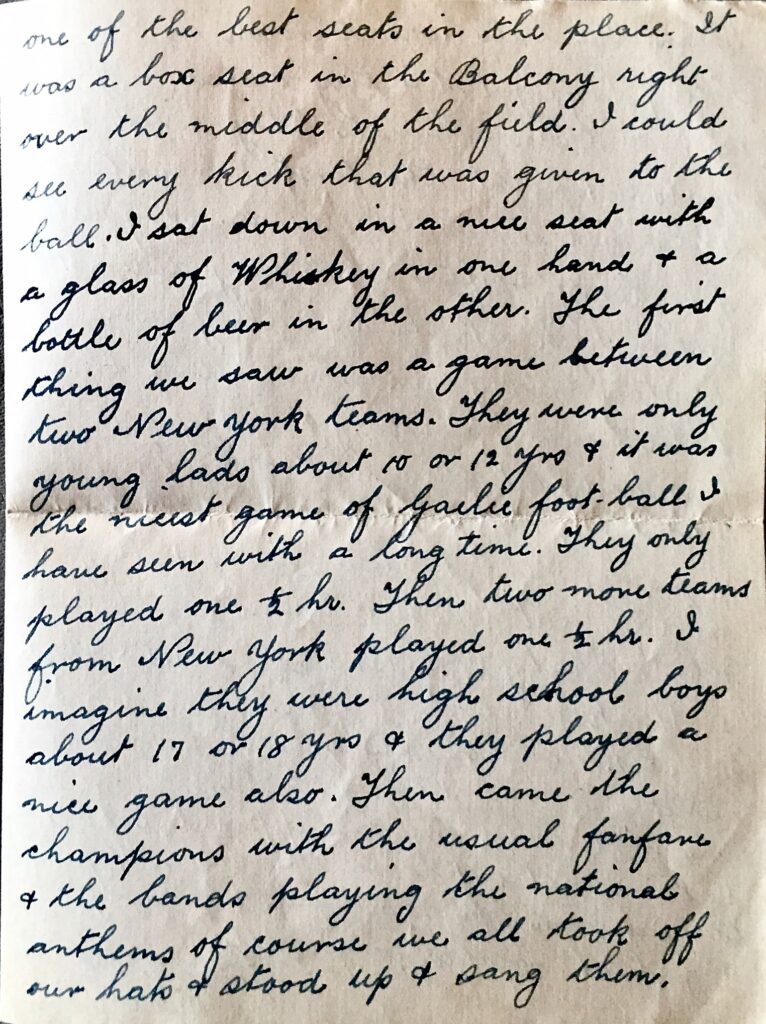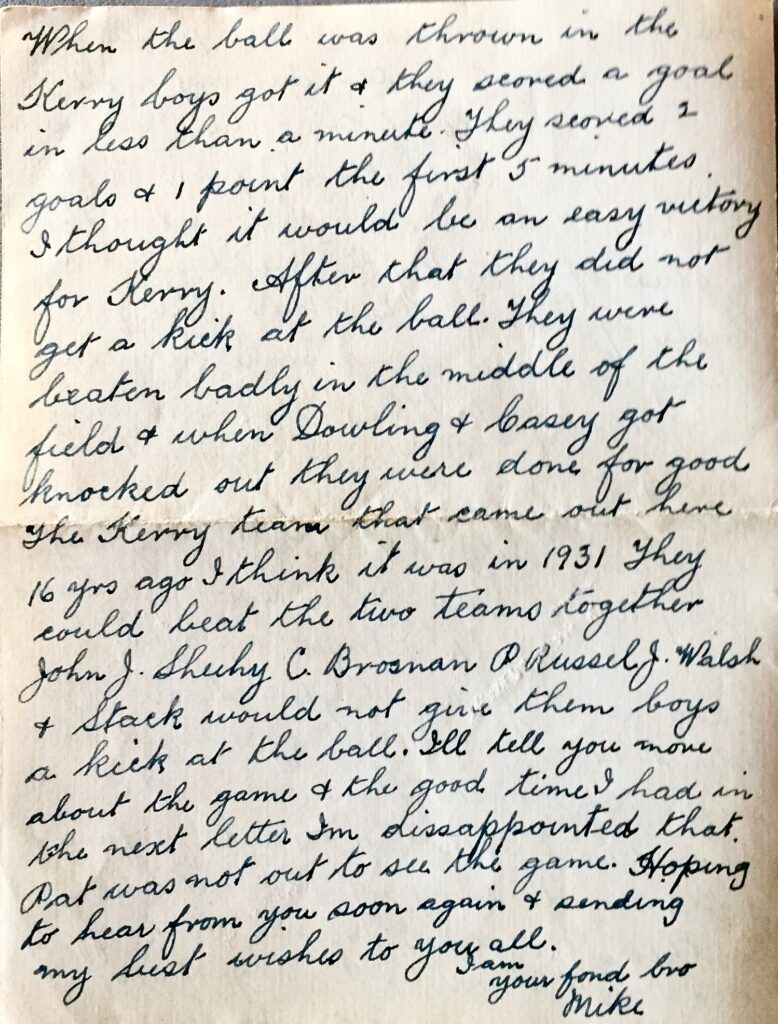 Isn't it great to have a hoarder in the family?
What beautiful writing?
Back to the match;
In 1947 the All Ireland Senior Football Final between Cavan and Kerry was played outside Ireland at the Polo Grounds in New York to mark the centenary of the Great Famine and to acknowledge the large Irish American community.
Pádraig Ó Caoimh (Paddy O'Keeffe) General Secretary of the Gaelic Athletic Association (GAA) oversaw the staging of the unique event and of the radio broadcast back to Ireland. Radio Éireann commentator Michael O'Hehir went to provide commentary for listeners back home in Ireland. For the broadcast, a landline from the Polo Grounds connected to a transatlantic cable which then fed through to transmitters in Dublin, Athlone and Cork.
The lines had to be paid for in New York in advance and were booked up to 5 pm on the day of the game. This would give enough time for the match to be concluded and 30 mins for wrapping up after the match had finished. (Source RTE Archive)
To cut a long story short the match ran over time because RTE forgot to factor in the time spent introducing dignatories and other fal dals before the match. Terrified that he would be cut off before the end of the game, Michael O Hehir appealed on air to be allowed an extra 5 minutes He was given the extra time.
<<<<<<<<<<<
Celtic Artwork in Scoil Realta na Maidine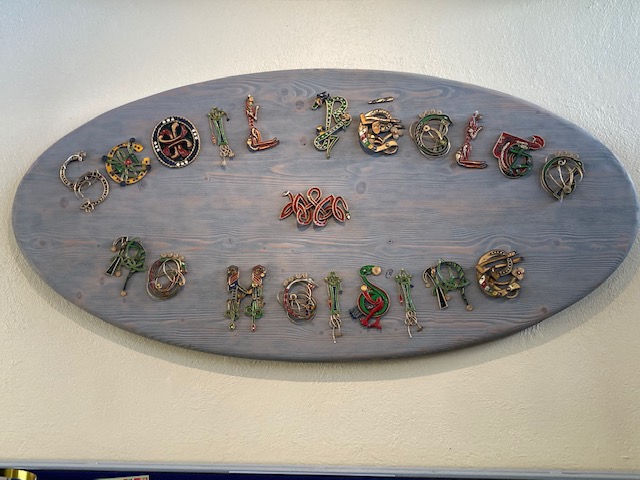 This is the beautiful piece of artwork donated by Paddy Fitzgibbon to Scoil Realta na Maidine.
The piece here is hung lower so more accessible than the one in the Credit Union. I took a close up of a few letters so that you can see this absolute gem of Celtic artwork.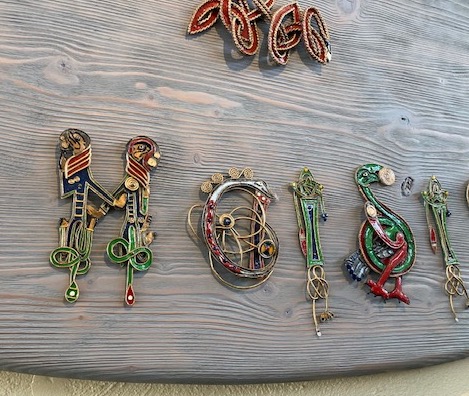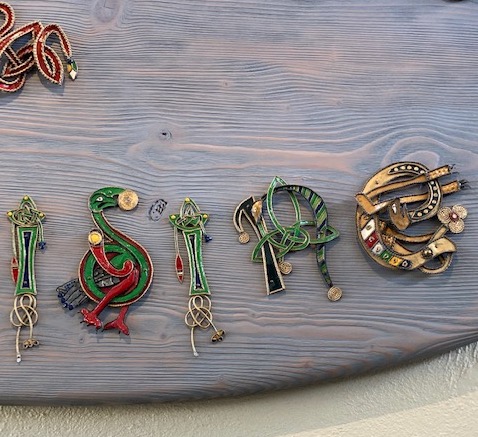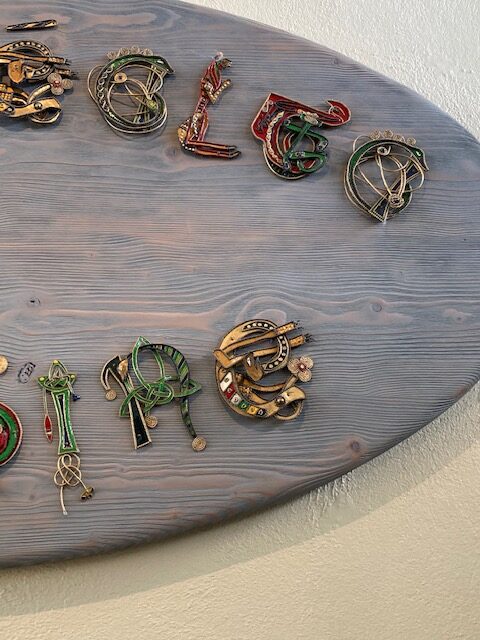 This work is executed with copper wire and pins. I am totally in awe.
<<<<<<<<<
Glenflesk
Usually in this weather I don't venture too far from home.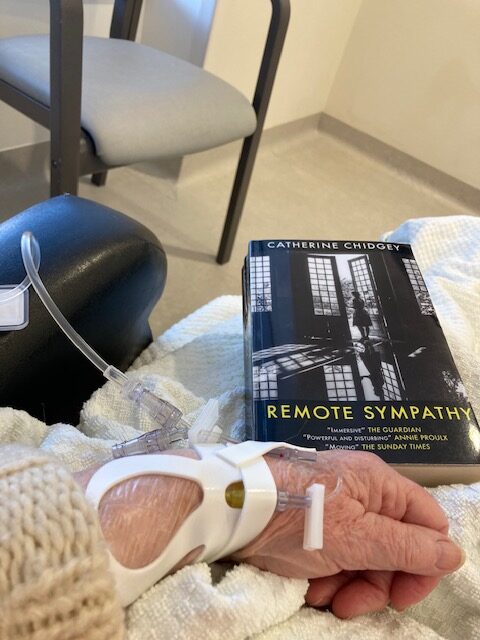 Certain trips have to be made though.
I travelled to Cork via Tralee and Killarney. My usual route, through my home territory of Rockchapel and Newmarket is a bit more challenging in frosty weather.
The new Macroom bypass is great. We won't know ourselves when it is completed.
On this road I love to make a pit stop in Glenflesk.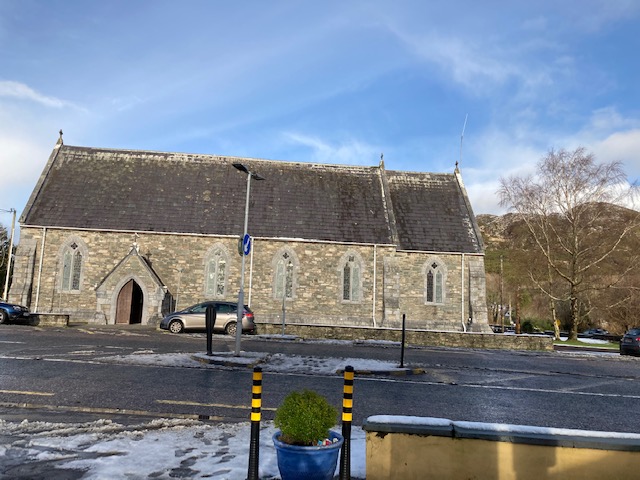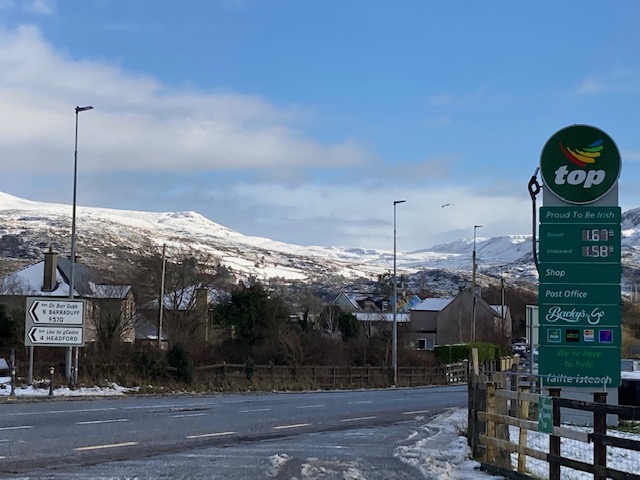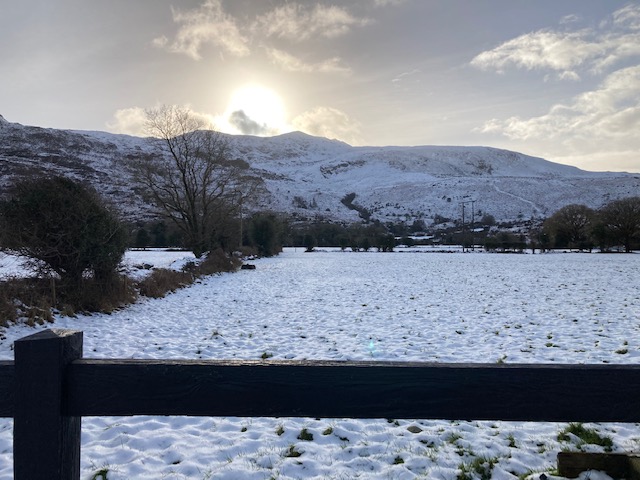 <<<<<<<<<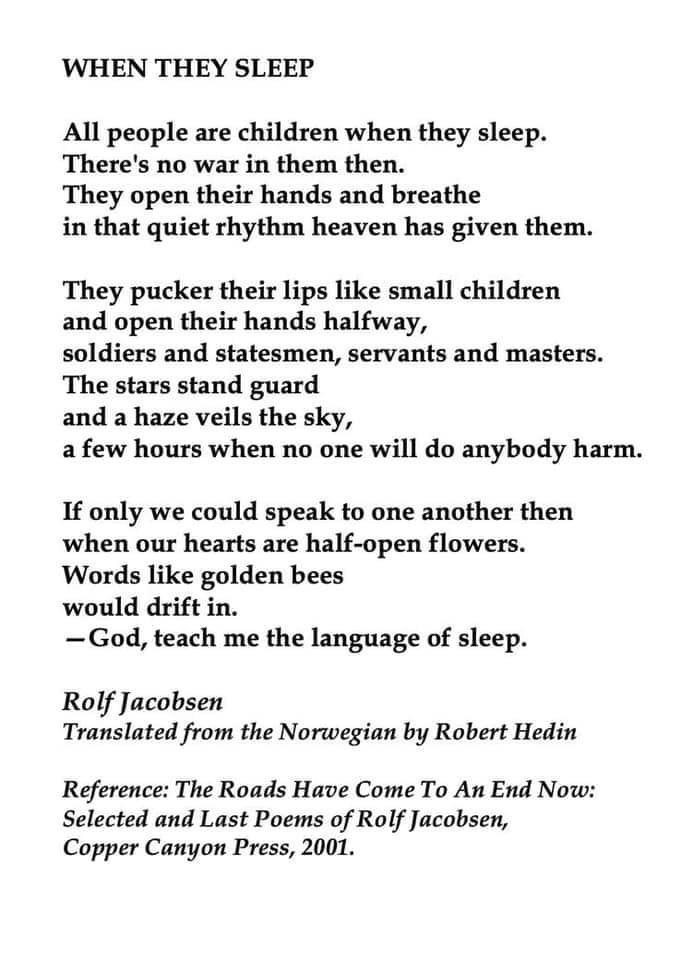 <<<<<<<<<<<<<<<<