Because it fell during Writers' Week, I overlooked sharing this gem with you. I'm posting it this week instead, just after Fathers' Day, as a very appropriate time to read it.
Because The Irish Independent only puts part of the paper online, I had to type this up myself. I hope there are not too many typos in it.
…………….
My father the hero 1953 intermediate final
by Billy Keane
He couldn't watch an all Ireland. Off with him then. Out to Dirrha bog, he walked at speed for the
70 and prayed for Kerry until the rosary beads nearly fell off the chain from
the constant erosion between his thumb and index finger.
My dad always knew the result of the match before he ever
got back to the car. If Kerry were
beaten, walkers would be out on the wetlands within minutes of the final
whistle. They couldn't bear to watch
another county lift Sam. Their forlorn
faces and funereal gait told their own story.
If not a soul appeared in the bog, on would go the car radio
and Michaél O Muircheartaigh or Weeshie Fogarthy or Liam Higgins would tell him
that Kerry won.
Then he would watch the recording. And he'd watch it again every couple of days
after that until the following May when the championship started and
there were new games to be savoured.
His 10th anniversary was on Wednesday last. I'm not as sad as you might think. Not that I don't miss him. He was great sport.
It was about a fortnight before dad died that another John
Keane passed away. John's sister Nora is
married to Tadhg Moriarty and the Moriartys are our friends and allies. Eugene Moriarty, who finished fourth in the
world cycling championship, is one of the clan and is a true Corinthian.
Dad insisted on going to the graveyard. He was weak and very wobbly on his feet. On the way out he looked at me and said:
"sure it is hardly worth my while going home."
We broke down laughing even though both of us were fully
aware the ref was lifting the whistle to his mouth and that he would be back
there for a good, sooner rather than later.
We planted him in the
left half forward position. There is no
dice throw of pebbles over his grave.
It's grass, like the small
square in the football field over the wall.
On Monday night he will hear the shouts of players and
spectators in the John B Keane League.
He'll be sitting on the arch of a Celtic Cross, legs dangling as he
looks out over the graveyard wall into Frank Sheehy Park. He'd be cheering on his granddaughter. In continuity there is a kind of here and now
immortality.
Listowel Emmetts were always part of his life. His three sons played for the club. Conor and John made the Kerry minors and he
was so proud, but he never let on in front of me.
On the night I was cut from Kerry minor training, he handed me a fiver and said: "find a nice
girl in Ballybunion and tell her your troubles."
He made no attempt to have me restored even though the
trainer, Seamus Mac Gearailt was a good friend.
Which is as it should be.
But he was always there to back you up when the going got
tough. I was a senior at 16 and was
propelled into orbit with a cowardly punch from an opportunist assassin who
specialised in taking out young lads.
Dad ran onto the pitch to save me.
I was mortified.
Someone tried to hold him back but it would have been easier to mop up the
Feale and squeeze it into a bucket. The
bully bolted. He said he was more afraid of what my dad
might say to him than any physical punishment.
I was about six and he was coming to the end of his career
at 36. Some lad hit him a shoulder
and down he went. I started to bawl crying and ran onto the
pitch. And he was mortified. I'm told he was a very good player. Fast, if furious, with a great leap for the
ball.
He was 70 and was recovering from several courses of
chemotherapy and radiation. Dad invited a young buck round the back of the stand in Listowel to sort things out. He was president of Listowel Emmets at the
time and he felt he should avenge every insult to his beloved club.
He kissed me when I won all of my one North Kerry Championship back in the days when there wasn't much paternal kissing or hugging. Dad argued with half of Tarbert that day in
the stands and 10 minutes after the match he was off drinking and singing with
them.
That was him. The
temper lasted no longer than a lightning flash but it was thunderous and
spectacular.
He had a dark secret.
Every family has one, but this is very, very bad. Couldn't be worse in fact.
My dad spent some of the happiest days of his life in
Doneraile in County Cork, where he was a chemist assistant.
Dad played for Cork in the national league game against
Waterford. The game was abandoned when
the pitch became flooded — with blood.
The next round was against Kerry and he retired from Cork football
before the game, undefeated.
Somewhere in the everywhere, he is with us. Exactly where he is , I do not know
but I sense his presence. When I call to
dad's allotment in the lea of the stands I feel he's advising me and I tell him
my problems.
The days of rapid fire Hail Marys merging like a closing
concertina have passed. Now I talk to
him. Maybe I'm some sort of medium
ventriloquist and it is me talking to
me, but I'm pretty certain he is there in that somewhere over the rainbow.
Dad died at 6:27 AM on May 30th, 2002. On the 10th anniversary of his last act, I
was up until nearly 3 getting ready for Writers' Week but I woke early. At 6:27 AM.
And I didn't set my clock. I
wouldn't mind but never once in his life did he call us for school.
When asked how he wanted to be remembered there was no
mention of Oscars or doctorates. "I
wanted to be known as the man who scored the winning point in the Kerry
intermediate final of 1953."
Yes, I am happy we had him for so long and for the dad that
he was. He was a great man for bringing
small boys to big matches. It was Croke
Park 1963 at the Grounds tournament final between Kerry and Dublin. My first time. You never forget even if it was all those
years ago. Dad lifted me up in his arms
to show me the long drop from the height of the top of the Hogan stand.
"What if I fall, dad?"
"Don't worry Bill, boy," he said.
"You are safe here with me."
And I still am.
Irish Independent/Saturday 2
June 2012
>>>>>
Jimmy Deenihan told a little story on the opening night of Writers' Week. He was presenting the inaurgural Con Houlihan young sports journalist award. He said that he visited Con in hospital one time and he said to him, "I think Billy Keane is figuring to be the next Con Houlihan." Con's reply was, "He has a long way to go."
On the evidence of that article, he is well on the way.
>>>>
2 Team photos both with Keane involvement.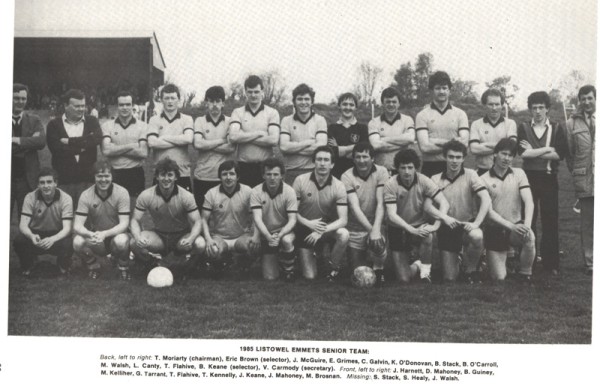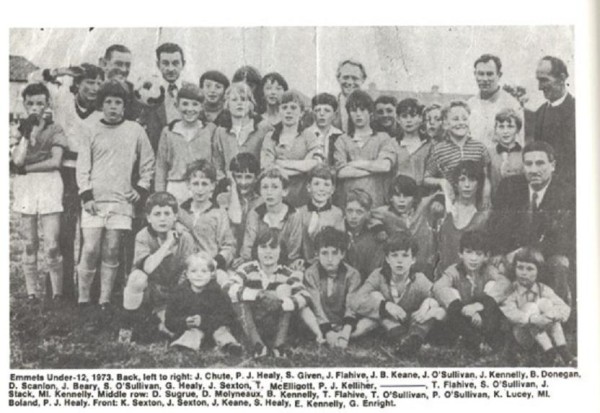 >>>>>>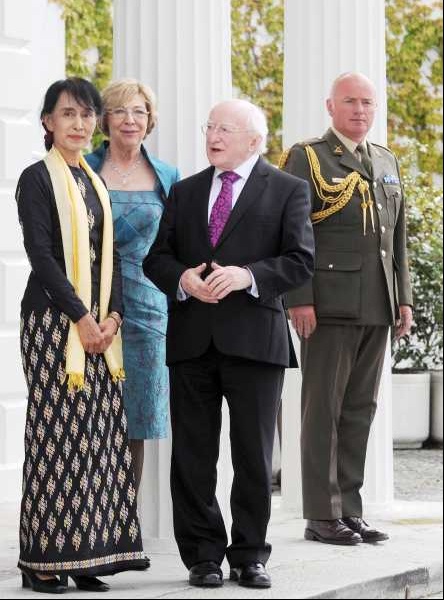 Aung San Suu Kyi of Burma at the Áras yesterday.