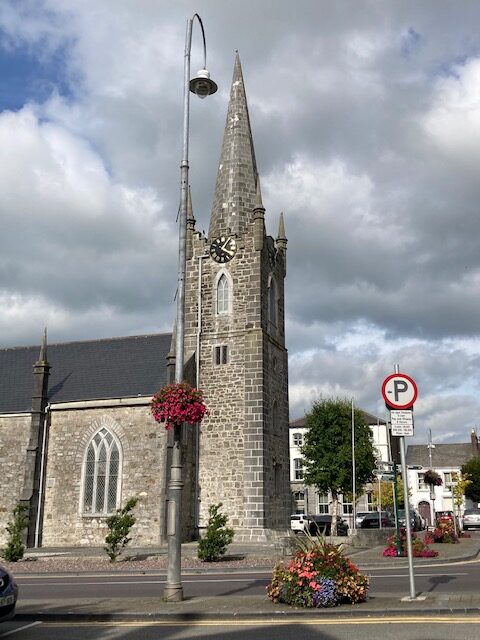 <<<<<<<<<<
A Womanless Library?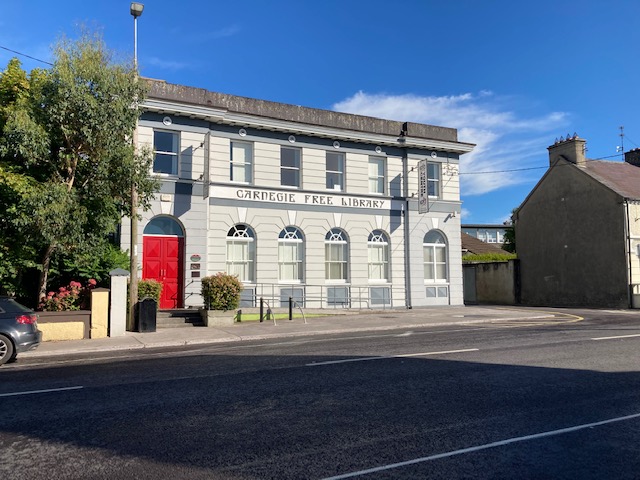 My story of Andrew Carnegie and Listowel Library prompted Mattie Lennon to send us an account of a man who was no Andrew Carnegie. Here is the strange tale of Towsend Murphy Zink.
A total of 2,509 Carnegie libraries were built between 1883 and 1929, with money donated by Scottish-American businessman and philanthropist Andrew Carnegie. 66 were built in Ireland of which 62 are still in operation today.
And if another benefactor, had got his way September 11 2022 would be the 17th anniversary of the turning of the first sod for the construction of a library of a different kind.
When Iowa attorney T.M. Zink died on September 11th in 1930, aged 72, he disinherited his wife in his will and left $5 to his daughter. The will, which had been drawn up on July 18th. He left a sum of $50,000 to be invested for 75 years, when he calculated it would total about $4 million. This would be used to endow a rather unique library: "A Woman free" library, where, "No woman shall at any time, under any pretence or for any purpose, be allowed inside the library, or upon the premises or have any say about anything concerned therewith, nor appoint any person or persons to perform any act connected therewith."
He also stipulated that "No book, work of art, chart, magazine, picture, unless some production by a man, shall be allowed inside or outside the building, or upon the premises, and this shall include all decorations for inside and outside the building." And over each entrance there would be a sign carved in stone bearing the words, "No Woman Admitted."
He said that his intention was," . . . to forever exclude all women from the premises and having anything to say or do with the trust estate and library. …"
He went on to explain his considered decision, "My intense hatred of women is not of recent origin or development nor based upon any personal differences I ever had with them but is the result of my experiences with women, observations of them, and study of all literatures and philosophical works within my limited knowledge relating thereto."
At the end of the seventy-five-year period, in 2005, no more than 25% of the estate was to be used for the purchase of the site and for the construction of a non-circulating library. He added that an additional 25% should be "invested in the best, most reliable and authentic books, maps, charts, works of art, magazines, and other authentic works containing all known information and knowledge of science, literature, geography, religions, and all known knowledge of the world."
The document continues, "no book, work of art, map, or chart shall be excluded therefrom on account of any theory, philosophy, ethics, religion, or language; it being my intention and purpose to establish a library in which all known human knowledge may be found by any man wishing the same."
Townsend Murphy Zink was born on December 28, 1858, in Hillsboro, Ohio. While he was still a young child, his parents, James and Clarissa, picked up and moved to Jasper County in Iowa, not far from the county seat of Newton. Not one for the farm life, Zink opted to study law at the State University of Iowa. He received his degree in June 1883 and moved to Le Mars, where he would practice for the remainder of his life.
Having been such a prominent member of the Le Mars community, his death was front-page news in all the area papers. Hundreds attended the funeral services that were held at his home at 112 Third Street, SE, which looks amazingly similar today to what it looked like back in 1930.
On September 15th 1930 a piece in the Le Mars Globe Post stated that, "In the passing of Mr. Zink, this city and the members of the bar of this community, lose a real, honest man of high standing and ideas." An editorial in that same day's paper said, "If T.M. Zink had been able to attend his own funeral, he would have been touched by the evidences of affection and esteem which his fellowmen have held him." The author continues, "There were many who sensed in a greater or less degree his underlying goodness; many to whom he had been kind in his unobtrusive way; many who had cause tosee his passing with regret."
Today there is no Womanless Library as a tourist attraction in Le Mars. Mr Zink's will was successfully challenged and she got everything. Dr. George Donahoe from the state mental hospital in Cherokee. He testified, "Mr. Zink was suffering from a classic case of sexual paranoia, which is a form of insanity that is chronic, progressive and incurable."
One way or another the "honest man of high standing" was no Andrew Carnegie.
<<<<<<<<<<<<<<
Two Books and a Correction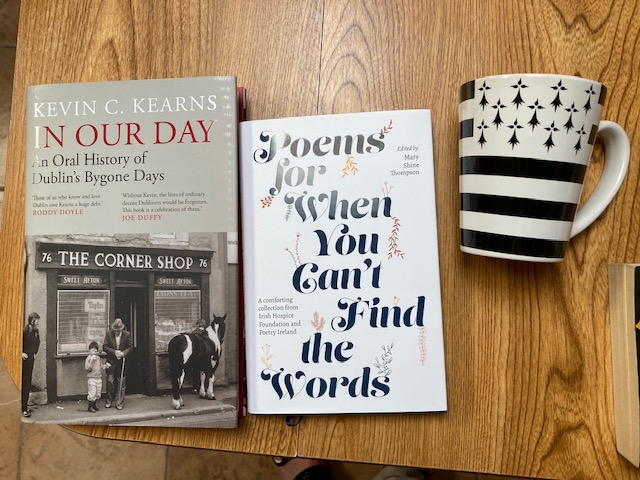 I called to Woulfe's to pick up In Our Day, It's a great collection of first hand recollections of old Dublin.
While I was in the shop I spotted this poetry book that I had seen advertised. It's lovely, a collection of poems for those times "when you can't find the words."
Now the mug Sean brought me from France…..I made a big mistake last time I posted about it. The mug is from Brittany not Normany as I said. Eagle eyed people will have recognised the Brittany flag.
Brittany and Normandy are kinda frenemies. There is a belief in Brittany that Normandy 'stole" their Mont Saint Michel.
Apologies to my Brittany family, especially Sean.
<<<<<<<<<<
New Business on Bridge Road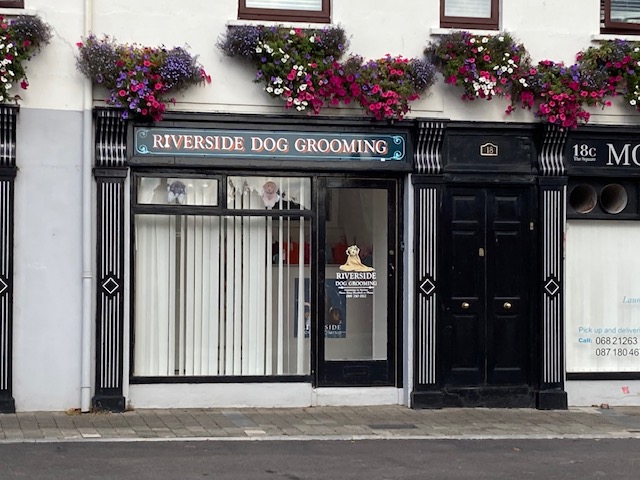 <<<<<<<<<<
Parking is about to Change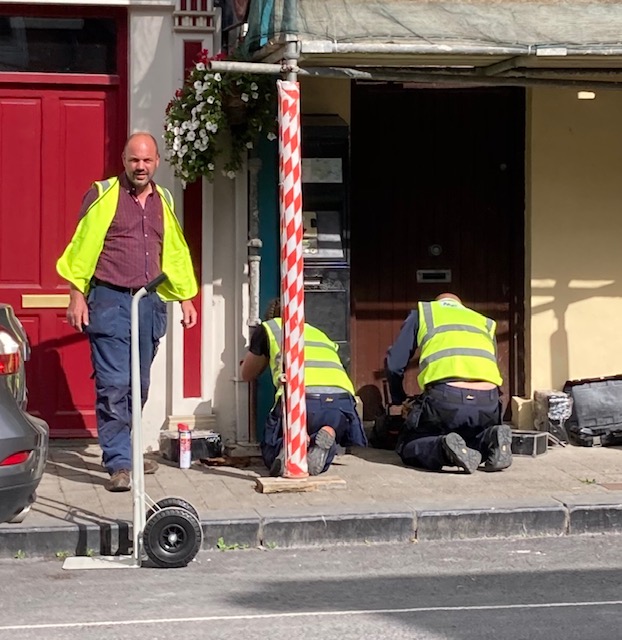 These men, or men like them were at every parking meter yesterday.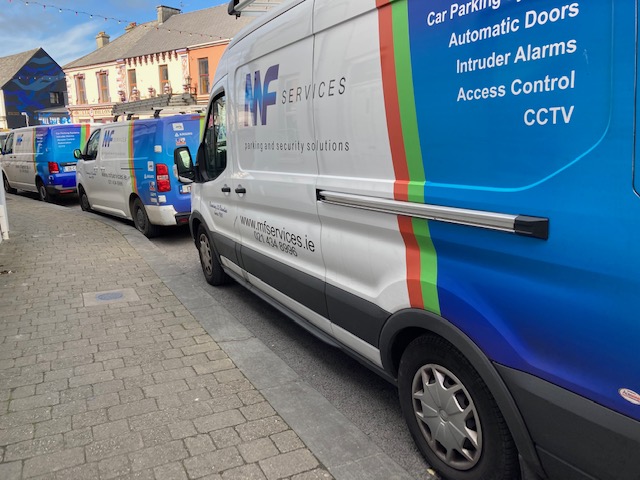 They came to town in these vans.
I didn't ask but I'm guessing they were adjusting our parking meters to take cards
<<<<<<<<<
A Fact ( and a warning)
Drinking too much coffee can be lethal. Ten Grams (100 cups) over four hours can kill the average human being.
Remember that next time you are dying for coffee
<<<<<<<<<<