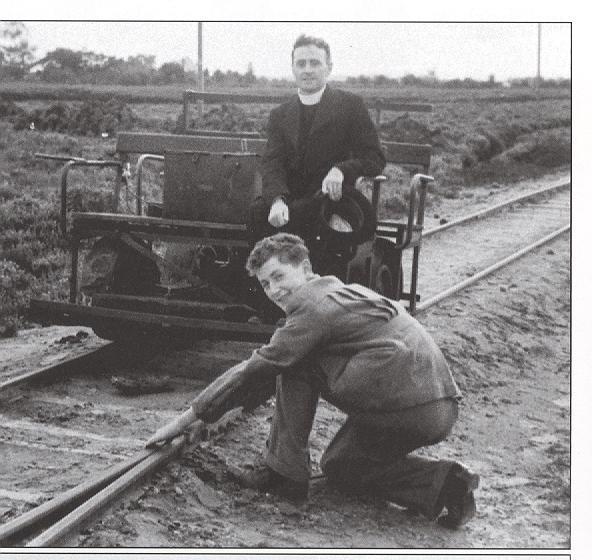 This is the Whickham rail car which was used to ferry
visitors around the Bord na Mona works. the passenger is Father Brown, the famous photographer of World War I
and Titanic fame. He visited BnM in the late 1940s and took lots of photos.
Here he is waiting for the visit to start.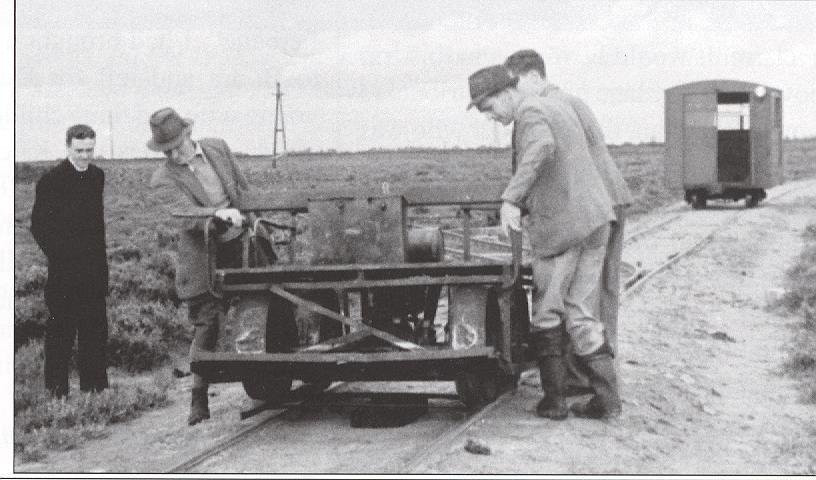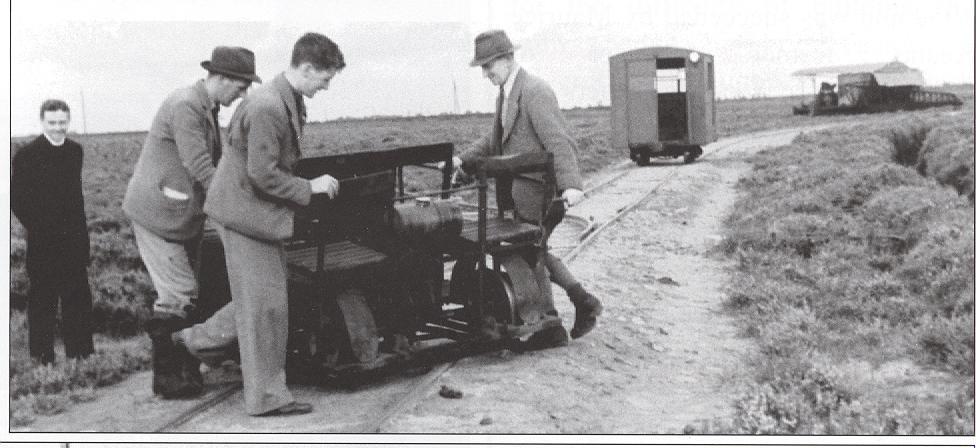 In these 2 photos, Fr. Browne has alighted from the car and his hosts are moving it off the line and out of the way of the oncoming cart.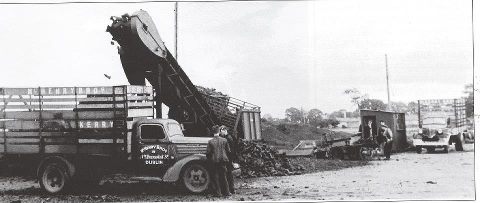 This photo from the Fr. Browne visit is from Lyrecrompane or Barna . The McHenry lorry has
"Kerry" written on its side. The lorry is being loaded with sod turf,
probably for the Dublin market. At the same time a donkey and cart is also being loaded with turf for local delivery. The new and old way of delivering turf pictured side by side.
Photos and text from
<<<<<<<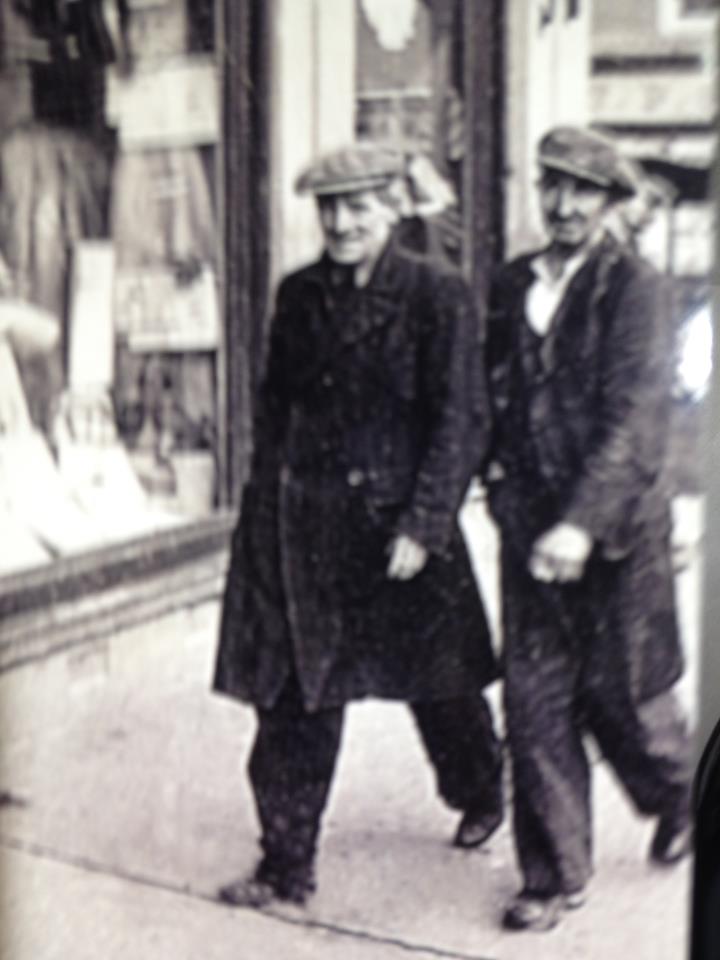 Here is another of those old photos from Maurice MacMahon. On the right is Jim (Salmon) Roche. Another one for his family to enjoy at their upcoming family gathering. No one so far can name his companion.
<<<<<<
Lidl under construction
Excavating the site 2006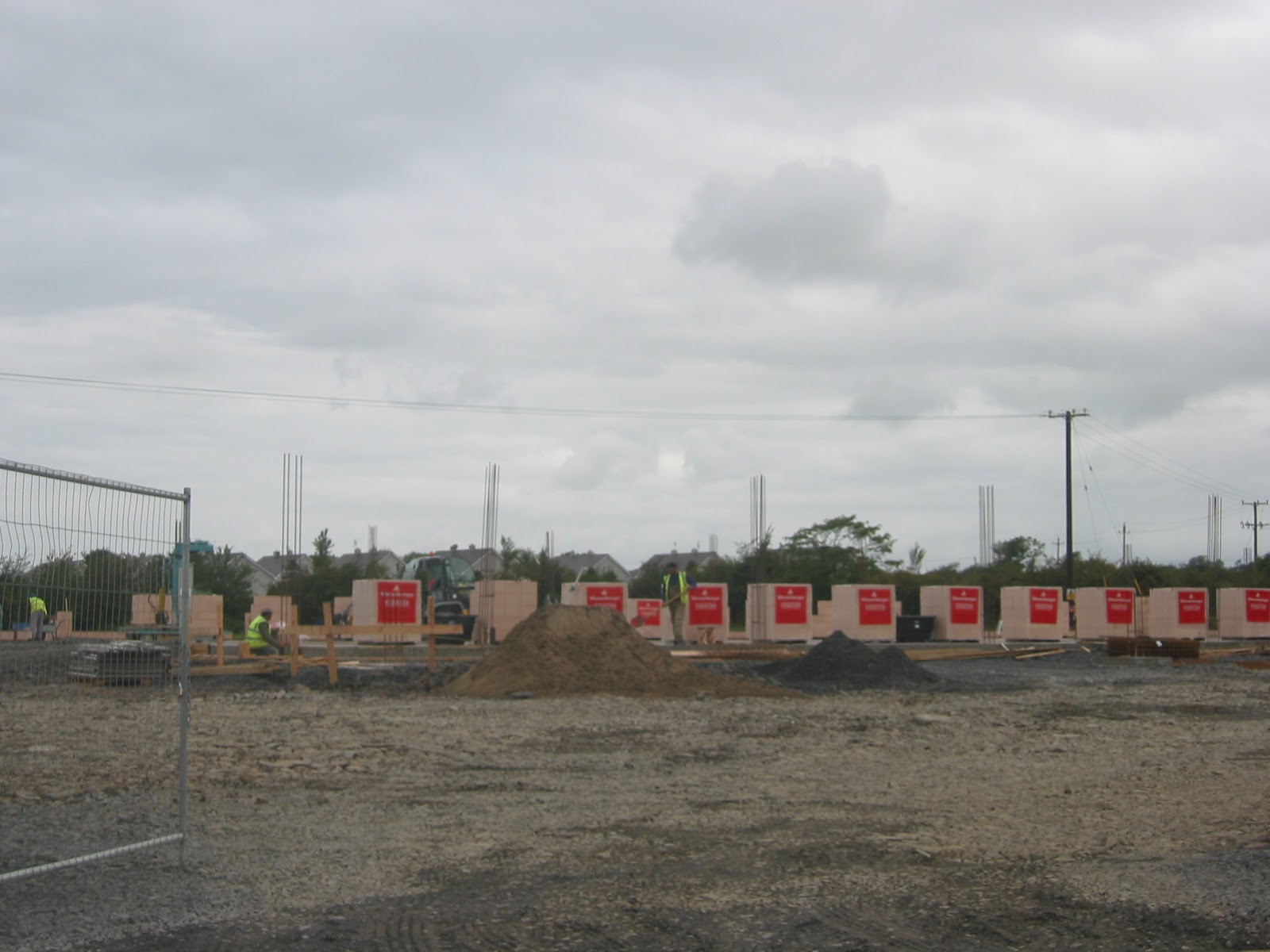 The walls have arrived.
August 2006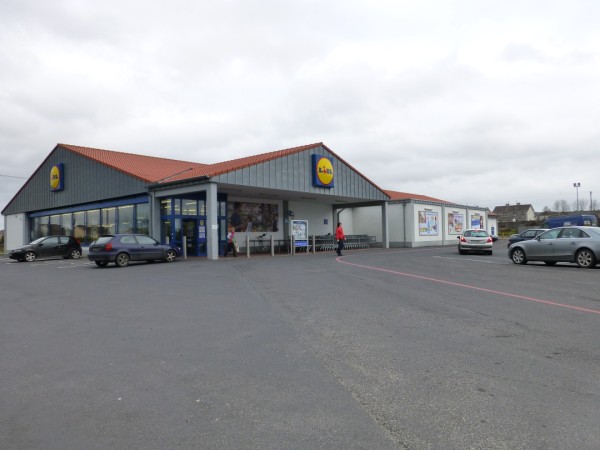 Lidl today
<<<<<
KnitWits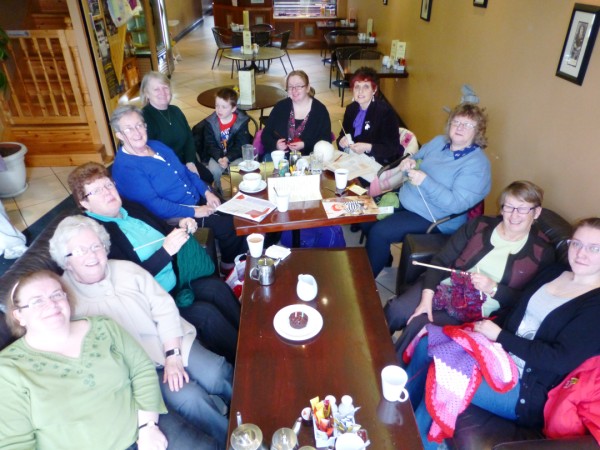 To celebrate our 2nd. birthday and to coincide with our first Tuesday knit-in I will give you here a short history of KnitWits.
KnitWits, Listowel's knitting and crochet group began life on February 12 2011.
Isobel Barrett put an
ad in the library and in a few shop windows in town. We rang Isobel and she
told us that the first meeting was organized for Saturday February 12 in Off
the Square Café.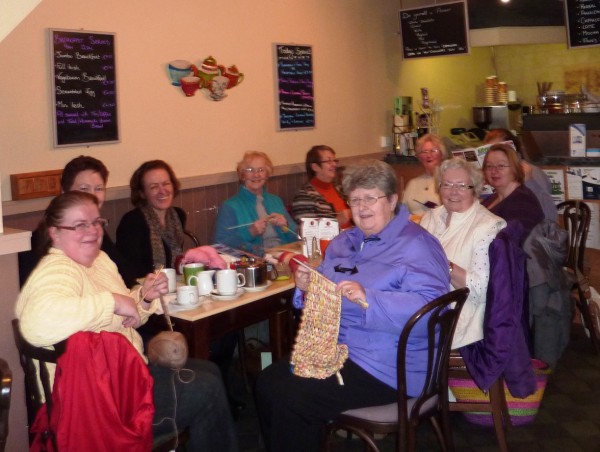 10 knitters turned up. We drank
coffee or tea and knitted away. Isobel decided on the name Knirvana. This name
had been suggested to her by Martina in the library. It proved to be
troublesome later when we established our web presence. People kept going to
the website of the band of a similar name or else putting in Knitvana, so we
changed to KnitWits, which is what Liam Hayes had always called us.
There are 6 of that original gang who still come regularly.
People dropped out for various reasons but they are all welcome back at any
time.
In 2012 the café closed and we were homeless for a few weeks
before Isobel found us our new home in Scribes. We were very happy in Off the
Square and we missed them at first but Scribes is a super location for us,
bright and airy, comfortable, great food and lovely staff. Namir has become
one of us and has made us all feel at home in his lovely restaurant.
Our numbers have swelled to roughly 20, 11 or 12 of whom come
most Saturdays. We have a mix of ages but the majority of us are in the older
category. We still remember the age when women knit all their families'
jumpers.
We count among us a goodly number of women who have lived
most of their adult lives outside of Ireland. We have women who were born in
England and Wales, women who were born in various counties of Ireland and were
driven out by the last recession. We have blow- ins from Cork and other places
further afield. This diversity adds spice to the chatter which is an essential
part of our get- togethers.
What do we do between 11.00a.m. and 1.00p.m. ?
We knit or crochet, we exchange patterns, and we chat. We
have a cuppa or a mini breakfast and we provide a support network for one
another. We are friends.
We have adopted 2 charities, locally The Society of St.
Vincent de Paul and globally Kozy Kaps 4Kids. We have got great pleasure and
satisfaction from using our talents to help those less fortunate than us. So
far we have raised €400 from our Christmas Craft Stall for St. Vincent de Paul
and we have made over 100 caps for children undergoing chemotherapy.
We enjoy our sessions so much that we have decided to meet
on two days per week in future. From this week, Knitwits will meet in Scribes
on Tuesdays and Saturdays from 11.00 to 1.00. We welcome new people at any
stage. While we do not give lessons, we are always willing to help a beginner
or anyone who is encountering difficulties with a pattern.
We also reach out to our sister group who meet in The Family
Resource Centre on Thursday nights. There is a significant overlap in our
membership and we share an annual outing to The Knitting and Stitching Show in
the RDS Dublin in October.
We are on the web at
https://www.facebook.com/pages/KnitWits/134286519974162
<<<<
I got this email from Karen in the US
Hello,
Was wondering if you can help? We are trying to locate members of the Kiely family who we believe had a store in the town around the early 80s. May of been a son (?) of Cornelious Kiely and we think there may of been a brother who was a priest, possibly Michael. They had connections with the Kielys from Glin.
Any information at all would be very helpful.
Thank you very much.
Regards
Karen
I directed her here
http://churchstreet53.com/intro.html
Does anyone else have any ideas?