This weekend, November 22 and 23, Listowel will swing into Christmas mood.
The Food Fair continues. Itis one of the best ever. Full timetable of events HERE.
On Saturday Nov. 22 Craftshop na Méar is following a pendant making workshop with a celebration to mark the shop's first anniversary. There will be live music, readings, mulled wine and nibbles in the shop after 4.00p.m.
Many of Listowel's shops will have special offers on the day and many shops will be open on Sunday afternoon.
Paul Galvin will be signing his book in Woulfe's on Saturday afternoon.
The highlight of the weekend will be the switching on of the Christmas lights by Kerry Footballer, Shane Enright. It promises to be an umissable event. Details HERE
Duagh has planned a big night for Nov 22 2014 as well. Duagh's own Anthony Maher will bring the Sam Maguire to the new Sports complex. Another big night in The Mall promised.
<<<<<<<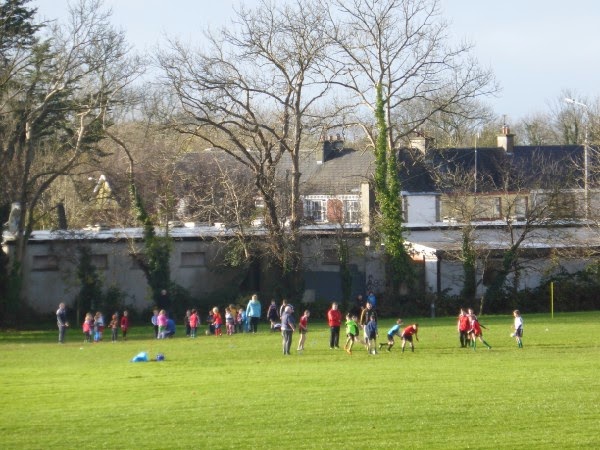 Last Saturday I snapped this training session in the Cow's Lawn. The future of sport in Listowel is safe while we have great volunteers who are willing to give their time to training our young people.
Well done!
<<<<<<
Knitwits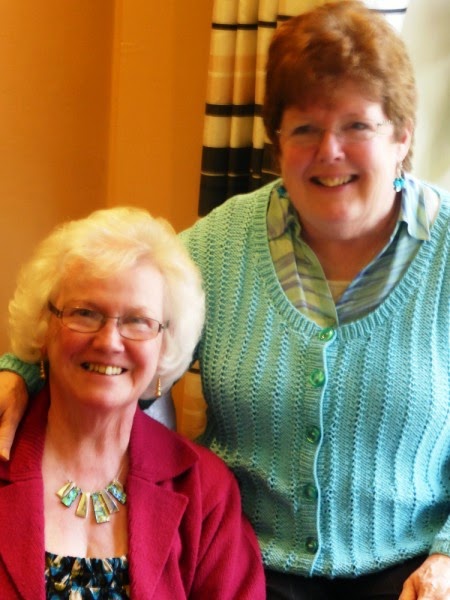 These two lovely ladies, friends Maureen Connolly and Una Hayes are two stalwarts of Listowel's knitting group, Knitwits. The group meets to knit in Scribes on Church St. On Tuesday and Saturday mornings at 11.00. and on Thursday in the Family Centre at 7.00p.m.
New members are always welcome.
<<<<<<
Believe it or Not!
Yesterday, I told you about unearthing my late grandmother's purse. I showed you her three sets of prayer beads. The purse also contained a surprise newspaper clip.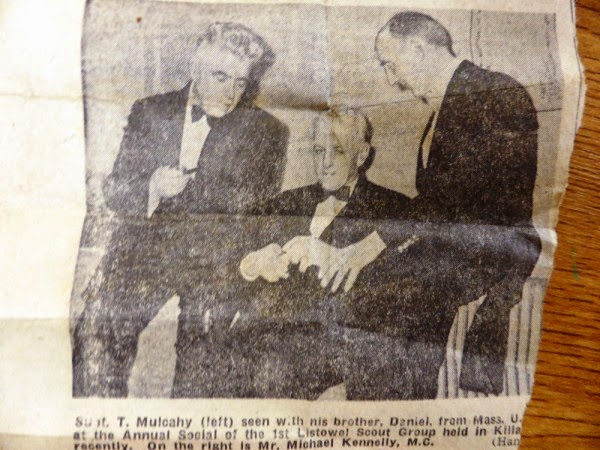 I'm flabbergasted by this piece of synchronicity. The newspaper photo shows Michael Kennelly of Listowel talking to 2 Mulcahy brothers at the scout reunion in Killarney in 1951.
Why did my Kanturk grandmother cut and keep this photo? Who were these Mulcahys and what was the connection with Michael Kennelly?
Here is the amazing answer to these questions.
These Mulcahy brothers grew up next door to my mother in Ballintubber, Kanturk. And they have a Listowel connection. Tom Mulcahy was a Garda superintendent in Listowel until his retirement in the seventies. He was a leader with the Listowel Scout Troop.
Sad to say, his brother, Daniel, who is with him in the photo, passed away on the voyage back to the U.S. after this 1952 visit. This is possibly the last photograph of him.
I knew none of this until I found the newspaper cutting, contacted my brother in Kanturk and he made contact with his friend, Tom Mulcahy,nephew of the superintendent, who still lives near the family home in Ballintubber.
Oh! the magic and interconnectivity of social history!
<<<<<<
Stampaí
Also in my grandmother's purse was this Victorian hand stitched case for stamps. It is in very poor state of repair but you can still read the tapestry wording. Ironically it contained the stamps pictured below. They each cost dhá phingin go leith; two and a half old pence.
She obviously had the stamp case for a long time.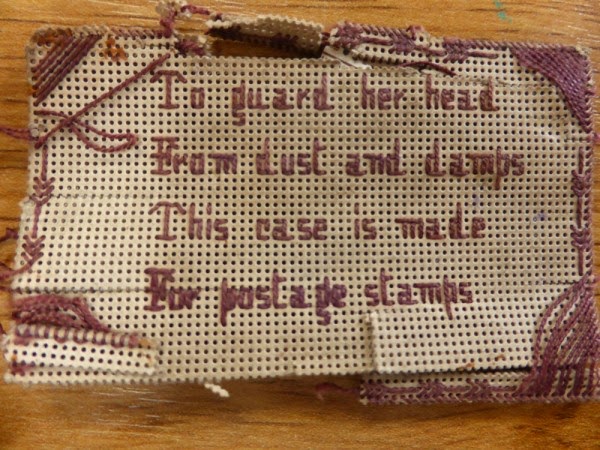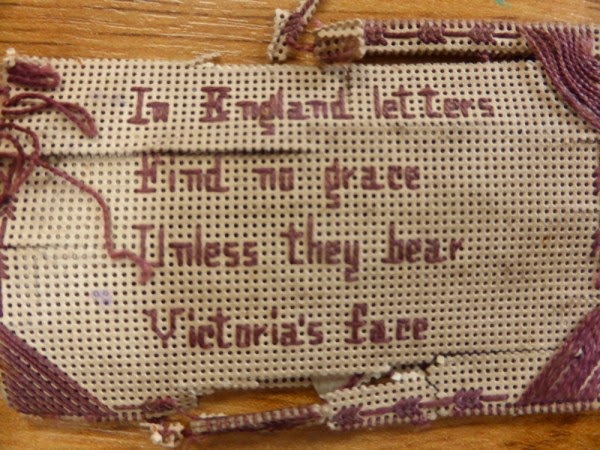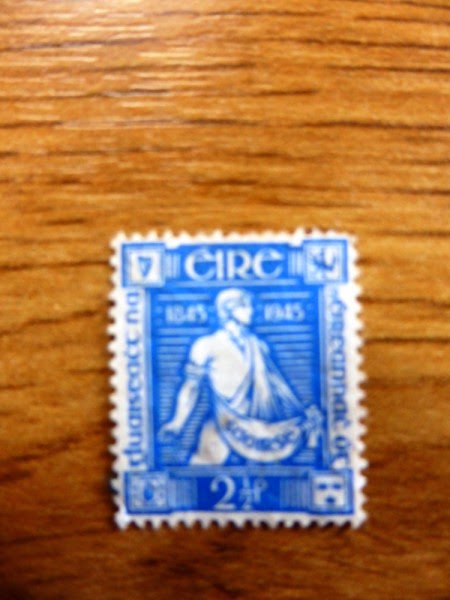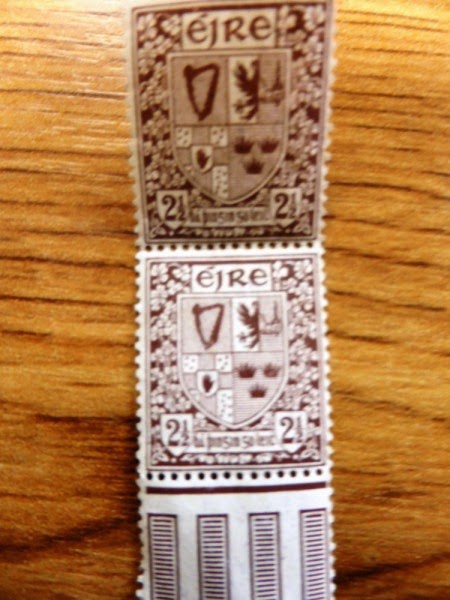 <<<<<<<
Poem from an exile
Missing You
The lights of Dublin
seem so far away,

Glowing dimmer day by
day.

I left home to see far
off lands,

beautiful
islands and golden sands.


Eight years now since
my departure,

And the lights of
Dublin seem even further.

We travel this country
following the boom,

worlds
away from Ireland's gloom.


"No work today'" Christy
said,

As the youth of Ireland
lay in their beds.

The pubs are empty, the
shops are shut,

People are broke and
stuck in a rut.


Those people in the
banks and in the Dáil,

you raped the country
and watched it fall.

Driven by money,
corruption and greed,
You took the life from
the country and watched it bleed.
There's nothing left,
there's nothing there,
only drugs and suicide,
gloom and despair.


The lights of Dublin
seem so far away
Getting further day by
day.

As the sun burns my
skin and the sweat stings my eyes,

Covered in dust and
tormented with flies,

I think of my family a
life time away,

Maybe
one day I'll return to stay.
This poignant poem was penned by a young Irish emigrant in Australia on the Irish in Australia website.