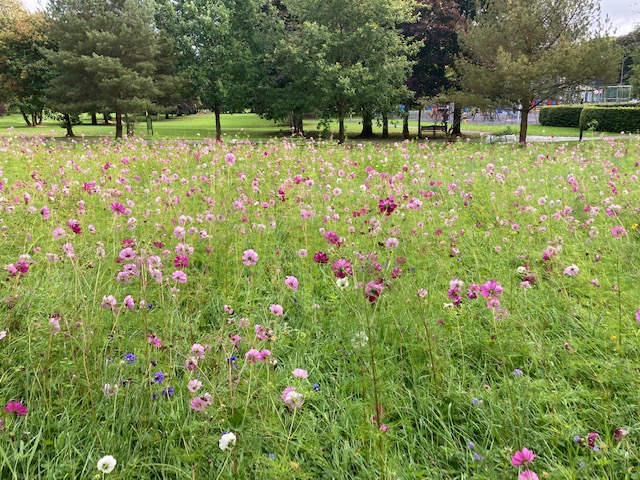 Wildflower Meadow in Childers' Park in Sept. 2023
<<<<<<<<<<
Memories, Memories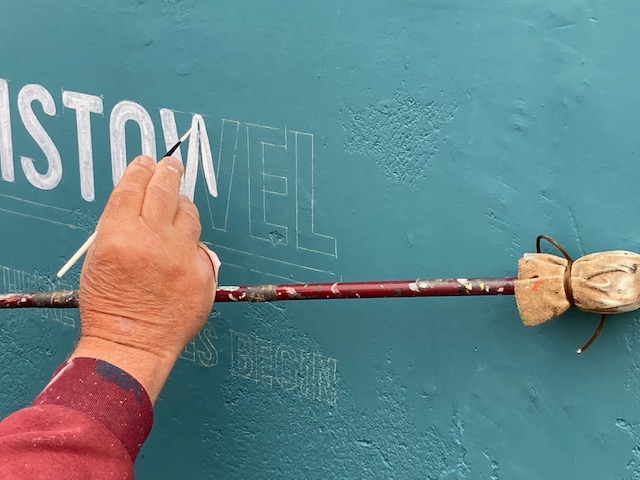 The hand of a master craftsman at work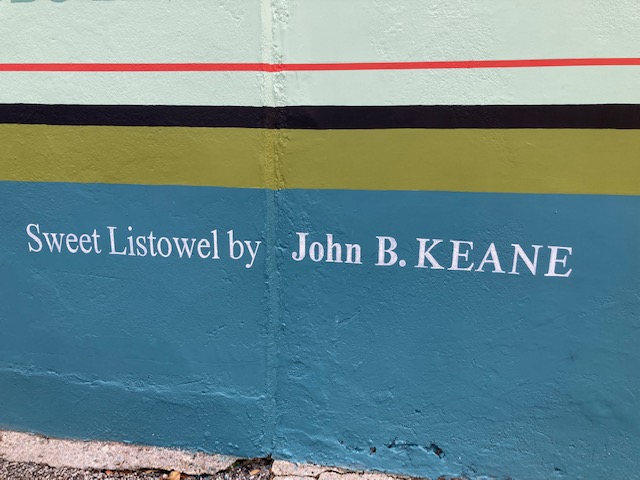 Martin Chute's mural is on my way to town so I stopped by often to document progress. One day as I observed Martin putting the finishing touches to his masterpiece, the lovely Anne Marie ORiordan passed by. She stopped to admire the artwork and she kindly posed for a photo with Martin. Anne Marie had fond memories of that back lane in the days before Listowel murals when she and her friends were caffling and having fun. She remembers the odd stolen kiss in the nearby carpark too.
Martin's work will evoke memories for many.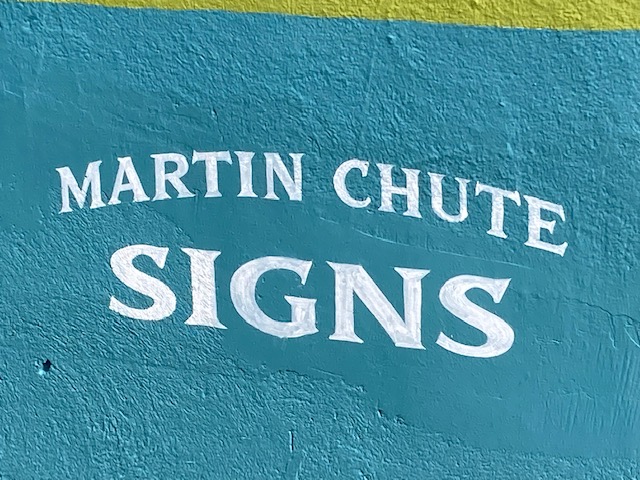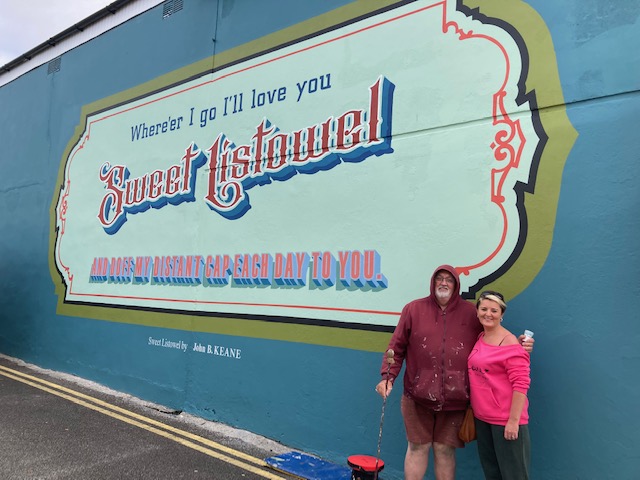 <<<<<<<<<
Mystery Solved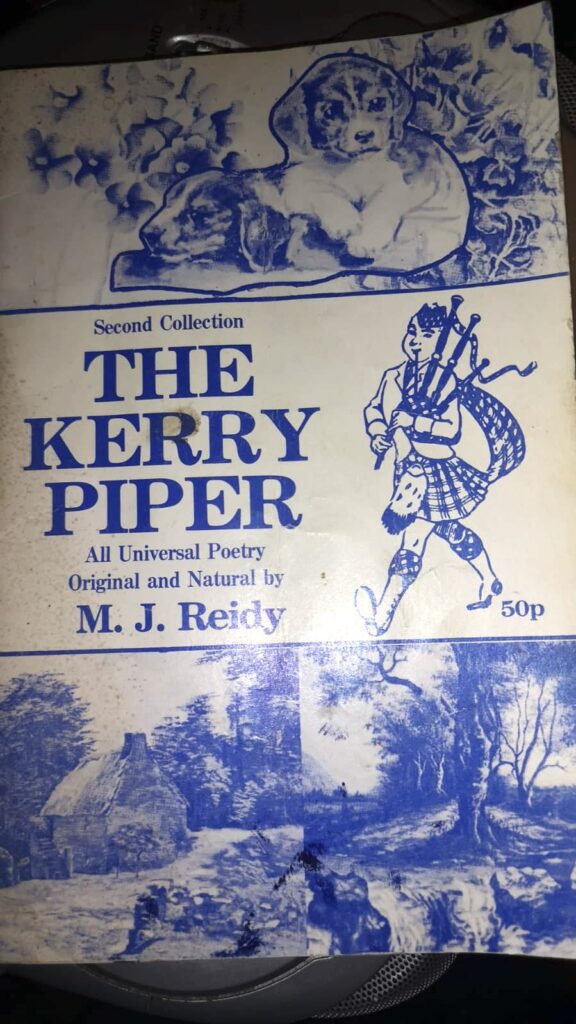 Joe Cahill did the research for us;
M.J. Reidy was a writer known as Mossien Tommy Reidy from Cordal. He passed away on 1988.
Joe found him on a site called Find a Grave where people are invited to share memories of the dead loved one.
Here is what a relative wrote about our poet.
From "The Claddagh" a family newsletter for the O'Flaherty Reunion in Fort Valley, VA, in May 2000.
Maurice J. Reidy, Poet and non-fiction storywriter.
Known as "Mossien Tommie" Reidy, this was a term of endearment to those around Castleisland, Co. Kerry, Ireland, where he grew up. He was a local sports hero while in the secondary school system and later his work was used in the school curriculum. He grew up near Cordal where both sets of his grandparents had lived. He was the son of Helen Flaherty Reidy and the grandson of Maurice Flaherty, the youngest brother of my great-grandfather, Daniel.
Declan Horgan, a retired school teacher from Tralee, some 25 miles away to the west, said that his writings were very good but his antics were just as meaningful to locals. He related two stories about "Moss" that we would find of interest. It seems when Mossien developed an interest in horse racing and began to trade and build his stables he had no "colours" for his jockey. Since this was more or less a "Landed Gentry" sport he was probably ridiculed. Since our cousin was a great athlete in his own right he had a friend on the All-Kerry Football (soccer) team. This friend loaned him the green and gold jersey and this allowed him to meet the "Rules of the sport". Don't believe Mr. Horgan said whether he won or lost that day but he won over 200 races in his shortened life.
Another story was: It seems in the medical system in Ireland, like England and Canada, one has to wait their turn for care, unless it is life threatening. It happened our cousin needed a hernia operation and while on a trip to Dublin, feigned a collapse on a downtown street where he was taken to the local hospital and they fixed his problem on the spot. Doesn't that sound a great deal like Uncle D.C.? Later I ask his brother John if this was all true and he said, "It tis.", as a big smile spread across his face.
M. J. Reidy was the author of the followingworks: Borders of Hope (1978), Borders of Joy (1975), First collection of stories (1978),
Mirror of Truth (1980), Rays of Cheer (1978),
(1979), Pleasant Holidays (1983), Shades of
Fancy, with Jacinta O'Manoney, (1981), The
Kerry Piper (1974).

From Mirror of Truth we include a small sample:
Ode to Poetry

Oh, you, the one true art from high
To mortal ever given,
Such sweet fond music from the sky
With jewelry of Heaven.
Your sacred light,
Keep blazing true,
When injured here below.
You tended, this life's hospital,
With care, for pain and woe,
Your oil and wine will polish mind,
And brightly cheer alway.
And only refuge each one find,
To help all night and day.
Thy blush, one fond, true friend can find,
To speak the color of your mind.

I was fortunate to have read most of his work at the Trinity College Library while my wife, sister and niece were out shopping all day. It left me feeling a small portion of the loss his family must have felt in his passing. His sisters, Julia and Kitty, along with a brother, John, still live in the old Reidy homestead at "High Trees", Glenlaran, Cordal, Castleisland, Co. Kerry. He left a son, Dan, and a daughter, Helen, as well as, six grandchildren. May he have eternal peace with our Lord and Savior.
<<<<<<<<<
Last few Races photos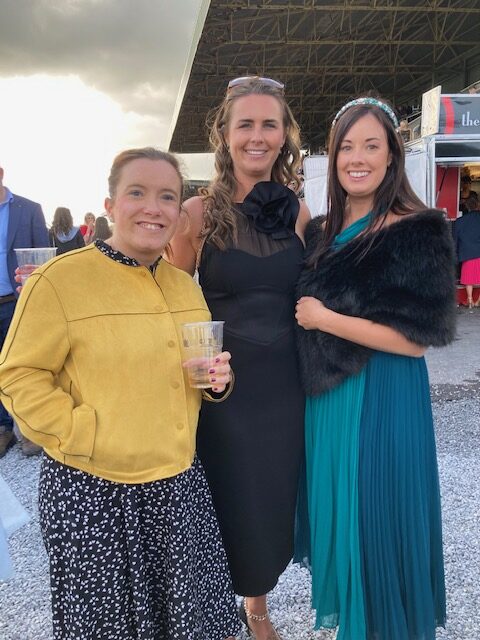 Clíona met up with Mary Ellen and Aisling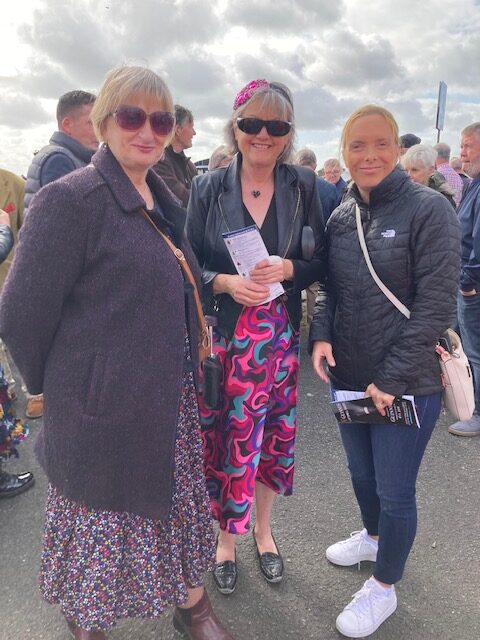 Anne met Bridget and Carmel
In John Kelliher's photo are Imelda, Joan, Julie, Helena and liz, just some of the local Tidy Town people who organise what was always my favourite event of Race Week. These people have no part in the judging. That is done by fashion experts and a representative from An Taisce.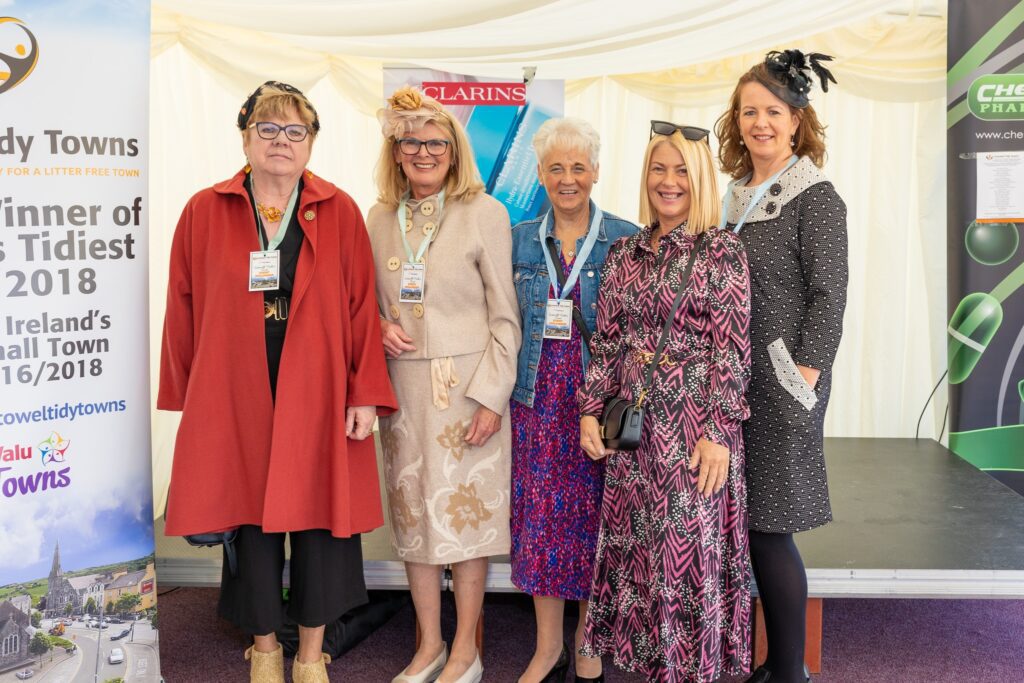 I didn't go on Saturday this year because the weather forecast was for very bad weather. I stayed home, child minding. I depended on Clíona, Breda and of course, John Kelliher, for news of the day.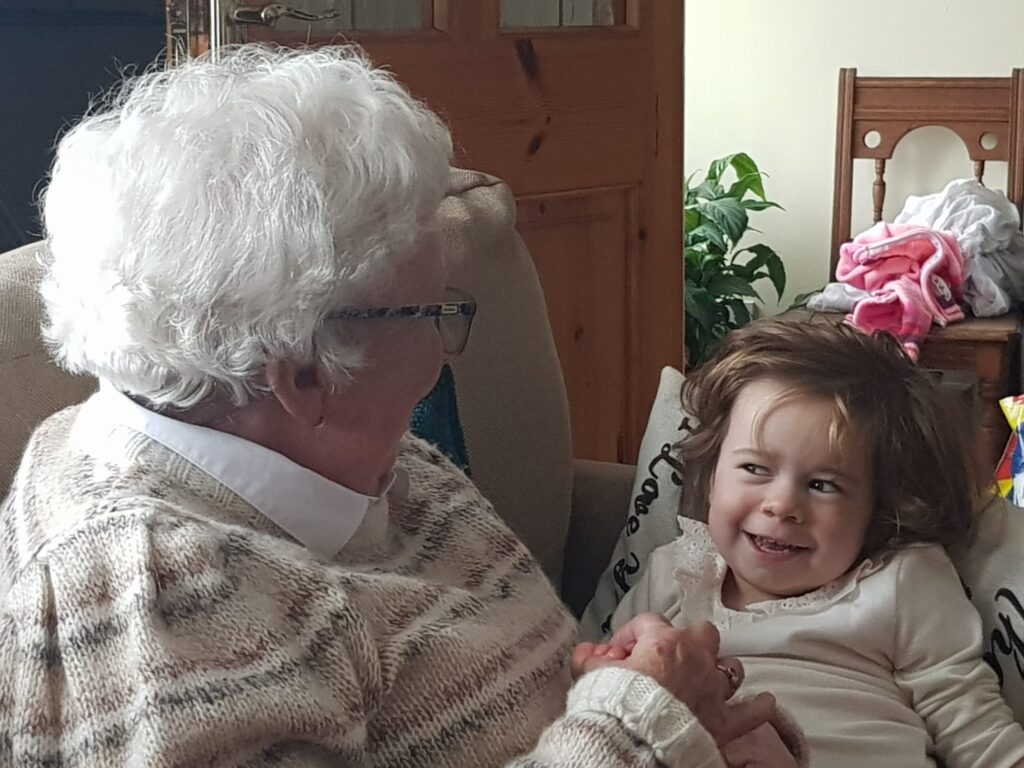 Playing This little Piggy with Aoife
This event is all about reusing, up cycling and making fashion sustainable. Vintage has now become mainstream so it was no surprise to me that a professional upcycler took the prize.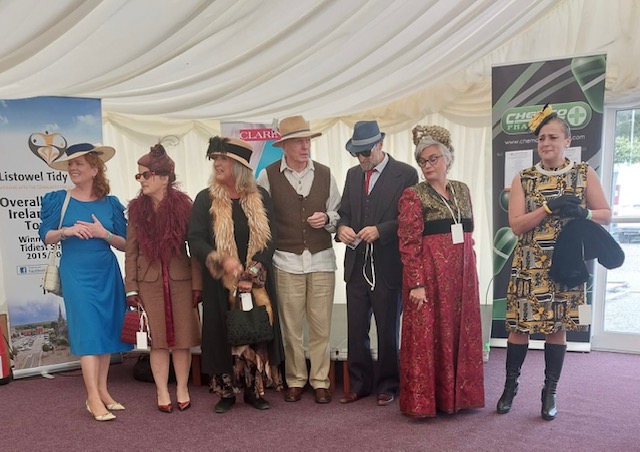 These are some of the finalists. Cathy Troth, second from right, came first.
The very stylish John and Viveca both won prizes, John was the best dressed man and Viveca came second in the ladies' section.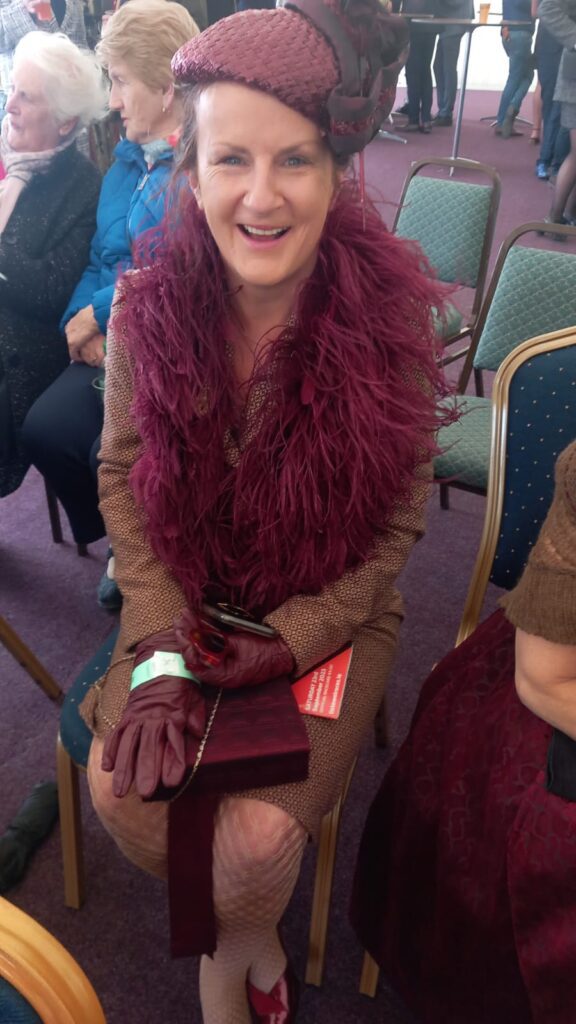 Here I must give a shout out to local girl, Maria Stack. Maria is a dedicated upcycler and reuser. She is a great supporter of this competiion. She has entered it every year since it first began. She not only wears the vintage outfit but she sources gloves, bag and other accessories. This year she wore a beautiful tara brooch which was a prize won by her mother. She always has the provenance of her attire and she has the best stories. Every year she makes the final but she just can't win.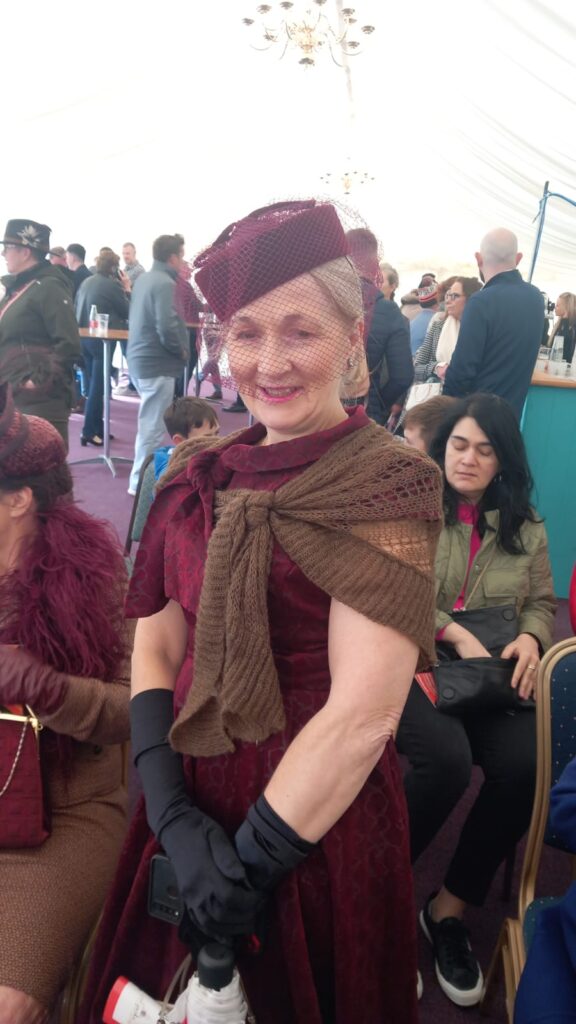 Another stylish lady who just can't win is my friend, Anne Leneghan. This year she was too late to be considered.
<<<<<<<<<<
A Fact
Tigers have striped skin, not just striped fur.
<<<<<<