Fota Wildlife Park in Winter 2021
Picture from Fota website
<<<<<<<<<<
Changes on Upper William Street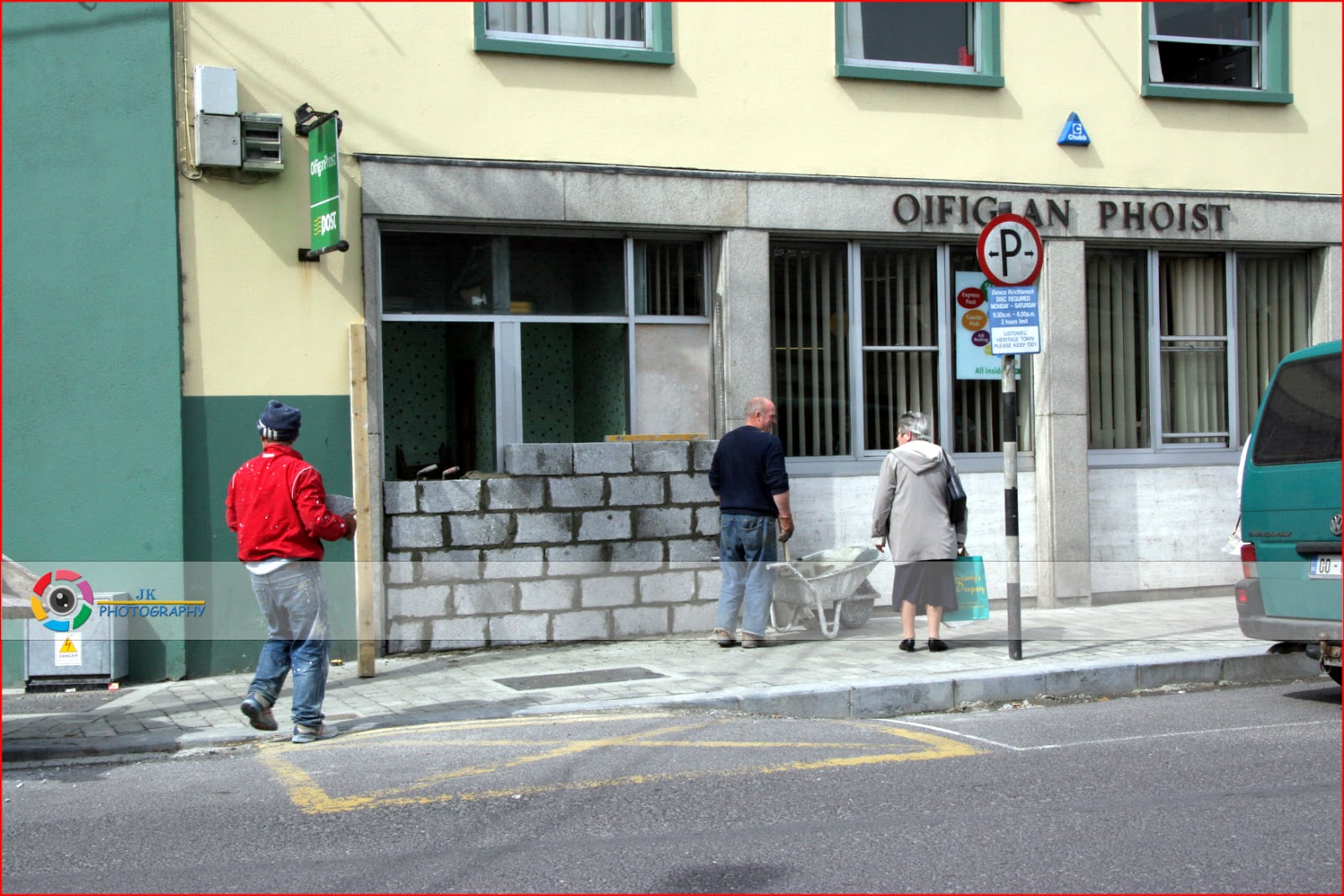 John Kelliher posted this photo on Facebook. In it Tom and John O'Connell are blocking up the 2 phone boxes. The reaction online to this picture was happy sad. Many people had fond memories of using those phoneboxes. Geraldine Dowling even remembered the phone numbers: 21104 and 21098. There used to be a phone box inside the post office as well.
God be with the days before mobile phones.
<<<<<<<
Sweet Eva, The Flower of Listowel
A love-sick lament From The Advocate, N.Y., USA, 25 Sept., 1937.
(Most likely composed by an exile from Listowel – N. Leonard).
In the Kingdom of Kerry, by the banks of the Feale,
Lived the maiden I loved heart and soul:
That was years, years ago, but I still love her so,
Sweet Eva, the Flower of Listowel
And the moon, on the river was shining
As long by the Feale we did stroll
And Love, my young heart was entwining
Around Eva, the Flower of Listowel
Though now far away from dear Kerry,
And the wide ocean between us does roll,
Yet my love, as of old, has never grown cold
For my sweetheart, the Flower of Listowel.
As the moon, on the Feale, is still shining
Like it shone on that night we did stroll,
So my heart, for my lost love, is pining,
Sweet Eva, the Flower of Listowel.
By S.F. Quinlivan
685 E. 140 St., Bronx
Sept. 10, 1937
—
<<<<<<<<<
A Letter from a Troubled Kerry
Mark Holan writes a great Irish- American blog. He recently wrote of happenings in Kerry in 1921
On Jan. 24, 1921, widowed farmer John Ware of Killelton townland, Ballylongford, mailed a hand-written letter from the rural County Kerry community on the south shore where the wide mouth of the River Shannon empties into the sea. It was addressed to his same-name, bachelor son, a streetcar motorman in Pittsburgh, Pennsylvania, a noisy, smokey manufacturing city of more than a half million people, a hub of Irish immigrants, including two of his sisters, with a brother on the way.1
The 87-year-old father2 began the letter by thanking his 35-year-old son for an earlier postal order for £3, equivalent to about $200 today.3 Such remittances from immigrants were vital to the Irish economy and perpetuated still more departures.
Your prosperity in America is a great consolation to me. Your generosity and kindness since you left home.….
Read the rest of the article here;
Mark Holan's Irish-American Blog
<<<<<<
Home Thoughts from Abroad
Remember last week when I shared with you Brendan O'Connor's article about the Cahirciveen journalist, Donie O'Sullivan. One of the people who enjoyed it immensely was Jenny Carey who now lives in the U.S. She enjoyed it so much that she wrote to say thanks. Jenny is a past pupil of mine .
I asked her to tell us a bit about her life now and she did just that.
Hi Mrs. Cogan,
Like so many of your followers Listowel Connection is part of my daily reading and has truly provided an invaluable connection during COVID. I reached out to you last week after laughing out loud as I read the article, "WWDD" by Brendan O' Connor. Along with so many people across the world I watched in horror at what occurred at the Capitol Building in Washington, DC. Watching and listening to Donie reminded me that not all is mad in the world and it did my heart good to hear his Kerry accent. The kids and I were in DC the week before the insurrection occured. The 'selfie' taken by one of my kids captures us with the Washington Monument and the Reflecting Pool behind us and it's just a stones throw from there to the Capitol Building.
I emigrated to Virginia, USA in 2004 and I currently live in Falls Church which is just a few miles from Washington. We have been working and virtually learning from home since March thanks to COVID. I teach STEM at a local elementary school and my kids are in Middle and High School. We log on at about 7:30am to our respective classes and log off around 3pm. Just like everybody else we have adapted to this way of life. We get out for walks on a daily basis and have a group of friends we meet up with outdoors at least once a week. Sudoku, baking, reading, & Zoom calls have kept me sane through this and being able to see and chat with family and friends in Listowel has been a lifesaver. There are many challenging pieces to living through a pandemic but I have to say the isolation is the most challenging for me.
The beautiful sunrise I saw on my walk this morning gave me hope and I am hopeful that 2021 will be alot brighter. I will get my first dose of one of the Corona vaccines next week and an inauguration of a new president takes place on Wednesday. Our flights to Ireland are booked for June and I can't wait to hug my family and friends in person.
Until then I will continue to enjoy reading your blog with my morning coffee.
Go Raibh Mile Maith Agat,
Jenny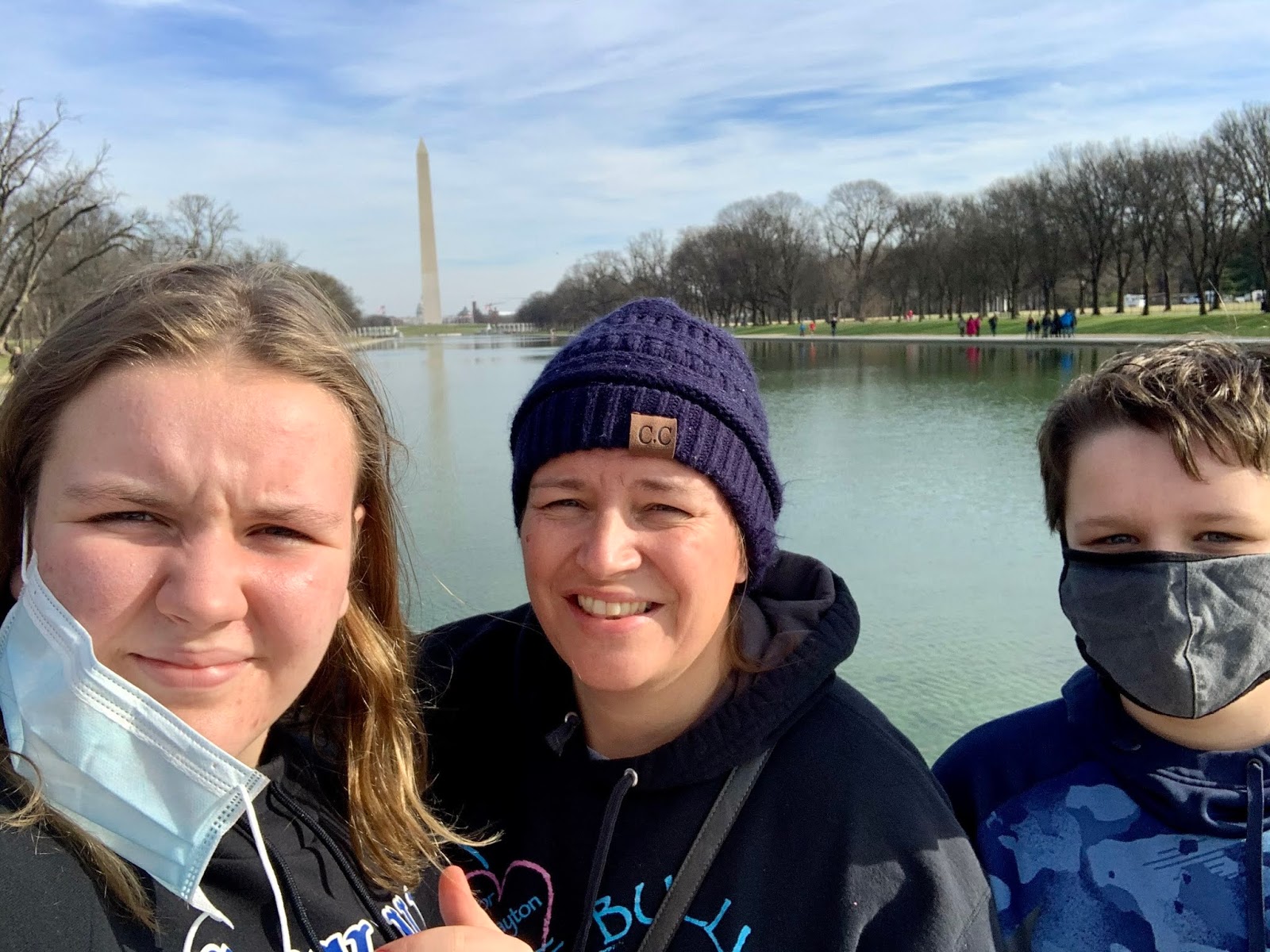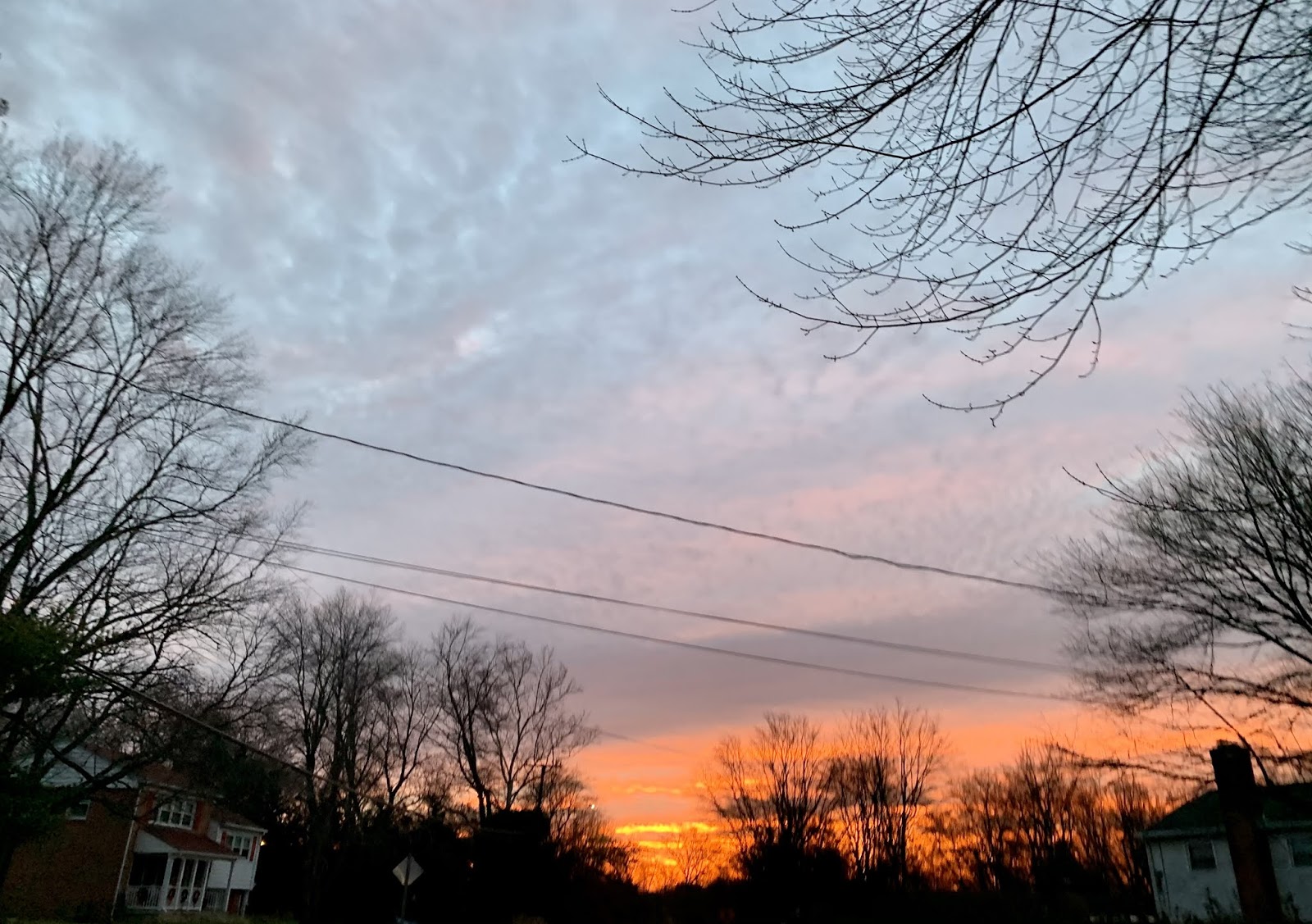 <<<<<<<<<<<
Thought for the Day
"People don't notice whether it's winter or summer if they are happy."
Anton Chekov
<<<<<<<<<
Just a Thought
My last week's Thoughts, as broadcast on Radio Kerry are here;