On this day Jan 30
in 1972 British paratroopers killed 13 people on a civil rights march in Derry.
<<<<<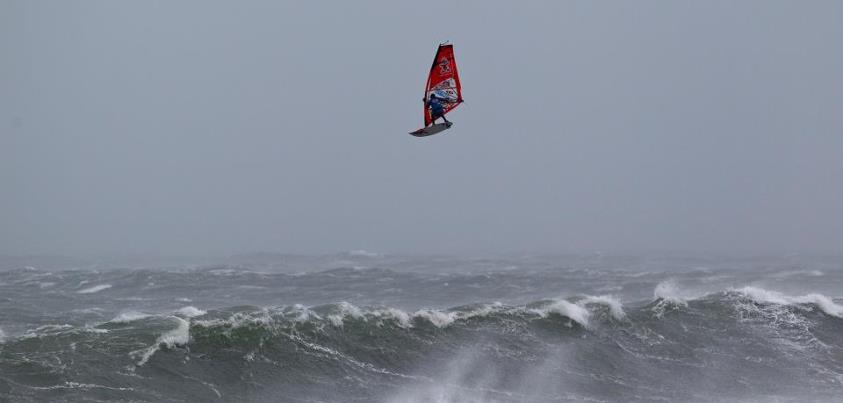 Great pictures if windsurfers on the internet these days as an Atlantic storm hits the west coast.
>>>>>>>
I Love Charity Shops
Here are Listowel's charity shops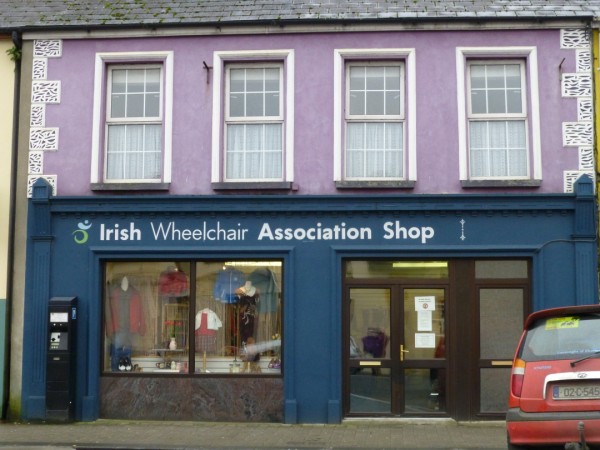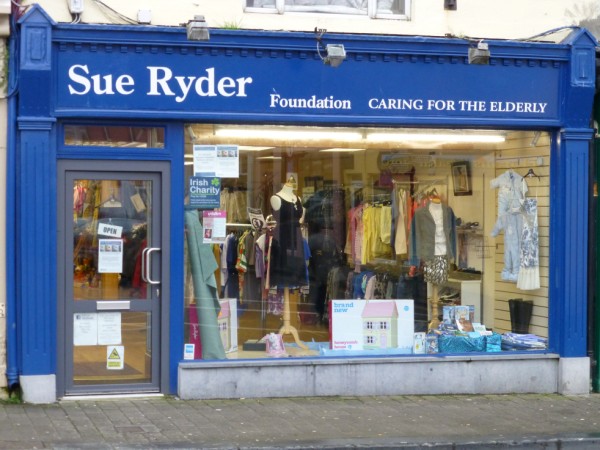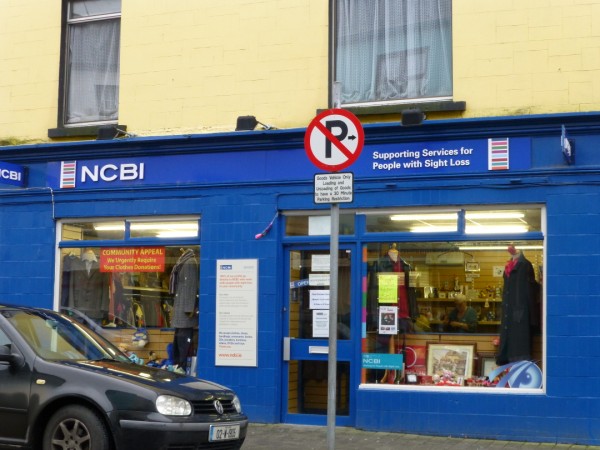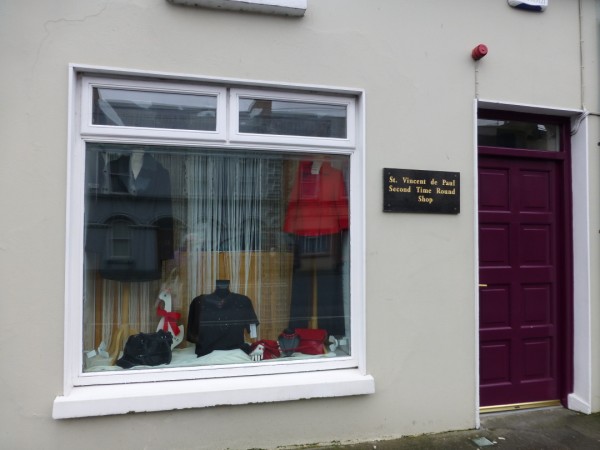 You never know what treasures you might find in one of these. The secret is to be patient and call often. Since most things cost only a few euros, there is nearly always something worthwhile to bring home.
The people who work in charity shops are invariably the nicest shop assistants you will encounter anywhere. I have witnessed them putting up with verbal abuse, haggling and downright rudeness and they still smile through and forgive. Don't get me wrong. This is not the norm and charity shop customers are usually a friendly lot who like to chat and reminisce as they rummage for a bargain.
My favourite of these local treasure chests is "Second Time Round".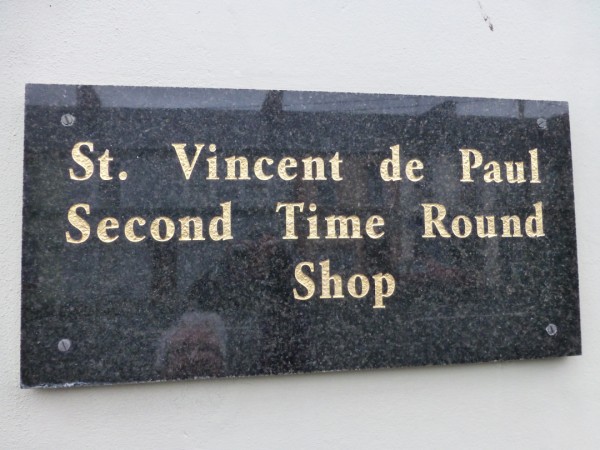 On Thursday last it did not disappoint. There among the books from a house clearance I found this.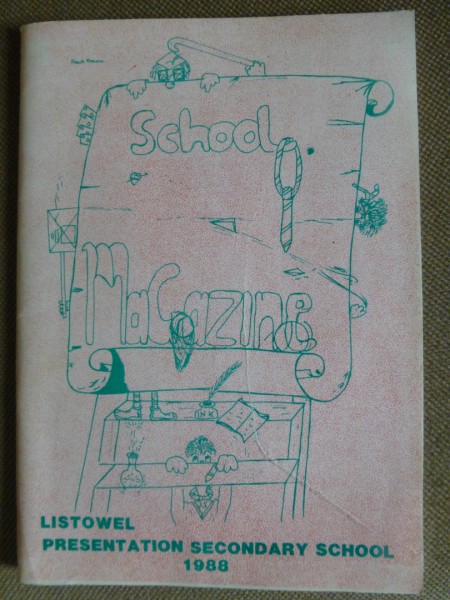 Who do you think was volunteering in the shop only Sr. Consolata?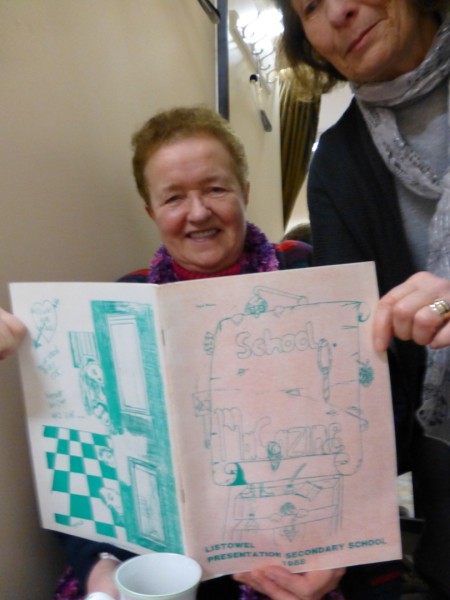 Sr. Consolata was the principal of Pres. Secondary School in 1988 and she kindly posed for me with the precious souvenir.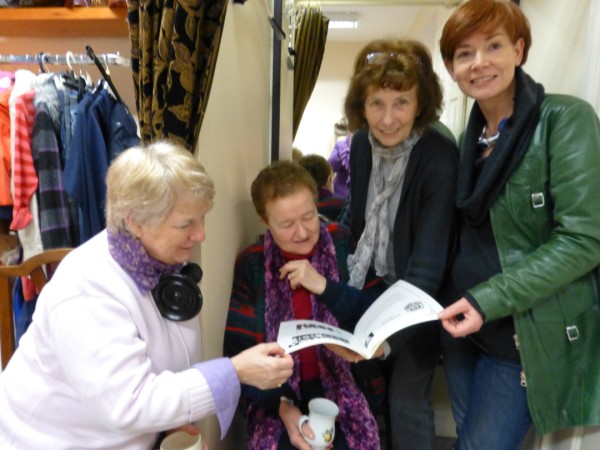 All her friends in the St. Vincent de Paul shop gathered round her for the trip down memory lane.
When I got home I spent a happy couple of hours reading my treasure. I will bring you a few snippets over the next few days.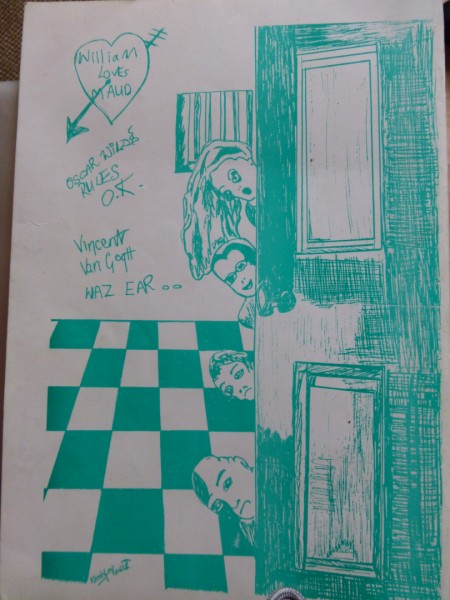 This is the back cover with a clever drawing by Kathy O'Rourke. I wonder where she is now?
<<<<<<
ABBEYFEALE TO DUAGH RAILWAY ANNIVERSARY WALK Sat. 2nd Feb.
On a frosty evening fifty years ago the last regular passenger train wended its way through West Limerick and North Kerry as it made its final journey from Limerick to Tralee. All along the route people came out to bid farewell. It was Saturday 2nd February 1963.
Coincidentally in 2013 the 2nd of February also falls on a Saturday and to commemorate the last train a walk will set out from Abbeyfeale Station along the Great Southern Trail(GST) at 2.15pm this Saturday. The route to Duagh Village is approximately four miles long and as portion of the route is on the public road all participants are advised to wear visibility vests.
Refreshments will be provided at Jim's Bar, Duagh and return transport to Abbeyfeale will be provided. Those travelling from the Tralee/Listowel direction may consider the 1pm CIÉ bus from Tralee(1.30pm from Listowel) to Abbeyfeale; there is a return CIÉ service to Listowel/Tralee at 4.45pm directly from Duagh.
Beidh fáilte romhat ar an lá! With Lá Fhéile Bríde welcoming springtime on the previous day it's a good opportunity to take advantage of the lengthening days by getting out and about.
The old railway from Abbeyfeale to the Co. Kerry border is now a magnificent cycleway thanks to the recent works by Limerick Co Co and their contractors and funded by the Department of Transport. A preliminary inspection of the first 2km in Co. Kerry by GST and CIÉ personnel took place last week. Due to the difficult overgrown terrain which was encountered this portion of Saturday's route is only suited to those with Wellingtons, gloves, eye protection and working clothing. All other participants should exit onto the public road at the County Boundary.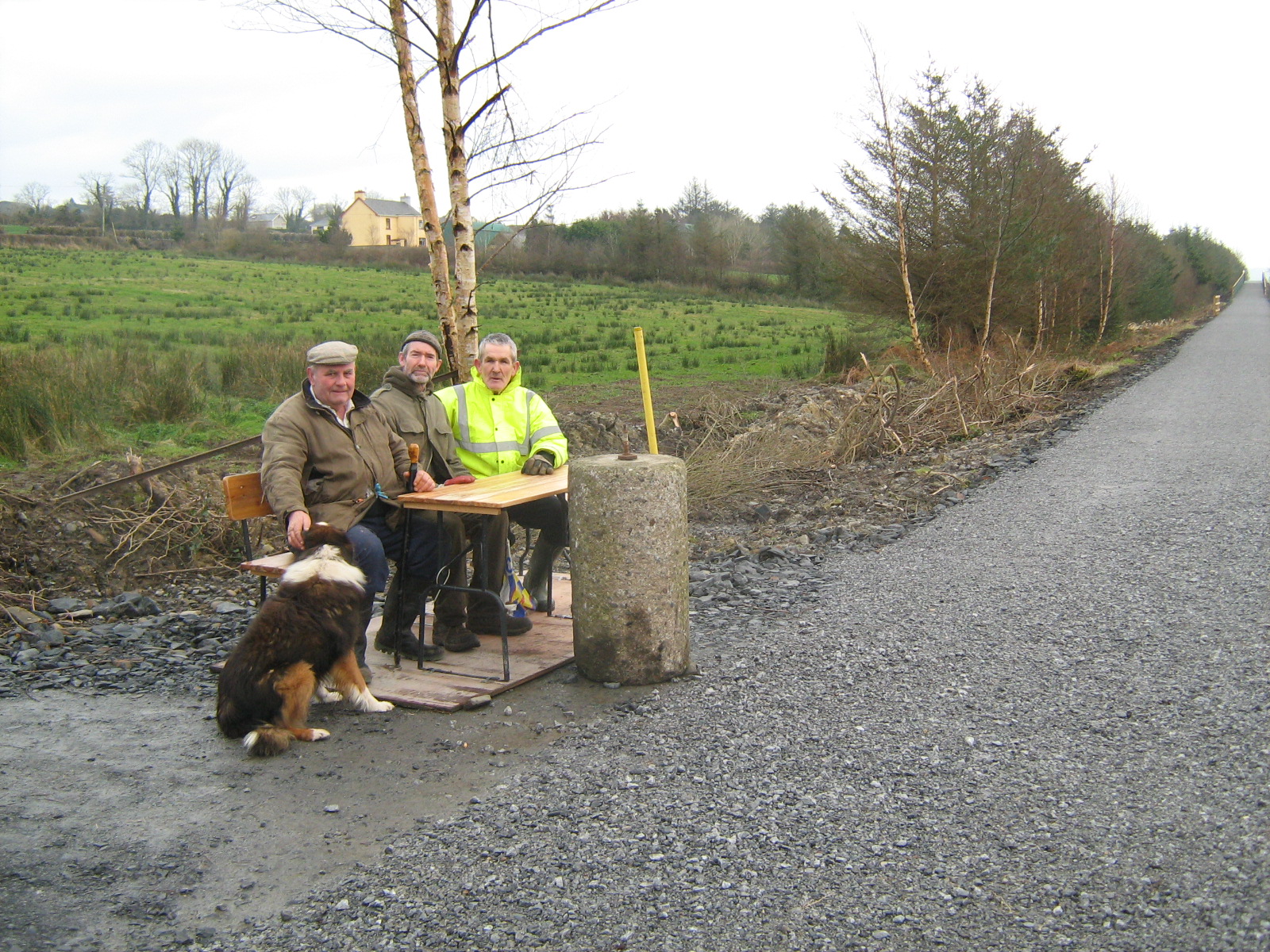 <<<<<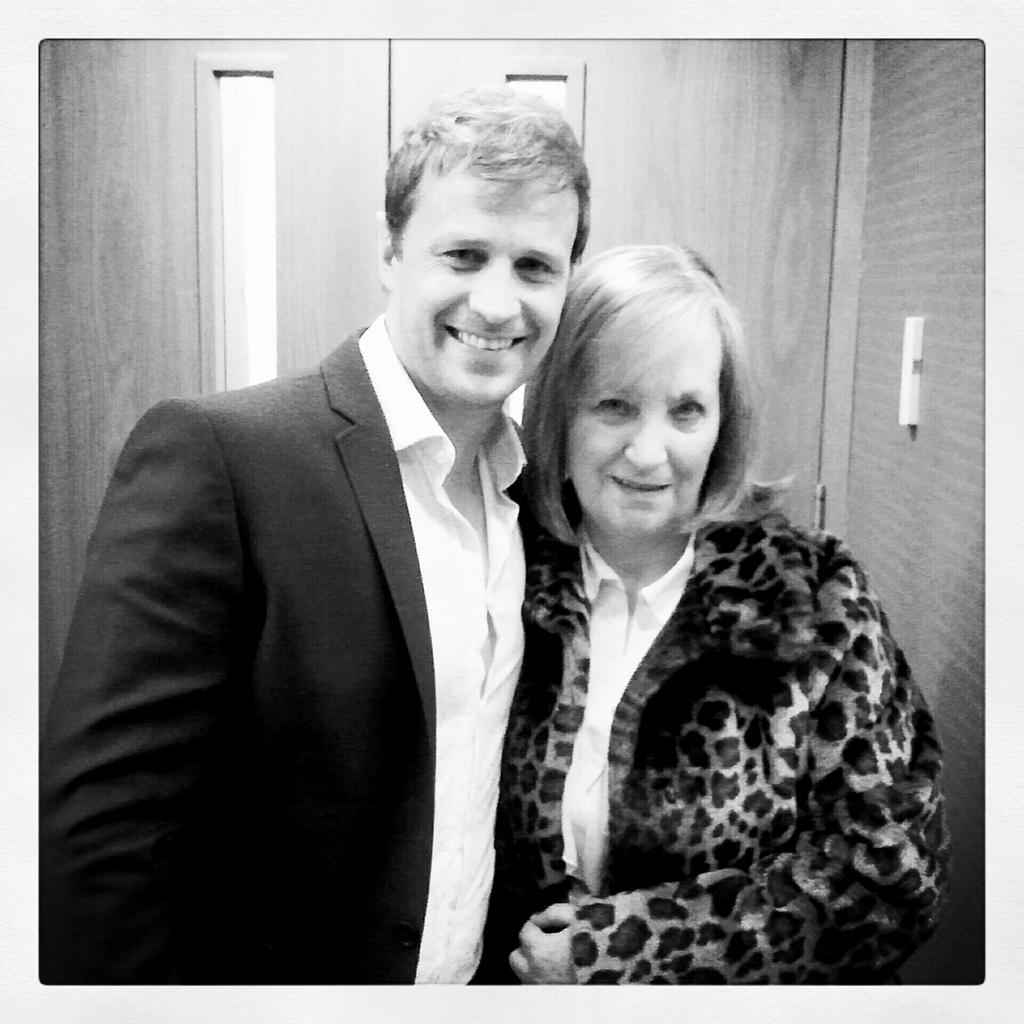 Kian Egan and his mother in the green room at RTE before his appearance on The Late Late Show and his fake fight with Bressie.
<<<<,
If you want to make your own St. Bridget's cross for Feb Jer has made a helpful video to show you how
https://www.youtube.com/watch?v=oE4OnAFPS2w
<<<<<<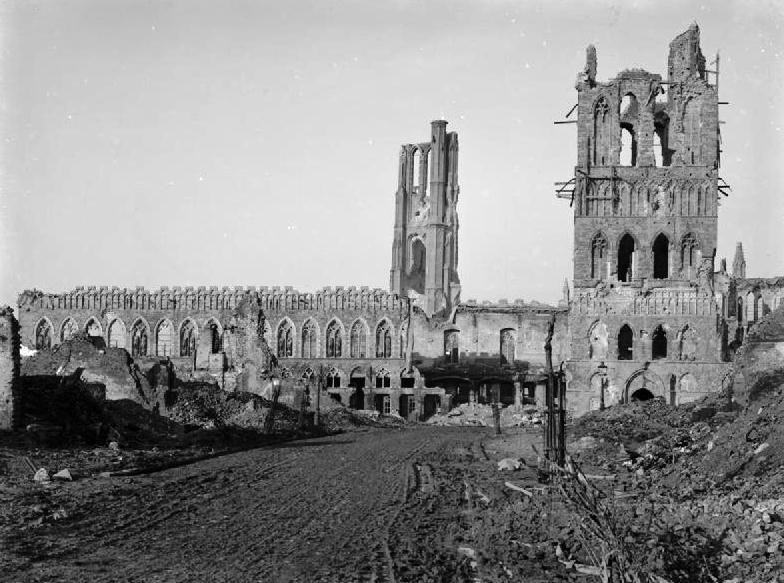 The ruined Cloth Hall in Ypres January 1916…..Let us never forget these killing fields.
>>>>>>>>
Cyber Crime ___Be Warned
Earlier this week I fell victim to a hacker. I'm going to share what I have learned with you in the hope of stopping this kind of sneaky crime.
It began for me with a direct message on Twitter but it can be an email. The message said "I have a lovely photo of you. Click on the link below to view it." Like a fool, I clicked.
The next message said " You have been timed out of Twitter, log in again to see this page.."
Like a fool, I logged in again. And, just like that, I gave my username and password to the hacker.
To cut a long story short, people in my contacts folder started getting messages from my account asking them to click on links to lose weight, win iPads or view what nasty things people were saying about them on line.
Worse was to come. I got an email from Paypal saying 3 unsuccessful login attempts had been made to my account. By now I had already changed my Twitter and my gmail password. The email invited me to follow certain "security" steps to protect my account or Paypal would deactivate my account within 24 hours.
Luckily, I had a different password on my Paypal account from day one. I now had my sensible head on and I recognized the Paypal email as the work of the hacker even though it looked very genuine. Had I followed the link in the email I would have given the hacker access to my Paypal account as well.
Despite my changing my password twice more during the day the rogue tweets kept coming from my account until, eventually, Jimmy Moloney saved the day.
Confession time: I have too much technology. I had an app on my iPhone and my iPad for Twitter and these were still logged in. I had given the hacker permission through these apps to log into to my account and post as me. Jimmy told me how to revoke this permission and the tweets stopped.
Lessons learned
Never ever click on a link in a message

, even if the writer is using flattery, curiosity, threats or any kind of emotional blackmail to lure you to click.
Never use the same password in more than one place, particularly Paypal
Be suspicious of every message even if it appears to come from your best friend.
Treat Twitter and Facebook with great caution.
(Footnote; Apologies to everyone who was insulted, annoyed or discommoded in any way during my day in hacking hell. Thanks to Jimmy Moloney, Chloe Walshe, Bobby Cogan and Máire Logue who kept me sane during the crisis.)
<<<<<
Good news from Listowel Cycling
An Post Rás stage 3 starting in NENAGH to finish in LISTOWEL on Tuesday 21st May , leaving Weds. 22nd heading for GLENGARRIFF