Le coinnle na n-aingeal
Tá an spéir amuigh breactha.
Tá fiacal an tseacha sa ghaoth on gcnoc
Adaigh an tine is thigh chun na leapan
Lúifidh mac Dé insan tigh seo anocht.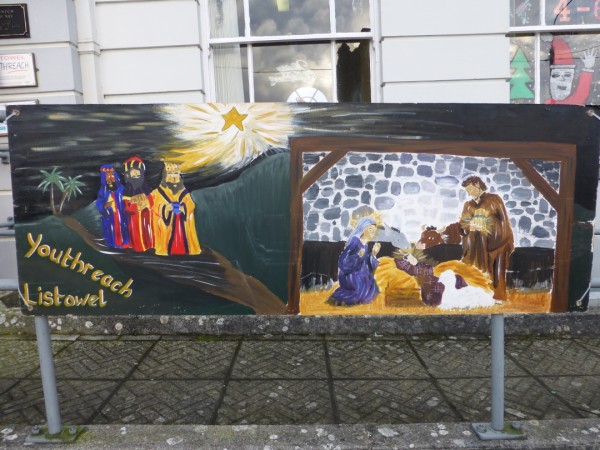 <<<<<<
Listowel parish choir's carol concert 2012 here;
http://www.youtube.com/watch?v=wcOmyvH5KXU
<<<<<<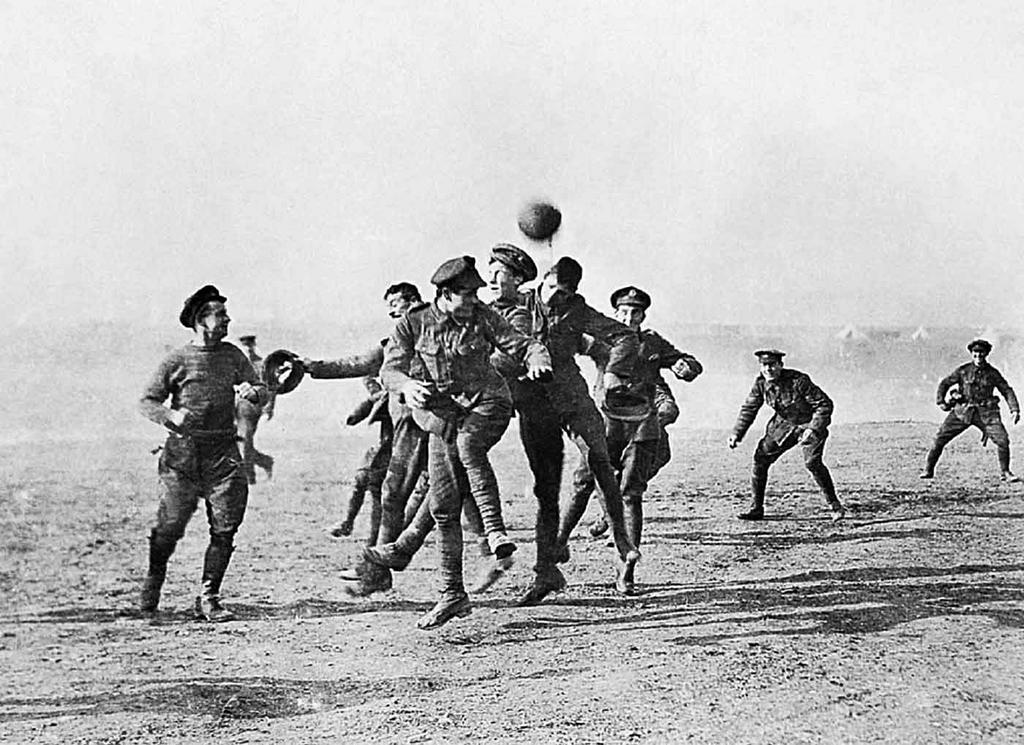 There are many songs written and sung about a spontaneous temporary Christmas truce in the trenches of the Great War in 1915. This is a link to a moving compilation of images, put together by Alan Starkie and accompanied by the singing of Mike Harding. This will draw tears from many.
http://www.youtube.com/watch?v=ujJD122Yd9U
<<<<<<<<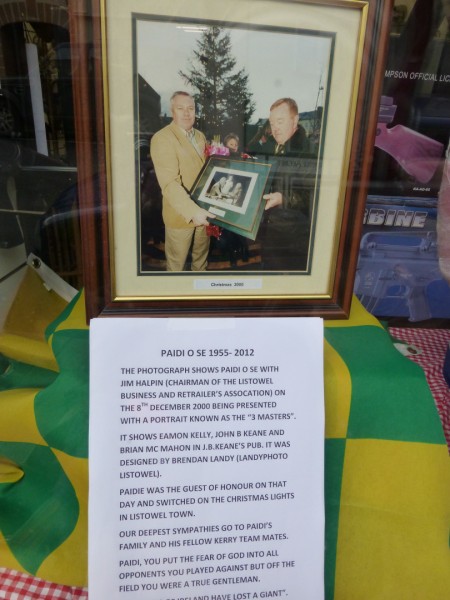 Jim Halpin paid his own tribute to Páidí ÓSé
<<<<<<<
Christmas in town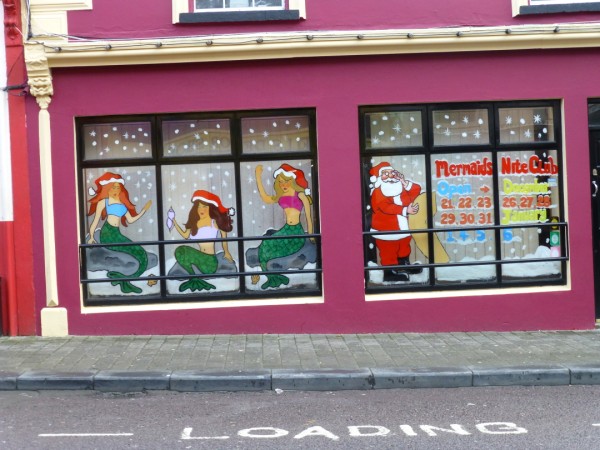 The Mermaids' Christmas window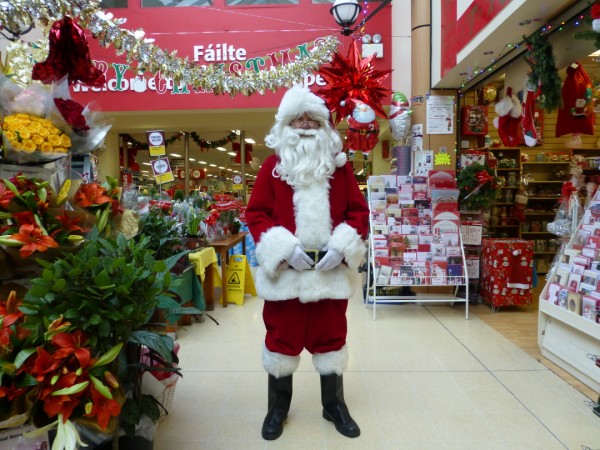 Santa in Garvey's
The cinema extension, almost completed.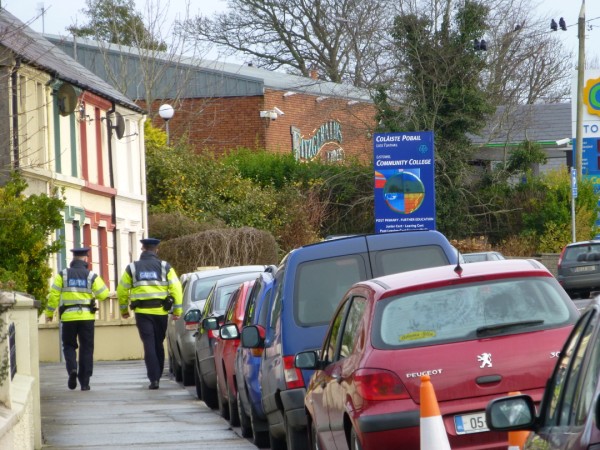 Gardaí on the beat on Upper Church Street.
<<<<<<
This is a Bord na Mona Christmas card from the 1940's.
Some of the men who worked on the bogs in the midlands in the 40's did not get to go home for Christmas and it was customary to have a party for them.
Here the porter is being poured into mugs from what looks seriously like a milk bucket…….Some party! No wonder the men don't look too happy.
Will you take a look at their Christmas dinner?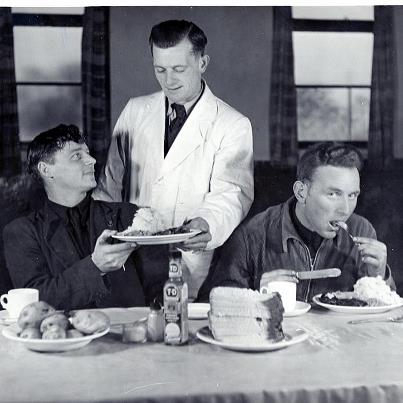 I sourced these photos on
https://www.facebook.com/pages/Bord-na-Móna-Heartland/180733458639655
You should visit the page yourself for a description of some fascinating Christmas customs. Thank you, Tony, for a great webpage!
<<<<<<<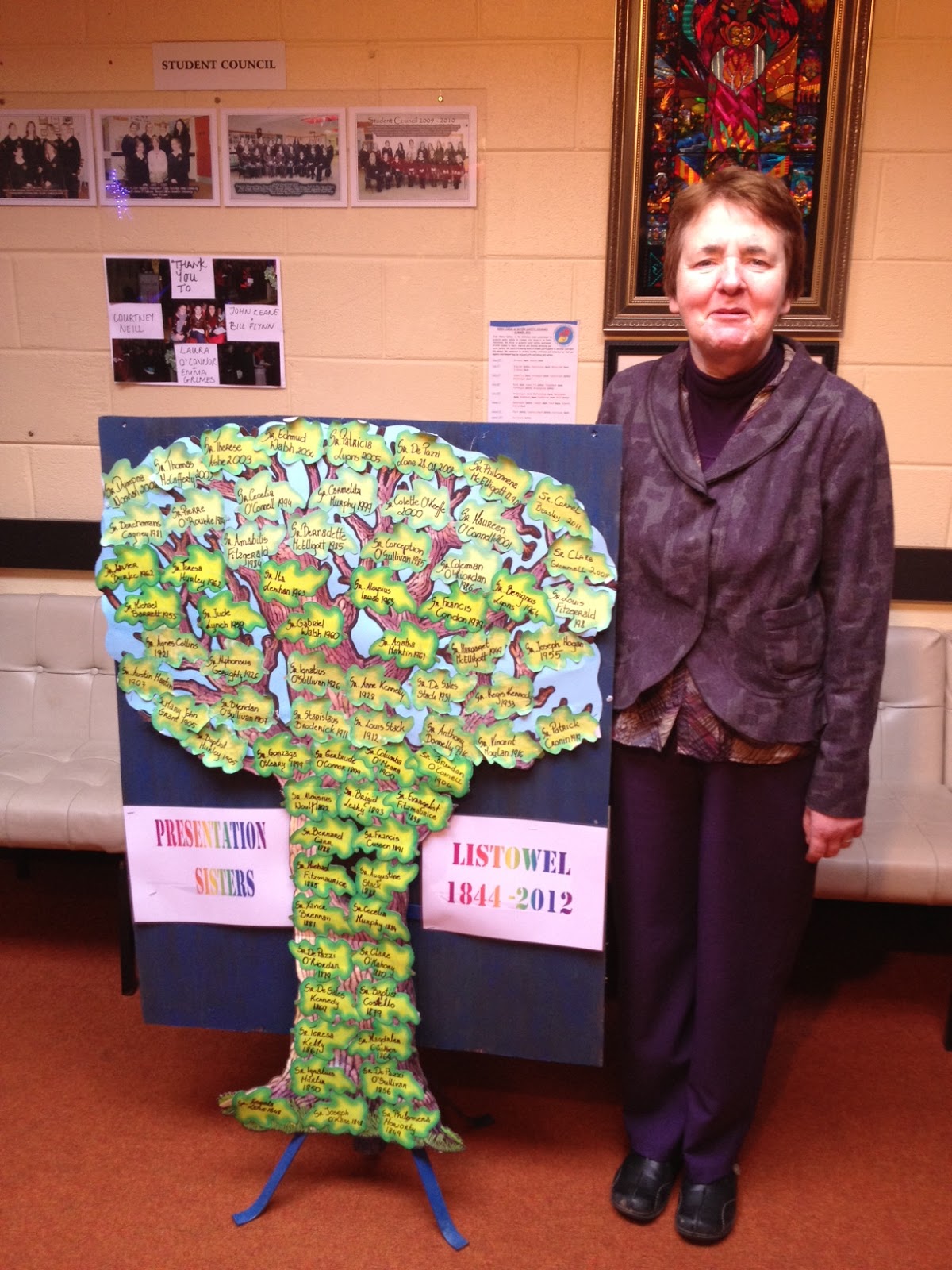 Sr. Eilís at the secondary school has researched the name of every nun who lived in Listowel from 1844 to the present day and she has recorded all the names in a handcrafted collage in the shape of an oaktree, the symbol of the Presentation order. This is a new and inventive way to remind today's pupils of the contribution of all of these women to education in Listowel.
<<<<<<
Don't forget the fireworks tomorrow night in The Square at 5.00 p.m.
<<<<<<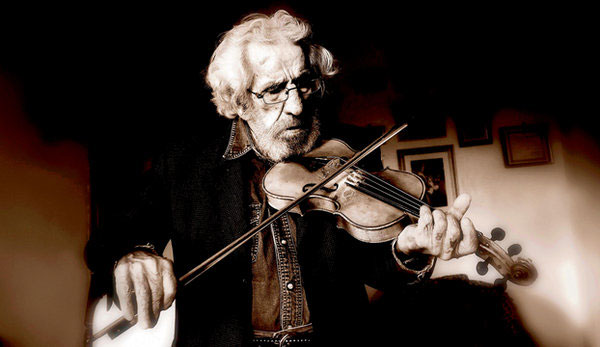 News is just coming in of the passing of Pecker Dunne. Listen to him here:
http://www.irishtimes.com/newspaper/breaking/2012/1220/breaking52.html
>>>>>>
And now a little Christmas toast from Kay Forristal

Here's to you and yours and theirs and mine
May good-health and cheer be yours this Christmastime.
May the years ahead blessings herald
And swiftly bring into our world
Fortune that will favour you and yours
And theirs and mine especially at Christmastime.
Now I take my leave and say
God bless you and yours and theirs and mine
Fond thoughts to our loved ones in heaven
This Blessed Season, Christmastime.
Kay Forristal (c)