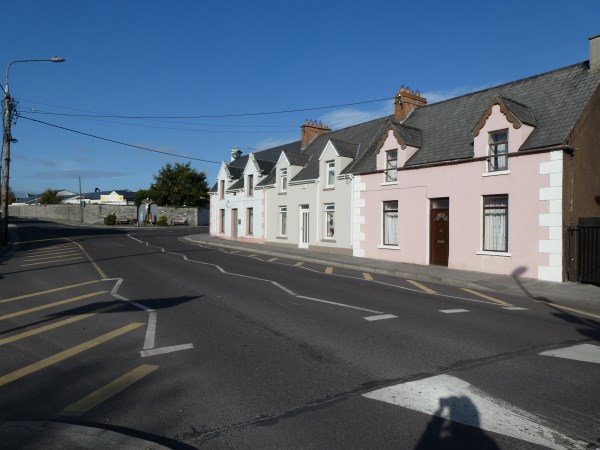 Reaction to this photo has been tremendous. Marie Neligan and Donal Griffin have fond memories of this little row of houses and the people who lived in them. When I posted their emails, many people were transported back to happier days in Listowel in the early decades of the 20th century.
"Mary, one more memory of Donald Griffin. I remember when he played Hansel in a pantomime Hansel and Gretel. Louise O'Connell played the witch but I don't remember who played Gretel. Wonder if he remembers." Marie Neligan Shaw
Someone nearer home also holds fond memories of Donal and Griffin's shop;
"John O Connell Coolaclarig, originally Curraghatoosane, remembers the Griffin family well. They went to school together and played football together up in O Connells field " the Cross" versus " Bothareen Dubh" He thinks it may be Tony who was around his age. He also bought reels of thread for his mother from Mrs Griffin. Then he patiently waited for the same thread to be all used up, so he could make wheels for a tractor he made from match boxes !!!! ."
Added to the stories from Ireland, the U.S. and Britain is Liz Chute writing from Canada
Hello Mary
It was lovely to read some of the history of the three houses at Convent Cross submitted by Marie . The Aloyousis ( Al) Doyle that Marie refers to was actually married to my aunt , Celia Chute of 17 Charles Street . They had three sons , Jim now deceased , Alan and Brendan . They lived in Banbury England for a number of years eventually returning to Newcastle , County Dublin . After Al passed away Celia returned to Listowel and lived in Cliveragh . She is buried with Al in the old cemetery on Church Street .
On the same day as I received Liz's email I got one from Nicholas Leonard which included this paragraph;
I am intrigued by the Listowel Connected people who are sending their stories to you. Great to hear of people who left and who made new lives in far-off lands. They never forget their origins and the people they knew and loved in their youth.
<<<<<<<<<<<
Atlantic House, Main Street, Ballybunion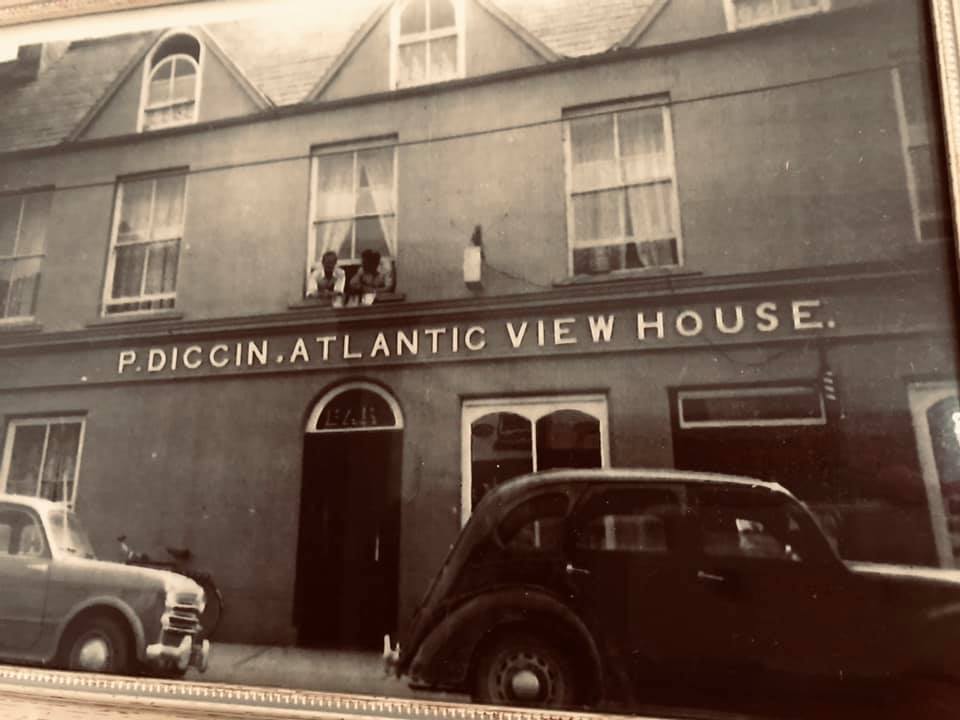 Rose Treacy shared this photo on Facebook. It was taken sometime between 1930 one 1970
<<<<<<<<<
Lest We Forget
There are about 100,000 war memorials dotted all over the U.K. Most were erected after World War 1. 700,000 British lives were lost in this terrible conflict. Irish soldiers are included in that number. Many of these men were buried in foreign fields. Many more were blown to smithereens and repatriating them would have been an impossible task. To focus people's grief Britain built war memorials and engraved the thousands of names of the dead on them.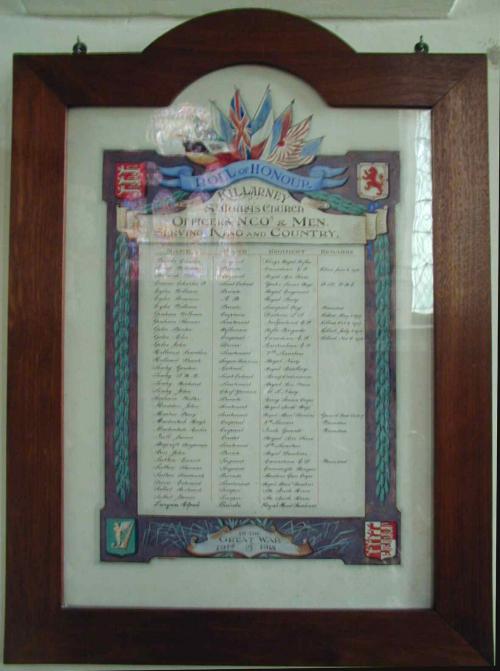 This roll of honour is in St. Mary's Church of Ireland Cathedral in Killarney.
<<<<<<<<
Sculpting a Statue with Chainsaws
Fear na Coillte is his trade name. He is Will Fogarty and he makes beautiful things from wood using chainsaws as sculpting tools. He did this job for a Limerick family recently.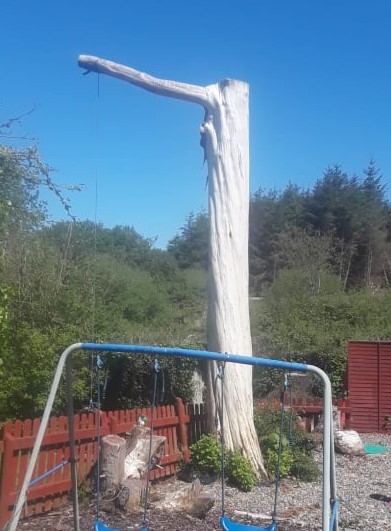 The old tree was a bit of an eyesore in the garden. The lady of the house knew exactly what she wanted sculpted out of it. She wanted a statue of Our Lady.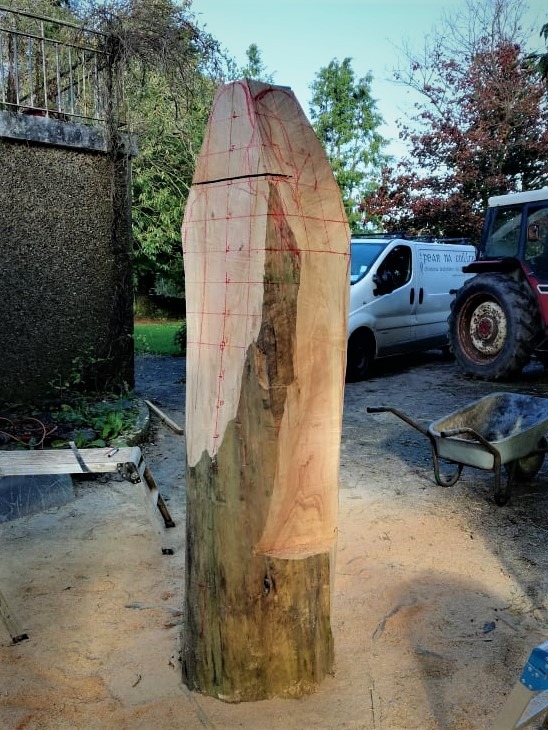 This is the part of the truck that Will sawed off to carve into the image.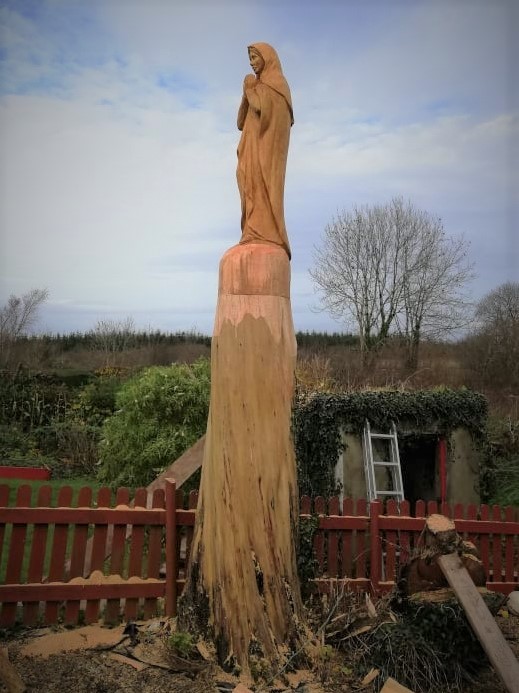 This is the finished sculpture. Wow!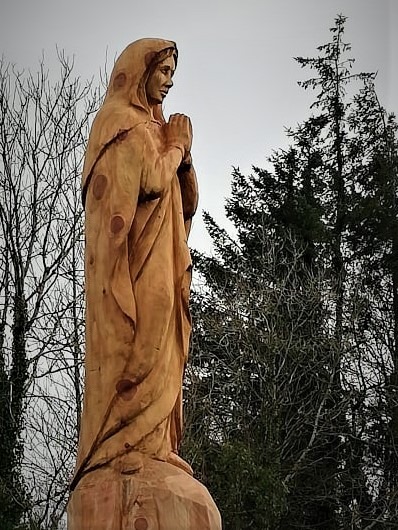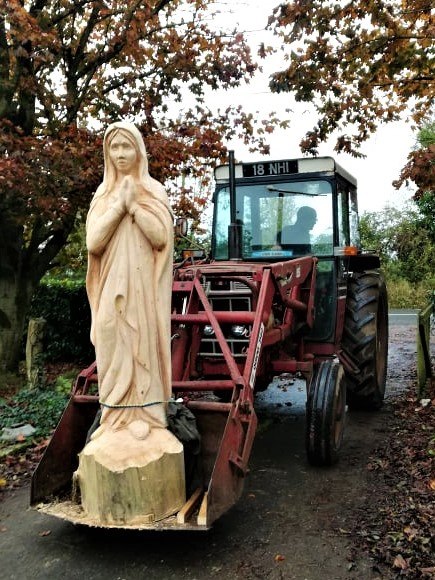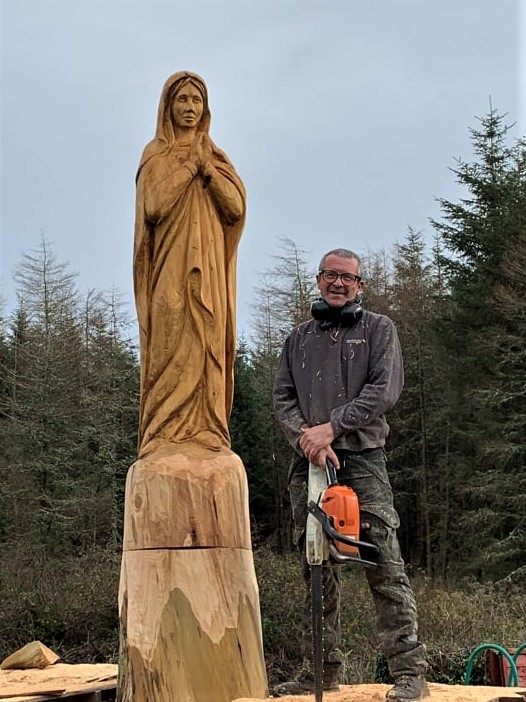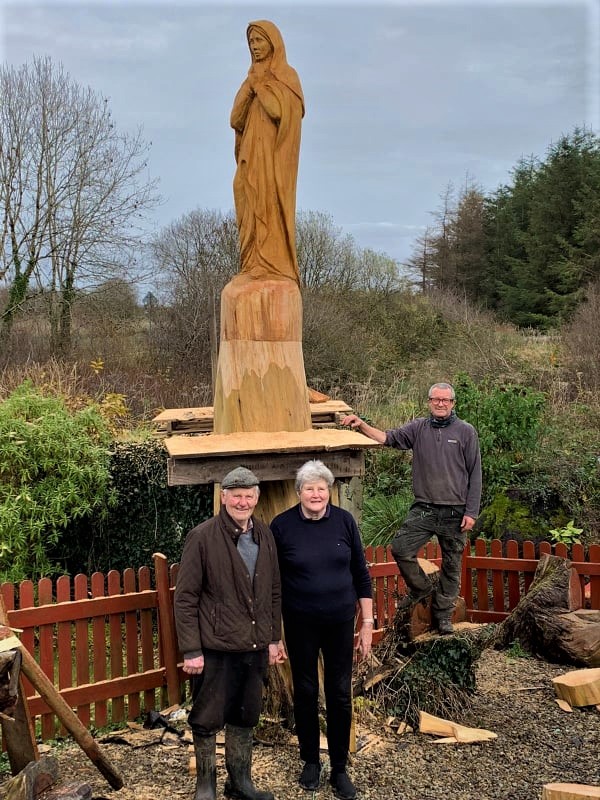 All of these photos were sourced from Will's Facebook Page
Fear na Coillte Chainsaw Sculptures
<<<<<<<<<
Just Saying
(Ger Greaney shared this on Facebook)
In Jean Edward Smith's biography of George W. Bush, he wrote about what President Bush thought of President-elect Obama during the transition period.

On page 650, it states:
"As part of the presidential transition, Barack Obama asked Bush if it would be possible for him to meet all the ex-presidents. Bush was happy to oblige, and organized a White House luncheon in the Oval Office on January 7. Bush and Obama were joined by Jimmy Carter, Bill Clinton, and George H. W. Bush. The luncheon lasted over two hours, each former president ordered his lunch à la carte from the White House mess, and the tone was convivial and friendly. "All the gentlemen here understand both the pressures and possibilities of this office," said Obama before the meeting. "For me to have the opportunity to get advice, good counsel and fellowship with these individuals is extraordinary, and I just want to thank the President for hosting us."
Bush was equally effusive. "We want you to succeed," he replied. "Whether we're Democrat or Republican we care deeply about this country. And to the extent we can we look forward to sharing out experiences with you. All of us who have served in this office understand that the office transcends the individual."
<<<<<<<<
Bloody Sunday 1920 Remembered
Newspapers over the weekend were full of the story of Bloody Sunday 1920 and the commemoration this year.
One story, another tragedy of that awful time, I only saw reported in one forum.
Mark Holan writes about it in his marvellous blog
Mark Holan's Irish American Blog
"Irish journalist Austin F. Cowley was shot dead by a military sentry on the evening of Nov. 21, 1920, at Navan, Co. Meath, hours after the "Bloody Sunday" killings in Dublin. The victim was deaf and did not hear three orders to halt from the sentry put "on the alert and on edge" by the earlier events."
We owe it to Austin to remember him too. Thank you Mark for bringing us this story of an extra innocent casualty of Bloody Sunday.