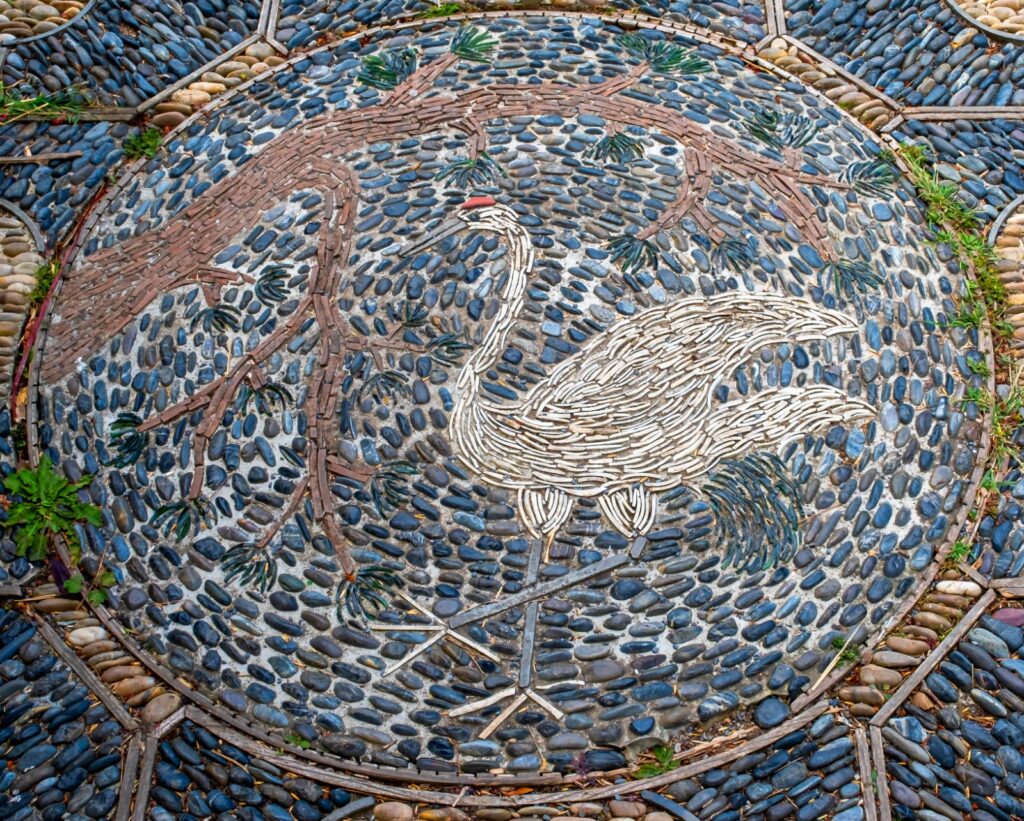 <<<<<<<<<<
Courthouse Plaza
Looking towards the courthouse and library from Courthouse Road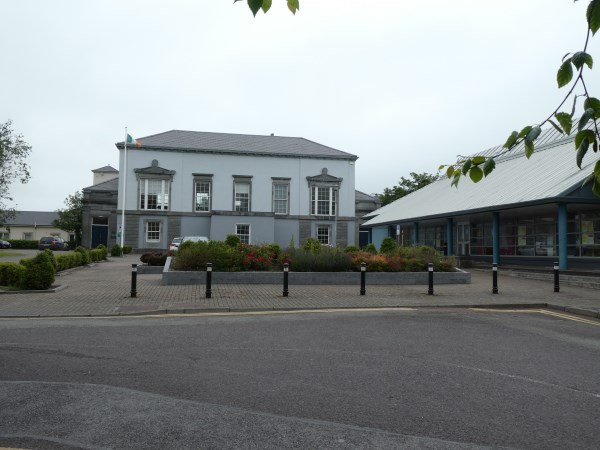 Listowel Courthouse in June 2021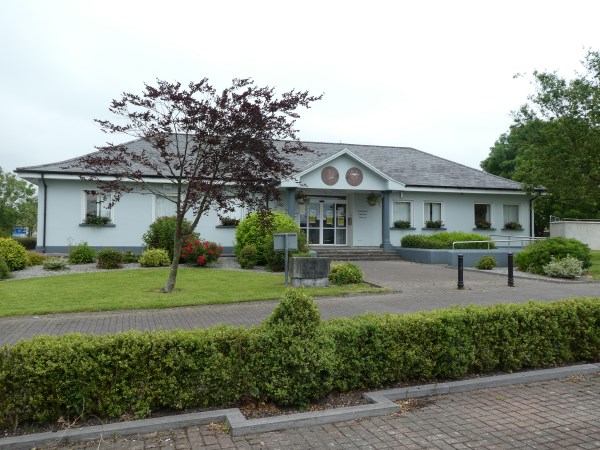 Áras an Phiarsaigh in June 2021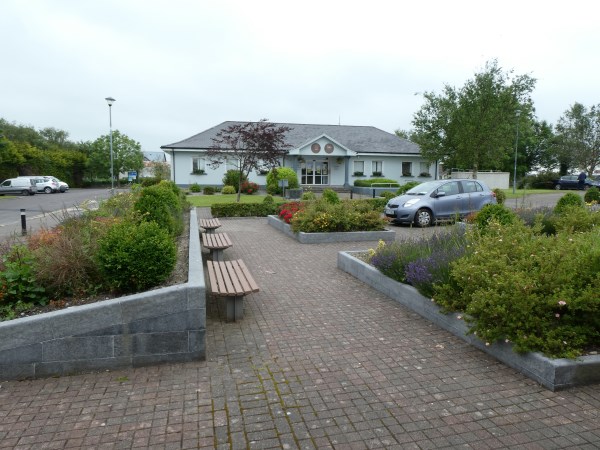 Planting and Seating in the Courthouse Plaza
<<<<<<<<<
What to look for on The Cliff Walk, Ballybunion
Everywhere to your left as you walk along the cliff edge you will see signs of erosion. The sea has eaten far into the cliffs and the coastline is indented and rugged.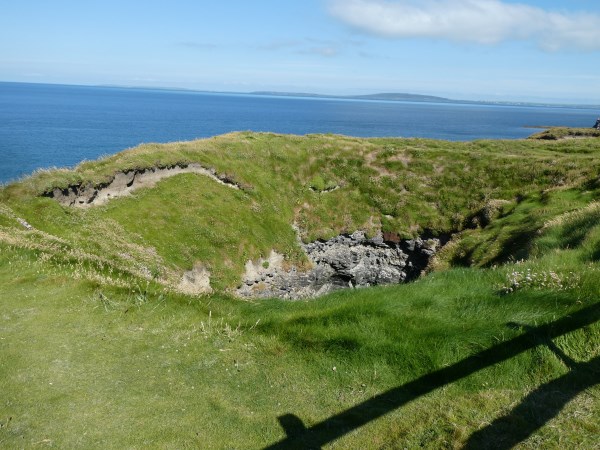 This is the legendary blow hole, known as the Nine Daughters Hole. The legend says that around 800A.D. the local chieftain, O'Connor, had nine daughters. A Viking ship sailed up and the nine Vikings on board fell in love with the nine O'Connor girls. Daddy was having none of it. He lured the girls one by one to the edge of the blowhole, by telling them that he had dropped his valuable torc (a piece of jewellery) into the chasm and he sent them to look for it. He then tossed the poor girls one by one into the hole.
I don't believe a word of it. Would all nine girls fall for the same ruse? Not any O'Connor girls I know anyway.
Anyway the legend has it that he tossed the nine Norse boyos in after them so a kind of rough justice was done.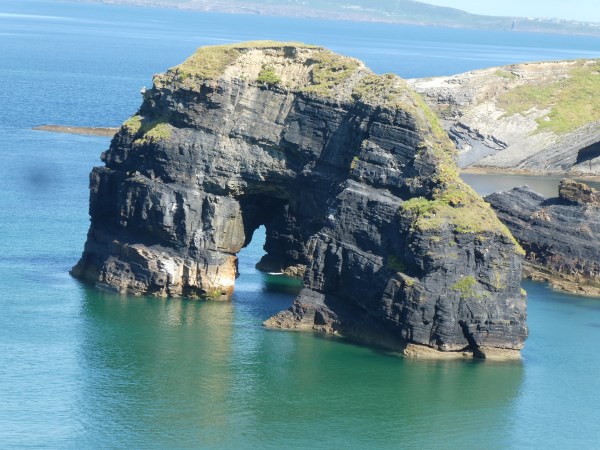 This is a sea arch. It is such a perfect example that it is often the one used in geography textbooks. It is known locally as the Virgin Rock. I couldn't find the legend behind this one but I think before it was cut off and as eroded as it is today monks lived on it.
This structure is more recent than the others. I think it is for dipping sheep. The sheep went in one by one into a trough of disinfectant to get rid of lice and ticks etc.
<<<<<<<<<<<<<<<<
Visitors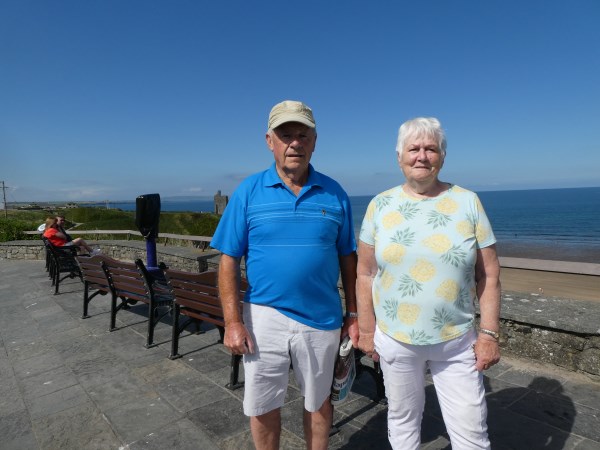 When I was in Ballybunion, who did I meet but regular North Cork visitors, Tony and Joan Boyce. They were in their home away from home for a few days. Tony and Joan are my cousins.
<<<<<<<<<<
John O'Halloran R.I.P. Remembered
Junior Griffin has been in touch to tell me of the passing of another old handballer.
John (also known as P.J.) O'Halloran was a neighbour of Junior's in Bridge Road. He was one of the many young men who loved the handball alley and spent many happy hours there.
John lived in Killarney where he was a teacher in the Community College. Like Junior he went on to play badminton and was very involved with the Killarney club. Junior met him on an almost weekly basis during the badminton season. He says the chat was rarely about badminton, but about handball, Bridge Road and Listowel in general.
John passed away last September. May he rest in peace.
<<<<<<<<<
One Hundred Years Ago
Spoilsports!
<<<<<<<<<<<<