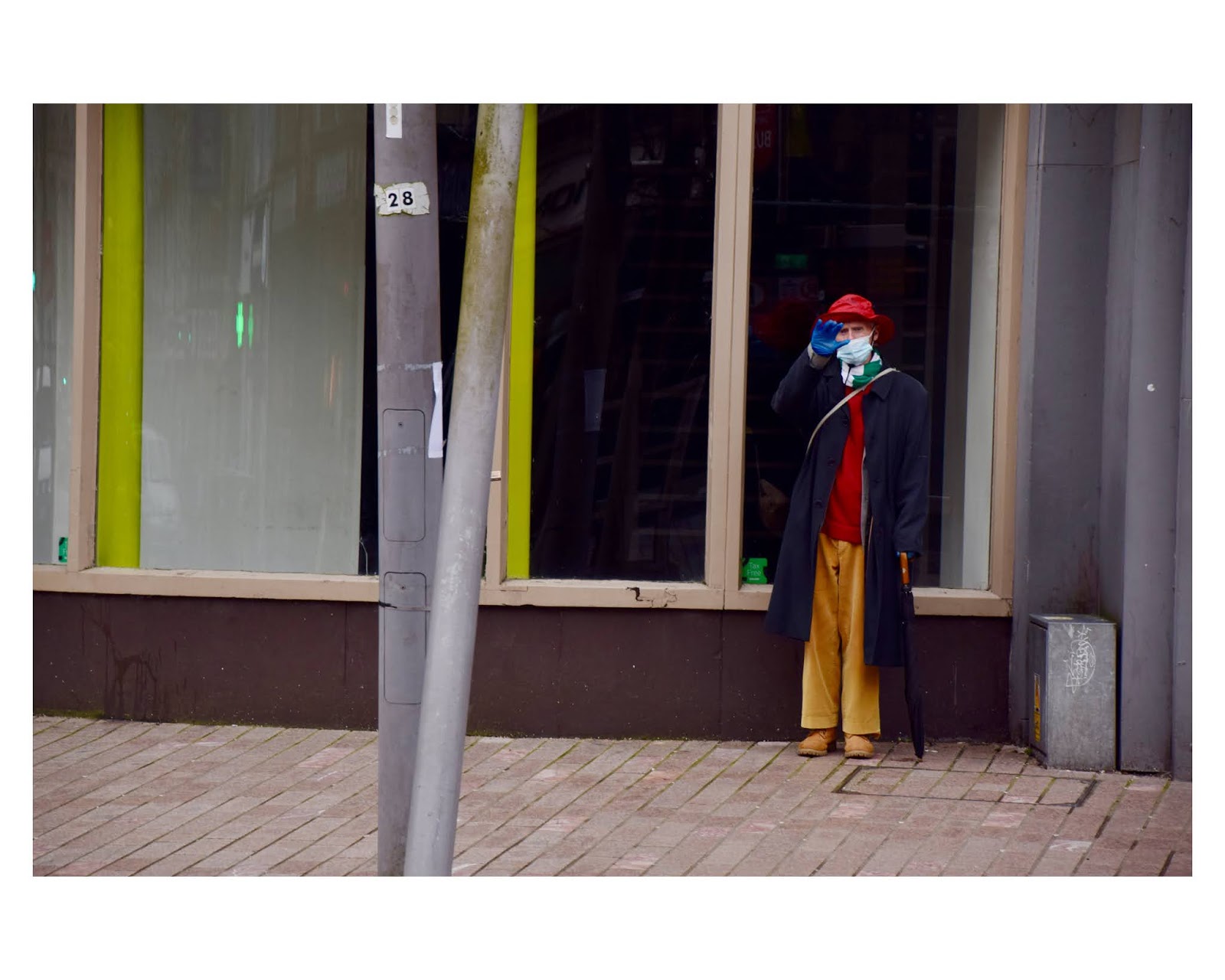 Photo taken on a Cork Street by John Tangney
<<<<<<<<<
What a Night was Promised
I hope it lived up to expectation.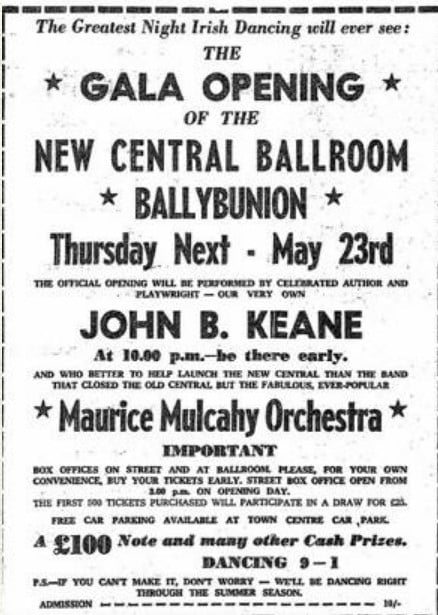 Photo from Cathleen Mulvihill on Glin Historical Society on Facebook


<<<<<<<<<
The Marian Grotto in O'Connell's Avenue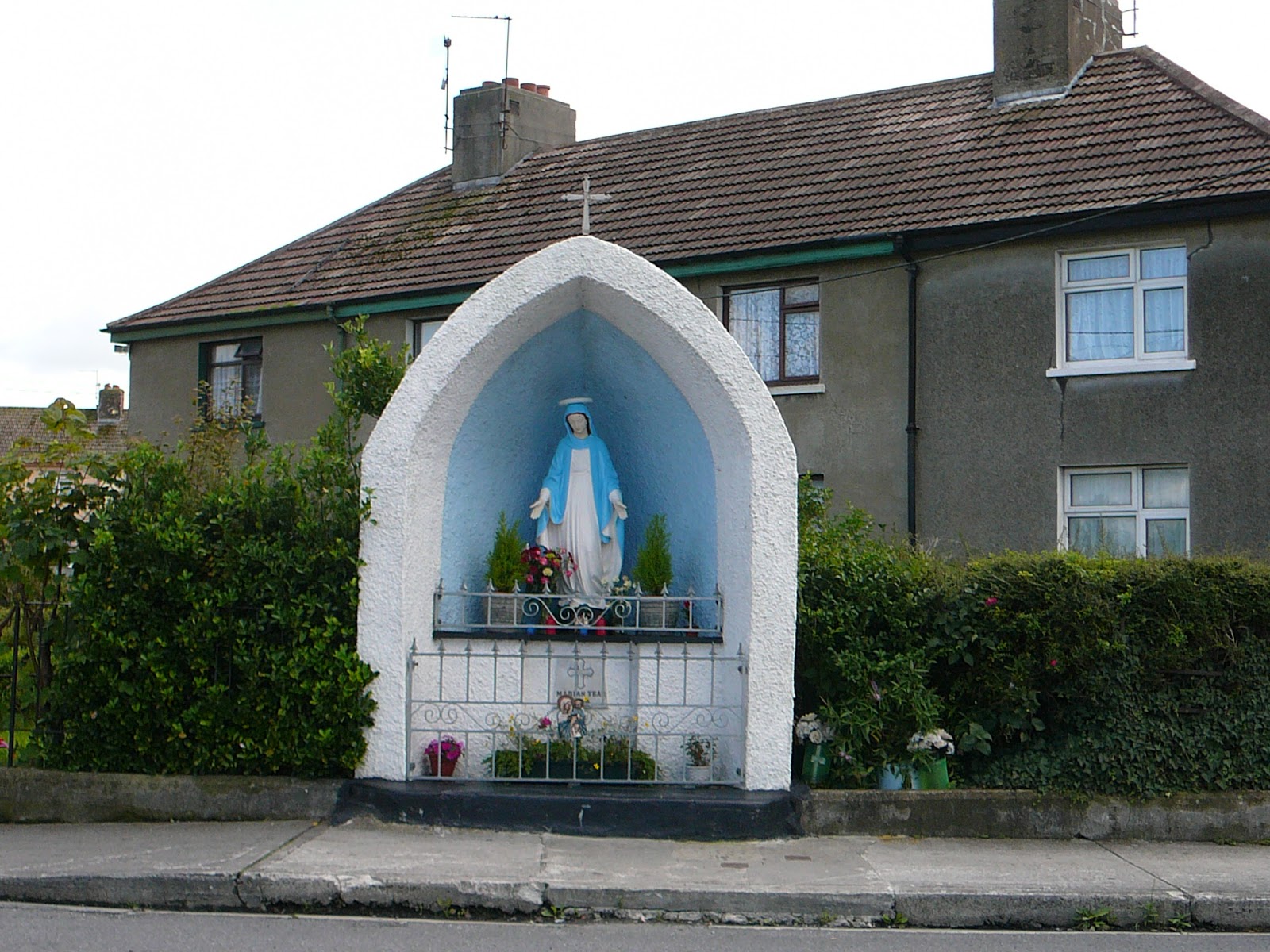 This grotto evokes fond memories of Listowel for many people around the globe. In the 1950s O'Connell's Avenue was loud with the laughter and play sounds of the many children who grew up there. If Our Lady could speak what a tale she'd tell. Those children of the 50s have been blown all over the world by the winds of emigration. I hope that this image today will bring back happy memories of their childhood community.
<<<<<<
St. Michael's Well
This is situated in the lowland of Ballinageragh about a quarter of a mile from Lixnaw village. The well or the bed of it is deep and is surrounded by high mounds of earth. Worn steps lead down to the well which runs dry in warm summers. It has no visible outlet though a dyke of water runs along the south side about 15 yards distant from the well.
The mounds of earth are said to be the remains of an early church which was dedicated to St. Michael who is patron of the Parish of the present Roman Catholic Church there. His feast day is celebrated on 29th September and in the last generation that day was held as a parish holiday, no work was done, and the people dressed in their best assembled in Ballinageragh after hearing mass in the village church.
Ballinageragh is a little village in itself, bounded on the western side by the marshes which lie along the River Brick. The name is supposed to mean the townland of the berries (sloes are plentiful there) or the townland of the marshes. Others say a pattern was held there on the 29th Sep. Plays of all kinds, tinkers, thimble men, "Maggie Sticks," Pie shops and SHEBEENS (Irish: síbín) were general features of the pattern. Pipers also attended, McCarthy the Piper (R.I.P) being the last piper to attend there. Roadside dances were carried on to the strains of music, and that night he retired to the house of a neighbouring farmer and dancing and music were carried on to the small hours of the morning.
The waters of the well are believed to cure toothache, sore eyes and general complaints including nervousness and mental trouble. An elderly woman, Mrs Dan Quilter, Gurthenare (Gortinare – Gortaneare) Lixnaw, Co Kerry, still living who had mental trouble paid several rounds at the well and was finally cured. She then put up a statue of St. Michael on a slab over the well in thanksgiving for her cure. Some years after she got another attack of this same disease but it did not last long. The round at the well is paid as follows. Kneel in front of the well and start one round of the beads. Then stand up and walk round the well three times, finishing the fifth decade in front of well. Then start another round of the beads and walk three times round the well and finish 5th decade in front of well. The third round of the beads is started in the same way and finished in front of well. This means 3 Rosaries and 9 rounds of the well. You then wash affected part in the water of the well getting the water in some vessels. Some of the water is also taken home in a bottle.There is a tradition that you should leave 3 tokens at the well after you; it may be 3 hairpins, 3 matches, 3 strings, etc. for fear the Saint would not know you were there until he would see the tokens, one for each "round".
M. Shanahan
Clandouglas N.S. Lixnaw Co Kerry
Information got from Mc Tom Lawlor aged 70
Irribeg Lixnaw Co Kerry