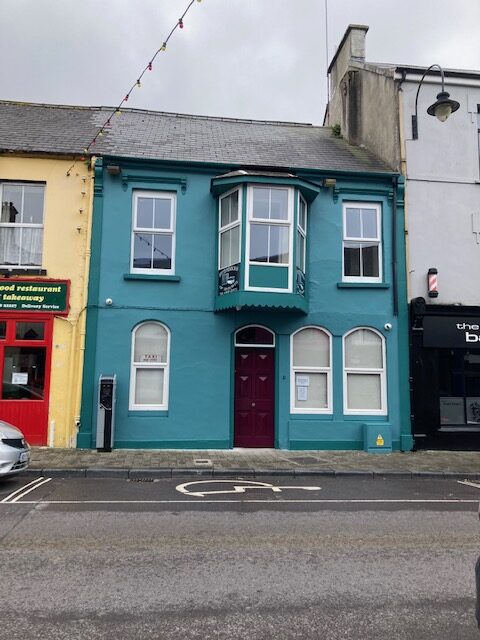 Fitzpatricks of Church Street in September 2023
<<<<<<<<<
In Ballylongford
A little spot of business took me recently to Ballylongford.
While I was there I visited the church.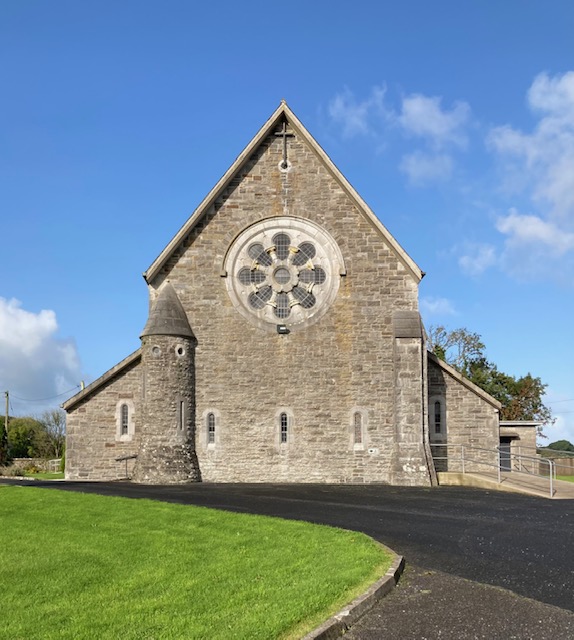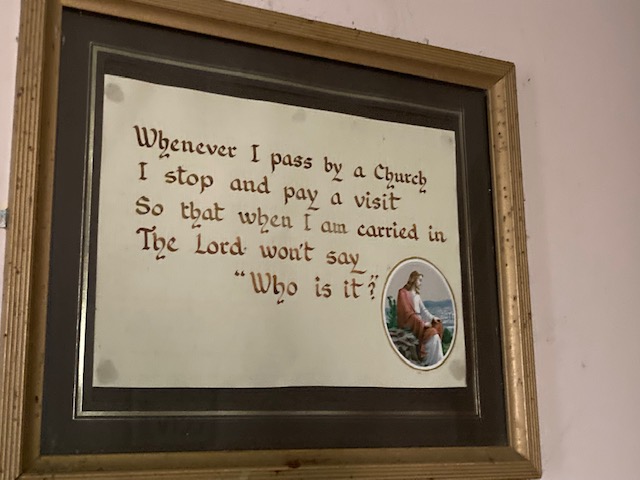 I love this picture. Sums me up perfectly.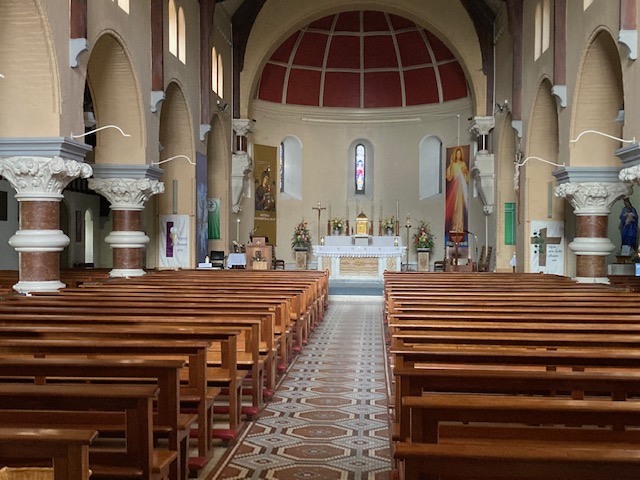 Interior of Ballylongford parish church
The church interior is very traditional with little stained glass and huge statues.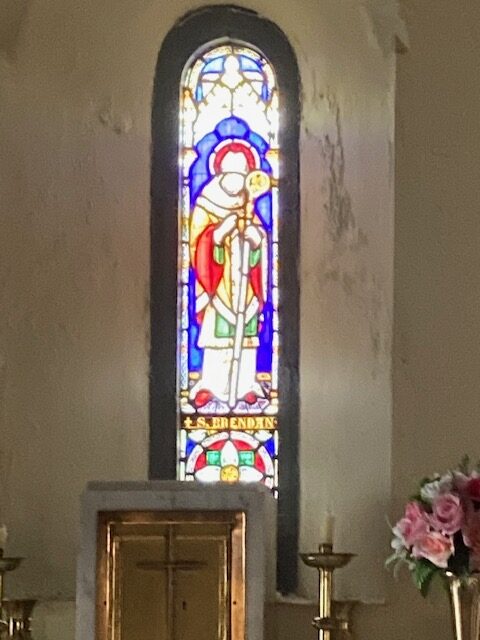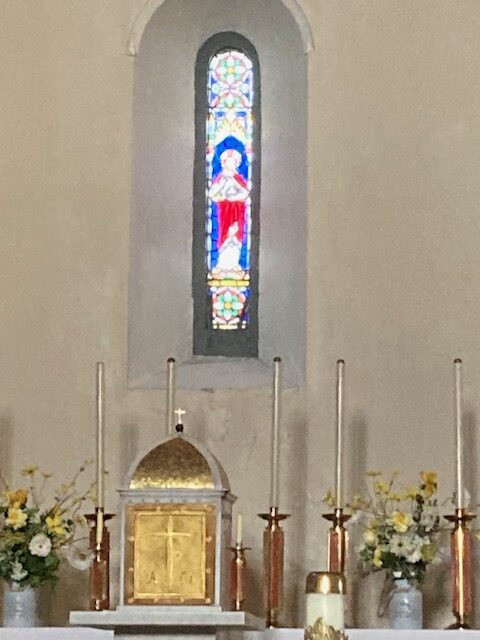 The windows in Ballylongford church are unusually small. The side windows which have clear glass are set very low into the walls.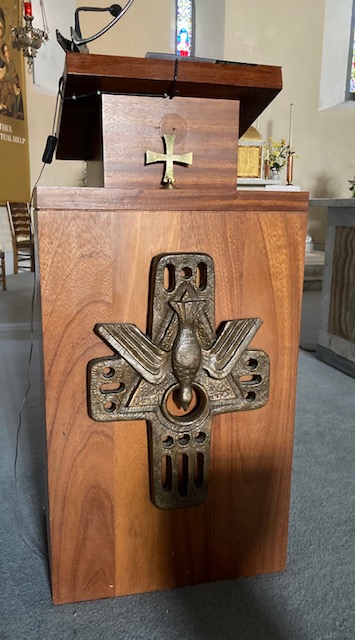 The lectern has a modern looking cross with a dove (Holy Spirit) on it. I couldn't find any account of it online. Maybe a reader knows the story.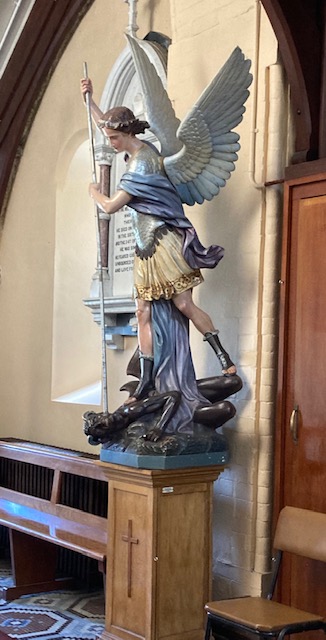 There is a huge statue of St Michael the archangel beside the door.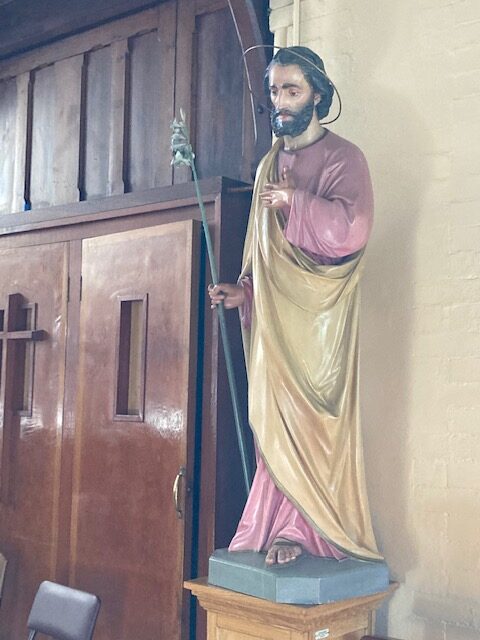 St. Joseph, I presume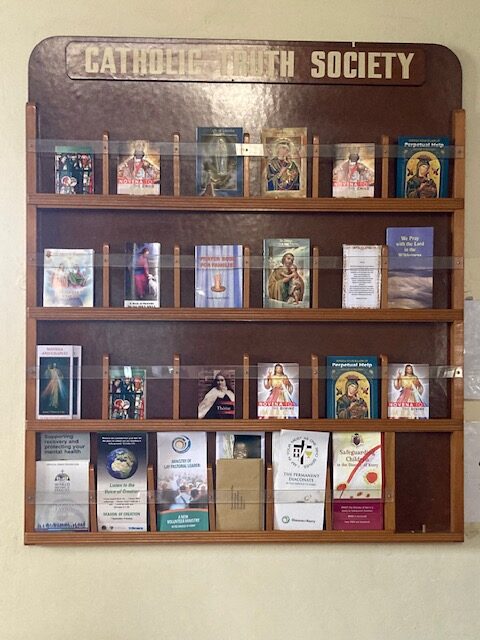 It's a long time since I've seen such a well stocked Catholic Truth Society book shelf.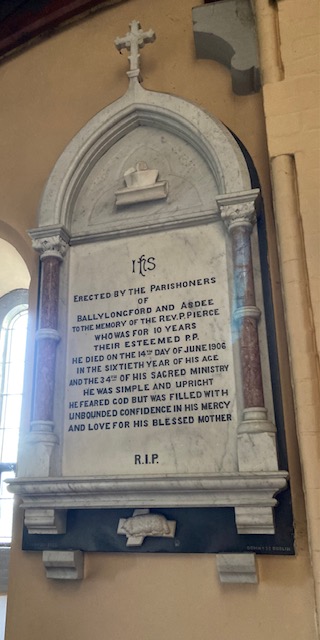 The parishioners seem to have had particular affection for Fr. Pierce.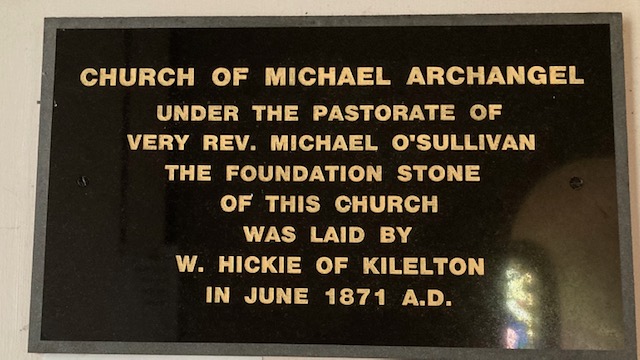 <<<<<<<<<<
Your Cup of Joe
Mick O'Callaghan writes some lovely essays in his Rambler's Blog
You'll enjoy this if, like me, you are fascinated by the variety of coffee offerings available to coffee lovers nowadays.
Coffee at eleven
Well, isn't life gone very strange and complicated when you want to purchase a simple thing like a cup of tea or coffee.
Recently I was out walking in Gorey Town Park, with a relation home from Australia, when he suggested that we go for a coffee, and I immediately agreed. We visited the nearest coffee shop which was in the park. I asked for a cappuccino and was asked what type of milk I wanted so naturally I said that I just wanted ordinary straight cow's whole milk while my friend wanted a flat white. Then we are further asked as to whether the coffee was for here or to go. Having answered that we would be imbibing our coffee potions on the premises we were given a choice of drinking vessel between cup, mug, or disposable container. Being the environmentally conscious type I opted for mug while my walking colleague chose a cup. The coffee was served up without the traditional saucer but who cares when the coffee served was excellent and the service was polite and friendly. We wished the Cullen family well in their new business adventure.
Being the mathematical type that I am I glanced around and observed that most imbibees were drinking from throw away cups which I found utterly appalling as these would all end up in land fill or incinerator causing further damage to our already damaged eco system.
And so, on Wednesday morning of September 6th, 2023, we went out with five family members for some food and coffees which was all very convivial and enjoyable. The day was fine, and we sat outside in the lovely friendly Cowhouse Bistro on the Courtown Road. The food was excellent and thoroughly enjoyed by all.
Next it was coffee ordering time, and a very friendly waitress came to take our order.
I was first to order and was the usual stick in the mud ordering a straight cappuccino in good old cow's milk. And so, she moved along, and the next request was for a one-shot decaffeinated Americano followed by a normal Americano with extra hot water and ordinary milk.
I ask myself if this can get more complicated and the next barista order is for an almond milk latte with extra hot milk on the side.
I am really switched on now to hear the next order which is a normal milk latte with an extra shot. Now we are really upping the ante.
The final call was for a decaffeinated cappuccino with oat milk. All the coffees were served in cups and saucers which was nice to see and experience.
I am just flabbergasted by the sheer variety of orders. God be with the days of the bottle of Irel coffee and the spoon of Maxwell House instant powdered or granulated coffee. You got your cup, spooned in the relevant amount of coffee, added boiling water, stirred it up, added a drop of milk from the milk bottle and off you drank your coffee with your Marietta or Lincoln Cream biscuits. This was the ultimate in relaxation and had more sophistication about it than the 'will you have time for a cup of tea in your hand' effort.
The times have changed and so have our tastes and choices.
Are we any better for it all. I don't know. Maybe next time I'll have a skinny latte in mountain goats' milk, a hot chocolate in sheep's milk, a mocha with a slice of blackberry and apple tart or luscious strawberry in dark chocolate from Green's Berry Farm sales shack at the other side of the road. Now that would be sophistication.
We had a very nice pleasant day out on a warm September 2023 day out in Gorey.
Mick O Callaghan 10/09/2023
<<<<<<<<<<<<<
Times Past in Presentation Secondary School, Listowel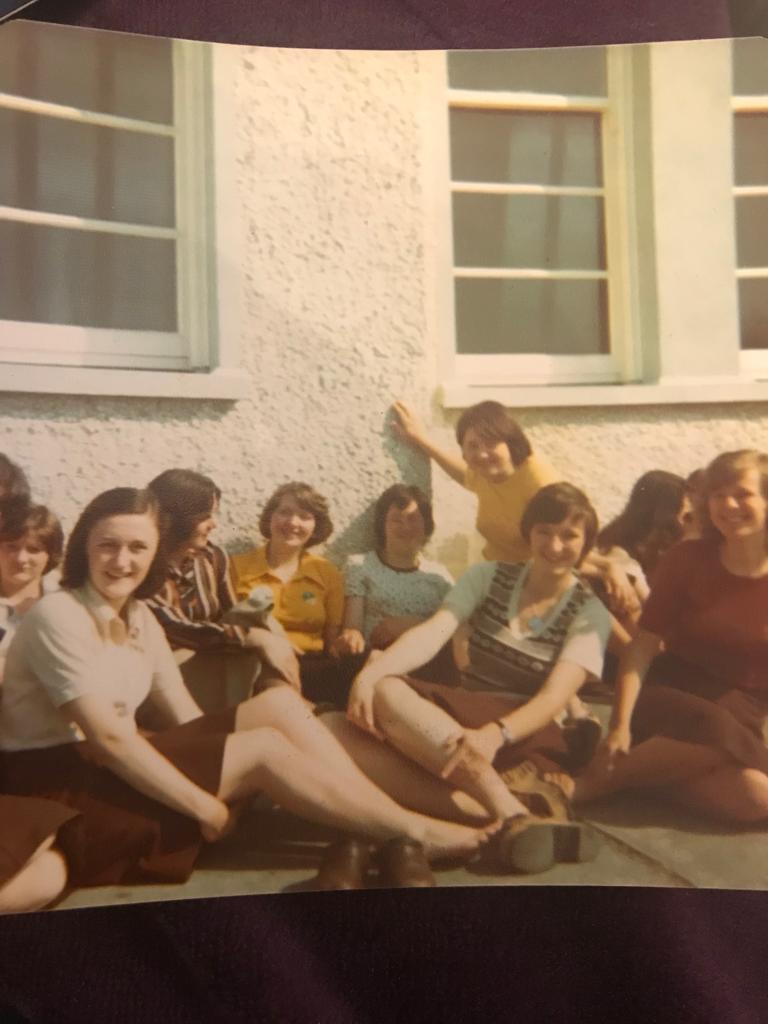 Photo from Brenda O'Halloran
May 1976
included are Anne McAuliffe, Miriam Hilliard, Kathleen Ryan, Brenda O'Halloran, Deirdre O'Sullivan
<<<<<<<<
One for the Diary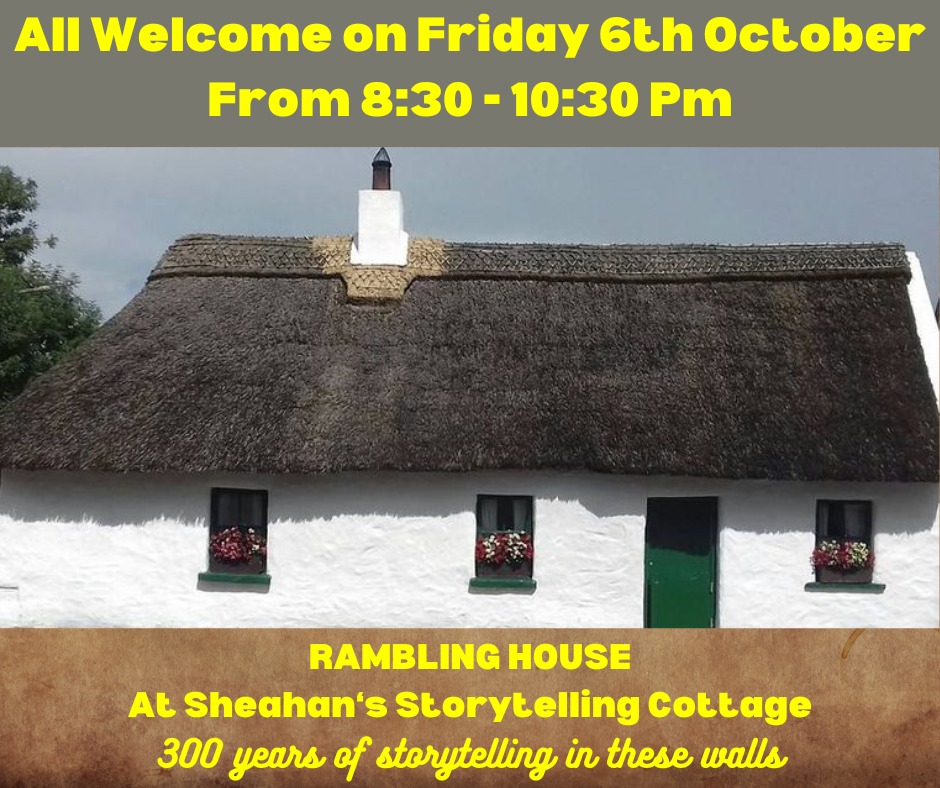 <<<<<<<
A Fact
Bats make up 23 % of mammals by species. There are 980 + known species of bat in the world.
<<<<<<<<<<