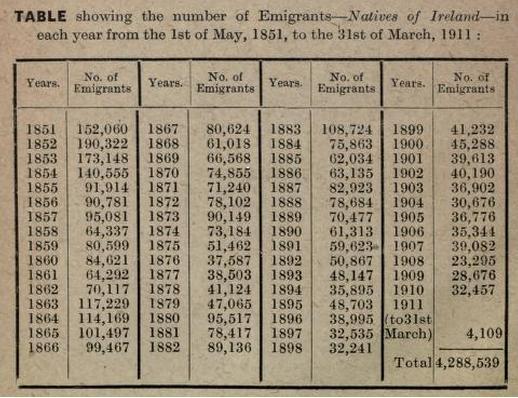 These figures tell a sad story.
Many of their descendants now are out there looking for their roots and they are learning these 5 golden rules of genealogy:
#1 Leave no stone unturned, unless
it is a headstone.
#2 Handwriting legibility is
inversely proportionate to a document's importance.
#3 The further away a cemetery or
library is, the more awkward the opening hours will be.
#4 The relative you most need to
talk with is the one whose funeral you are currently attending.
#5 Wherever you find two or more
siblings, there also will you find two or more surname spellings.
>>>>>>
http://homealoneinireland.wordpress.com/2012/07/16/lets-talk-about-emigration/
Good blog about emigration "by the last guy left".
>>>>>>>

It was not unusual for newspapers in far flung places to report a bit of Irish news. The above comes from New Zealand Tablet, June 5 1855.
>>>>>>>
The book that everyone is talking about!
This is how the 2 sequels were displayed in Dubray Books in Dublin.
<<<<<<<
An old picture from Ballybunion of the Bunny Dalton Band.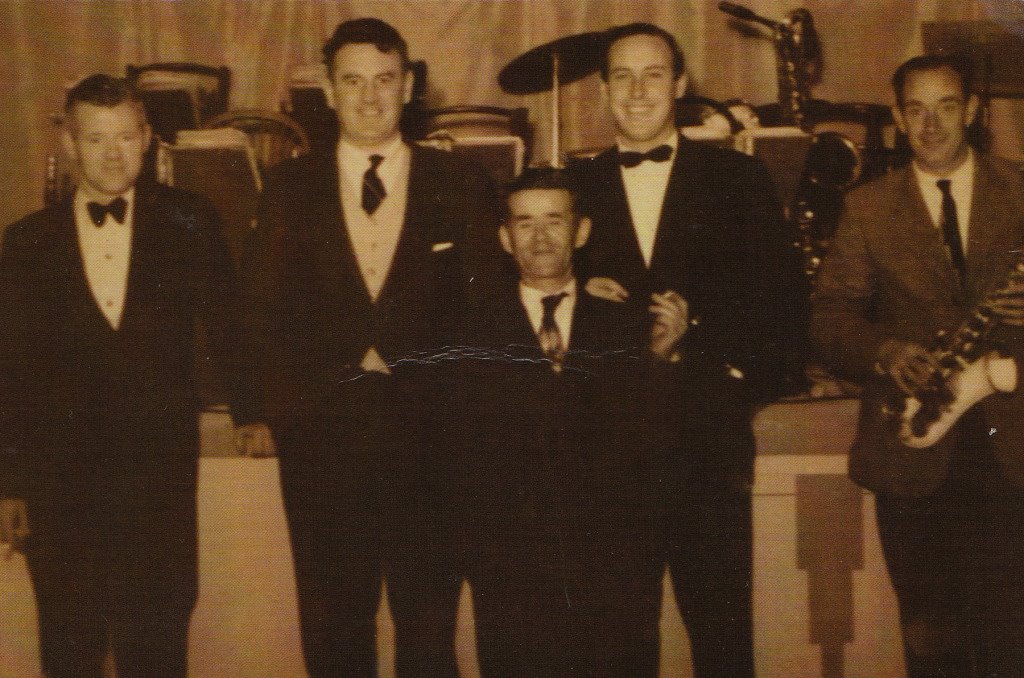 >>>>>>
Handball…the final installment
Membership dropped over the following years but there
was one notable development
that took
place roughly around 1969/1970.
The committee were approached by Mr. Bill Kearney who
asked would the club allow
a few pitch and putt holes to be placed in the Alley
ground. He wanted a base in
which to commence a pitch and putt club for the town.
Mr. Kearney himself acted as secretary, Mr. John Joe
Kenny as Chairman and Mr. Jnr
Griffin as treasurer.
It proved to be dangerous area for pitch and putt as
many golf balls were struck
over the wall on to the main road. If the traffic then was as heavy as it is
now, serious
damage could have been done.
However, Mr. Kearney used this to his advantage when
he approached the Town
Council to include a pitch and putt course in the
Town Park (Cows Lawn). A nine hole course was granted to Mr. Kearney
and thus, the Listowel Pitch and Putt Club was formed. Indeed, two men,
John Joe Kenny and Kevin Sheehy who were stalwarts of the handball club for
years gave wonderful service to the Pitch and Putt Club for
many years to follow.
A new generation off handball lovers came on the
scene including the likes of Denny
O'Connor, Eddie and Mike Broderick, Charlie Nolan,
Tony Stack, Jerh Loughnane,
Con Gorman, Tony O'Neill, Jimmy Canty and others but the building of the new
community centre in the town park in the mid eighties
"drew" away from the old
Alley and handball ceased to be played there.
The new centre which had an enclosed 40ft by 20 ft
handball alley did cater for
handball enthusiasts
but as there was no structure of a club it never really took
off so both the handball and squash courts were
utilised for other purposes.
In the years of 2008-2009, John Griffin (Junior),
being the only surviving trustee,
and with no
handball committee formed for many years, and following the advice
from former members, decided to sign over the alley
ground, which was purchased
by the handball committee in 1962, to the safe
keeping of the Listowel Town
Council. This
was done through the good offices of Pierse-Fitzgibbon, Market
Street, Listowel with the one request that if at any
time in future years the
handball club will be reformed that the Council will
facilitate the committee in
every way possible if they are looking for a site to
build a new handball alley.
Strangely, though the Alley ground was legally signed
over to the Town Council three
or four years ago, this transaction has still to be
acknowledged by the Council or the
Council office
John
(Junior) Griffin)
The above is a brief history of the Listowel Handball Club. As I was
engaged in
compiling the history of another sporting organisation over the past
two years I
had not the time to research as much as I would have liked to of the
Listowel
Handball Club.
My sincere apologies if I have omitted names of people who would
have given
their time to the club, before or after my years.
As mentioned there was but the one minute book available which
happened to be in
my own possession.
Just to advise that I have all the above saved and if
anyone can add more to the club's
history please feel free to contact me.
Hopefully, the wonderful game of handball will return
again in all it's glory to the
town of Listowel.
Junior
Our very sincere thanks is due to Junior for compiling this history and for sharing it with us. I know that many people enjoyed it and would love to hear more. If any reader has any stories about handball or indeed about anything else of interest to people with a Listowel connection I would only be too delighted to post it here.