I took the following from the Irish Central website. It is written by a man called Brendan Charles. While his roots are not in Kerry, his words will find a resonance with many of my readers.
"Woodlawn Heights, located approximately 10 miles from New York City, serves as the perfect locale. It caters to two distinct groups: Bronx residents and Irish immigrants. After my parents emigrated from Ireland, they raised four children in the area, which afforded me an opportunity to study both cultures.
Now, as a young man, I often contemplate my identity.
New York is my home. I find solace in its distinctive surroundings – the towering skyscrapers, the congested streets, and the collective cacophony of brakes, horns, and sirens. I attended high school on the Upper East Side. I worked for two summers at Sutton Place. I indulge in freshly-baked bagels, dirty-water hot dogs, and late-night halal food. I walk fast, I speak Spanish, and I know the best pizza on First Avenue.
(Upon request, I can also deliver a much-ballyhooed account of the New York Yankees all-time greats: Berra, DiMaggio, Gehrig, Jeter, Mantle, Mattingly, and Ruth.)
My ancestry is distinctly Irish, however. My father and my mother emigrated from Counties Leitrim and Kilkenny. They arranged yearly visits to Ireland, in an effort to immerse their children in the culture. There, I lived alongside my extended family and experienced the country's food, music, and sport.
I always remember the breakfast that awaited my arrival from Shannon Airport — sausages, rashers, black pudding, white pudding, fried tomatoes and brown bread. My grandmother watched from across the table as I consumed each meal.
In the weeks to follow, my cousins and I played hurling in the pitch opposite my aunt's house. We trekked through fields and purchased sweets at the nearby shops. I learned how to milk a cow at my uncle's farm, and the sudden numbness that arrives after touching nettle leaves.
In a different part of the country, my grandfather warbled jovial tunes while he sat in his armchair and watched the news. He held out his hand to catch mine, shaking it in rhythm. When my grandmother called us in for dinner, we walked into the kitchen and sat at the table. She had prepared several pans of boxty (a regional potato pancake).
As a young man, I currently know the names of all 32 counties, the four provinces, the trademark sound of Joe Dolan, the foremost events in Irish history, the quickest route from Galway to Dublin, the times to recite the Angelus prayer, the silence of the countryside, the liveliness of the cities, the complexities of a James Joyce novel, the differences between Fianna Fáil, Fine Gael and Sinn Féin, the rainy weather, the generosity of the Irish people, and the easiest way to spot an Irishman at the beach – tall socks, white shirt and loads of sunscreen.
Yet, despite my breadth of knowledge and experience, my extended family still refer to me as a "yank," and perhaps deservedly so.
I am neither American nor Irish. And though I sustain a connection with each culture, I am – at any given moment – prone to experience sudden disconnects from both.
The identity of Woodlawn Heights suffers invariably from the very dichotomy that defines mine. As such, it serves as the perfect locale; especially for me, and at least for now.
>>>>>>>>
Church St. back in the days when traffic travelled two ways, goods were delivered by dray horses and there was only the odd car to be seen. The Square end of the street was known as Leahy's Corner.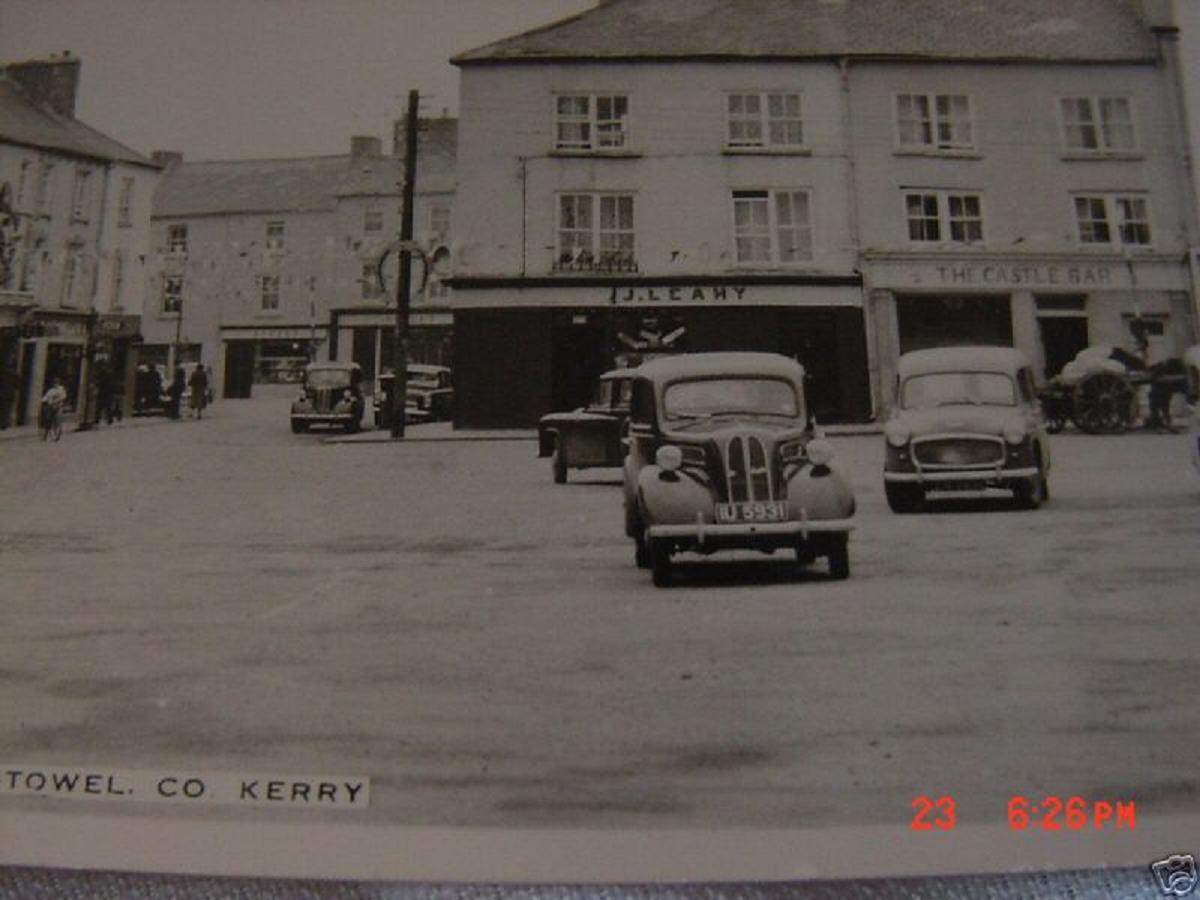 This is that corner a few years ago.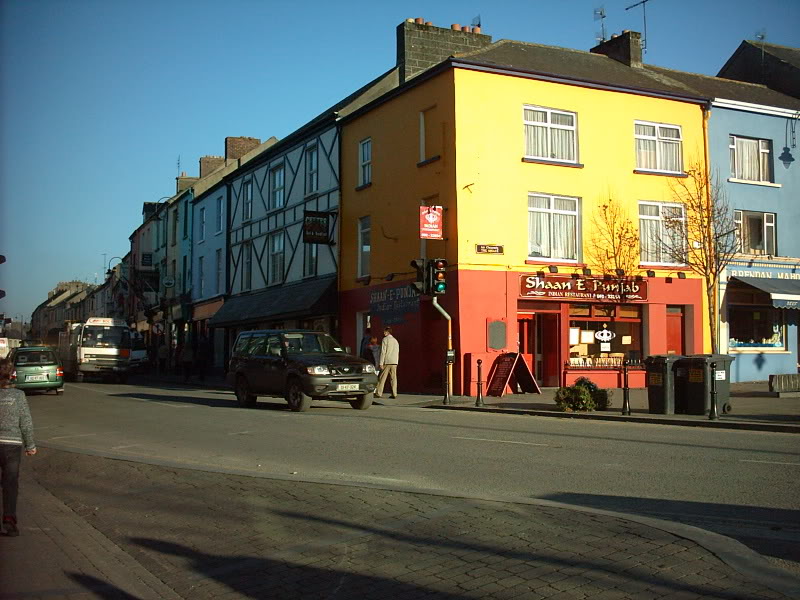 And this is Leahy's corner today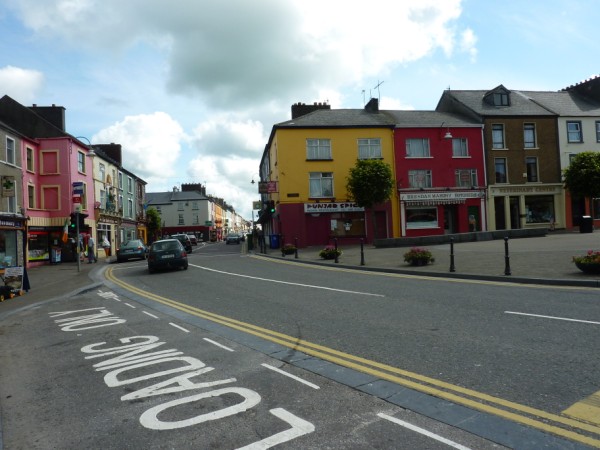 >>>>>>>>>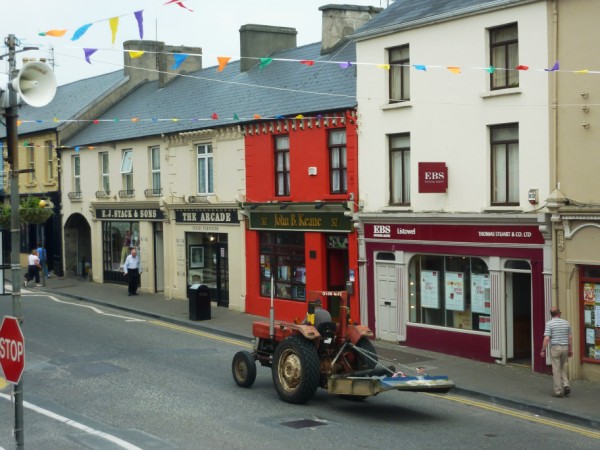 Only in Kerry! A tractor makes its way up William Street on a sunny afternoon in June 2012.
>>>>
This is a very thought provoking article from The Irish Times Generation Emigration section in Saturday's paper.
http://www.irishtimes.com/blogs/generationemigration/2012/06/09/what-lies-ahead-for-us-is-uncertain/
>>>>>>>
Random Tuesday fact: It was a full 21 years after the game of basketball was invented before someone thought of cutting a hole in the bottom of the net. Up to then, someone had to climb up and poke the ball out after a score.