<<<<<<<<<<<<
Bord na Mona in Kerry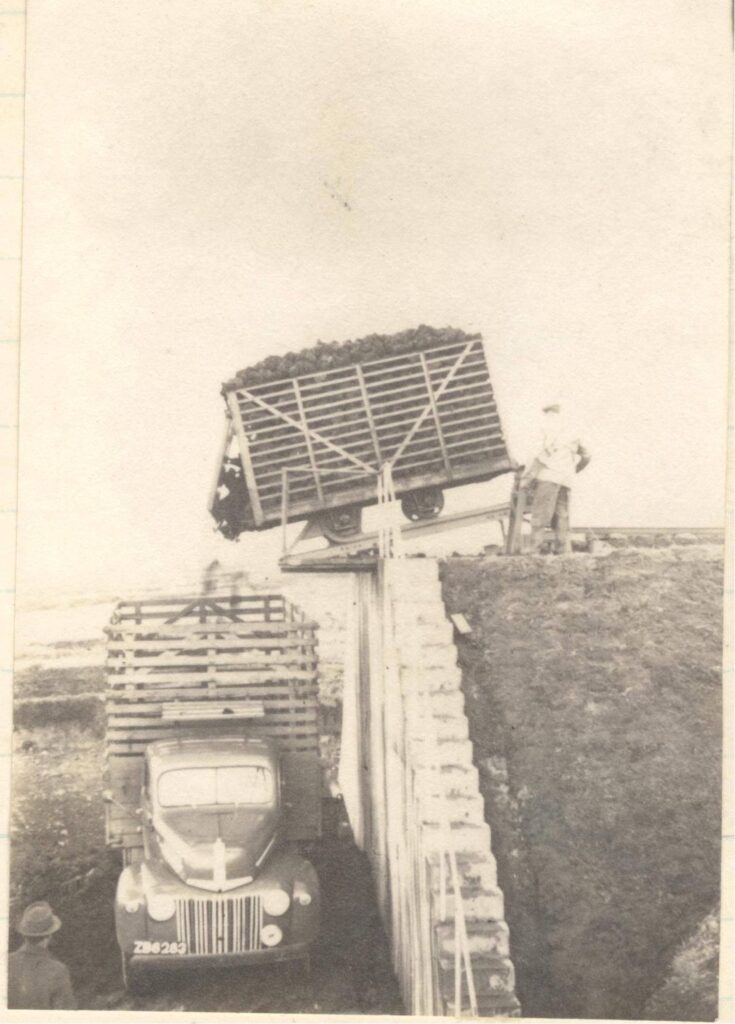 "This is a tipper at Barna Bog, Co. Kerry. The caption states the photo was taken by Mr. E. Switzer in April 1948. However Barna didn't officially start producing turf until 1950, so is it Barna or Lyrecrumpane? Switzer worked for BnM in the early days, he was reputed to have lost an eye in the first World War and the family had a shop in Grafton Street." From Bord na Mona Living History.
This country has a long history with turf and peat harvesting. Bord na Mona have now pivoted into wind energy and sustainable living. Maybe in time all that history will be preserved and housed in a visitor attraction for future generations to see how we lived once.
<<<<<<<<<<<<<<<
Cluain Doire in Cahirdown, Listowel
Cluain Doire, meaning Oak Meadows, is a beautifully landscaped small estate just off Cahirdown. All the trees that line the road into the estate are surrounded by colourful planting in circles around their bases.
<<<<<<<<<<<
One Hundred Years Ago
Fair Days were very important one hundred years ago. The above notice is from the Cork Examiner and the following account is in the schools' folklore collection
The fairs nearest to the people of locality are those at Abbeyfeale and Listowel. The buyers never transact business in the country. The only country fair which the old people can remember is Port fair. Port is the name of the townland and it is in the parish of Abbeyfeale. The fairs were held four times there. These are the dates; the second of May, the 15th of July, the 13th of October and the 15th of December. Cows horses, calves, and bonhams were sold there. There is a castle situated near where the fair used to be held. It is called Port castle and the ruins can still be seen.
The fairs held in Listowel are held in the street and in the square. A penny each is paid for pigs and sixpence for every cow.
When an animal is sold "luck" is given in money and is called "luck money".
When a bargain is made the parties concerned show their agreement by hitting the animal on the back. When an animal is sold the halter is kept.
COLLECTOR
INFORMANT
Address
<<<<><<<<<<<<<<
Best Weekend of the summer so far
Glorious sunshine, crowded beach, amazing sunsets, Ballybunion was heavenly.
On Saturday June 17 2021 Ballybunion hosted its first triathlon. A huge willing band of volunteers, rescue services personnel and gardaí ensured that everything ran smoothly.
Thank you Lil MacSweeney and Carine Schweitzer for the photos.