Storm Imogen in Ballybunion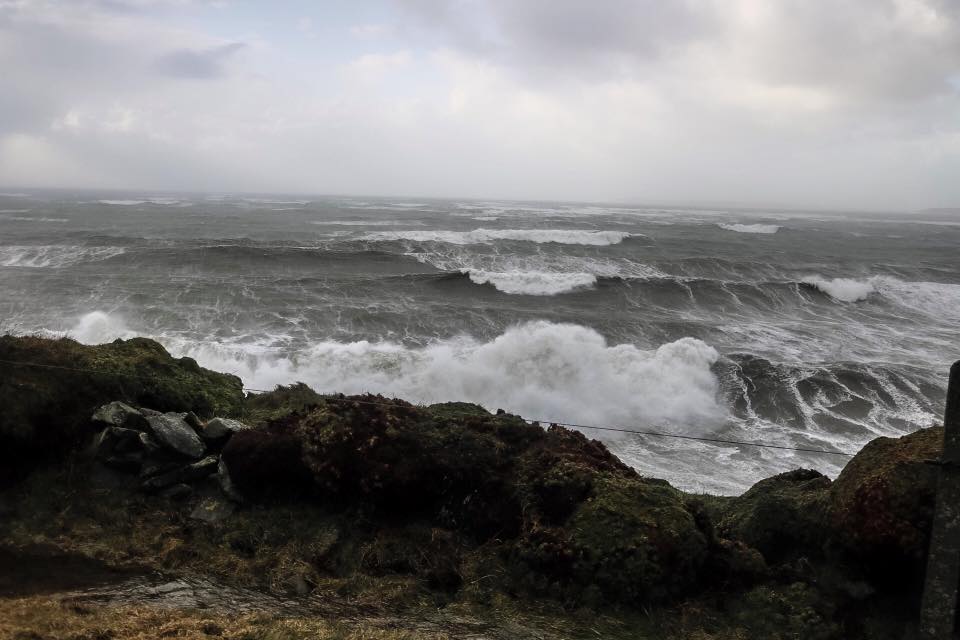 (photo: Mike Enright)
<<<<<<<<<<<<
Another Prizewinner from Jim MacSweeney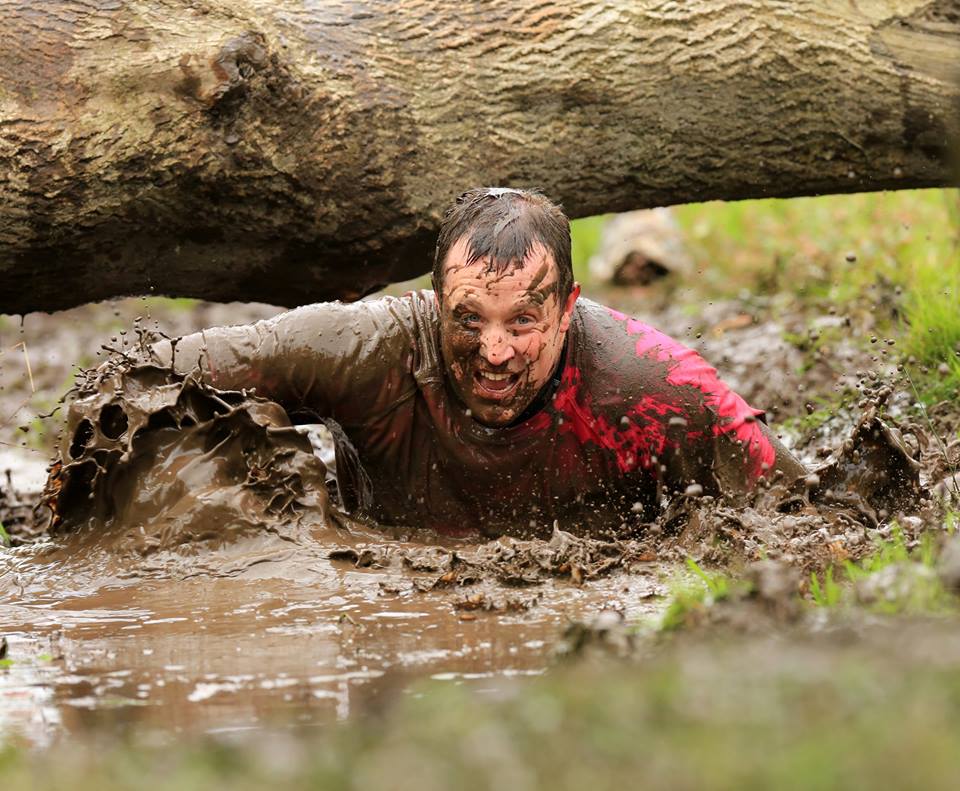 This one won second prize in Southern Association of Camera Clubs Photographer of The Year Competition. Projected Non Advanced. Theme People in Their Environment
Silver Medal Photo Winner. Scored 26 out of 27.
<<<<<<<<<<<<
Football in Pres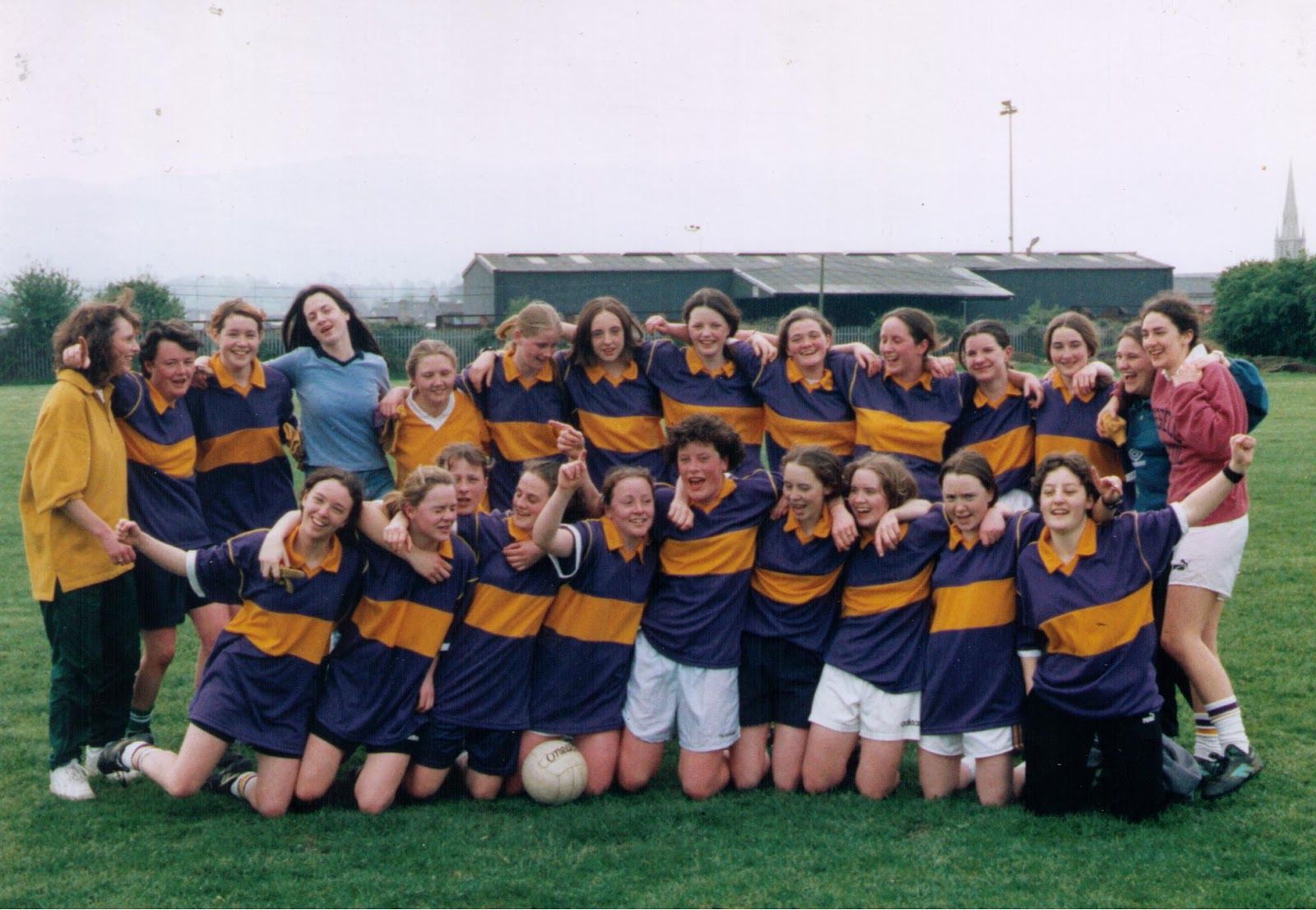 The photo was taken by Tom Fitzgerald. The teacher/coach is Eileen Keane. The girls are;
Back: Mary Buckley,Leona Fitzmaurice, Paula Canty, Niamh Bambury, Carol Collins, Brigeeta Mulvihill, Sharon Canty, Theresa Cronin, Eimear O'Connor, Katie Dillon, Eileen Kilgallon, Margaret Reen, Louise Murphy
Front: Joanna Fitzgerald, Audrey Harrington ………., Regina Harrington, Mary Ita Mc Elligott, Máire Guiney, Sinead Bunyan, Treacy Bunyan, Sarah Fitzgerald, Aoife MacMahon
<<<<<<<<
Random Memories of Growing up in the 1940s and 50s Listowel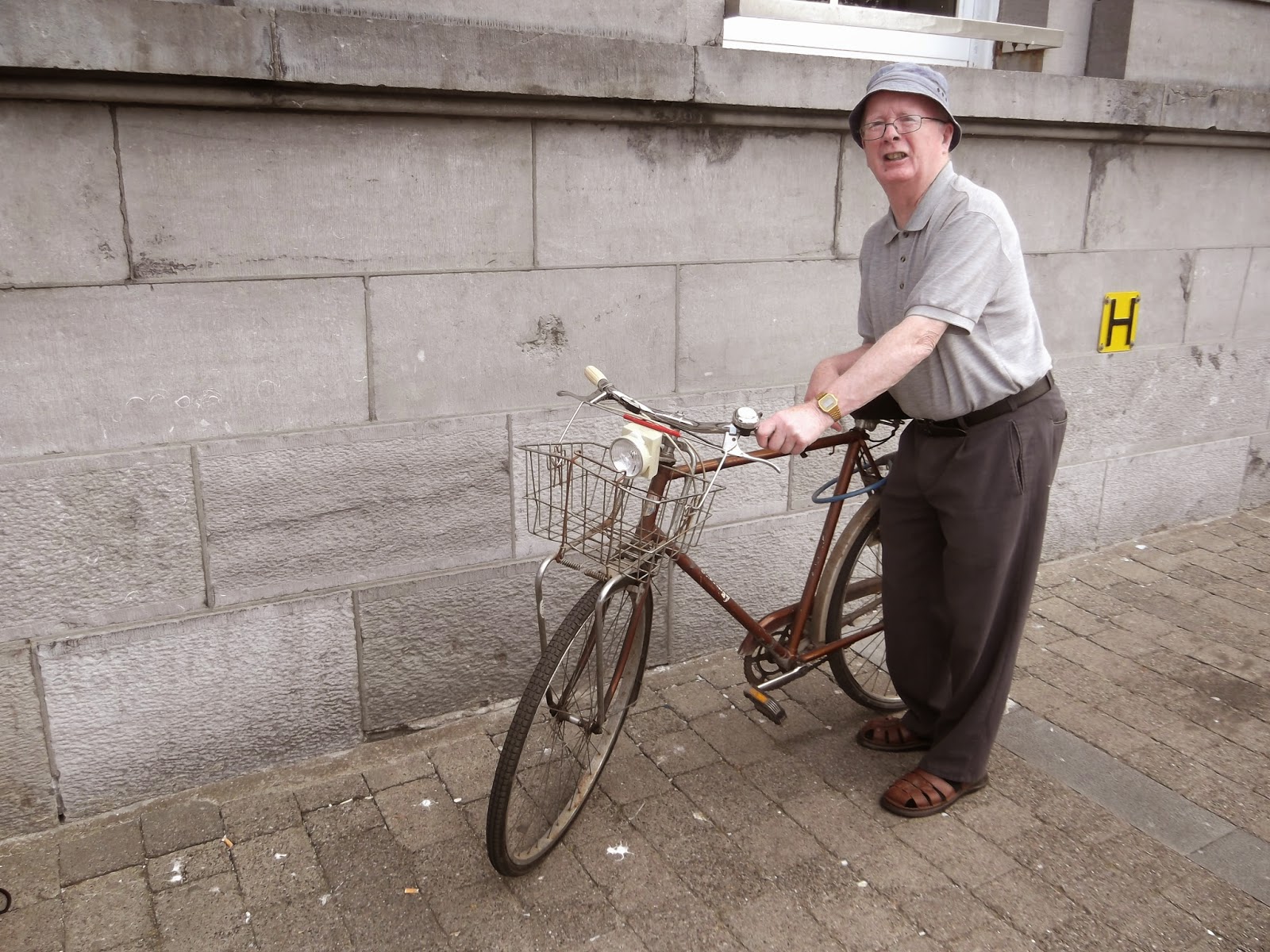 For Junior Griffin growing up in the Bridge Road was a happy experience. One of
his neighbours was Fr. Kieran O'Shea. When Fr. Kieran was ordained in 1961, as
well as his family, he was allowed to invite two friends. He invited Junior and
John B. Keane. Many years later when Fr. Kieran delivered the eulogy at John B.'s funeral he
remembered that day when he was ordained. For some reason he was ordained by
the papal legate, Cardinal Agaginian. John B. used to tell a tall tale that a
woman in Dublin was heard to say that the Agha Khan was ordaining the priests
in Maynooth that day.
Other neighbours whose names spring to mind were Enrights,
Moloneys, Buckleys, O'Connells and Hassetts. Thomas Hassett, his old neighbor,
was buried on the same day as Bert. Griffin. The boys fished, played Cowboys
and Indians and went to the pictures. Later they spent hours on end in the ball
alley but when they were younger the ball alley was the location a bit of early
entrepreneurship. After mass on Sundays the alley used to be packed with
people. Bert and Junior had a family friend who allowed them to pick apples in
her orchard. They sold these in the ball alley. Their sales targets were 3d
each for Junior and Bert. The price of the pictures was 2d and 1d for slab toffee in Sheehy's meant
your afternoon's entertainment was secured. Junior usually went to the Plaza
picture house but he went to the Astor as well on occasion.
Junior remembers street fairs.
Cattle were lined up all the way down Bridge Rd as far as the old library.
Sometimes farmers would give the young boys a few pence to mind their cattle
while they went for refreshments. The boys had the day off as the big fair days
were all school holidays. Shops erected
protective barriers outside their windows.
The footpaths and roads were filthy in the aftermath of the fair.
Junior remembers The Races when
they were held over 2 days. He remembers the meat pies. There was a certain
rivalry between purveyors of these pies and recipes were closely guarded.
Jackie Sharry said of
Curly Connors pies that they wouldn't break the Friday
fast.
<<<<<


Creamery Social in Moyvane 20 years ago
Watch out for some well known faces in this short clip.
<<<<<<<


Programme from a Doodle Frolic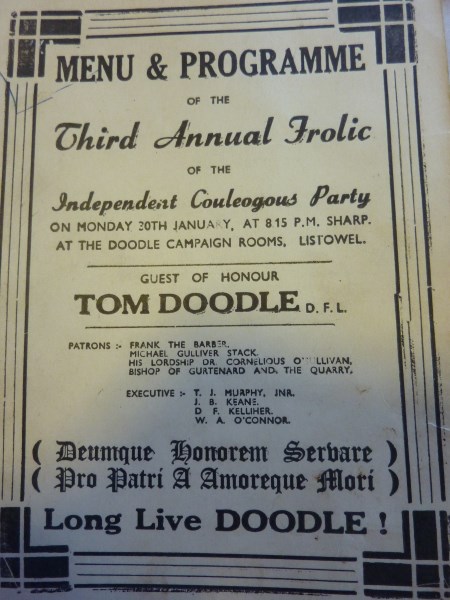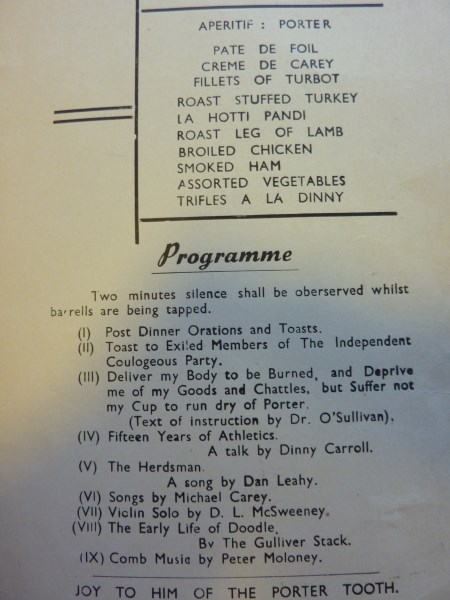 Photo: Junior Griffin
<<<<<<<<
Cork's Synogogue Closed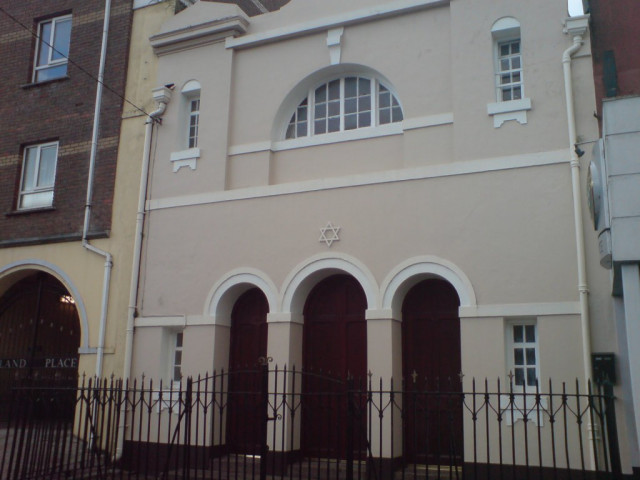 The Jewish community have been part of Cork life for generations. Sadly, this synagogue on The South Terrace closed its doors at the weekend. With just 3 adult male members there was just not enough to sustain it. Many Cork Jews are dispersed around the world. There are seven families from Cork in Israel.
"The synagogue on South Terrace was consecrated
in 1905. Today, it hosts its last ever prayer service, with a rabbi and 14 men
travelling from Dublin to ensure there are enough people present. 
At its
height, the Jewish Community in Cork consisted of 65 families with as many as
400 members. They first arrived in 1880 as migrants fleeing persecution in
Russia. It is believed they were initially heading to America, but were won
over by the warmth and welcome of Cork people.
The artefacts from the synagogue
have been
temporarily given to Cork Public Museum while members look for a new
centre of worship."
(Source: Evening Echo Monday Feb 1 2016)
<<<<<<<<<
Pink Hat Day at Kenmare Mart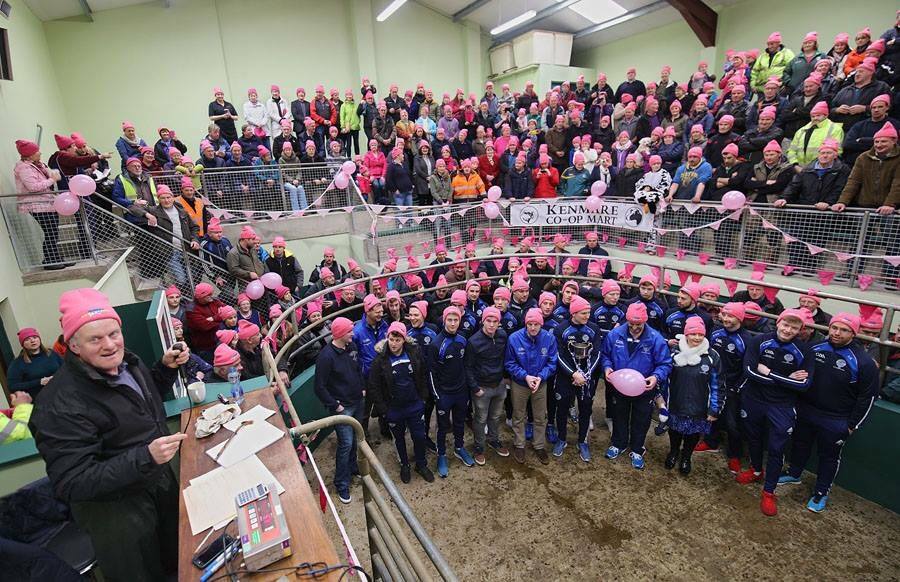 Pretty in Pink, World Record..
The scene at Kenmare Mart Co Kerry on Monday, with Mart Manager Cllr Dan McCarthy and Templenoe GAA Club newly crowned All Ireland Junior Football Champions who broke the world record of number of Pink Hats worn at a Mart in aid of Recovery Haven, Respite and Hospice Care, Tralee. The Pink Hats were sponsored by Dairymaster. The Total tally was 517 hats.
Photo:Valerie O'Sullivan.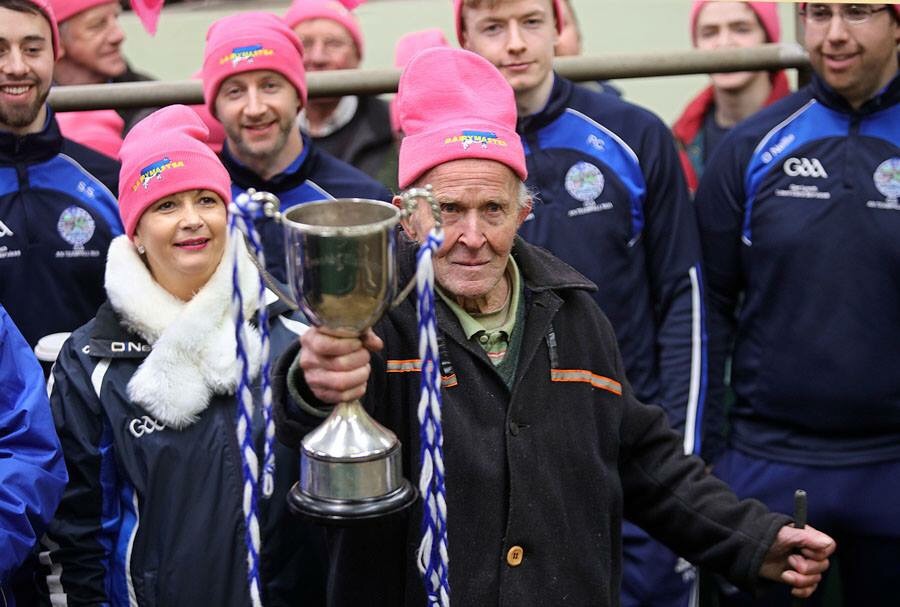 Eugene O'Sullivan, the oldest drover in Ireland was there to help reach the record. He got his hands on the cup as well.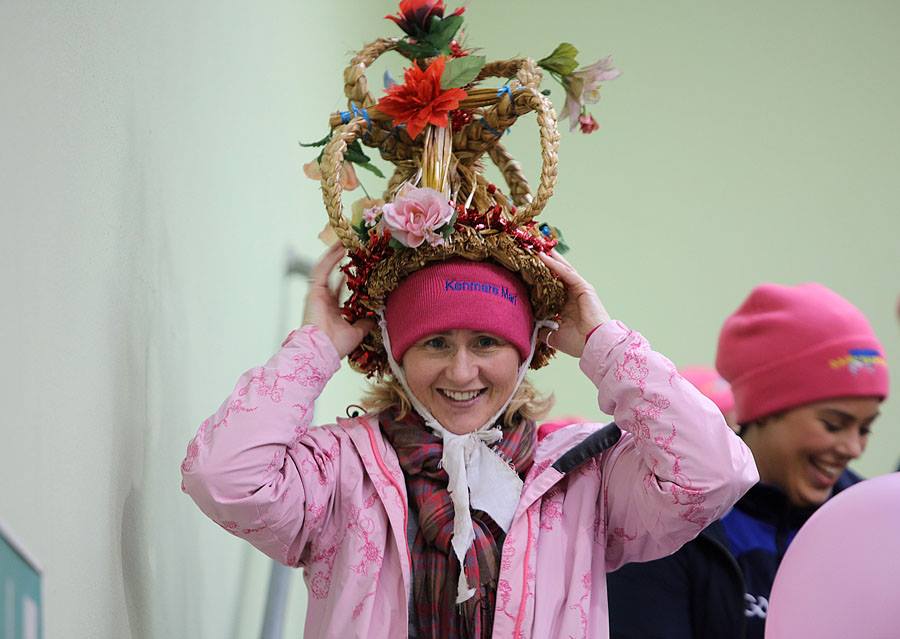 Norma Moriarty dropped in to canvass for votes. She too donned a pink hat and
a Kilgobnet Biddy hat for good measure.
<<<<<<<<<<<
All that's best about the G.A.A.
http://www.balls.ie is not a website I visit often.
Regulars will know that Listowel Connection is a bit lacking in sports coverage. But the story of Templenoe's victory in the Junior Club All Ireland 2016 is the stuff of romance and dreams, so when I saw a link to a story related to the game I was hooked.
Victory is sweet and Templenoe followers had every right to celebrate. In the midst of the celebrations one Templenoe man took time to send this Twitter message to the vanquished.
and a noble Ardnaree man took a break from licking the wound to reply in kind;