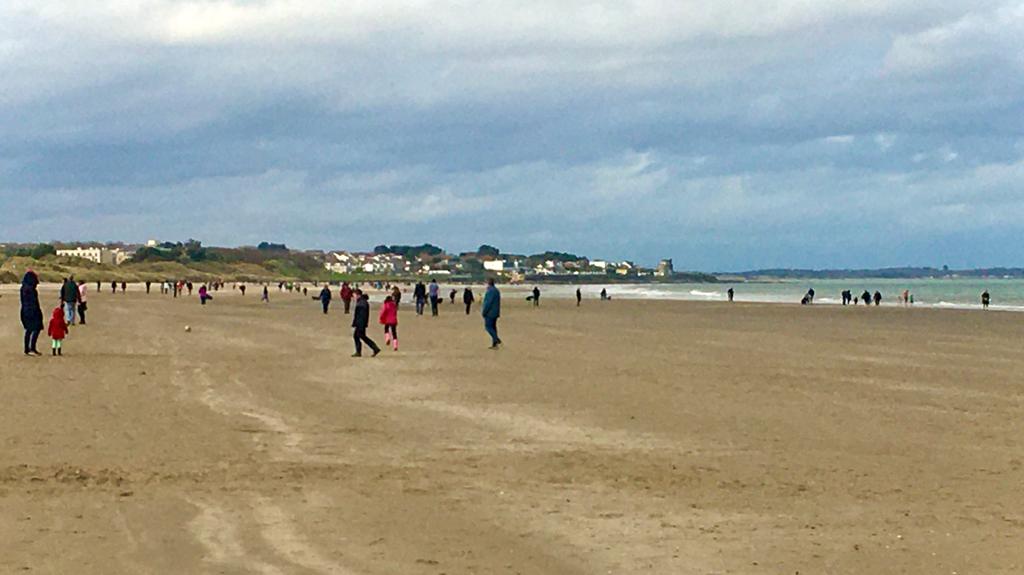 Portmarnock Beach in March 2020 photgraphed by Eamon ÓMurchú
<<<<<<<<<
Remembering a St. Louis Pastor with a Listowel Connection
Dear Mary ,
As you were looking for Archival material for the Listowel Connection I am sending you an article on the Rev P.atrick J O.Connor who was a first cousin of my Grandfather Dr Michael O'Connor. late of The Square Listowel.
Rev P. J. O'Connor, Pastor of St. James Church, born at Coolkera Listowel, County Kerry, Ireland in the parish of Ballybunion January 1, 1883 was the , son of Cornelius O'Connor and Mary nee Corridan. Baptized at the Chapel Ballydonoghue January 3, 1883, confirmed there July 1895, attended the National School, at Coolard and later Tullamore, entered St. Michael's College, Listowel, August 23, 1897. the ecclesiastical college, Carlow College Sept. 3, 1901, ordained a priest June 9, 1907, said his first mass at the Poor House Chapel Listowel June 11 for the inmates in the presence of a few relatives and Sisters of Mercy.
Coming to the United States in the year of his ordination he was appointed to St. Edward's parish in St. Louis as an assistant pastor. After five years he was transferred to the St. James parish where he spent the remainder of his life, the years from his appointment until 1918 an assistant pastor, and from 1918 until 1929 as administrator of the parish. He was appointed pastor on Nov. 14, 1929.
Besides building the magnificent 11th century type stone church which was erected in 1927 and consecrated in 1941. Father O'Connor was the builder of a large school, a convent for the Dominican Sisters who teach in the school, and a parish rectory. The rectory which was completed less than a year before Father took sick, serves also as a meeting place for parish social funtions. Father O'Connor was survived by his three sisters, Mrs. Margaret Slattery and Miss Lil, and Miss Joan O'Connor. and Dr Michael O'Connor his first cousin of The Square Listowel. He was also survived by a number of nieces and nephews who lived in New York and who came to St. Louis for the funeral..
Enclosed find a photo of Fr P J O'Connor, his Obituary card and Grave stones in Listowel Cemetery and St James Church St Louis Mo.
With kind regards,
Mary Geraldine O'Sullivan.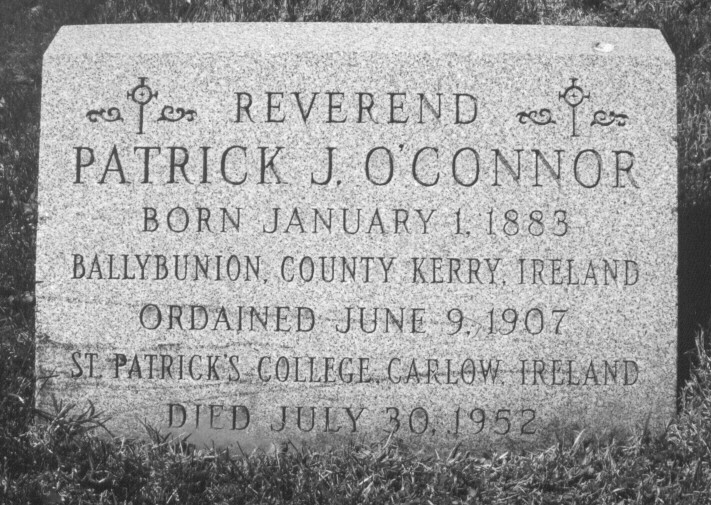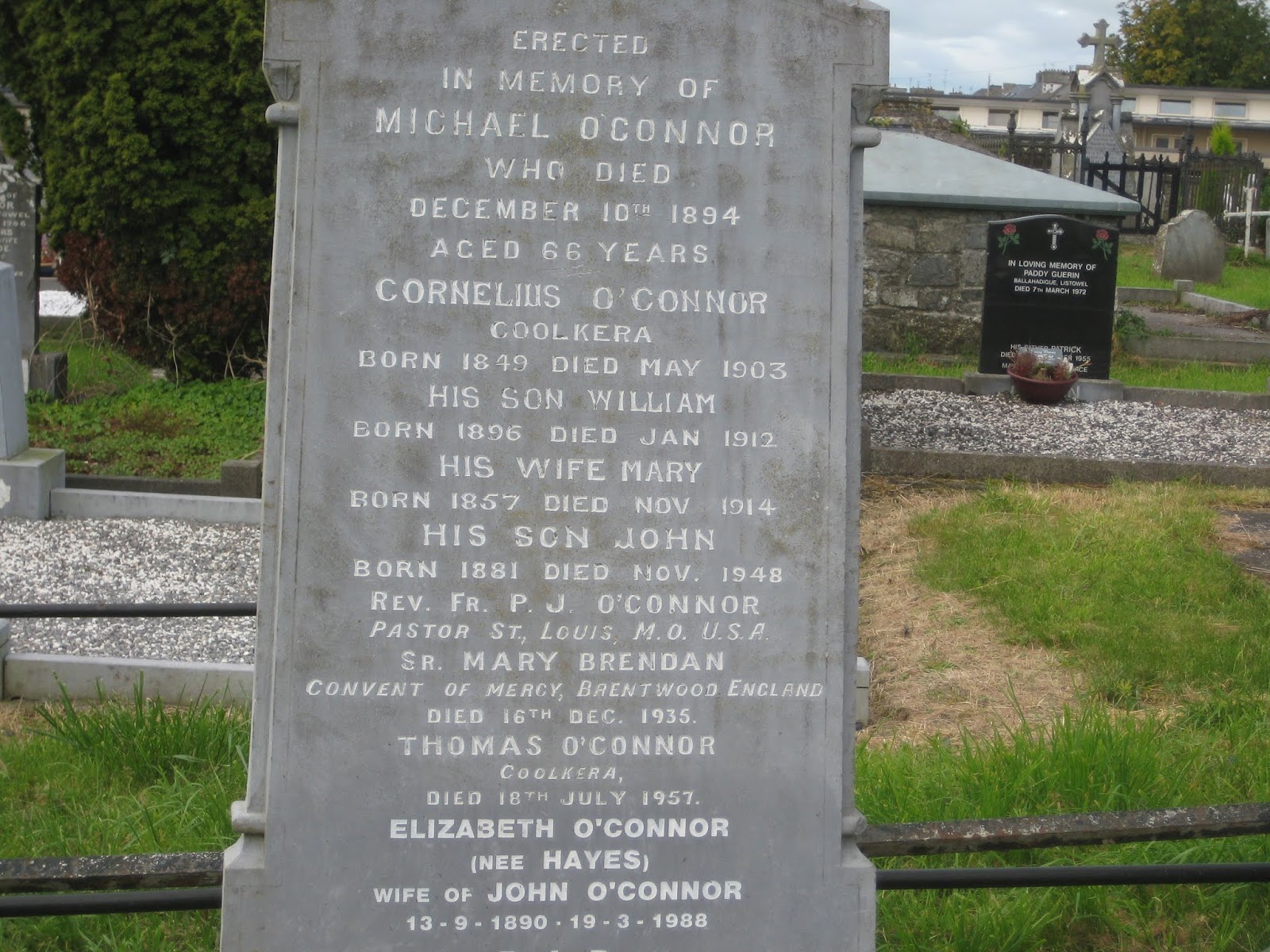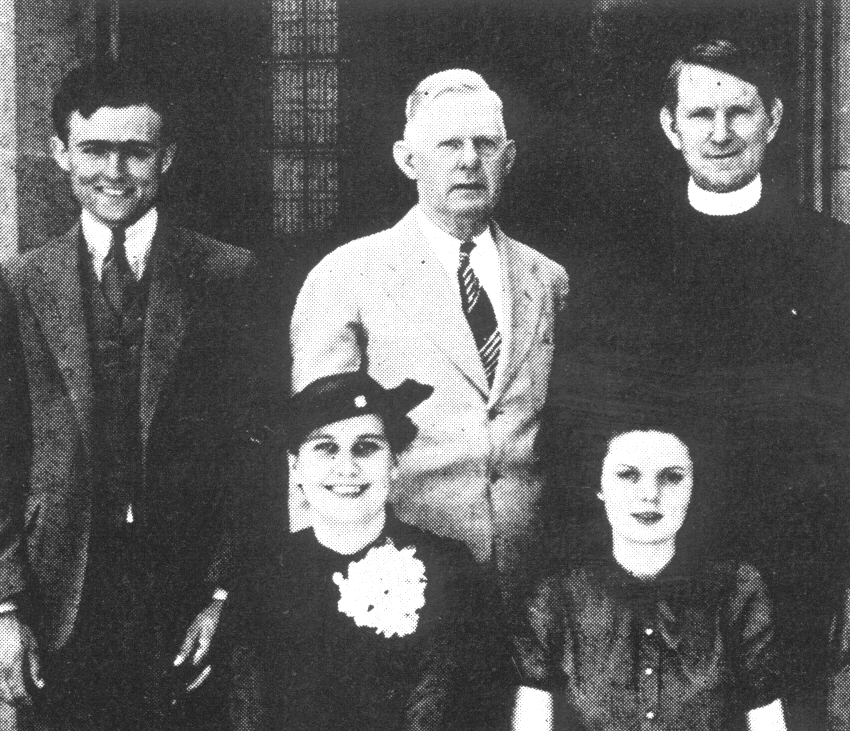 <<<<<<<<
Castle and Literary Centre closed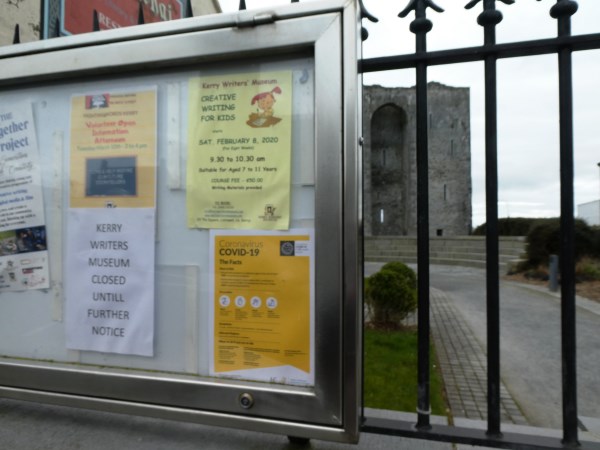 <<<<<<<<
More Old Ones
Some more treasures shared with us by Máire MacMahon, Listowel ICA in St. Patrick's Day parades