I was in the cinema last night. I saw Thaddeus O'Sullivan's brilliant Stella Days with Martin Sheen in the main role. I was back in the 1950's of my childhood. It was a moving, beautifully executed film. A must see.
Before the main film, Kieran showed a short film of The Listowel Vintage Wireless Museum, beautifully captured and edited by Rory Kirby. It was difficult to go indoors on such a balmy night but it was an effort that was well rewarded.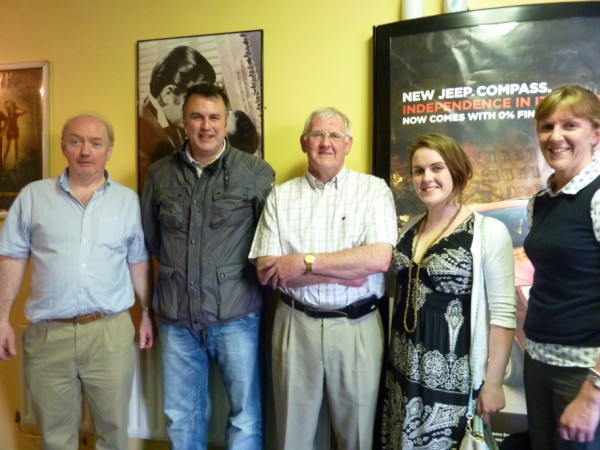 Kieran Gleeson of Listowel Classic Cinema with Rory Kirby, filmmaker and Eddie, Mary and Catherine Moylan of Listowel Vintage Wireless Museum.
<<<<<<<<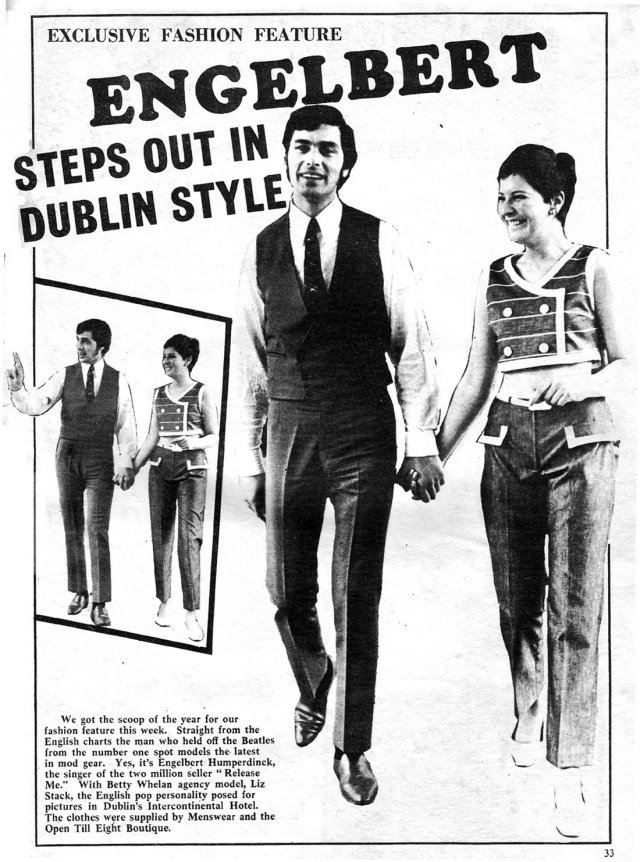 New Spotlight May 25 1967. The Irish model with him is Liz Stack. Any Listowel connection, I wonder?
>>>>>>
In the interests of clearing my backlog of random pictures from the internet, here is that photo of the "art" installation at Brown Thomas, Dublin last week.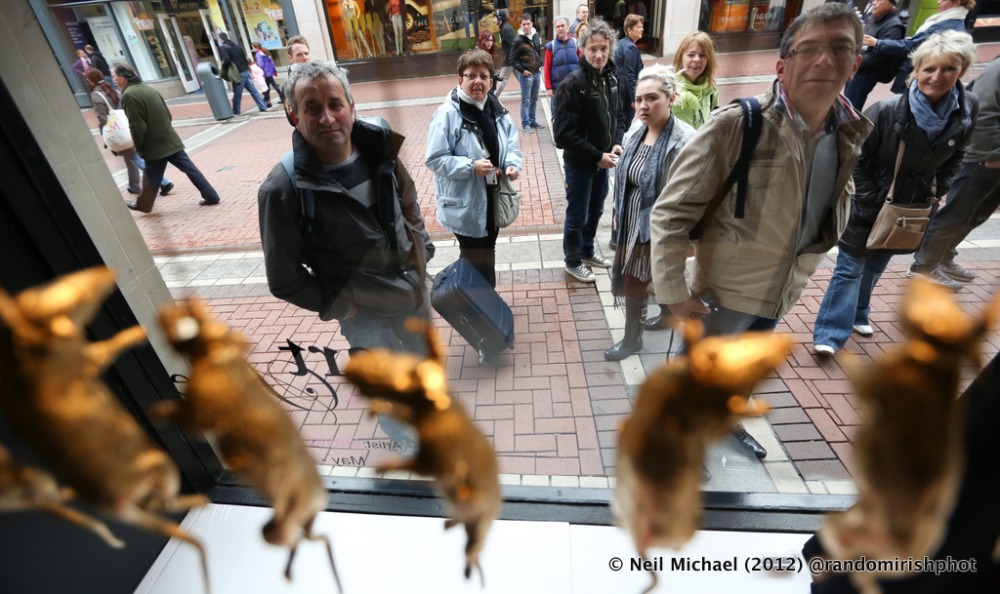 Rats!
<<<<<
Jim Henson, creator of The Muppets is 22 years dead.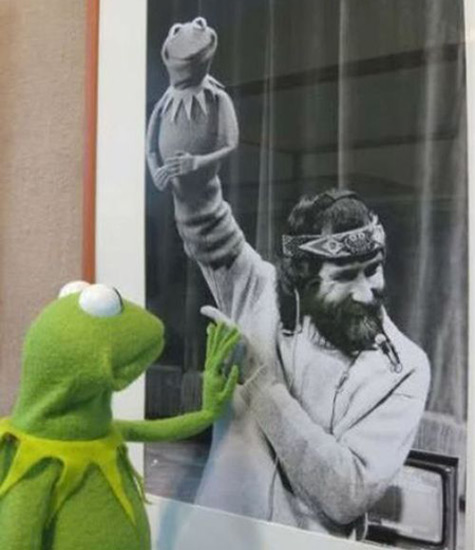 >>>>>>
Now to some more relevant photos.
1961 in Solengen, Germany; Michael McElligott, P.J. Shaughnessey, John O'Connell
John Enright R.I.P. at the back
>>>>>>>
Today I spoke to Weeshie Fogarty on behalf of NKRO. He is going to do his "In conversation with…." programme with us on July 11. Note that in your diaries although I will remind you again.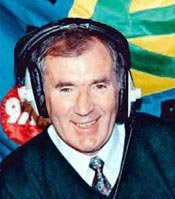 Weeshie gave me an early preview of his forthcoming autobiography. Remember you heard about it first on listowelconnection!
MY BEAUTIFUL OBSESSION=CHASING THE KERRY DREAM
The book is gone to press, Collins Presss and hopefully will be ready for a September launch.
It includes an account of : 38 years working in a hospital starting in 1962
Refereering
Growing up on the side of a street in Killarney, New St
Round the world with Kerry in 1970
A new life in the media and winning an All Ireland PPI award as Sports Broadcasterof the Year
and 70 photographs of Weeshie's life experiences.
I predict it will be a bestseller.
>>>>>>>
Ah! the good old days
http://www.thepaddie.com/interesting/50-irish-things-your-kids-will-never-know-about/
>>>>>>>>
The fine weather had me out and about in town yesterday. Here are some photos I took.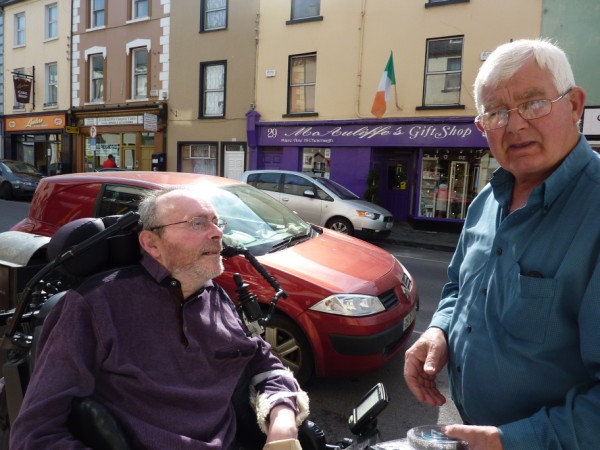 Jim Beasley was off to Cork to welcome home a new granddaughter.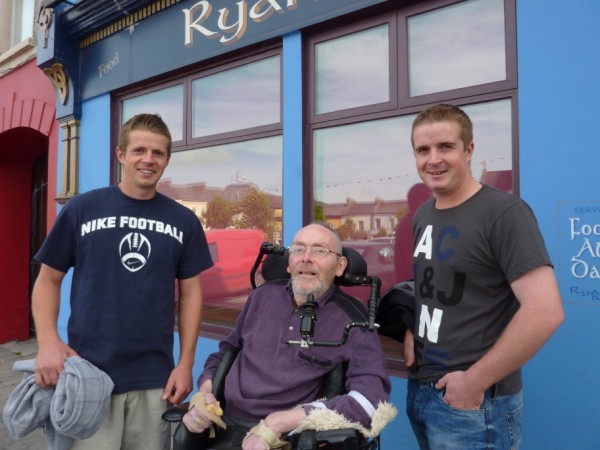 Ever friendly, Nicky and Peter O'Loughlin recognized their old teacher, Jim Cogan and posed for a photo. The reason for their trip home from Australia, where they now live, was not a happy one. They came home to visit their dad who is ill in hospital. We wish him well.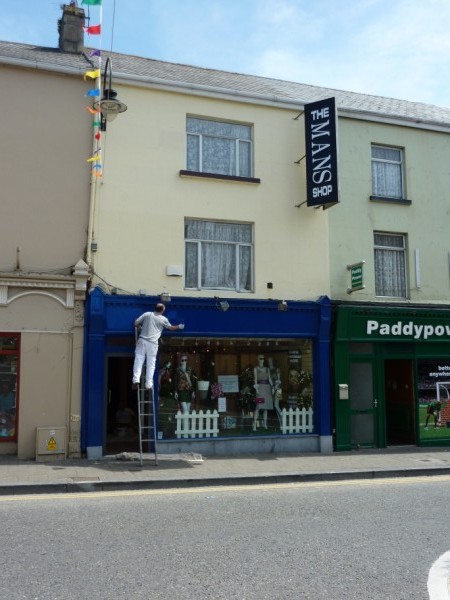 End of an era as The Man's Shop is being rebranded. It will soon open as the Sue Ryder Thrift shop.
>>>>>>
Finally a big apology to two friends of Listowel.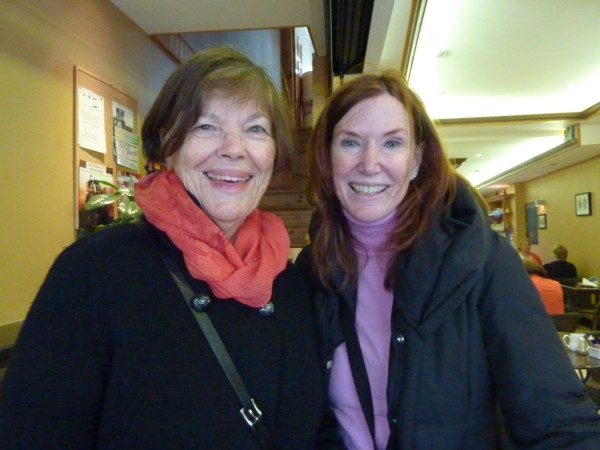 Theresa and Kate are not mother and daughter. They are sisters. Sorry girls!