The ball is over and this Cinderella lost her shoe in her hurry to get home. I went to The Island on Friday and Saturday and I took lots of photos. I'll share them with you over the next few days.
<<<<<<<<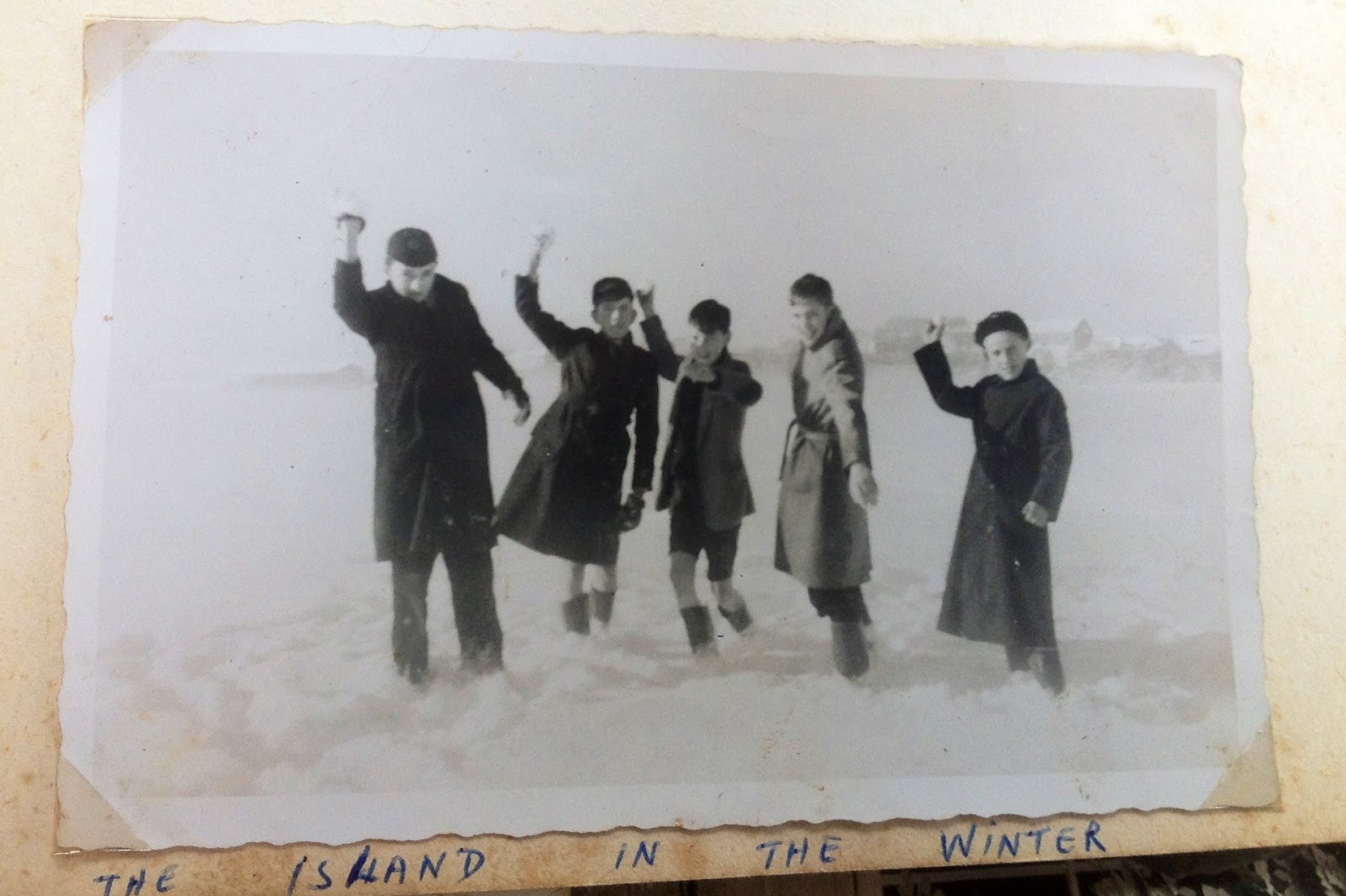 Maura MacConnell was trawling through her brother's album and she came upon this atmospheric photo. According to the caption it was taken on "The Island". This is what local people call the racecourse.
The boys who are enjoying themselves in the snow are Denis Keane ,Marty Sheehy, ? , Frank Murray and Maura's brother Tony Fealy. Is the boy in the centre another Sheehy?
(more from the Fealy album tomorrow)
<<<<<<<<<
Two new posts.
A new writer in residence and a new film maker in
residence have been announced for Kerry.
Noel O' Regan is the writer in
residence in Kerry. He is the recipient of a Leonard A. Koval Memorial Prize
and was a prize winner in the Writing Spirit Award.
Michael Kelly has taken up the
position of film maker in residence in the county.
His career includes shooting and
directing documentaries and short films, plus music videos for various artists
including Lisa Hannigan and The Rubberbandits.
His ambition for the residency
includes a 48 hour film making challenge during the Kerry Film Festival.
The
writer and film maker in residence provides mentoring for established and
emerging writers and film makers
(source; Radio Kerry)
<<<<<<<<


Julie Mills is new to these pages. She gave me a run down on her Listowel connection and she is eager to hear any news of people who might remember her folks in Listowel.
Here is her email;
"Interest in my Irish ancestry started with a photograph of my Great Grandmother Katherine Moore nee Burke, if only because of the somewhat startling resemblance I have with that of Katherine. The 1901 census shows Katherine married to John Moore, HeadWaiter at the Listowel Arms Hotel.
Their daughter Hanora married my Grandfather Patrick Daly in Listowel 1916.
Patricks father was Mathew Daly, born CO. Longford. He is shown in the 1901 census as retired RIC and Courthouse Keeper. Mathew was married to Maria O'Hare from Tipperary. As far as I know the last of Patrick's direct family lived in Listowel until the death of his sister, Susan Daly in the mid 70's.
I recently found on-line a distant cousin in Cork who was able to share a great deal of information on the family. But I would love to know more. Some of the Daly's and Moore's emigrated to the States but we have lost touch with their descendants."
Grandparents Patrick and Honora Daly
Great grandmother Katherine Daly
Great Grandmother Maria Daly
<<<<<<
Ireland's Best GAA fan lives in Listowel
A passionate Mayo fan has won a trip to the All-Ireland final this weekend.
Martin Trench, a Mayo man living in Listowel in Co Kerry, won the title of Ireland's 'Best GAA Fan' – thanks to Ulster Bank, the official sponsors of the GAA Football All-Ireland Championship.
Martin will be presented with a €5,000 prize of a home makeover and a ticket to the GAA All-Ireland Senior Football final on Sunday.
Ulster Bank asked GAA supporters to submit their most passionate and dedicated stories, pictures and videos that demonstrate the lengths they go to support their county.
And the above video shows how the Mayo-mad fan won it with his impressive collection – including the bonnet of his car painted in red and green.
Speaking about his win, Martin said: "I'm absolutely delighted and I'm still in shock. I'm proud to say I am now officially Ireland's 'Best GAA Fan'.
"I look forward to travelling up to Dublin in my Peugeot 406 with the Mayo crest displayed proudly on the bonnet.
"Seeing Mayo take on Dublin in Croke Park will be a dream come true."
Over 2,000 fans were surveyed as part of the competition and a whopping 84% admitted they would cut short a summer holiday to come home and watch their county play in an All-Ireland final at Croke Park.
Despite the recession, two in five (41%) claimed they would give-up a €5,000 winning lottery ticket if it meant their team would win the All-Ireland .
But Mayo fans polled much higher when asked if winning an All-Ireland Football title is worth much more than the €5,000 prize – with two thirds (64%) saying it was.
Ulster Bank GAA ambassador and Kerry GAA legend Kieran Donaghy said: "It's great to see Martin win the title of Ireland's 'Best GAA Fan', although it would be better if he supported Kerry rather than Mayo.
"The 'Best GAA Fan' competition showed just how many dedicated fans we have in Ireland who will go to any lengths to support their county.
"I hope Martin and his family have a great experience at the GAA Football final in Croke Park."
(Source: Irish Mirror)