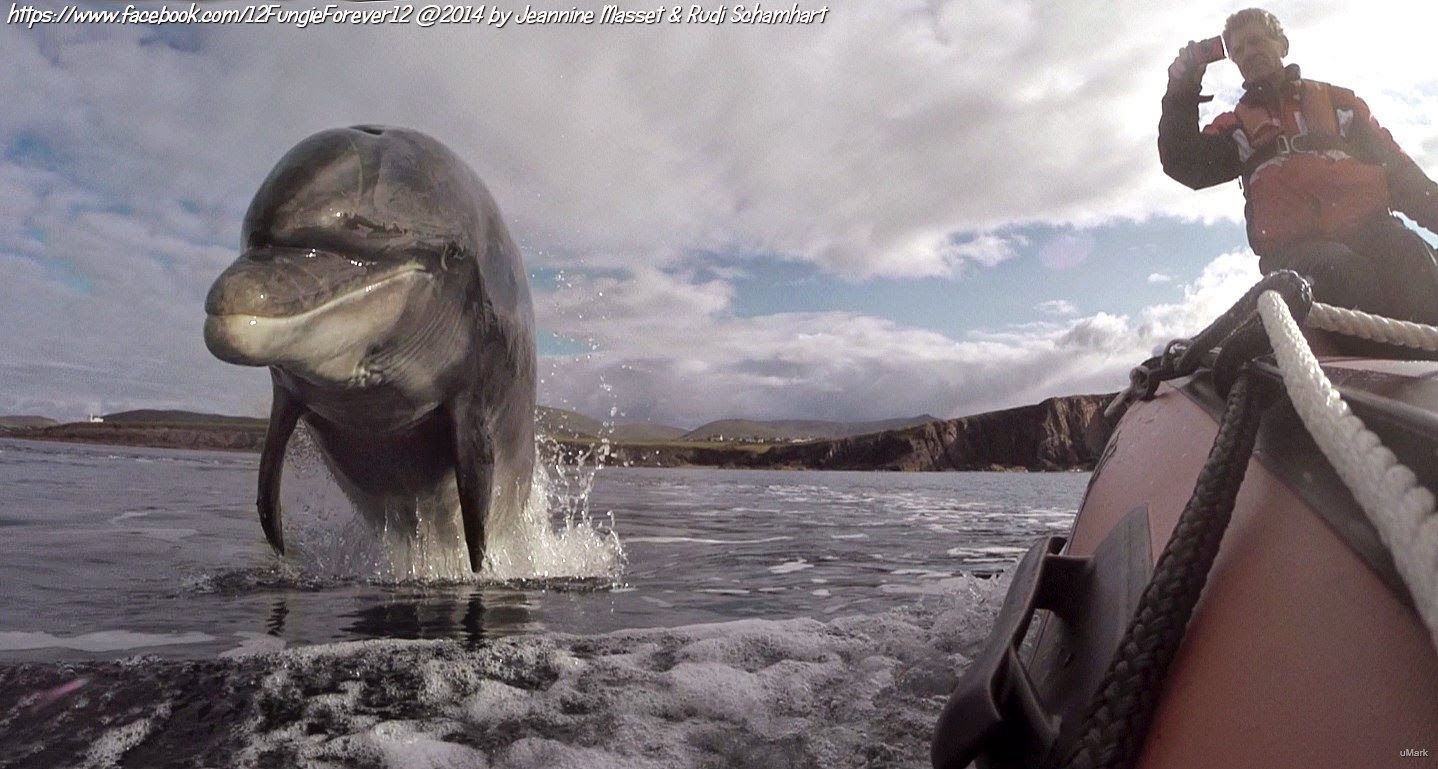 That dolphin again! photo Fungie Forever
<<<<<<
Listowel Writers' Week opens on May 27 2015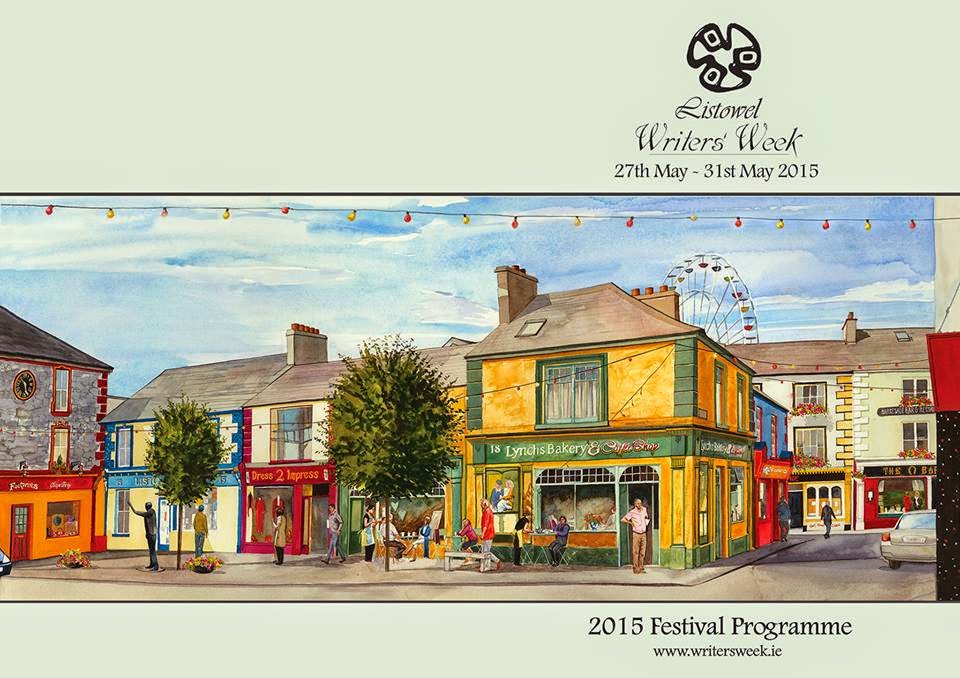 Olive Stack's image provides the lovely cover for their year's programme.
<<<<<<<<<
Kitesurfing in Ballybunion Last Week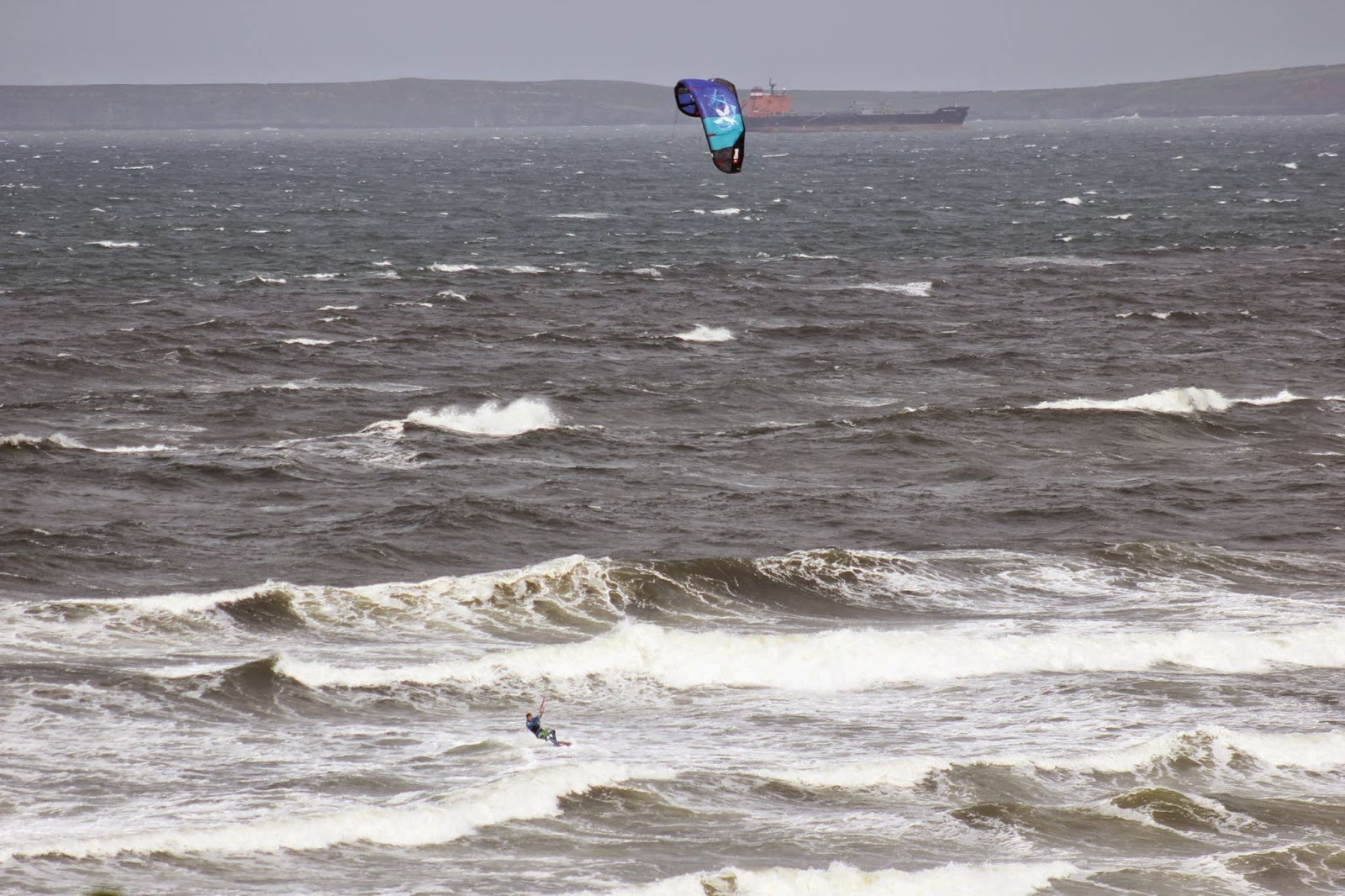 Photo:Ballybunion Prints
<<<<<<<<


Liam Healy Reminisces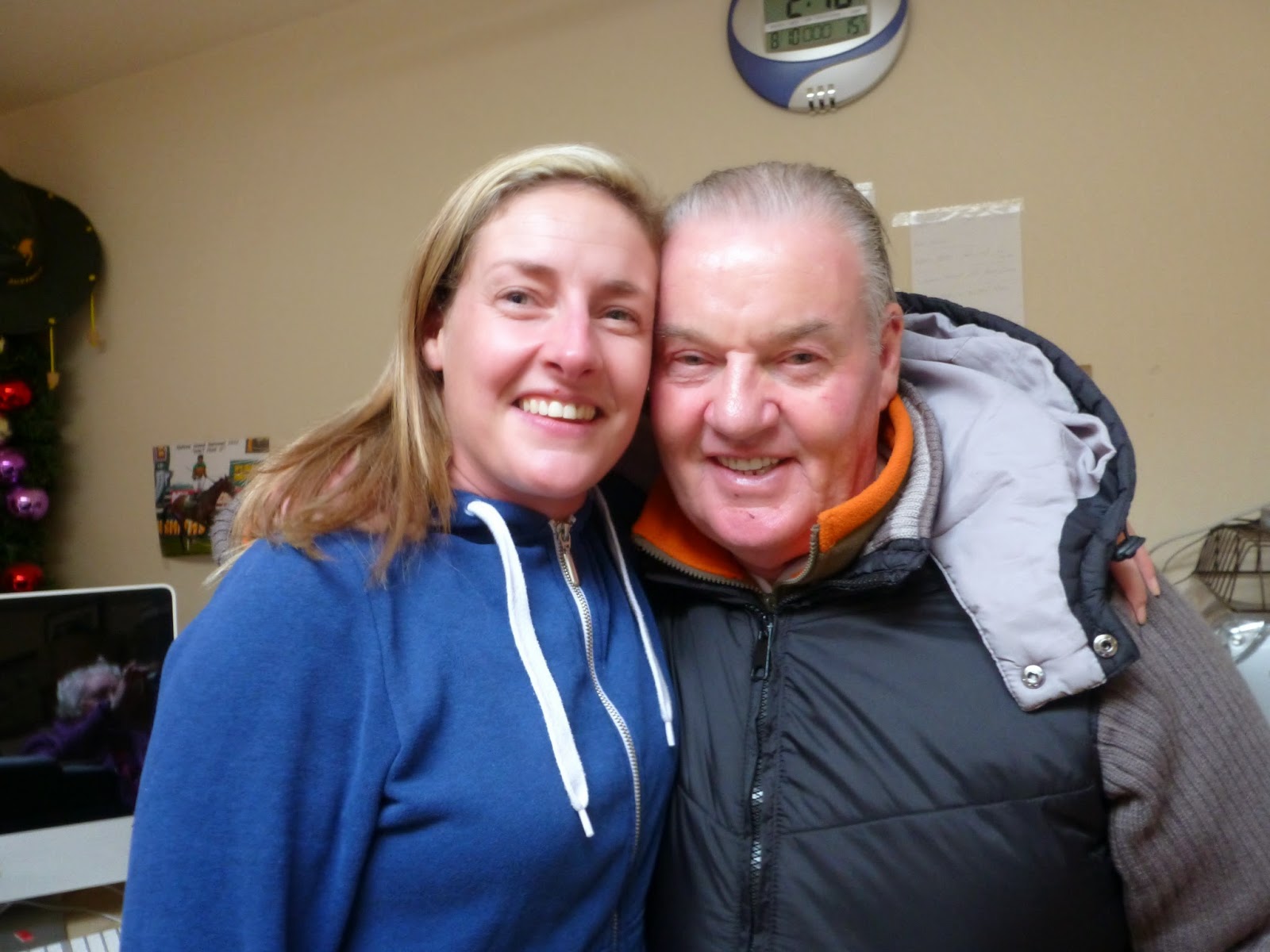 Liam and his daughter, Cathy
After school, Liam went to work for Duggans, cutting turf. He
earned 15 shillings a week delivering milk for Jim Walshe. He worked from 6a.m.
to 6p.m. and he was only 15 years old.
One day on his way home from the bog he
met Eddie Lawlor who asked him if he would like a "proper job". His father
consented to him going to work for Eddie Lawlor. Liam spent eight happy years delivering
minerals around North Kerry.
But the grass is always greener on the far side of
the hill. Liam saw men his age returning from England where they were working.
They had fancy clothes and fast cars and he thought that he would like a piece
of that action. He took the boat, only to discover that the fancy clothes were
bought on the never never and the cars were rented. In fact his life at home
was much better than most of the emigrants (AND there was a sweetheart in the
picture by now). Liam only stayed in England for 18 months and this is the only
time he has ever lived away from his beloved Listowel. He returned to Eddie
Lawlor and a new job as a salesman.
His late wife Joan is the love of Liam's life. They knew each other all their
lives and Joan carried a torch for the young Liam for a while before he first
asked her to dance in Walshe's
ballroom. Liam had another little job there. He used to work in the cloakroom.
There was an area behind the dance floor, behind the crowd of onlookers and
close to the cloakroom and there Liam and Joan put on a display of jiving. Liam
walked her home that night and they fell in love. They had a sort of long
distance relationship for a while because Liam emigrated for a time and Joan
emigrated for a spell as well but they kept the spark alive and eventually
married and had 4 children.
An early photo of Listowel Racecourse
By now Liam was interested in photography and he had never got
that early love of photographs of racehorses out of his system. He had a
half day from work on a Thursday and he spent every Thursday and Sunday
photographing horses at Race meetings & Point to Points. Liam returned home
every night, even if the race meeting was as far away as Dundalk. All this
travelling and working full time as well was taking its toll on Liam. He asked Joan
if she would mind if he took up the photography full time. He remembers Joan's answer,"The first day the children are hungry I'll tell you." Joan joined Liam in the
business. Liam took the photos and Joan ran the office. Pat, his eldest son was
displaying a good eye for a good shot and Liam Jnr was also taking an interest
in photography.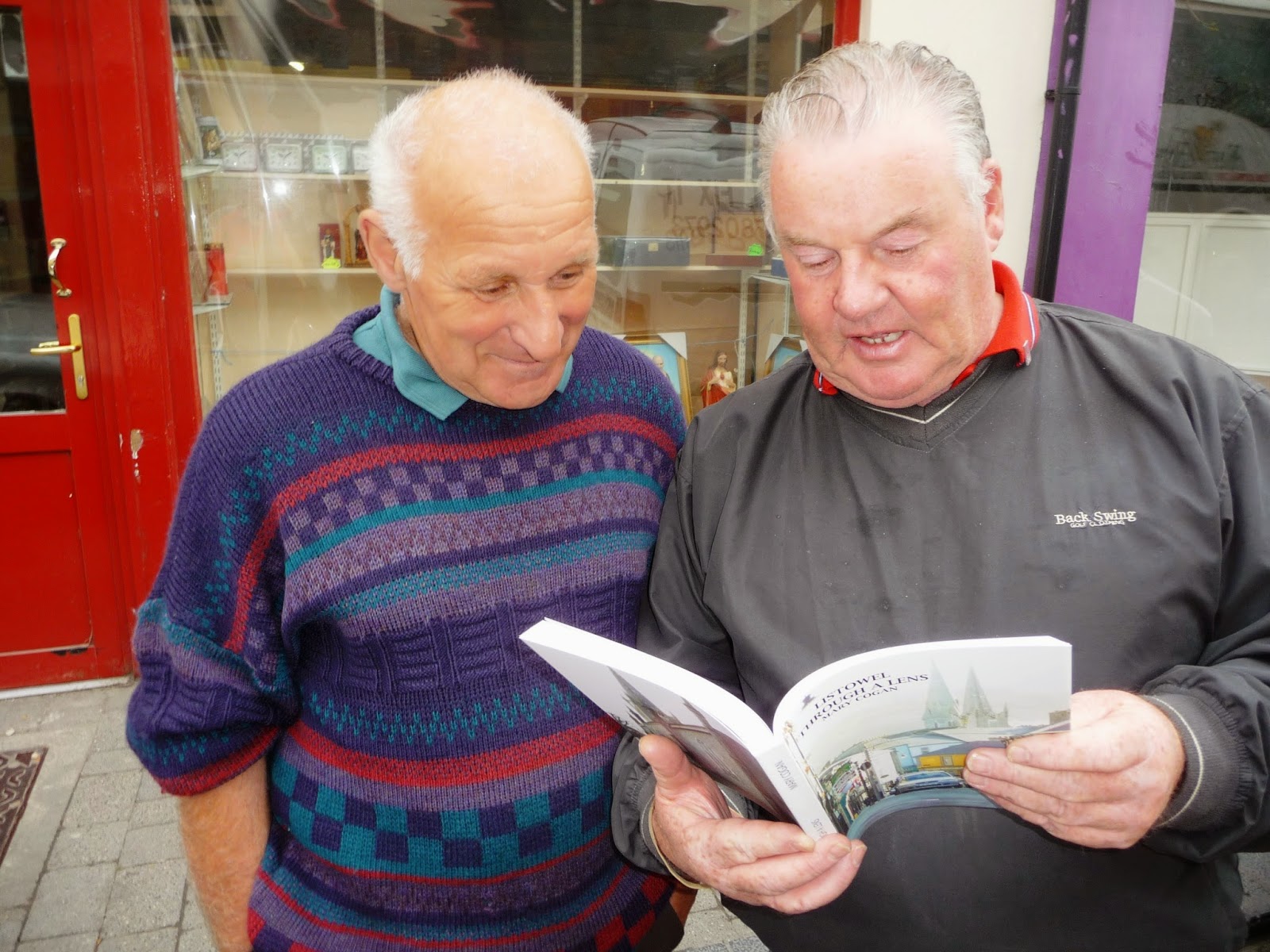 Liam and his friend, Pat Walshe, reading my book shortly after its launch.
Everywhere he goes, Liam makes friends. He is very grateful to
one of these friends, Max Fleming from Tramore. He had the power to allow Liam
on to the race track to take his pictures. That was the beginning of the
business that today is Healy Racing.
In a horrible instance of history repeating itself, Liam lost his
beloved Joan and was left with 4 youngsters to rear. She had breast cancer for
3 years but it was a clot that killed her in the end, on November 27th.
1987, three days after her birthday
which she spent at home with Liam and her family. Liam still misses her but he
takes consolation in his family of whom he is so proud. He now has 6 grandchildren Kevin, Siún, Jack, Ruth,
Adam and Sean who also show great interest and love for what Healy Racing does.
Liam's two sons were keenly interested in the racing photography
and came into the business with their dad. He sent the two girls to college and
they both did well and got good jobs. Such is their love and admiration for
their dad and their pleasure to be in his company that they have all chosen to
work for Healy Racing.
In Liam's words, Pat is the face of the business, Liam is the engine, Cathy is the voice and
Lisa the mother figure in the background keeping the show on the road. There
is now a third generation of Healys with
an interest in photography coming along.
It was my great pleasure to talk to Liam and to hear his memories. I am very grateful to his
lovely daughter, Cathy for arranging it all and for supplying some photos. He
is a man I greatly admire, one of Listowel's underrated great men.
I searched around for one word to describe Liam. I toyed with
honest, upright, kind, humble, talented, entertaining, generous etc. etc. I
finally chose loyal as the word to best describe him.
Liam is loyal to his roots.
He is fiercely loyal to his family who plainly adore him.
He is loyal to his hometown, Listowel.
He is loyal to his friends.
But above all Liam is loyal to himself and true to the values he
learned in his childhood home. He has passed these same values of generosity,
kindness and neighbourliness, hard work and humility on to his children who
have all done him proud.
Liam Healy is living proof of a fact I have always maintained
that there are qualities which will take you far in life which are a more
valuable asset than anything that can be measured in Leaving Cert. points.
<<<<<<<<


Progress at The Plaza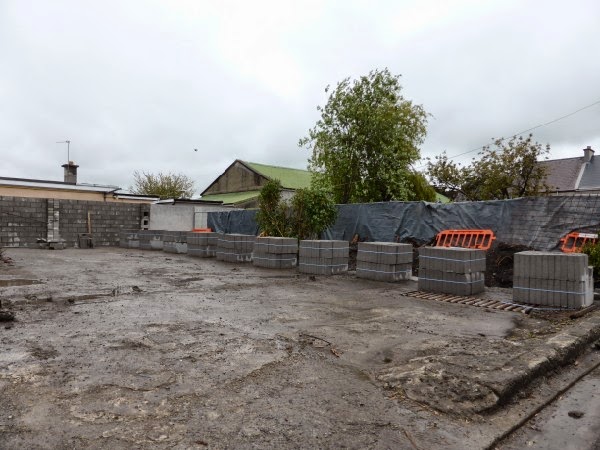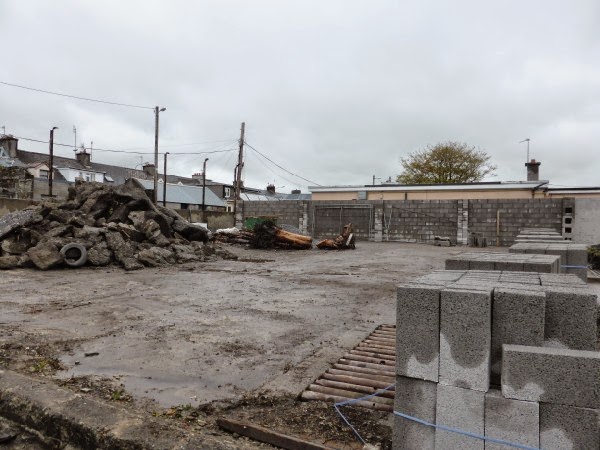 The site is cleared and building is due to commence at the back of The Plaza
<<<<<<<


Pastoral Scene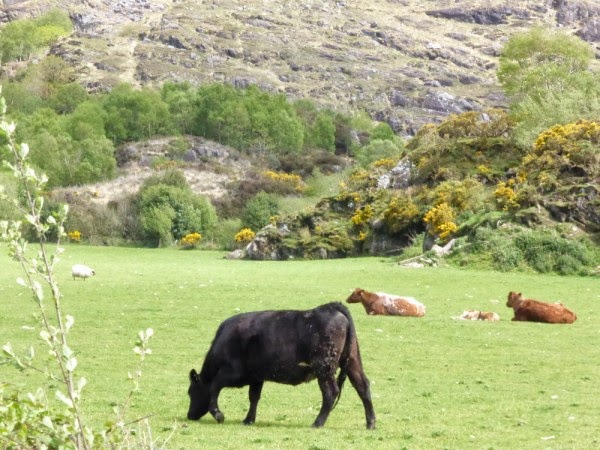 Cattle in a field outside Killarney last week
<<<<<<<


Thinking Ahead


What have you planned for the young ones for the June Weekend?
Bring them into town on Saturday May 30th at 12.30. Have them dressed as any character they like. The Elsa costume will be getting an outing on Sunday for the Frozen singalong but it will be fine for this one too. Princesses, pirates, vampires etc.etc. all welcome. Prizes galore.
Make This year's Childrens Festival at Writers' Week the best ever.