Fungie in his Heyday
<<<<<<<<<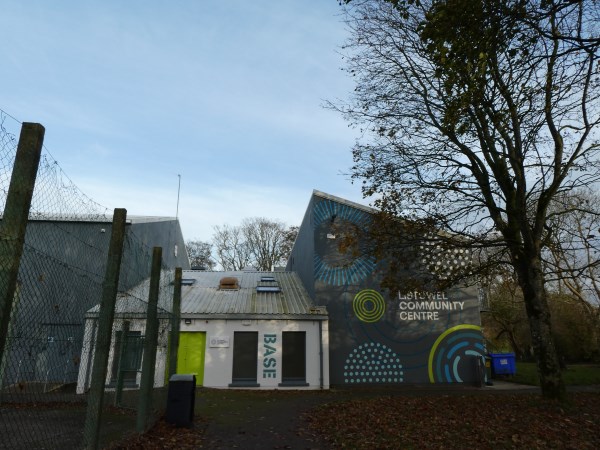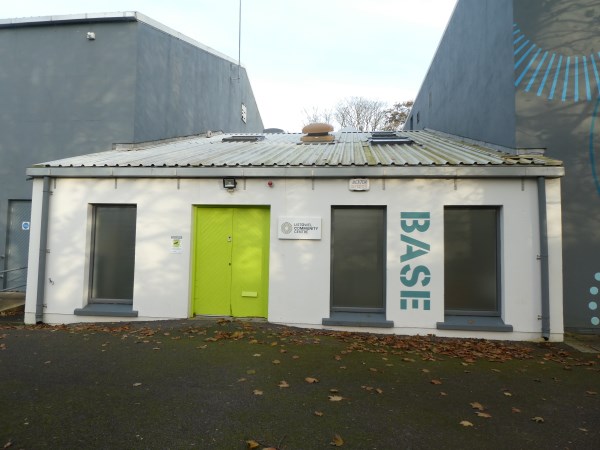 Listowel Community Centre in Winter lockdown 2020
<<<<<<<
Diocesan Pilgrimage to Lourdes 1973
This was a huge photo so I photographed it in sections. It was also laminated so a bit hard to avoid glare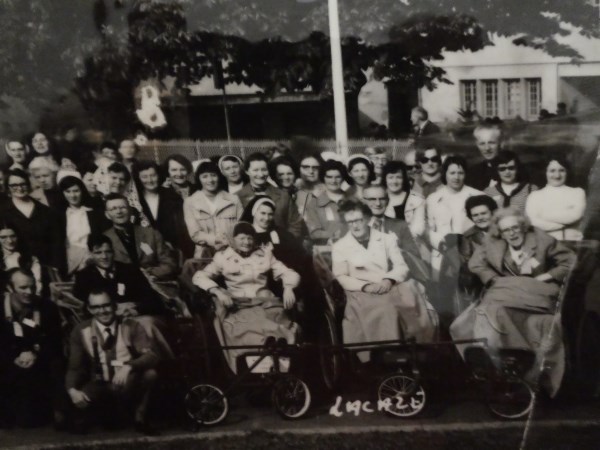 <<<<<<<
Working Late at the Áras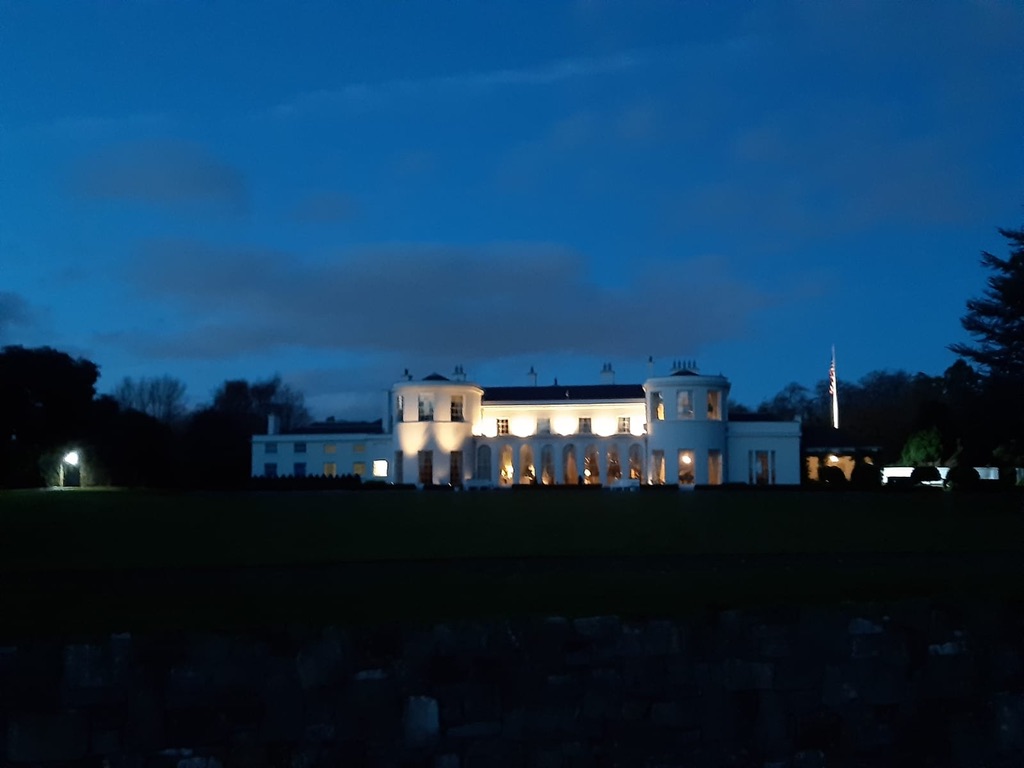 Áras an Uachtaráin photo by Christine Ahern
<<<<<<<<
Spotting an Ancestor in an old photo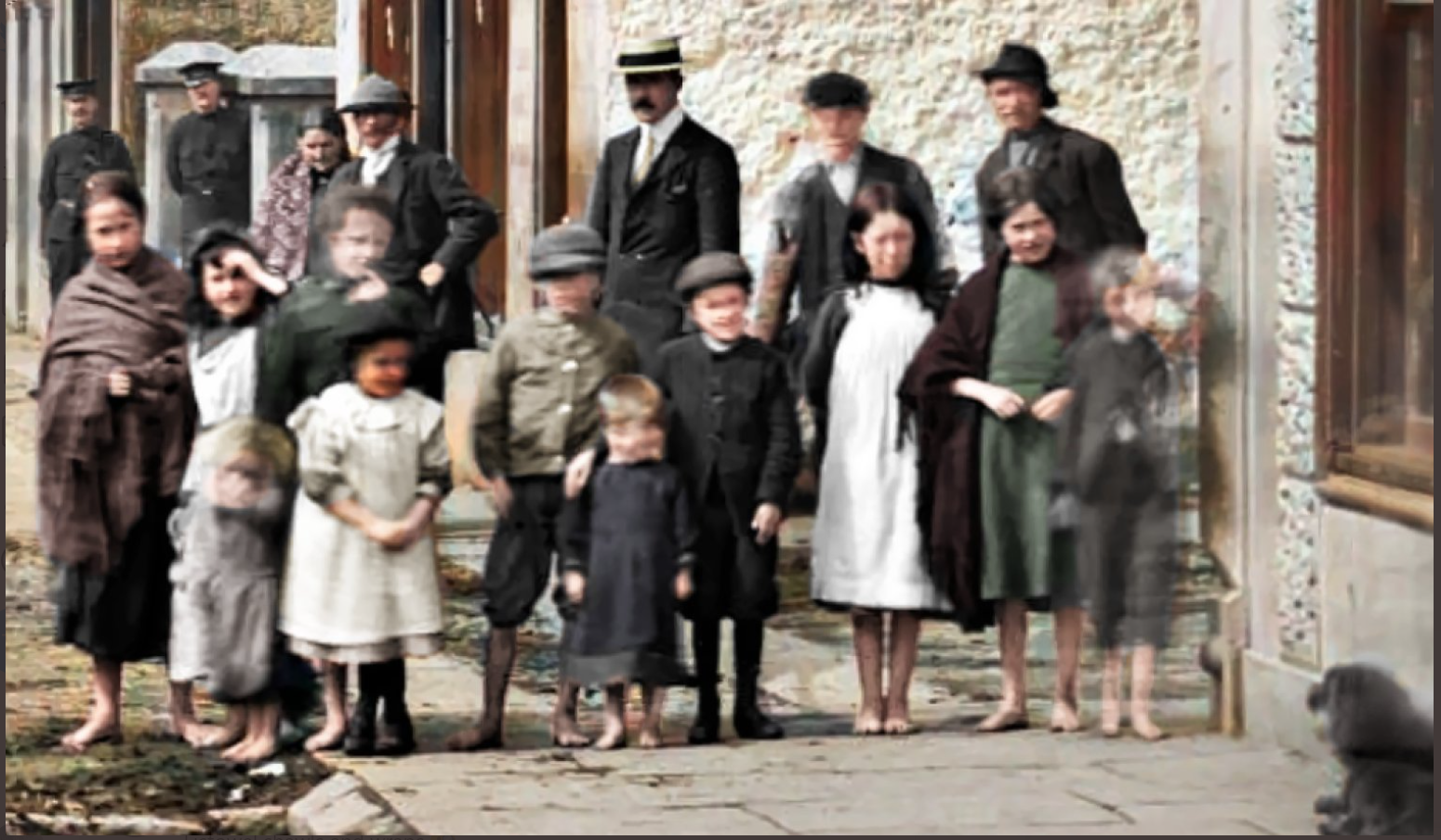 Máire MacMahon wrote to us about this picture which was one that Rob Cross included in his restoration project.
Dear Mary,
Thank you for posting the photos of Listowel. I'm familiar with the black and white photos but to see them in colour is beautiful.
In the photo 'larger group at RIC' or what we would know as Liam Dillon's Corner – if you look at the gentleman in the boater hat in the middle of the photo – I've always been told that gentleman was my great grandfather Patrick McMahon, father of my grandad Bryan.
If you look all the people at that side of the street are barefoot except Patrick as he had just come down Colbert street as the photo was taken.
Patrick McMahon was originally from Charles Street, & when he married my great grandmother Johanna Coughlan and lived at Market Street where part of the Spar Shop is now located. He was a land agent.
This is one of my favourite pictures of the town because of the link to our family.
Hope you are keeping well?
Máire
<<<<<<<,
Joe Biden, A Listowel Connection
Eamon OMurchú in 1974 is here seated on the steps of Capitol Hill with Senator Joe Biden. I asked him to tell us the story behind the picture.
Here it is;
During the summers of 1974, 1975 and 1976, it was my pleasure and privilege to act as Group Leader on Summer Teacher Programmes to University of Delaware, U.S.A. Teachers from first-level, second-level and third-level from Irish Schools, Colleges and Universities participated in these programmes on Comparative Education. A central element of these programmes was that we stayed at weekends with host-families. It was my privilege to stay with a family in Wilmington each year – and I am ever since in very close contact with that family. Another element of the programme was a five-day stay in Washington D.C., during which we visited the White House, the Capitol, the Irish Embassy, the Kennedy Centre, Arlington Cemetery and other locations of importance and of interest.
The photograph I sent you was taken in 1974 on the steps of the Capitol.
It was also my privilege to greet Ted Kennedy on the steps of the Capitol in 1975 – and I also have a photograph of that occasion!
Through these teacher programmes many Irish teachers during the 1960s and 1970s had the opportunity to visit the United States during the summer, study at American Universities, stay with American families, learn about the American educational system and way of life, while at the same time bringing to America the rich cultural heritage of music, song and literature here in Ireland. We used every opportunity to do this. The man who spearheaded these programmes was Mr. Stephen Daly of ITP Travel, Terenure, who, sadly, is no longer with us.
I have of course written recently to my friends in Wilmington conveying my delight that Joe Biden from Wilmington is now President-Elect.
Raceweek 1965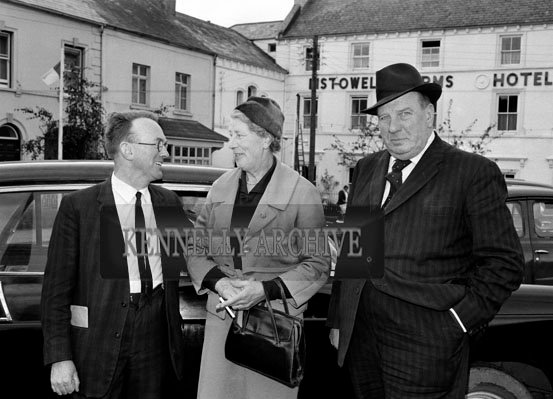 Cathleen Mulvihill' found this old photo and it's causing a stir on Facebook. Everyone recognises the late Brendan Daly but the other two are proving harder to identify. Dr. Johnny Walshe and his brother Jim have been ruled out.