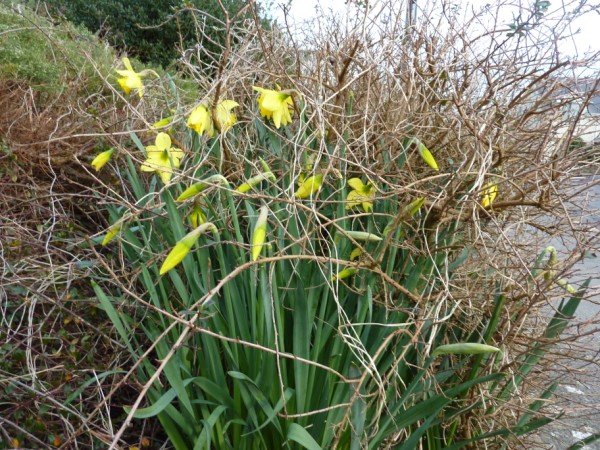 On my way to the library I spotted these daffodils struggling to break through a thorny bush.
Where there's a will there's a way.
In this little essay, Vincent Carmody reminds us that children of the boom are not the first to experience hard times. Been there, done that.
The euphoria of what was the Celtic Tiger has long since vanished and
people are now readjusting to what many foolishly think is living life on the
bread line. As one who remembers growing up in Listowel in the 1950's, I can
recall that most people just had about enough to live on, but they just got on with their
lives and as I remember would go out of their way to help each other. There was
a greater sense of neighbourliness than there exists today.
Then if you got a tear in your pants, there was a patch put on it,
likewise socks that were holed were not replaced at once, they were darned. Shoes
when needing repair were taken to a shoemaker and only when he would deem them
irrepairable would a new pair be bought. Many (myself included) would take off our
shoes and go barefoot during summer days.
Most families would deem themselves very lucky to be able to go to
Ballybunion on a Sunday during the summer. Spain, or any of the must go holiday
destinations of our recent past were only to be found in school geography's or
atlases. Very few people owned telephones. These, when required, were availed of
in certain pubs or shops who offered a public telephone service. Not every
house had a radio and televisions were a generation away. Most fun was to be
had outside the home and games were made up by children themselves. DVDs,
Consoles, Nintendos and, dare I say Computers, were at the time, light years
away.
Christmas came just the once in the year and was eagerly looked forward
to. Santa's gifts, for boys most likely guns and holsters, a hat and tin badge,
games such as Snakes and Ladders and Ludo, or for the more mechanical, Mecano
sets, and the girls, a doll and pram. These presents would be valued for the
year and only discarded as a last resort, again when irrepairable.
Life back then was uncomplicated, ordinary people in the main requiring
simple everyday things.
I would like to share with the blog readers some draw tickets which I
have unearthed. It seems that no permit was sought; the details are
as follows.
(1) TO BE DRAWN FOR
At
the market Listowel
On
Sunday 8th March 1931
A
splendid Silver Watch
…………………………..
The
property of Michael Walsh
Tickets
………………6d each
(2) TO
BE DRAWN FOR
At
Michael Doyle's Dromin
On Saturday 19th May
1929

A Splendid Bicycle
The property of
Michael O Brien

………………………………..

Tickets ………………………1/- Each
And the third one
which I think is real social history.
(3) No. 344 BAZAAR AND
Grand Drawing of Prizes
Fé Comhairle Ceanntair Sinn Féin,
Ciarraidhe Thuaidh
PRIZES
1.Photo of Austin
Stack. 3Six of our North

Kerry Martyrs.
2.Alarm Clock. 4A Watch.
Luach………………………….6d
Drawing starts at 7.30 p.m. in
the Hall at BEDFORD, LISTOWEL.
on January 26th.
1930.
EIRE
SAOR. EIRE SÉANMHAR.
A very different Ireland indeed. Thank you, Vincent.
______________________________________________
Some photos to show that we still retain some of the old ways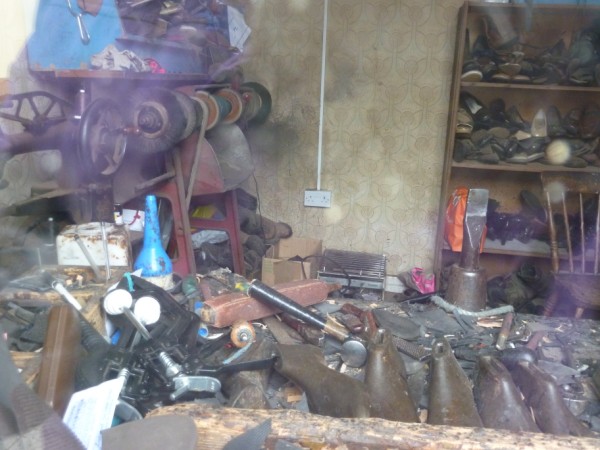 Photo taken through Jimmy Hickey's cobbler's shop window.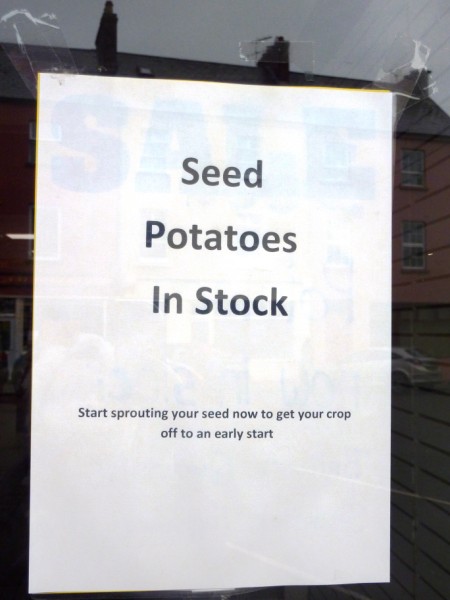 Sign on Mc Kenna's door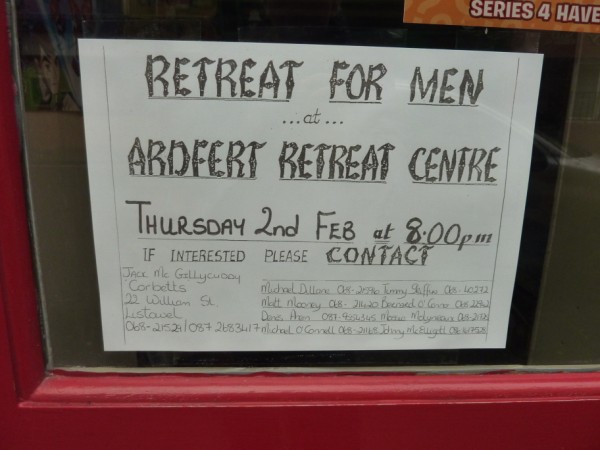 On Jackie MacGillicuddy's
Kay's Children's Shop