Another super photo from Ita Hannon
<<<<<<<
Healys of Listowel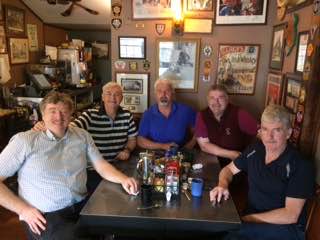 Seán Healy posted this photo on Facebook. It shows the Healy brothers at their annual Paddy Healy fishing competition in Cape Cod.
<<<<<<<


Final preparations for Writers' Week 2018


By the time you will be reading this it will be all over. I'm taking a short break from blogging to recover from Writers' Week but I'll be back ….


The WW committee make a final trip to The Listowel Arms to make sure everyone is on message for the 2018 festival.
The bunting is up. The signs are out. Let the fun begin
Shops and businesses are busy preparing for our visitors.
Olive Stack's gorgeous window display has a Monet theme.
Brenda Woulfe's bookshop welcomes the authors by displaying their works prominently.
Brigita Formaleine gave her Scribes sunroom a complete makeover
You could be in a parisian café.
The final brushstrokes are applied at Doran's Corner.
<<<<<<<<<


I'm taking a few days off to enjoy Listowel Writers' Week 2018. But I'll be back before you know it with lots of photos.