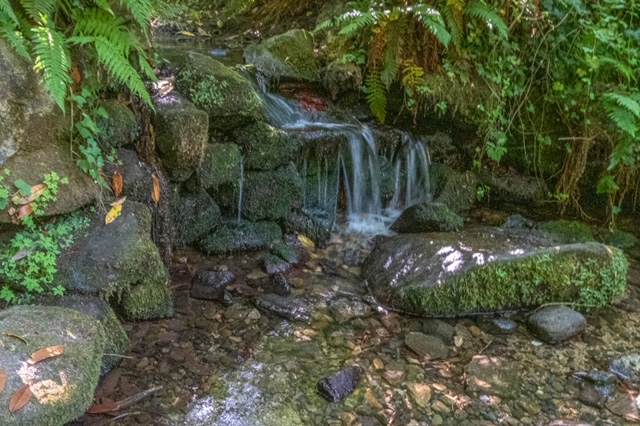 <<<<<<<<<<<
Heritage Week 2022
I attended my first in person event for Heritage Week 2022 on Saturday last. It was a guided history walk around the Square with the best informed and most entertaining historian, Tom Dillon. Tom is a thorough researcher, an informed and engaging guide and a superb communicator. He is wasted in any job where he is not enthusing young people to engage with and learn about local history.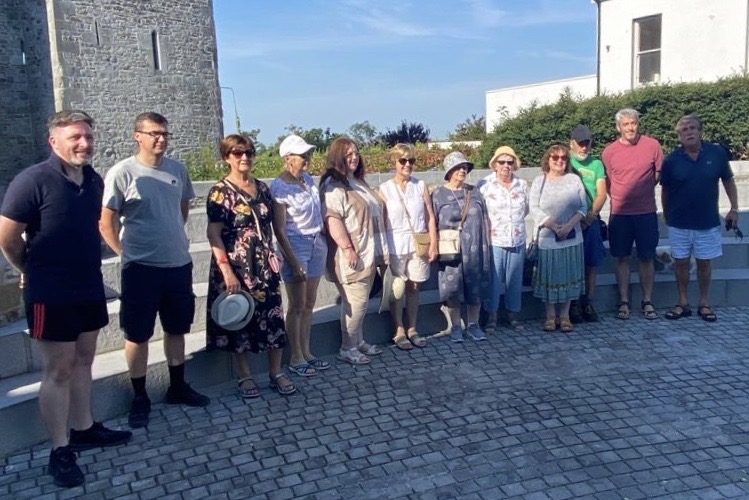 This is our little band assembled at the castle as we headed out on a sunny Saturday.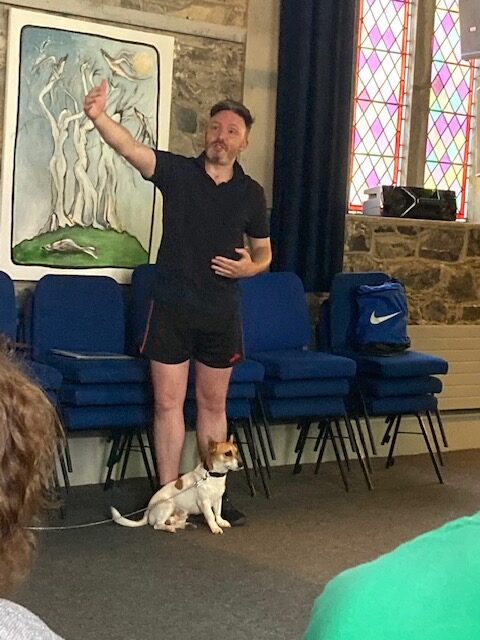 Tom took us to St. John's. That's Máire's dog guarding him as he enthralled us with the story of this building which was once a Church of Ireland place of worship and is now an Arts centre and theatre. He told us lots of interesting stuff here but I'm going to leave that for another day.
There is another event in St. John's for Heritage Week where we are all going to learn about stained glass windows, making them and restoring them.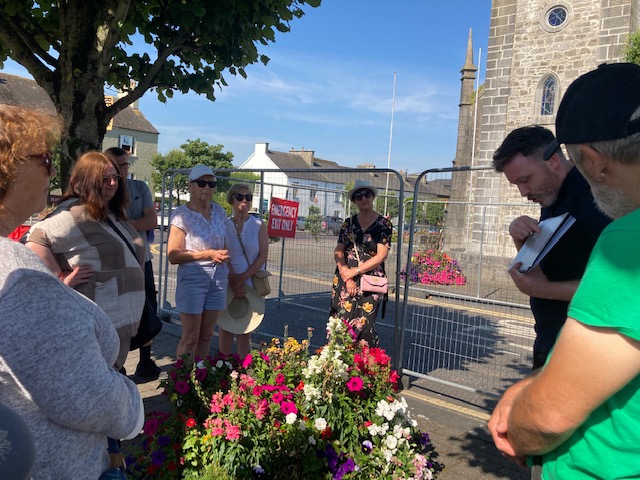 Tom told us lots about the parishioners of St. John's and lots about the building itself. The clock which was made by Mangans of Cork only stayed going for 3 years. It was a big loss because it was the town clock and men left off work on Lord Listowel's estate when they heard 'Mangan Bangin'"
A local poet, D.C. Hennessy, wrote its obituary which Tom read to us.
In 2017 on my Feb 1 blogpost, I have a great story connected to the clock. If you have a minute, read it at the below link.
St. John's Clock, John Griffin of Bridge Road and Canon Declan O'Connor and their Listowel Connection
An addendum to the clock story is that it was completely refurbished in 2021. Unfortunately the old movement was removed and replaced with a modern digital movement which will see the clock tell the correct time but won't please the purists.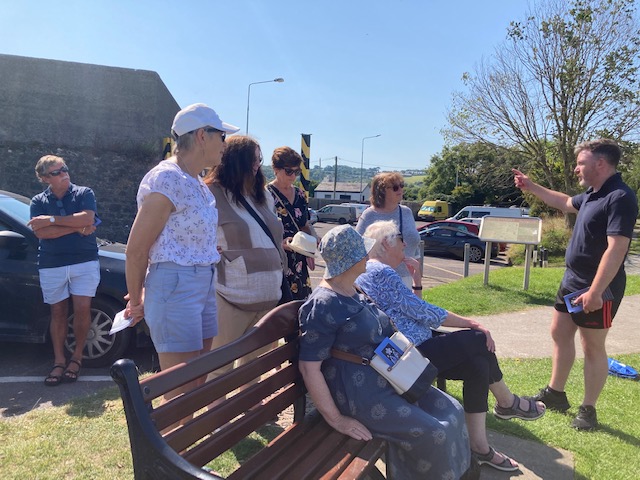 Here we are at the end of our walk by the banks of The Feale and Tom is telling us about how the Feale got its name , the history of the castle and why it came to be built here. We had stories of the days when the river teamed with fish and the local big houses drew water from it.
We finished our walk with Tom leading us in a verse or two of Bryan MacMahon's Lovely Listowel.
<<<<<<<<<<<<<
Showing Listowel to the Grandchildren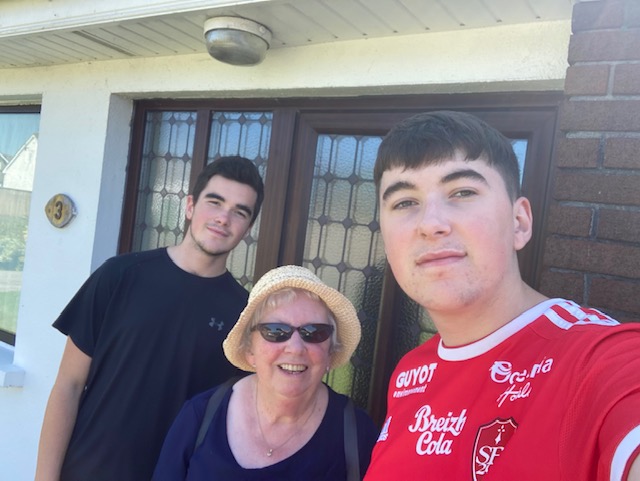 Sean took the selfie as we headed out on our walk. The boys are half French so much more accustomed to the heat than their poor old Nana.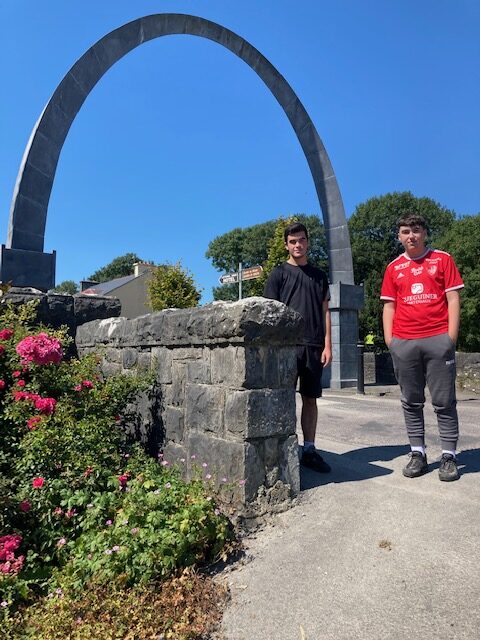 We walked through the Garden of Europe and by the River before returning through the town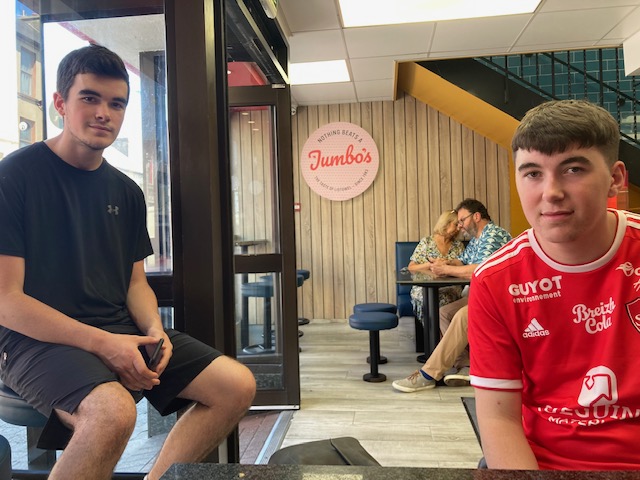 No trip to Listowel is complete without a trip to Jumbo's.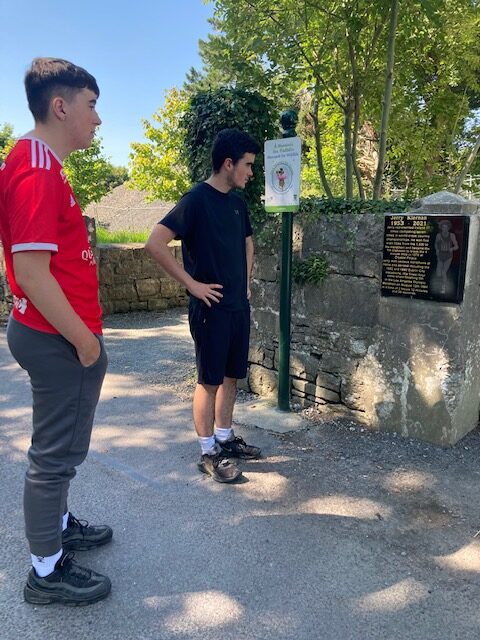 They hadn't heard of Jerry Kiernan so they caught up on another piece of Listowel history.
<<<<<<<<<<<<
History Lite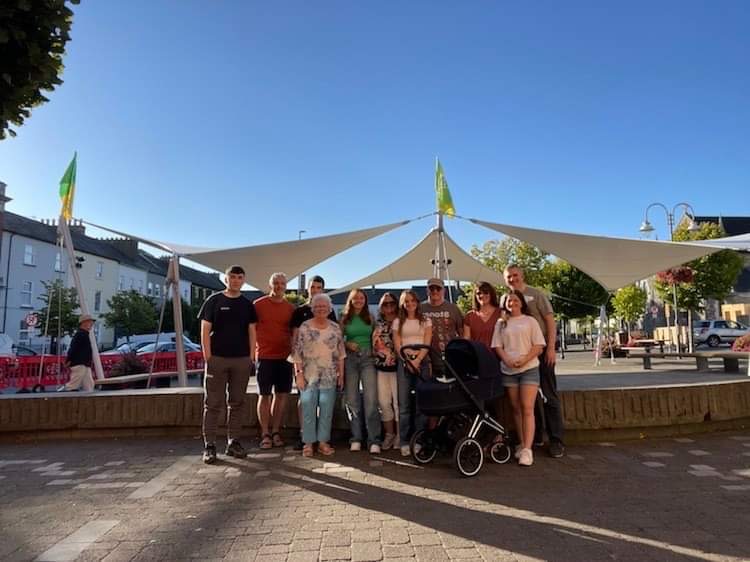 Helen Gore Mitchell and her lovely family are in town on a long summer visit. Helen is the daughter of my friends Cliff and Mary Gore, now sadly both passed away.
Helen was disappointed to hear that the weekly tours were not running this year. (I didn't know then about Heritage Week). So I offered to give my very amateur version of a tour with tales of a few historic happenings. Helen's cousin, Gillian and her family came too and my visitors tagged along to learn something. We had a lovely evening, lovely company and lovely chats.
We were all remembering Mary and Cliff, two great stalwarts of Listowel who did so much for their local community. I am delighted to see the next generations honouring their memory and keeping the tie.
<<<<<<<<<<<
Ballybunion Sunset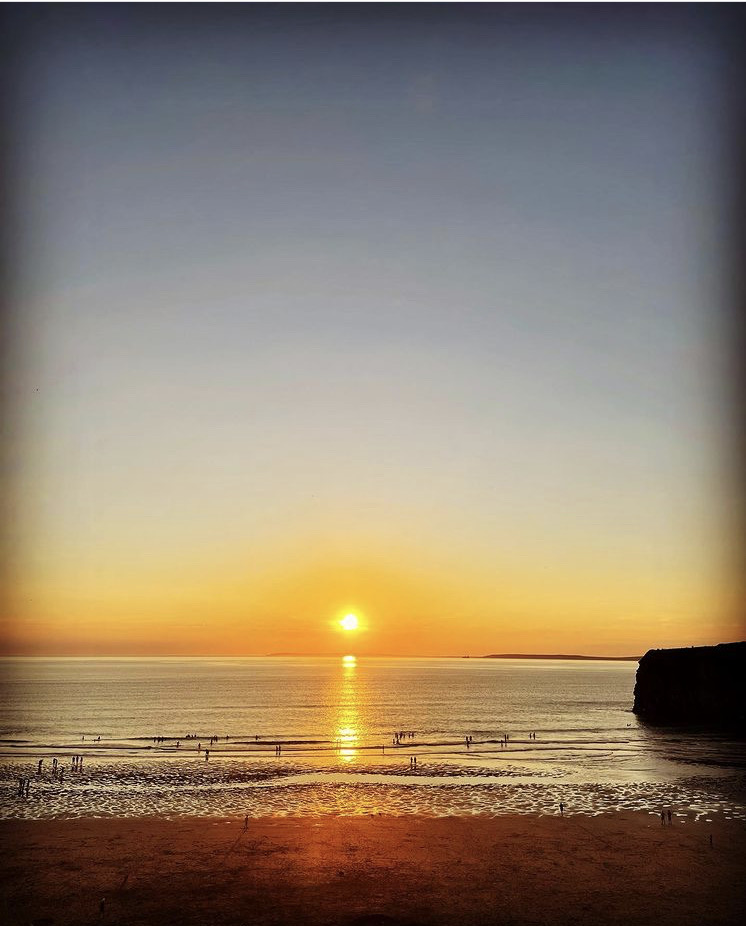 There were some spectacular sunsets during the heatwave of 2022. Alice Moylan photographed this one in Ballybunion.
<<<<<<<<<<<