Tralee Wetlands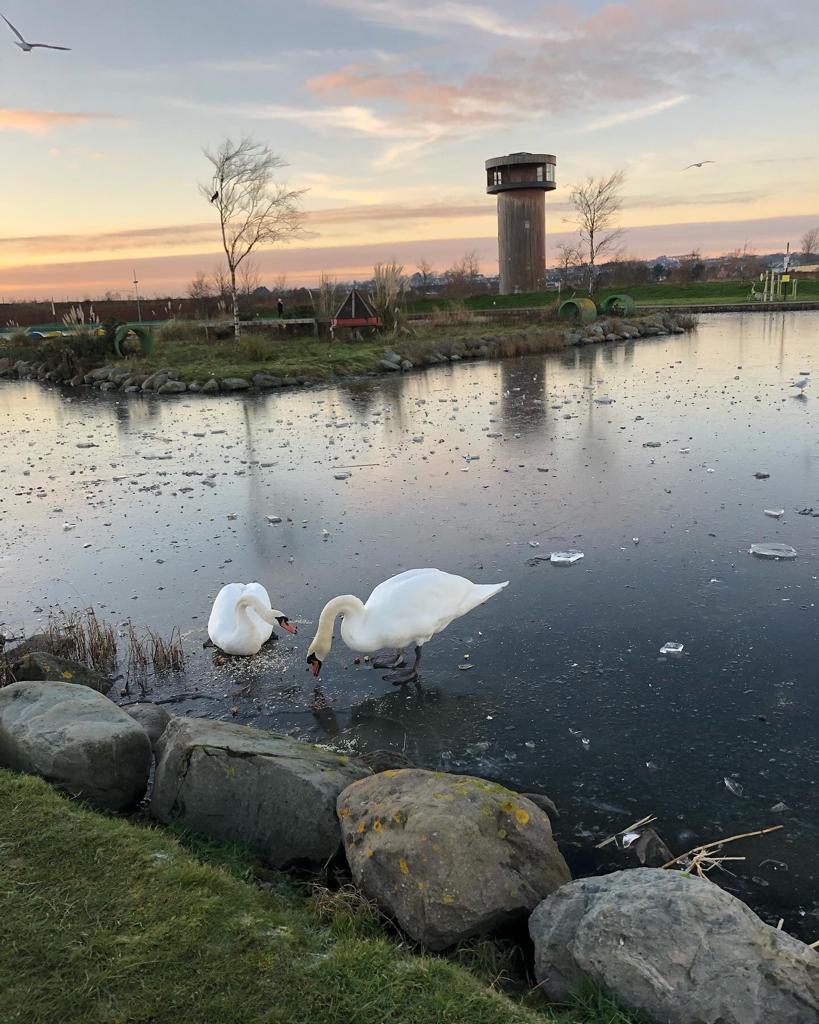 Photo: Bridget O'Connor
<<<<<<<<<<<<


Words we rarely hear anymore
From Dick Carmody
Gabhlóg sticks were cut small to make catapults while larger ones could be used to support hay or straw stacks. A hazel gabhlóg would be used to source water springs. Hay súgán ropes were sometimes used to secure the hay winds and stacks. Clumps of rough grass or heather around cut-away bogs were called dosógs or triopalls. Water from bog holes overflowed into glaises which drained into the nearby River Galey. Bushes would sometimes be referred to as tors or sceachs.
Nóiníns were gathered by children to make daisy chains. Wicker púicíns were made from sally sticks and placed on a calf's head to prevent it from drinking from its mother or sucking other calves. Sally was also used as a scolb, split, pointed and bent u-shaped to secure the straw on thatched roofs. If a house fell into disrepair it might soon be described as a bit of a bothán. Dirty or stagnant water was described as súrach on which snas would soon grow.
One was usually inclined to drain the last dríodar from a bucket of milk or a glass of porter. A taoscán of water or, indeed, whiskey were familiar liquid measurement terms in everyday conversation. However, I can't ever remember seeing poitín around the house. In our favourite sweet shop we watched in wonder as tomhaisíns were magically created from a piece of brown paper to wrap 'bulls eyes', bon-bons or other sweet treats. Praties might have sounded less sophisticated than potatoes but may have tasted better. A feed of crúibíns or a plate of drisín would be a great antidote for a hard day's work. A plate of peaindí, made from mashed potatoes, milk and butter made the ideal accompaniment. A slog of new milk or buttermilk would complete the hearty meal.
Our first expedition to the River Galey was to collect ciseáníns in jam jars which might end up in smidiríns before we got back home. Cats delivered regular litters of puisíns while day-old chicks often succumbed to the pioc, a small parasite or worm that lodged in their throats. A bradaí described a heifer or cow tending to wander into a neighbour's property. The farmer would sometimes have to improvise as a vet when called upon to put back in a bonham's bundún with a darning needle and woollen thread.
There would be a great tóir or excitement about when something drastic or unexpected happened while somebody struggling with life might be, at best, ag strácháil. A person could end up in a lúbán through hard work or injury. Marla provided us with our first opportunity to display our creative and artistic skills in school. Around the house, we packed tea leaves into the last of the clay dúidíns with our lúidíns to mimic our elders as they smoked their pipes.
<<<<<<<<
People at Listowel Horsefair in January 2013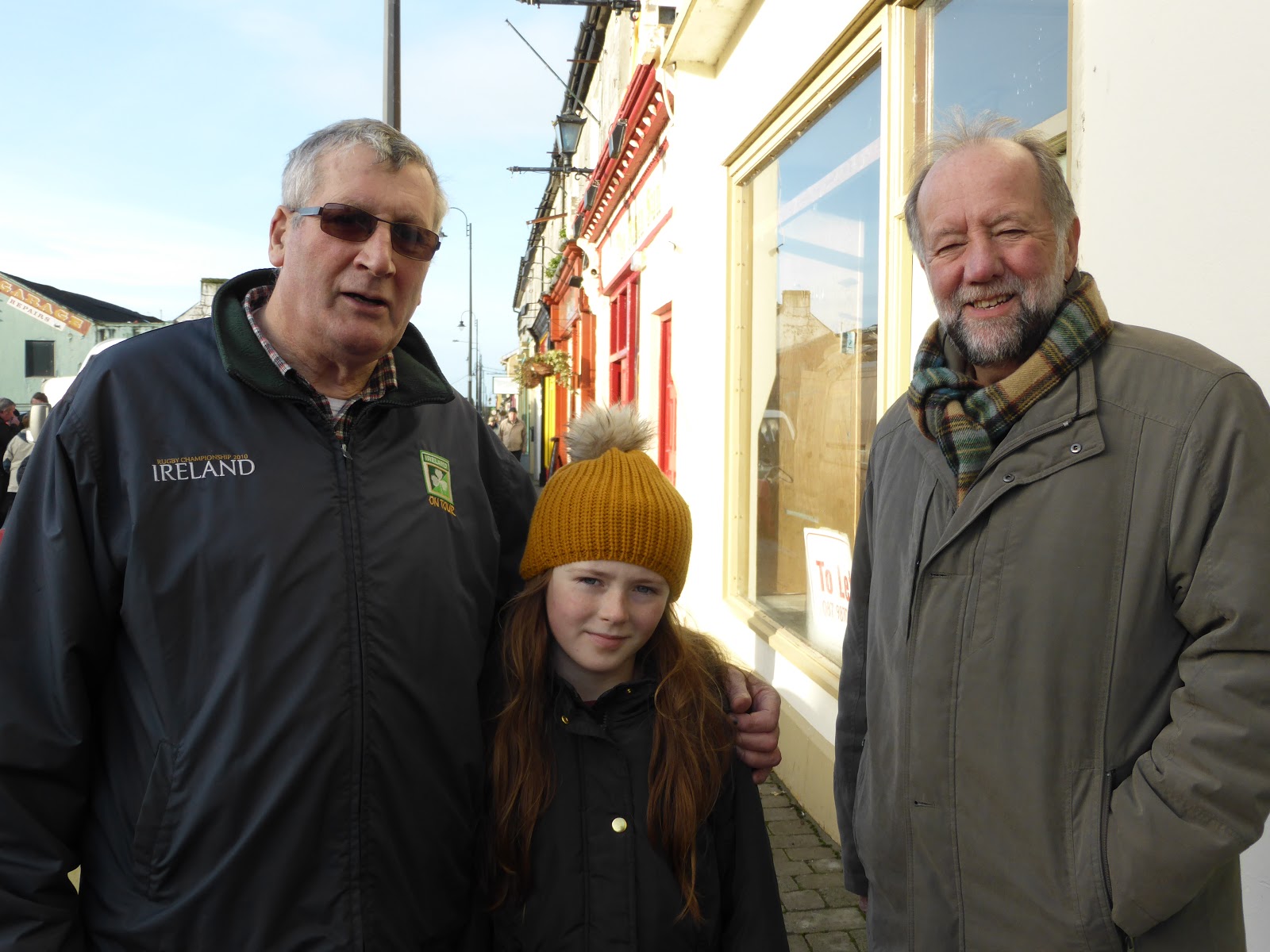 <<<<<<
In Journey's End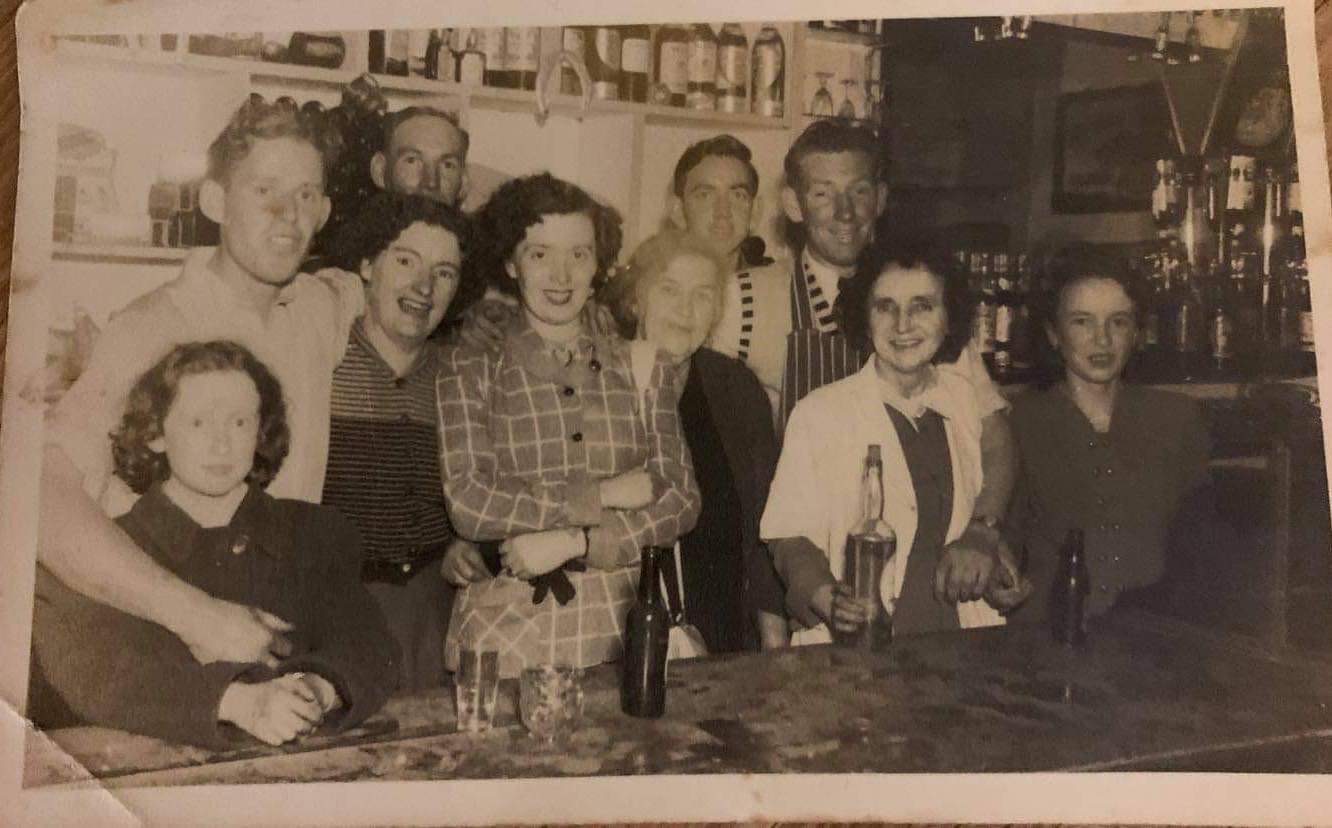 Mary McElligott sent us this photo from her family album. It shows the family of her grandaunt and friends in their bar, Journey's End, in Church Street, Listowel, during a race week in the 1950s.
Mary didn't have names for these people, who were before her time, so I asked Miriam Kiely's help. Miriam grew up across the road from the O'Grady's of Journey's End.
Miriam identifies Rosie O'Grady and Patsy O'Grady or Margaret at either end in front.
Front 2nd from right is Peggy Leahy of Leahy's Corner.
She thinks the older lady may be Minnie who used to be in O'Grady's.