John Kelliher took this lovely photo of St. Mary's at Christmastime.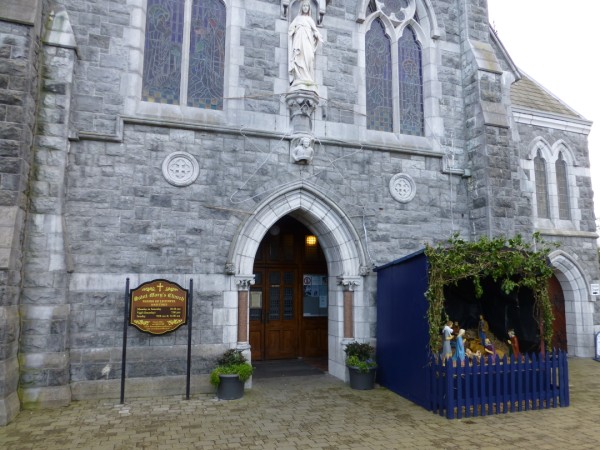 My closer shot shows our new sign with mass times and contact details.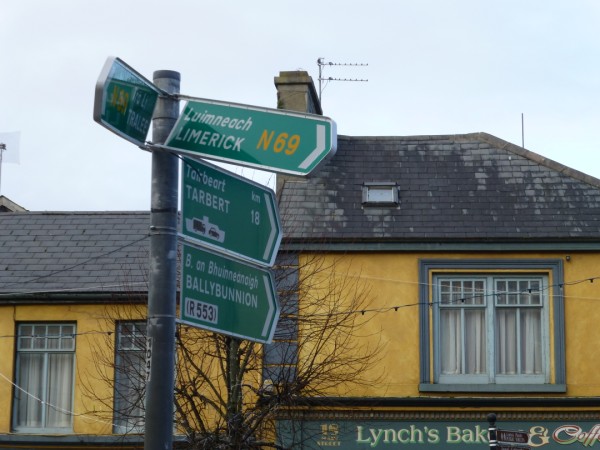 This road sign seems to have taken a bit of abuse over the holidays.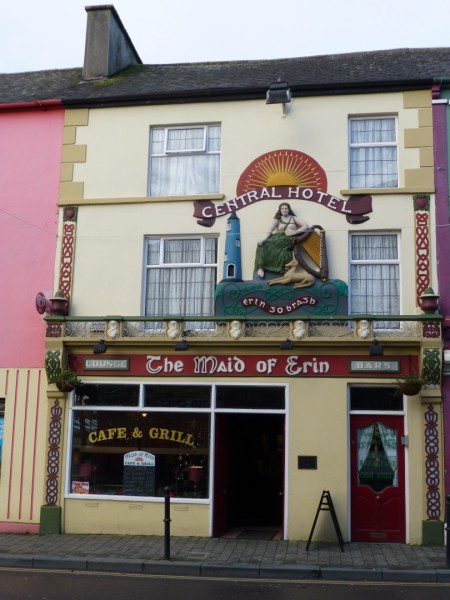 I'm including this photo of The Maid because I know it is an evocative icon for many.
>>>
News comes from Jim Horgan in the U.S. of a gathering event in the planning.
Calling all Horgans, Creighans, Shines, Brosnans, O'Neills, O'Reillys, Masons, O'Donoghues, Mulvihills, Molyneaux, O'Sullivans and any other cousins that I may have overlooked!
The Horgan gathering is a go! Check out our web site at:
Thegatheringireland.com/Horgan2013
The festivities will be based around the Listowel area from September 7 to 13, 2013.
We are looking for ideas and volunteers to help get some events organized.
Hope to see you in Kerry!
<<<<<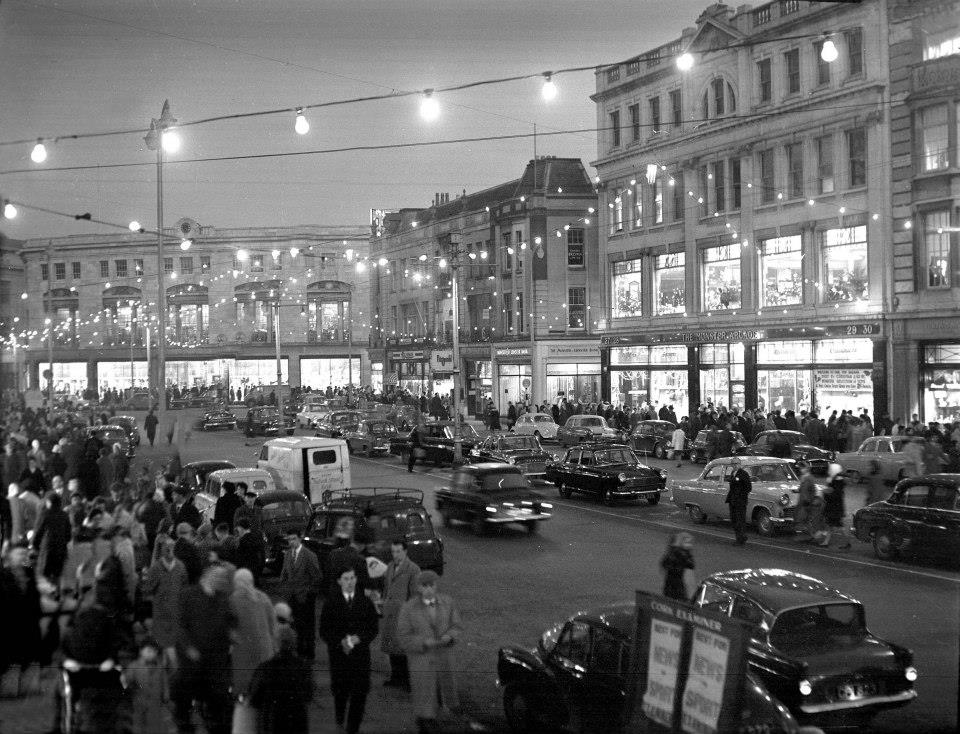 This photo from The Examiner shows Cork's Patrick Street at Christmas in 1961.
<<<<
Lauren Davis who wrote originally to ask me to help her by translating any Irish in the blog, fills us in now on her Listowel connection.
"My great-great grandparents were James Burke Carroll and Katherine (Kate) Dowling. We don't know much about James except that he was from Listowel. Kate born in County Cork. She was supposedly born the night of the "Big Wind." I'm not sure this is right as her birthday is given as 2 Jan. 1839 and I've read that the Big Wind was Jan. 6-7, but maybe everyone figured that was close enough? James and Kate sailed from Cork to America on 3 July, 1870 as newlyweds.
They lived a few years in Penn Yan, Yates Co., New York, where my great-grandfather, Michael Edward, was born. The family later moved to the wilds of Maricopa, in Arizona Territory. This must have been quite a change from the green fields of Ireland! We think they came out West following a brother or cousin who was in the Calvary stationed at Fort Lowell, (which later became Tucson.) The Carroll's became a pioneer family in the rugged Southwest. That's as much as I know about them so far, but would love to learn more.
Thanks again for keeping up the Listowel Connection. It's wonderful to have such a personal, friendly way to learn about our Irish family roots.
Happy New Year!
Lauren"
Maybe there are people reading this who can fill Lauren in on the Carroll side of her tree.
>>>>>>
This article with an emigrant's view of Ireland is from The Irish Times.
James Taplin (41), Dubai: "The emigration issue is less raw this year"
Saying goodbye to my wife and kids in Westmeath to return to Dubai after Christmas this year was much easier than last, as the day this article is printed they will be moving out here to join me in the United Arab Emirates.
We went to visit my sister and her children on St Stephen's Day, an annual tradition, to watch the racing at Leopardstown together. Apart from that, we had a quiet Christmas as my father-in-law is unwell.
The thing that struck me most during this visit was how much my daughter Cara's speech had developed since I last saw her in August. She's two, and speaking in full sentences now. It took her a while to get used to having me there in person. Every time I turned on the computer she pointed at me as if to say, "you should be in there". Daniel is five, and he was delighted to see me.
There is an air of resignation in the country now that is very noticeable. The fight has gone out of people, which I was saddened to see. I brought up the budget a few times in the pub, and no one wanted to talk about having less money in their pockets next year. At this stage, most people only have the energy to put on a brave face.
The emigration issue is less raw this year than last. The media are still looking for the sob stories but, generally, emigration is another fallout from the recession that people have accepted.
This year has been an expensive one, with plane tickets and visas for the family and paying for schools, but I am much better off mentally and physically in Dubai than I was back in Ireland with no work.
James Taplin moved to Dubai for the second time in 2011, where he works for a sports equipment supplier.
<<<<<<
Today in Irish history
9/1/1594
The first
students began their studies at Trinity College, Dublin, Ireland's first
university.
9/1/1922
Arthur Griffith was elected Taoiseach of Dáil Éireann after Eamon de
Valera stepped down.