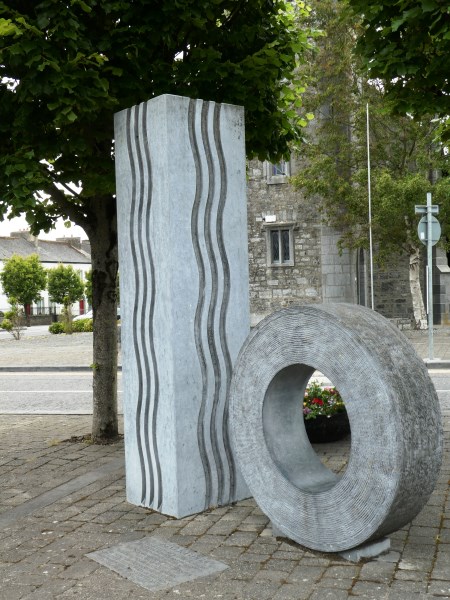 Feale sculpture designed by the late Tony O'Callaghan. Isn't it lovely to have contributed something lasting like this to your native town.


<<<<<<<<
On the John B. Keane Road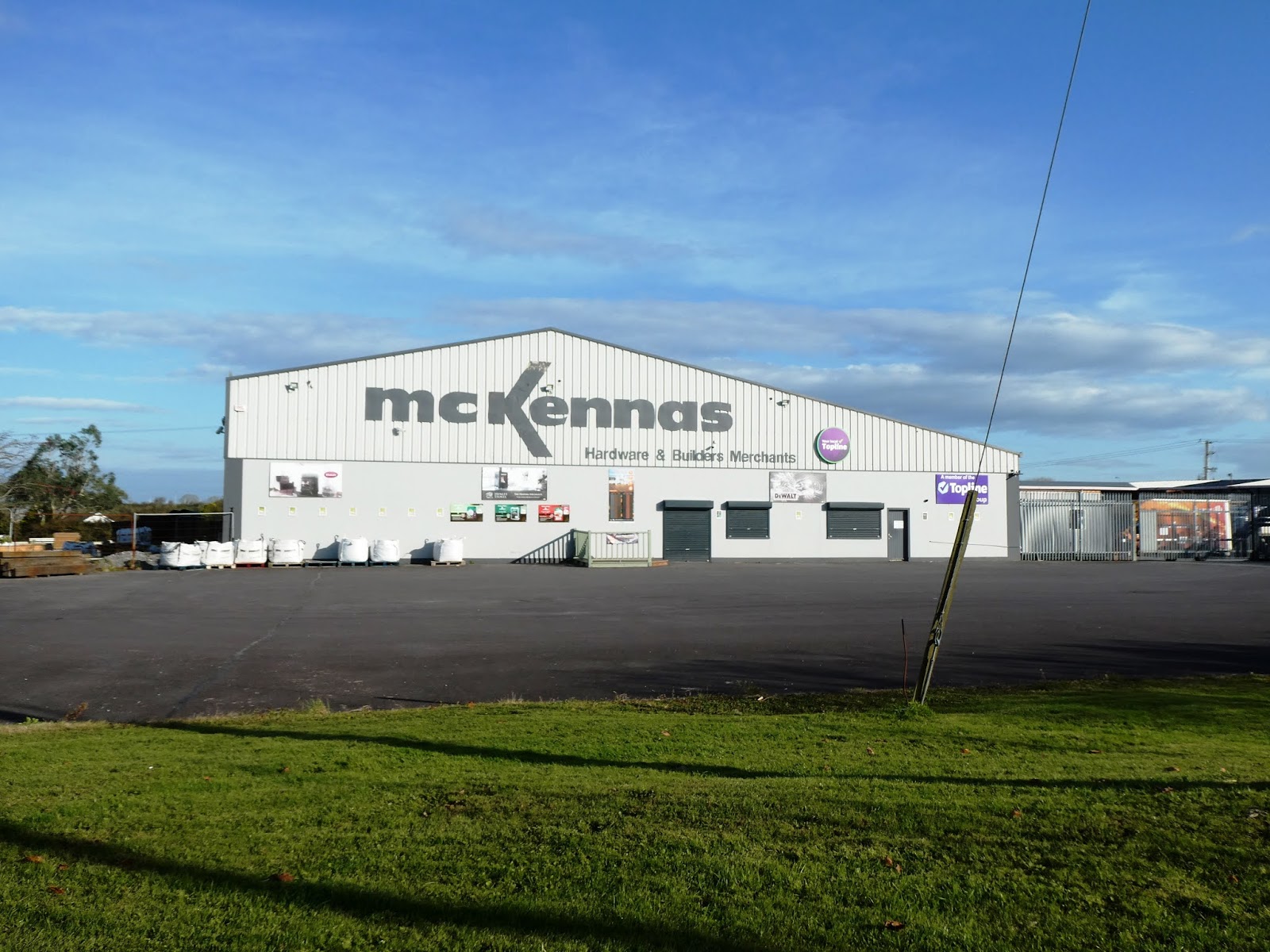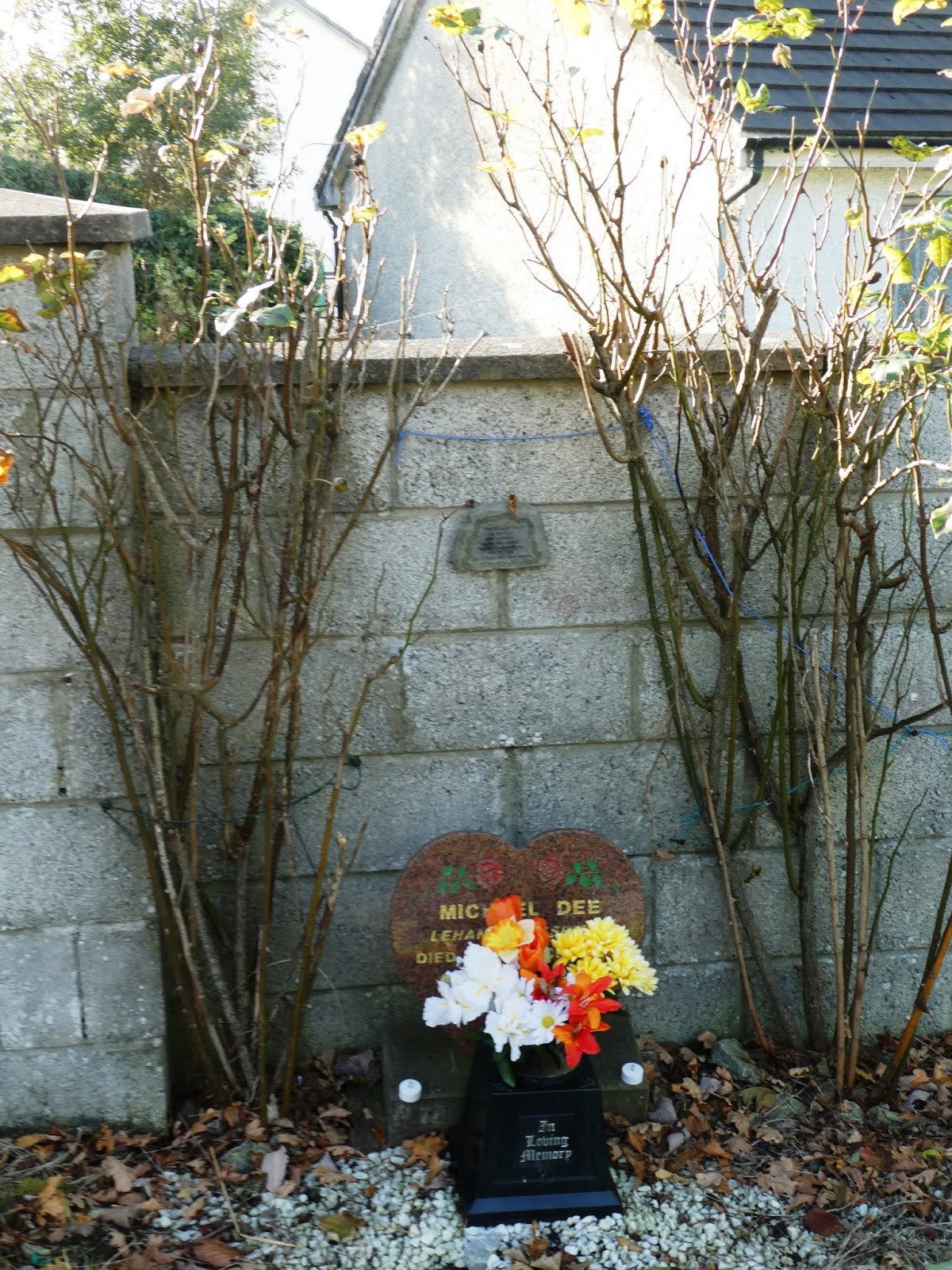 This is a roadside memorial to the late Michael Dee who died in an RTA on this site. Every time I pass it I am taken back to the day of Michael's accident. I was working in the nearby Secondary School when news of the accident broke. Many of the girls were friends and neighbours of his, some of them experiencing bereavement for the first time. It was a sad, sad day. May he rest in peace.
This is the Parents and Friends Centre.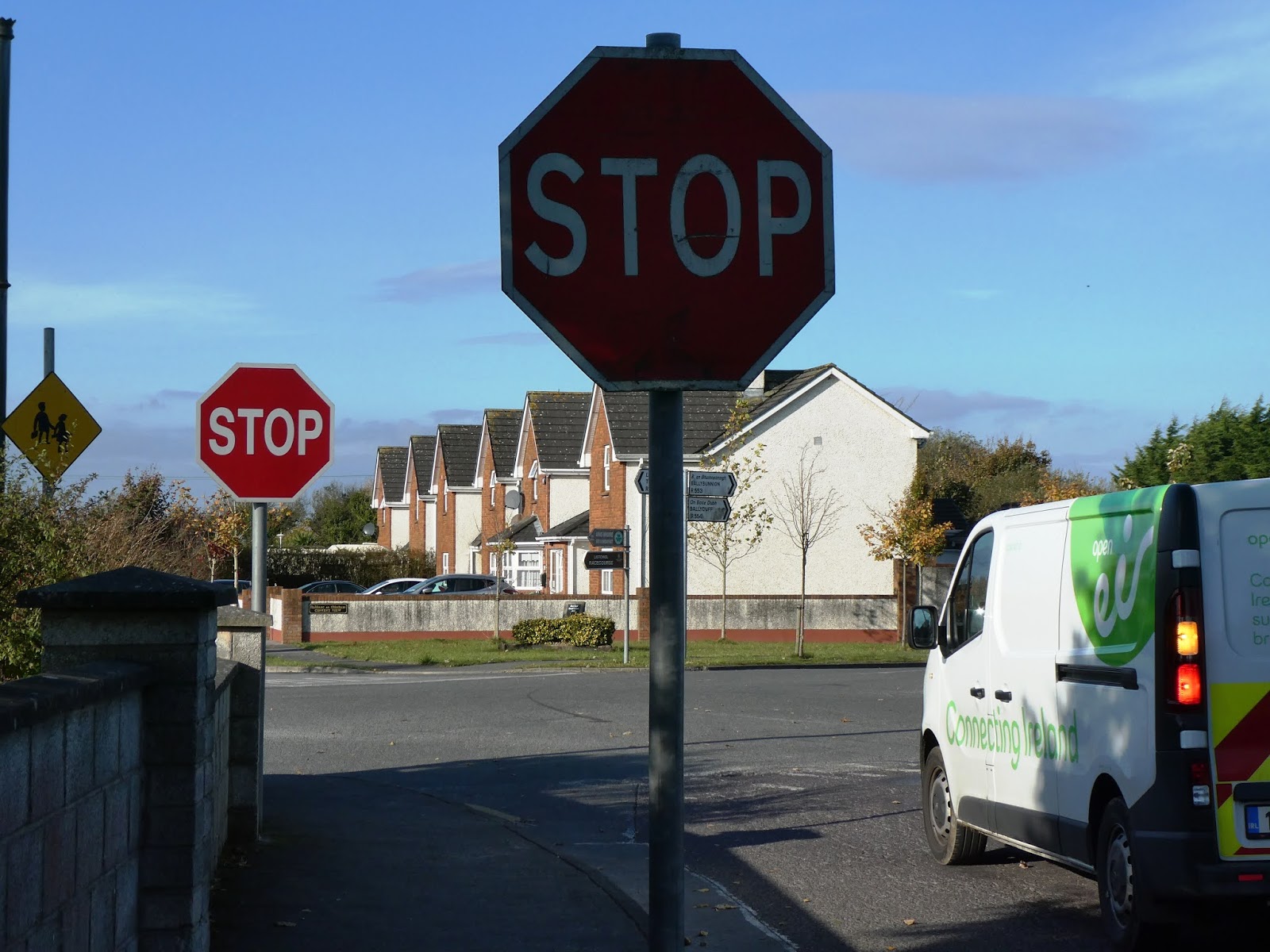 The junction with the Ballybunion Road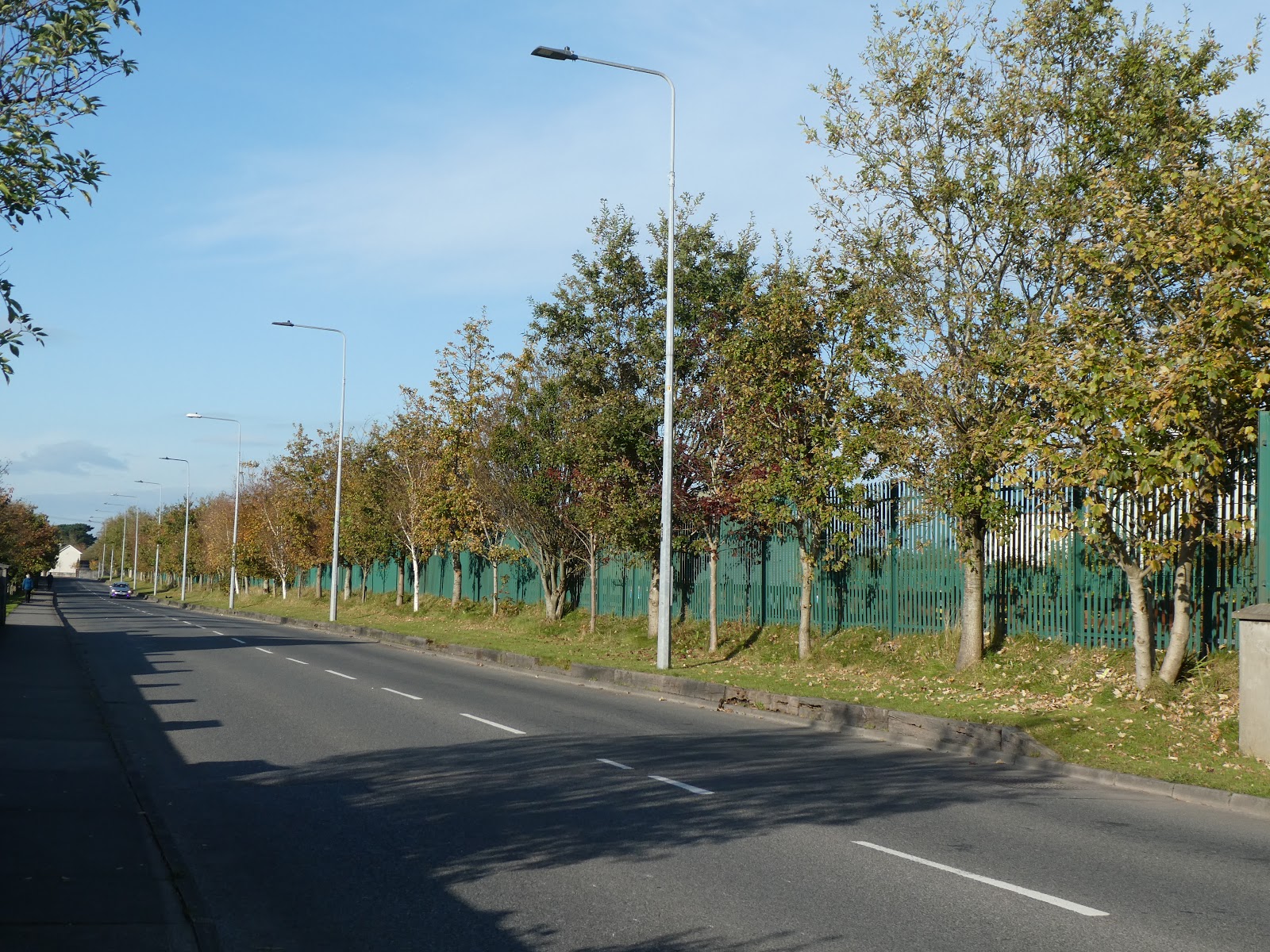 I took this photo on Sunday October 19 2020
A few days later, on October 22 2020 it was a different story.
I spotted a piece of irony in the name of the company doing the felling.
These were the last few still standing.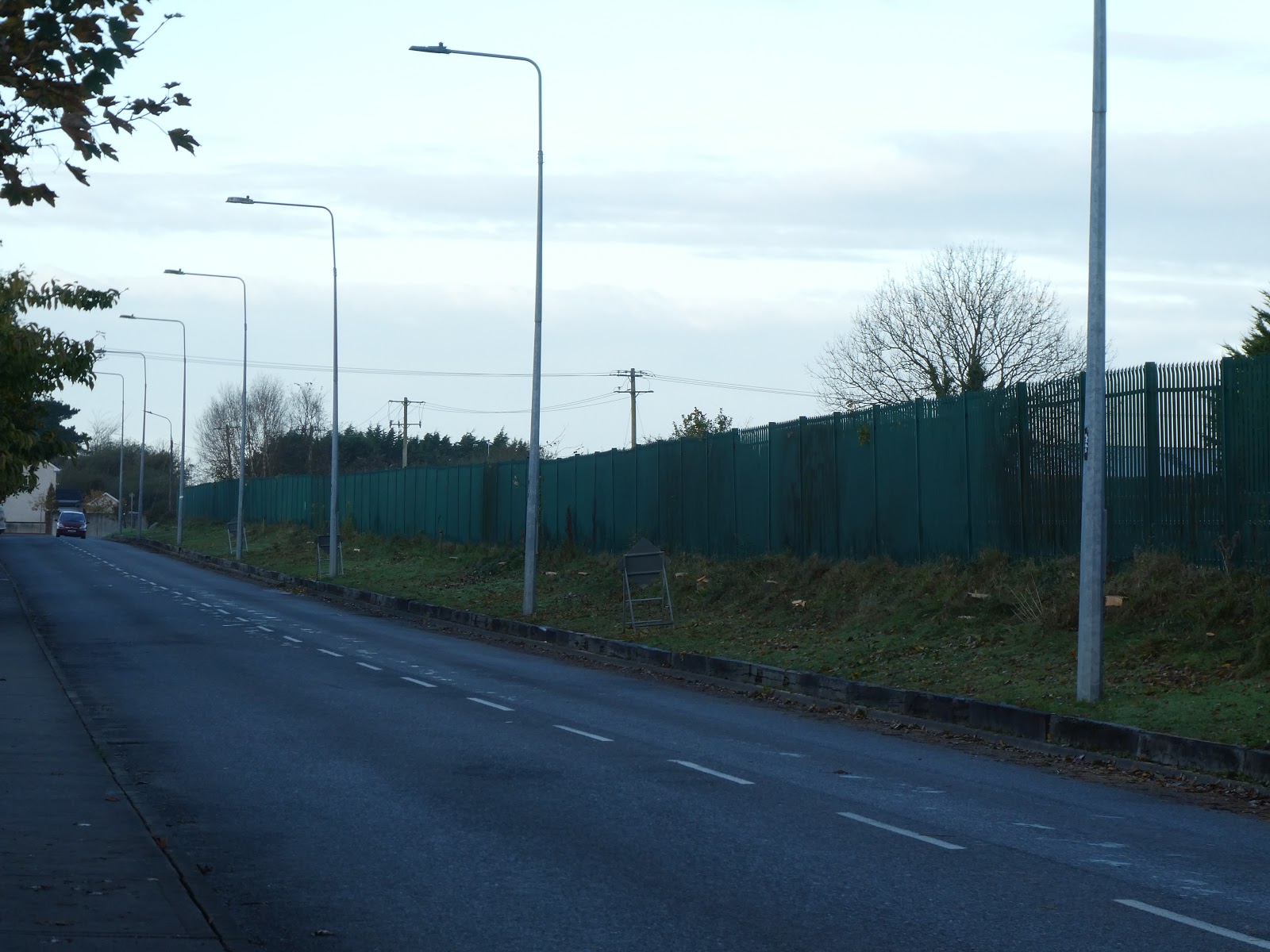 All gone.
<<<<<<<<
My Little Blip
For those of you who missed it, here's the context. Last week, I fell into a little trough. Material for the blog was increasingly hard to come by. Town has had the stuffing knocked out of it and there seemed little to write about that was anyway uplifting. I told this to Billy Keane, who I happened to meet by chance, and he persuaded me to keep going.
Now remember I told you material was hard to come by. So I wrote about this encounter in a blog post. I was nearly drowned in the deluge of pleas to keep going even if it was "only two mice running up Church Street" I had to write about .
I am not going to print here all the responses but I'll give you a typical one, significant because Karen had never written to me before (there were a few of those) and she sent photos.
Hello from Melbourne, Australia!
Thank you to Billy Keane for inspiring you to keep going, but especially thank you to YOU. I forget how I first came across your blog but I enjoy reading it and do admire you for all your work.
My father (may he rest in peace) was from Croughcroneen and my mother is from Causeway, so North Kerry is very special to me. My Carlow born husband and I were married at St Michaels in Lixnaw, with our reception, and many other subsequent family events, at the Listowel Arms. We have had so many wonderful times in Listowel and feel all the more connected thanks to your blog.
You are sharing dog walking photos today so I thought I'd send a couple we took when we participated in the Ireland Funds Remote Global 5k last month. I would prefer if my daughter was wearing a Kerry jersey but the only adult size one we have is Carlow!
It is Spring time here and we are about 12 weeks into a hard lockdown. It has been challenging, but our case numbers are in single digits now and restrictions are easing. Sending solidarity to all of you going back into a hard lockdown. What a year it has been.
I'll sign off now, I have meant to contact you before but wasn't sure how to – it didn't occur to me to just reply to your email!
Keep up the great work and thank you!
Karen Kennelly Fogarty
Melbourne (originally from Virginia, USA)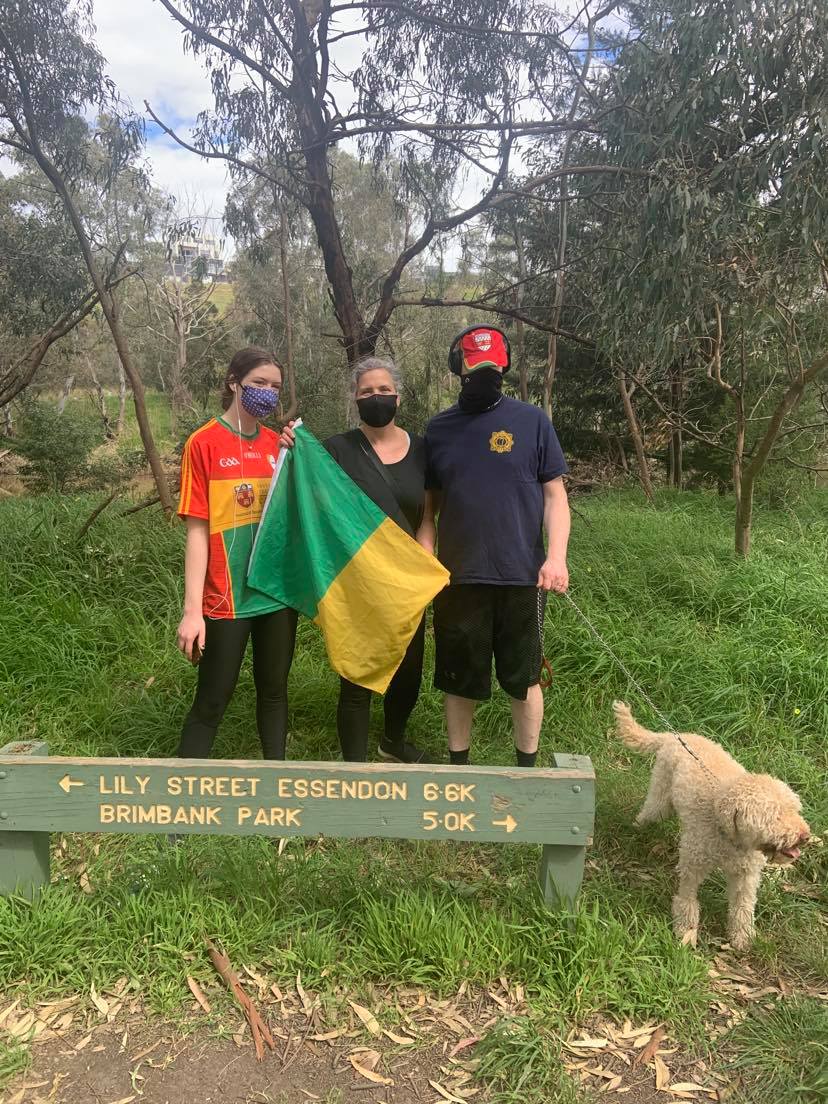 <<<<<<<
An Artistic Coup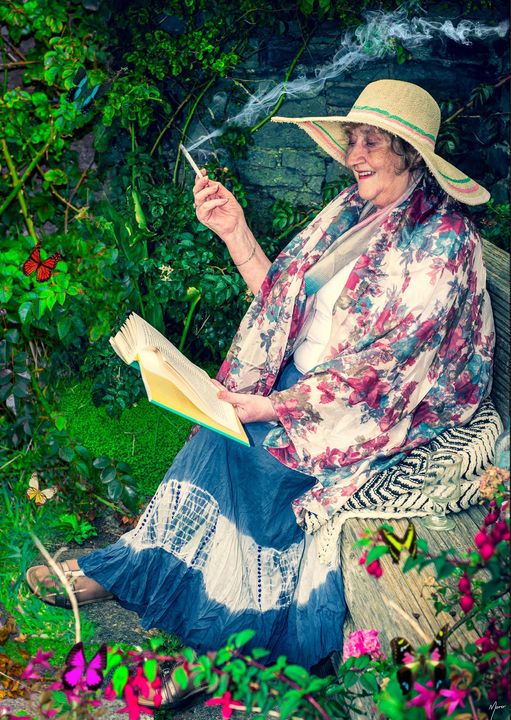 The model is Delia O'Sullivan. The artist is David Morrison and the picture has been chosen to be one of the pictures on a set of greeting cards to raise money for the Jack and Jill Foundation.
If you would like to buy the cards, just go to the Jack and Jill website and the card is included in Incognito Pack 2. The rest of the cards are lovely too.