In 1992 to celebrate the opening of the sports field, the people of Clounmacon brought out a journal called Scéal Cluain Mheacáin. One of the local people they asked to contribute an article was John B. Keane.
This is what he wrote

Meen Bog, the summer of nineteen forty two. As we endeavoured to foot the huge black sods which had been consigned to the deep adjacent cutaway we were asked a million times by other turf footers, "Do those who spread the sods ever think of those who will have to foot them?"
Let those who cut it foot it, we thought, as we vainly tried to erect stoolins with sods which just wouldn't stand up, which slipped from the hands, which broke in two as we dragged them from one morass to another, sods which seemed to have been specially designed to frustrate the mightiest efforts of amateur stoolin-makers like myself.
Later on in life at St.Michael's I heard a terrified scholar once describe the College President, Fr. David O 'Connor, as follows: "He's coming", said he, "with a face on him as black as the seventh sod". I knew what he meant. There was nothing in the whole wide world as black as the seventh sod in the vast bogland of Meen. Even coal was not as black because the blackness of coal is relieved by its glint. Not so the seventh sods of those daunting turfbanks.
Meanwhile, in North Africa, the Germans were mounting their fiercest offensive in a campaign they were destined to lose. Montgomery was appointed Commander of the eight army in Egypt. The battle of Stalingrad was about to commence as was the battle of El Alamein and, in Meen Bog, Anthony Doyle, Tom Halpin and myself fought our own battle with the most inconsiderate chunks ever to leave the shining helve of a slean. Now and again we would look at each other in despair as we contemplated the countless sods stretched out before us.
"Time to eat", said Tom Halpin, "there goes the bell",
"What bell?" , we asked.
"Oh" , said Tom, "that's the twelve o'clock Angelus bell of the church in Listowel. You can hear it no bother of a fine day".
Anthony Doyle and myself strained out ears and directed them towards the town, three miles away. We had no trouble convincing ourselves that faint peals were issuing from the belfry of St. Mary's. A fire of cadhrawns was already alight in the lee of a turfbank. The water was in the kettle and in jig time it came to the boil. There were sandwiches go leor and there was milk, tea, sugar and cups in the canvas bag my mother had stocked up earlier that morning. "Buns!", the exclamation came from Tom Halpin. Sure enough, there were currant buns in a brown paper bag. As in the way with all gorsoons we did the unprecedented thing and ate the buns first. We then tackled the sandwiches, saving a few for the four o' clock tay- although this, more often than not, took place at two.
After the meal we decided to have a session of sporting activities. We began with the hundred yards which Anthony Doyle won hands down. Then came a middle distance race which was won by Tom Halpin. Then came the long jump and hop step and what have you. An observer was later heard to remark that if we worked half as hard as we played we'd have the footing finished in a half day.Reluctantly we returned to it. The hours dragged by and every so often we would straighten ourselves to take the kinks out of our backs. The four 'clock tay came and went and the sun began to sink in the west. At least it seemed to us that it was sinking.
"There goes the bell" said Tom Halpin. We strained our ears a second time and there it was, ever so faintly discernible in the distance. There is no sound like the sound of the Angelus bell in the evening, especially if the evening in question is free of wind and rain. We stood motionless and made the sign of the cross before reciting the Angelus. This was said with a piety and reverence that would put a reverend mother to shame. At the conclusion we blessed ourselves again and surveyed our handiwork. We had not fared too badly although it must be said that no records were broken and unless fine weather was maintained the Keanes would have very wet turf for the winter.
We bade farewell to the boglands and took the narrow road which would bring us to Clounmacon School where my late father reigned for so long, thirty one years if memory served me correctly.
The school was closed for the summer holidays. No sooner had we set ourselves on the Listowel road than we beheld a most uncommon sight. It was nothing less than a postman and he mounted on a bicycle with a bag slung across his back. I think it was the late Mick Enright but what would a postman be doing out so late and Christmas nowhere near. Tentatively we asked him if he had the right time. Mick alighted from his bike, thrust his fingers into the top pocket of his uniform and with drew a substantial timepiece.
"The time", he said "is quarter past two".
"Are you certain?", we asked disbelievingly.
"See for yourselves", he said and extended the watch for all to see. Dolefolly we returned to the bog. Before we left some three hours later the greater part of the turf was standing. There was no more mention of bells.
( to be continued tomorrow)
>>>>>>

Since I started writing this blog, many interesting people have written to me, none more so than my latest correspondent. His name is David Mitchell and he is the last British town crier. He rings his bell and he cries in the city of Chester. He wrote to me because he is researching a book on bellmen in The British Isles. He had read my earlier post on town criers. I sent him to Vincent Carmody who has loads of stories about Listowel's bellmen.
According to Brendan MacWilliams it was part of the bellman's job to give notice of impending bad weather.
"At a meeting of Dublin City Council in 1577, it was decreed, "that Mr. Mayor and his Brethren shall devise and appoint whereby a bell shall be tolled in time of great tempest and storms so that every well-disposed citizen may be remembered to pray for his neighbors who may be in danger upon the seas; and that Mr. Mayor and his aldermen shall decide what allowance or reward shall be given to him that shall take pain in the knolling of the said bell."
Barnaby Rathe got the job and kept it for over 30 years. His post also made him "master of the beggars" and as such he was required to "rid the city of vagabonds".
<<<<<<<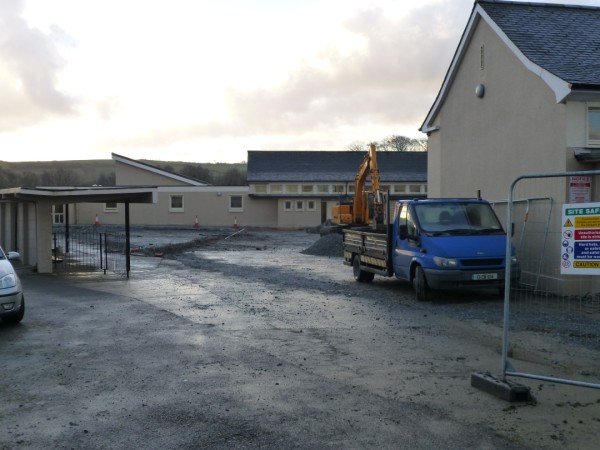 drainage job in the Boys School is still in progress. The yard is all dug up but the front of the school seems to be finished.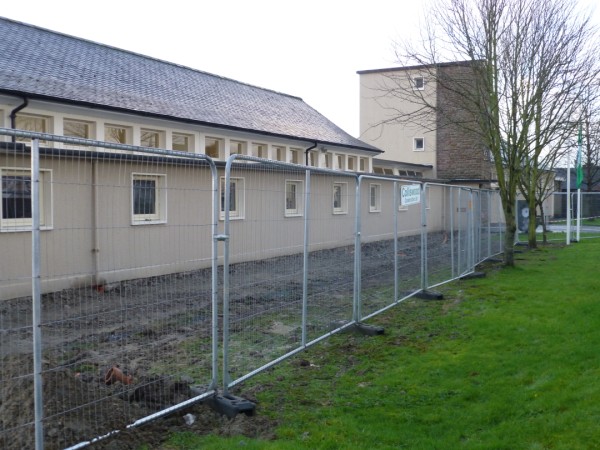 >>>>>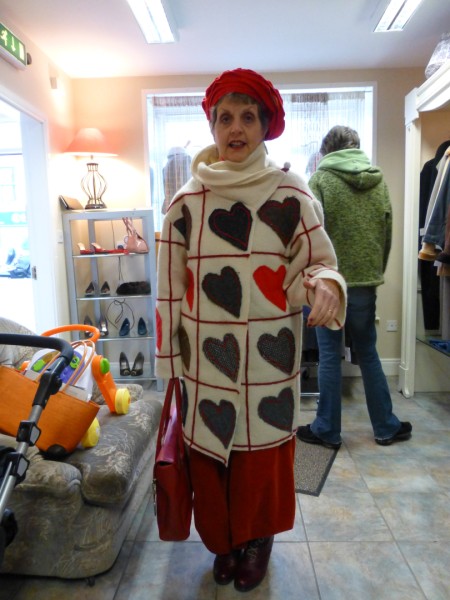 This stylish lady is Mairead Sharry O'Connor. She is the most creative and inventive person I have ever met. This coat started life as a blanket. Mairead customized it with red carpet yarn and tweed hearts that she hand stitched herself. She also made her hat.
<<<
Have you seen the Nike ad. ?
http://www.youtube.com/watch?v=2NCDYjHtEcU&feature=youtu.be
<<<<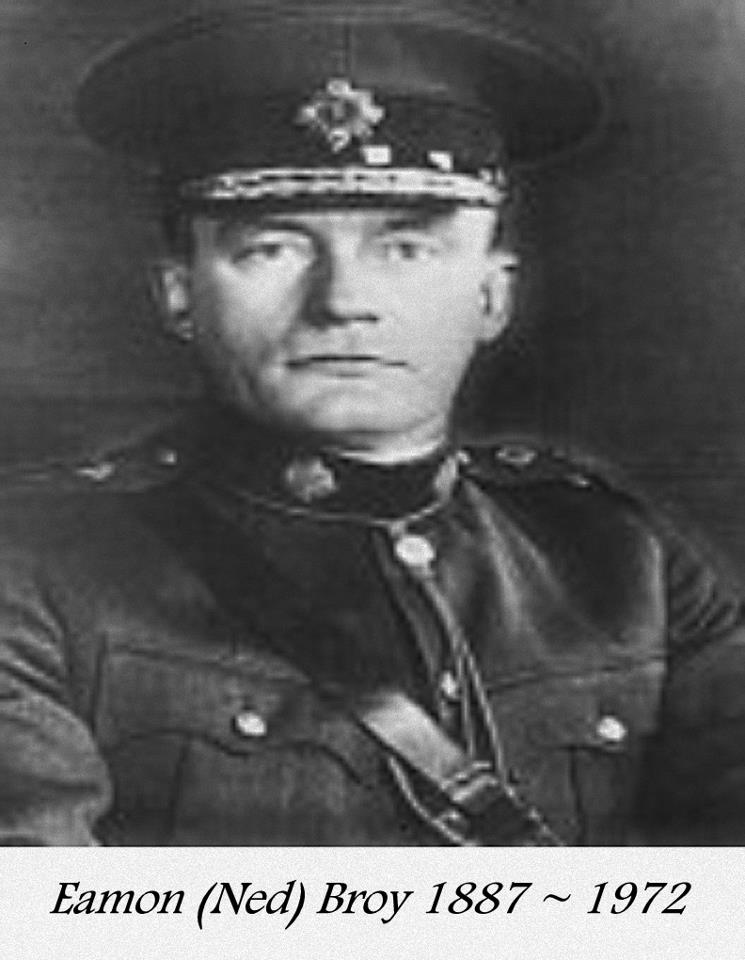 On January 22 1972 Ned Broy passed away. He was agent for Michael Collins and afterwards Commissioner of the Garda Síochána. You can read more about him if you follow the below link.
http://www.garda.ie/Documents/User/Colonel%20Eamon%20Broy's%20Role%20in%20Irish%20Espionage.pdf
>>>>>.