Here is a lovely story from The Herald about our very own Listowel Connection to the Rugby World Cup
Airport shock for Sexton as he spots his gran… as poster girl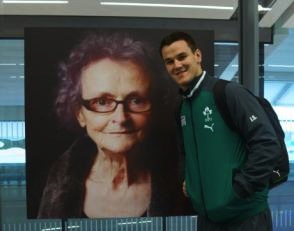 By Adelina Campos
Thursday October 13 2011
IT'S not something that happens often, but Jonathan Sexton was floored when he arrived in Dublin airport….by his granny.
The Leinster and Ireland rugby star was shocked to see his grandmother Brenda's image staring down at him on his arrival home from the World Cup in New Zealand.
Hundreds of fans turned up to meet Jonathan as he arrived back with the team, but the real star in Terminal 2 was Brenda Sexton, who was photographed for the Faces of Ireland exhibition currently on display there.
Brenda told the Herald that Jonathan rang her straight away to tell her of the picture.
"He said he saw [the portrait] when he got back, it was a bit of a shock," Brenda, who is in her 70s, said.
"He always comes to stay over with his girlfriend [school teacher Laura Priestley], we're great friends."
Brenda was working in her children's clothes shop in Listowel, Co. Kerry, named after her late husband John Sexton, when she was asked to take part in the exhibition.
However, photographer Kevin Abosch revealed he had no idea who she was until the photo was taken.
"I was shooting down in the John B Keane pub and I mentioned that I was looking for older people [to take part in it] and he said: 'I've got just the person for you and he brought along Mrs Sexton," the acclaimed photographer explained.
"I was really happy to photograph Brenda, she is just such a sweet lady and lovely looking, it wasn't until the end of the day that somebody asked me if I knew who she was and told me she was Jonathan Sexton's grandma.
"I was really surprised but not as surprised as he was when he arrived at the airport on Tuesday — I imagine it was a little surreal to have this welcoming committee."
hnews@herald.ie
– Adelina Campos