Swan in Flight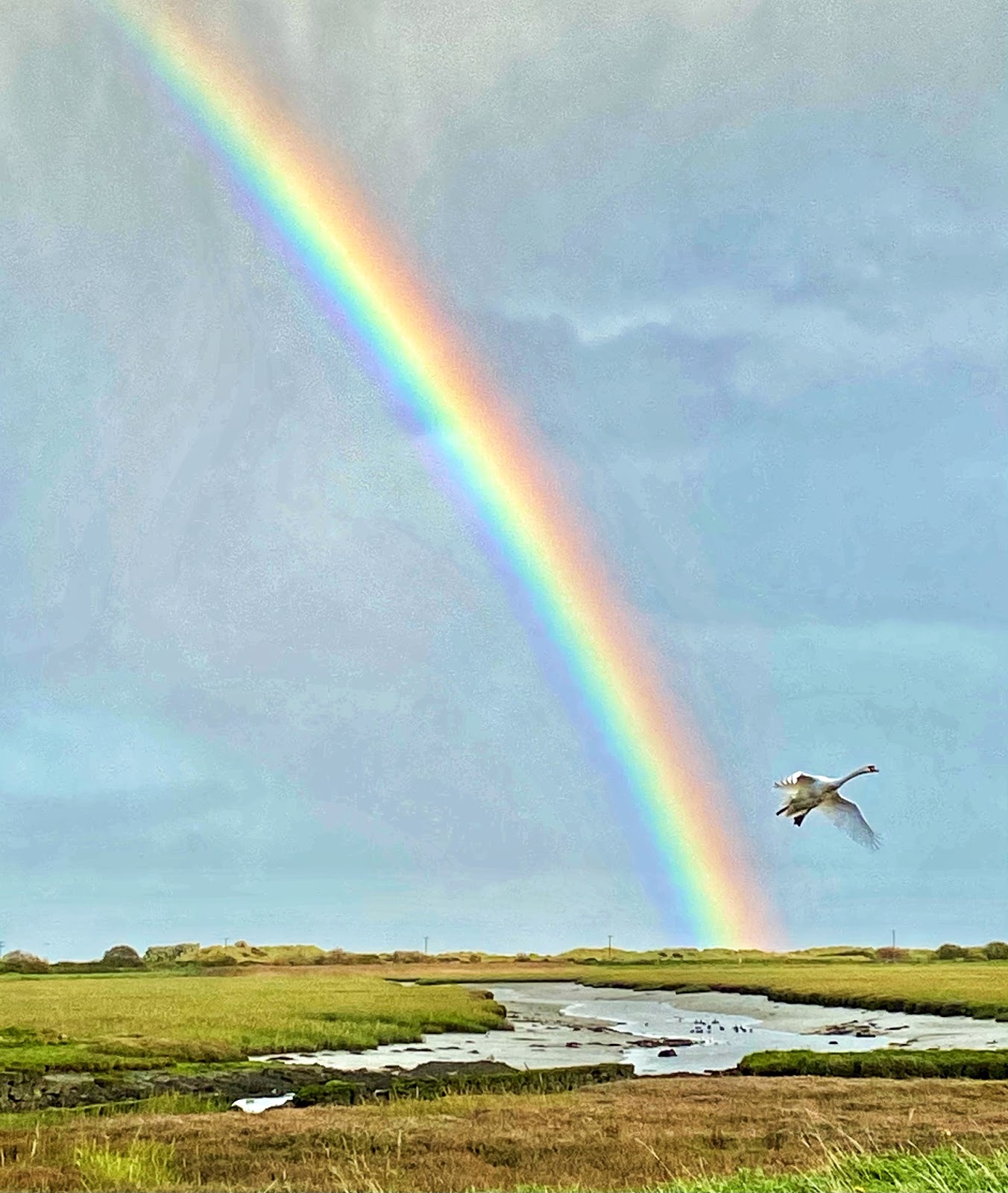 Photo; Paul Winter for Irish Wildlife Trust
<<<<<<<<
Egmond House
Egmond House is a familiar sight to Kerry people returning from Cork . It is an imposing building at the top of O'Brien Street beautifully preserved by its different owners over the years. It is very much a symbol of Kanturk and many people like me will remember Corpus Cristi Benediction on the steps.
Here is the history.
Photo: Trish O'Neill on Kanturk Memories
<<<<<<<<<<
Market Street Fadó Fadó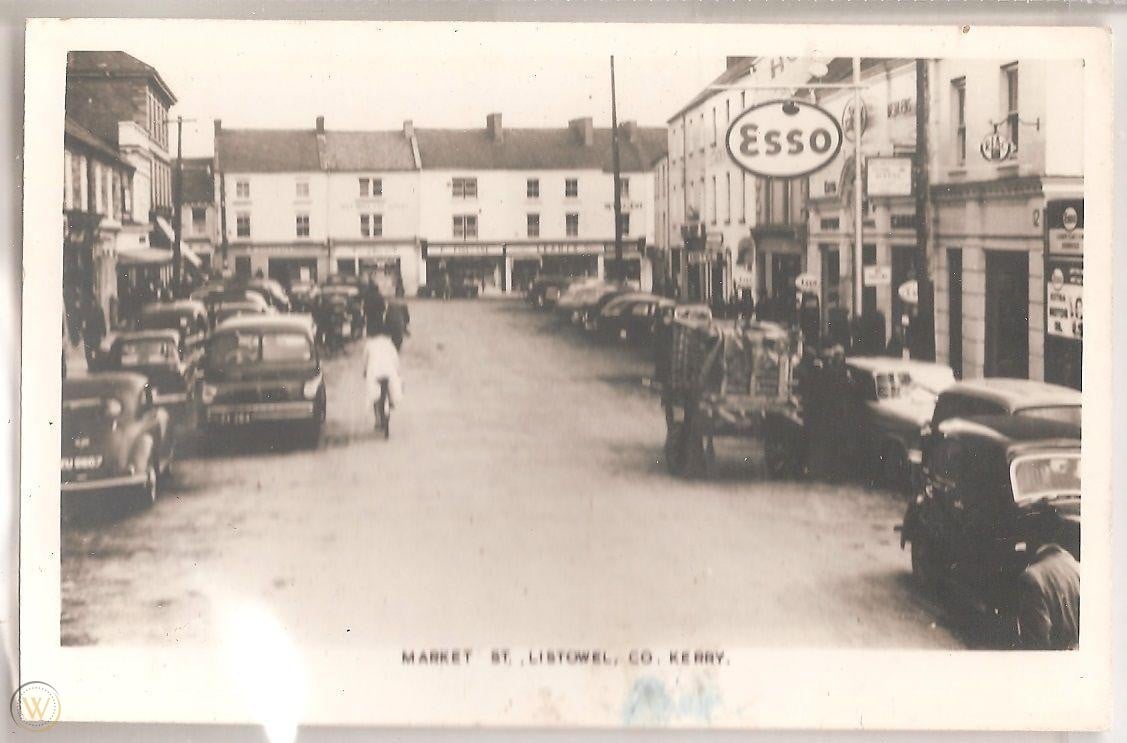 Glin Historical Society posted this old postcard on Facebook and Ned O'Sullivan wrote the below comment.


Moloney's Garage was owned by FF TD Dan Moloney. The shop in the centre of the photo was owned by Paddy Finucane, Independent TD.
My late father Sean bought it from Paddy and opened the Mans Shop in 1963.
<<<<<<<<
An tAthair Tomás ÓHiceadha R.I.P.
Below is one of the many tributes paid online to the late great Fr. Tom Hickey, former Parish priest of Moyvane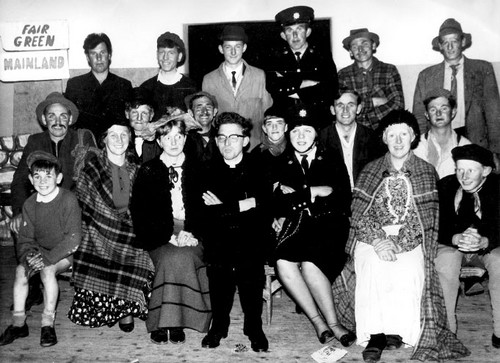 Photo; Moyvane website … Fr. Tom Hickey with the Moyvane Drama Group in the late 1960s
The late Rev. Fr. Tom Hickey from Rosemount
Late Rosemount Priest was "way ahead of his time"
There was deep sadness in Rosemount this week when news broke of the sad passing of one of the most legendary characters the village ever produced, the much-loved Fr Tom Hickey.
A fluent Irish speaker who celebrated the 70th anniversary of his ordination in June of last year, Fr Tom passed away at University Hospital, Kerry on Monday, in his 97th year.
A man who was renowned for his quick wit and great love of life, the late Fr Tom was appointed as Parish Priest of Ballyferriter in 1989 having spent the entirety of his priesthood in the Kerry Diocese, where he served in ten different parishes prior to his appointment to his beloved Ballyferriter.
Marie Burke (née Keenan) a native of Rosemount, and a good friend of the Hickey family, described Fr Tom this week as a man who was "way ahead of his time and a great character."
She recalled how he made an annual trip to the United States every October right up to four years ago, when he was 94 years old, to visit his brother, Benjy, in New Jersey. "In the two weeks he would be over there he would take the bus into New York on his own seven or eight times to attend a play or a show on Broadway," she said.
When Fr Tom Hickey was ordained in Maynooth in 1950 he was one of a class of 82 priests, so he went to London to study drama before returning to the Kerry Diocese to begin his ministry.
He was a founder member of Siamsa Tire in Tralee and had a lifelong devotion to drama which brought him into contact with both young and old in every parish where he served.
A superb raconteur, he could captivate a room with his great wit and sense of fun and Marie Burke recalled how his party piece was the witty ballad "I Belong to Glasgow" which he performed with great aplomb at many a get-together in his native Rosemount.
"Fr Tom and his sister, Maura O'Connor, who is 94 and lives in Limerick, used to return to Rosemount for every important occasion we had here up to the time Covid hit, so everyone in the village has many fond memories of all the great nights we had in their company" says Marie.
Only last year, Fr Tom was filmed practicing a Tai Chi routine in the kitchen of his home in Ballyferriter, and said at the time that regular exercise was one of the factors that had contributed to his long and active life.
He knew every town and village in Kerry, where he spent all of his adult life having received his secondary school education with the Christian Brothers in Dingle before he entered the seminary in Killarney. Irish was his first language and he never missed the opportunity to speak in his native tongue among his parishioners on the Dingle Peninsula.
One of the saddest aspects of Fr Tom's passing is that the people of Rosemount and of his beloved Kerry will be unable to give him "the send-off he so richly deserves" according to Marie Burke, due to the Covid restrictions in place for the celebration of funerals.
"He was just an amazing man in every way, and we will never see his likes again," said Marie Burke.
Fr Tom, whose late father, Ben Hickey, served as Principal of Rosemount National School from 1920 to 1959, will be laid to rest tomorrow (Thursday, April 15) in the grounds of St. Vincent's Church, Ballyferriter, Kerry after a private family Funeral Mass in the Church at 2pm.
At a celebration in Rosemount to mark 70 years ordained to the priesthood Fr. Tom showed that he had lost none of his love of performance. The below clip has gone viral.
<<<<<<<<<
Dogecoin in Ballybunion
I was in Ballybunion yesterday April 22 2021 and the sand artist was at work.
What was he drawing?
#Dogecoin.com
I looked it up for you. It's a cryptocurrency that began as a joke and "is now worth more than Ford."
Look at this latest news:
"Indeed, dogecoin owners have enjoyed a parabolic surge in the so-called meme asset that was engineered back in 2013 as a lighthearted riff on the bitcoin BTCUSD, -0.66% phenomenon. It is up around 6,500% so far this year. By comparison, gold futures GC00, -0.34% are down some 5.5% in 2021, while the Dow Jones Industrial Average DJIA, -0.29% and the S&P 500 SPX, -0.04% are both up by around 11%.",
Make any sense to you?
Me neither.
Is Ballybunion in on the joke or is there something going on that we don't know?